A-League returns: Sydney FC v Wellington Phoenix – live!
Sydney FC can claim the Premiers Plate with victory over Wellington Phoenix as the A-League resumes after a four-month break. Join Jonathan Howcroft for updates.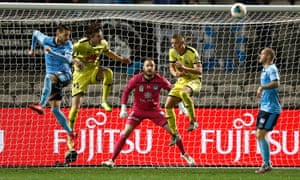 Key events
Show
11.56am

BST

11:56

GOAL! Sydney FC 0-1 Wellington Phoenix (Piscopo pen 65)

11.55am

BST

11:55

PENALTY!

11.21am

BST

11:21

Half-Time: Sydney FC 0-0 Wellington Phoenix

10.35am

BST

10:35

Kick-off!

10.11am

BST

10:11

Wellington Phoenix XI

10.09am

BST

10:09

Sydney FC XI

9.49am

BST

09:49

Preamble
Live feed
Show
11.58am BST11:58
68 mins: It is bucketing it down in Sydney now, but it's not raining goals for the Sky Blues, who continue to find Wellington a tough nut to crack. 20 minutes to change things for Steve Corica, and he begins by bringing on Baumjohann, Zullo and Buhagiar for King, Barbarouses and Cacerers.
11.57am BST11:57
66 mins: The goal prompts a double change for Wellington. Hooper and Davila on for Piscopo, the goalscorer, and Sotirio.
11.56am BST11:56
GOAL! Sydney FC 0-1 Wellington Phoenix (Piscopo pen 65)
Piscopo holds his nerve, drilling the ball low to Redmayne's right.
11.55am BST11:55
PENALTY!
Cacace shows why he's going places, darting down the left, into the box, then beating McGowan for pace as the ball heads towards the byline, the Sydney defender sticking out a foot and conceding a clear foul.
11.53am BST11:53
62 mins: The nippy pace to this game from the outset is starting to get a little frantic as fatigue sets in and the structures unravel. It almost works in Sydney's favour when Ninkovic belatedly stamps his authority on the contest, orchestrating a passage of neat rondo skills in the final third, creating space on the right for a cross to reach Le Fondre at the back post, but he can't get enough purchase on his header across the face.
Wellington waste no time heading up the other end, countering at pace through McCowatt before Sotirio scuffs a weak shot towards goal. Sotirio then becomes the second visitor in the referee's book, for stopping Retre from getting forward.
Updated at 11.53am BST
11.50am BST11:50
60 mins: Fenton felled by Ninkovic on the right touchline, about level with the D. Piscopo's delivery is rank and the ball's cleared.
11.48am BST11:48
57 mins: Piscopo drills a snapshot straight at Redmayne, then a few seconds later Marinovic is called into action, repelling Le Fondre after some super interplay between the Englishman and Barabrouses on the edge of the Nix box. For 0-0 we're getting our money's worth.
11.47am BST11:47
55 mins: Corner from Sydney, dealt with well by Wellington, but after the ball is recycled Brattan plays a teasing 9-iron over the top that is inches away from Ninkovic's run. Down the other end the industrious Fenton - who has caught the eye - overlaps to great effect once more and sends another ball into the box.
Terrific end-to-end stuff.
11.45am BST11:45
54 mins: A few minutes of the game really opening up there, with both sides disappointed they didn't make more of the space.
11.44am BST11:44
53 mins: Sydney don't clear a Wellington corner first time, then once it's out of their box it remain in dangerous territory for a number of phases. The upshot of that is when they break, just like the Nix a minute before, there's space in which to attack, but the interplay between Ninkovic and Le Fondre is scruffy.
11.43am BST11:43
51 mins: Corner from Brattan, headed clear, second ball in from the Sydney midfielder, also cleared, and Wellington look dangerous on the counter, almost sending a yellow shirt clean through but the slick turf favoured the alert Redmayne.
11.40am BST11:40
49 mins: Lots of sparring but little to report since the break. Barbarouses should do better for Sydney in transition, but, frankly, received possession much too close to his own goal fir his own liking and instead of trusting his instinct he checked back and a promising move came to nought. While for the Nix Piscopo does King like a kipper by letting the ball run through his legs, but he can't back it up with an end product.
11.37am BST11:37
46 mins: There's a reshuffle to the Wellington forward line with Piscopo wide on the right, McCowatt on the left, Ball and Sotirio through the medal. That cluster starts promisingly after the break but the substitute's drive from range deflects behind for a goal kick.
11.35am BST11:35
The teams are back out after half-time. And the Nix have made a change with McCowatt replacing Waine in attack.
11.28am BST11:28
With some time to study replays, I reckon that Wellington penalty shout back at the 14-min mark, should have been given. Rhyan Grant raised his leading arm to protect his face, but it did create a much bigger shield to repel the ball. I reckon VAR would have given it, had it been in operation.
11.25am BST11:25
"Do you know the crowd regulations for this game?" Asks David Haak. "Fox commentators haven't explained, presumably because it's the same as NRL?"
Yes, my understanding is it's the same as the NRL - which means there's a few hundred hardy souls dotted around Jubilee Stadium - but I can't recall seeing any formal communication from FFA about this, and a quick squizz through my emails has revealed nothing.
Updated at 11.26am BST
11.21am BST11:21
Half-Time: Sydney FC 0-0 Wellington Phoenix
That was an excellent half of football. Well done both teams.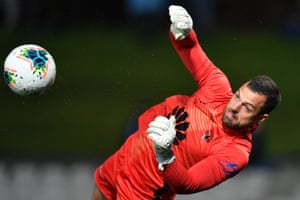 Updated at 11.22am BST
11.21am BST11:21
45 mins: Piscopo shows great hustle down the right, outmuscling Ninkovic, to force a corner, and it leads to some pinball that almost ends at the feet of an attacker.
11.18am BST11:18
44 mins: Sydney feel like they're turning the screw in the late stages of this half, dominating possession and drawing fouls repeatedly from Wellington. The latest is right on the edge of the box, after Barbarouses pirouetted his way out of a tight squeeze, and from the set-piece Brattan stings Marinovic's palms, not for the first time tonight.
Wellington clear their lines and almost, so very nearly, find the killer ball in the counterattack with Waine almost fed clean through before McGowan stepped across to make the vital interception.
11.13am BST11:13
38 mins: Brattan is the pivotal figure in this scene tonight and he's on the receiving end of a high challenge from Rufer in the middle of the park that earns the first yellow card of the night. Again, there was a little spot-fire in the aftermath. This one is simmering nicely.
11.12am BST11:12
37 mins: Brattan this time opting for steel ahead of silk, belting a long-range free-kick just wide.
11.11am BST11:11
35 mins: If there's been a fault from Sydney tonight it's been Brattan's choice of vertical pass. It's tough to criticise him heavily because he's clearly been charged with taking responsibility for playing the killer ball, but plenty have been cut out, and plenty have looked hopeful at best when the Hull-born schemer has cocked his right boot.
11.08am BST11:08
33 mins: This game has been played in a firm but fair spirit so far, but McGowan seems to want to change that single-handedly, taking umbrage with Sotirio after the Nix winger put the defender on his backside with some tricky feet. Calm is soon restored.
11.05am BST11:05
31 mins: Now that the game has levelled off, Sydney know they can drop into a low block when Wellington have possession without much fear. Without Davila and Devlin they lack the quality ball-players in tight areas to unpick such a well-organised defence. Give them a yard of space though and they're up in a flash, as they prove when Sotirio finds width on the right to whip over a cross that goes through a phase or two before Piscopo lashes a shot a couple of yards over the crossbar.
11.03am BST11:03
28 mins: Sydney's patience in possession is terrific to watch. Lots of sharp passing and moving, always looking for the ball between the lines to one of the front three either coming towards the ball or running on an angle towards the penalty spot. Wellington are having to run hard to check every option, but they are making a decent fist of it so far.
11.00am BST11:00
26 mins: This is a bright, entertaining game. How nice.
10.59am BST10:59
23 mins: Sydney piling on the pressure, and Brattan almost opens the scoring with some audacious skill, curling a cross-cum-shot from miles out that almost catches Marinovic off his line (of course, he pulls out a Hollywood dive to rescue himself). Very Ronaldinho v Seaman areas.
10.57am BST10:57
21 mins: Oh boy! That looked like a hall of fame own goal for a second, but somehow DeVere escapes after putting his laces through a Le Fondre cross that travels at speed just wide of Marinovic's left-hand upright.
10.55am BST10:55
19 mins: The game has settled down a bit after that breathless start. Thanks mainly to Wellington being happy to stroke the ball around for a bit instead of attacking as swiftly as possible.
10.52am BST10:52
17 mins: Marinovic is an excellent goalkeeper, but he does make the routine look far more acrobatic than it needs to sometimes.
10.51am BST10:51
16 mins: Sydney brush off the scare with their two best efforts of the night. Again it's the ball into feet of the centre forward laid off to a teammate that does it, this time Barbarouses times his run well to get a shot away. From the resulting scramble the Nix only just clear their lines - with a penalty shout among it - before Brattan stings the Hollywood palms of Marinovic with a wobbler from the D.
10.49am BST10:49
14 mins: Another corner for Wellington, a gift this time, with Retre overhitting a volleyed back pass. It almost costs them when Rufer first gets a clear header to the delivery, then hammers a follow-up shot against Grant, who led with his forearm. No penalty given, and no VAR tonight. That would definitely have been reviewed had the technology been in operation. Let-off for Sydney.
10.47am BST10:47
12 mins: Sydney FC's plan is emerging, and it involves methodical possession until Brattan is in position to drill a crisp vertical pass to the feet of Le Fondre on the slick surface, ALF's job is then to lay-off to Ninkovic or Barbarouses, but so far his touch hasn't proven deft enough.
10.44am BST10:44
10 mins: Sydney are much slower and more patient in possession, passing the ball around their back four and midfield, looking for gaps in the Wellington web. "Find the dope" was how Ronnie Moran described in back in the Liverpool boot room days. No dope to be found on this occasion though, despite a dangerous ball played into the feet of Le Fondre on the edge of the box.
10.42am BST10:42
8 mins: Louis Fenton has started brightly in his first start since round four, and what looked like at the time to be a season-ending shoulder injury. He's made a couple of bursts down the right, overlapping to send in a couple of crosses from the byline.
10.40am BST10:40
5 mins: This is a good spell from the visitors. Sydney turn the ball over coming out of defence, allowing Cacace to whip a dangerous cross in from the left that is steered behind for another corner. This time Piscopo delivers a dangerous ball that is only flicked clear by Ninkovic. Wellington recycle well, fashioning a half-chance from the edge of the box that Taylor is unable to redirect towards goal.
Brisk start to this game and plenty to like from Wellington.
10.38am BST10:38
4 mins: Wellington make good use of that clearance, Sotirio's pace forcing the first corner of the night. Redmayne gathers the set-piece at the second opportunity.
10.37am BST10:37
2 mins: The Nix get an early set-piece in reasonable territory but the delivery is not dangerous enough for such a well-drilled defence. Sydney then settle in to some tried and tested A-League side-to-side possession football in the middle third. Eventually Luke Brattan snaps, tries to break the lines with a deep ball and it's intercepted and cleared.
10.35am BST10:35
Kick-off!
After such a long build-up this is all rushing along in quite the hurry. Under falling rain, Wellington, all in yellow, kick-off against Sydney FC in their familiar sky blue.
10.34am BST10:34
It's on the telly! A minute or so of Robbie Slater reading a script telling us all to be patient, or something, then a hard cut to the players already out on the pitch. Deary me.