F1: Max Verstappen wins Abu Dhabi Grand Prix in season finale – as it happened
Max Verstappen led from pole to win the Abu Dhabi Grand Prix, with Valtteri Bottas second and Lewis Hamilton third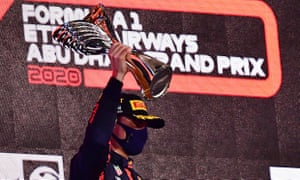 Key events
Show
3.15pm

GMT

15:15

Summing up

2.51pm

GMT

14:51

Max Verstappen wins the Abu Dhabi Grand Prix!

1.31pm

GMT

13:31

Perez out of the race!

1.14pm

GMT

13:14

Lights out and away we go!

12.07pm

GMT

12:07

Preamble
Live feed
Show
3.17pm GMT15:17
Here's Giles Richards's report:
3.15pm GMT15:15
Summing up
And that, my friends, is that for F1 2020. Overall a fine one for the sport in the most trying of circumstances. F1 probably had a better pandemic than most sports, though not without its controversies and harrowing moments (thoughts and best wishes with Romain Grosjean on that score). And it was a season that was dominated again by Lewis Hamilton, who somehow managed to reach yet another level.
Today's race wasn't up to much but there was plenty to admire in the way Max Verstappen masterfully controlled it. Thanks for following, and for your emails and Tweets. Bye,
3.09pm GMT15:09
And here's Hamilton after his 165th podium finish: "You can't win them all. Considering the past couple of weeks I've had I'm really genuinely happy with that. I was not perhaps 100% – congrats to Max that was a really hard race physically for me, and a big big thankyou to the team for their continue support – it's still fantastic to get two podium places here.
"Physically [after having Covid] I don't think I've ever been so blown, my body was not great but I didn't think any time last week I'd be here so I'm just truly grateful to be alive and here. Looking forward to getting back to training.
"It's a fantastic job to see Alex [Albon] right up there with us in a two-team battle – that's what this sport needs."
3.05pm GMT15:05
Verstappen speaks: "It was really enjoyable hyesterday and today – we had a good start and today it was about looking after the car and we had a really good balance. You can control the race abit more when you start out front." As for his late tyre concerns, he says: "I saw they were dropping off behind me too so could take it a bit easier, it was just a very strong race for the tgeam. I'm going to enjoy the poduum then enjoy going home."
Bottas is next up: "Red Bull was too quick today – surprisingly quick and they could control the race. I tried but couldn't keep up with them. I had a solid race but couldn't get more out of the package we had today. It's been a while since I've been on the podium so will enoy that. The team has been amazing this year so am really proud we got a 1-2 in the drivers' championship – I'm really proud of all of them."
2.56pm GMT14:56
As for the actual champion, Hamilton, this is his biggest ever title-winning margin. He jumps out of his car, looks at it admiringly and embraces his teammates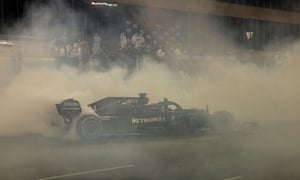 Updated at 3.06pm GMT
2.54pm GMT14:54
Verstappen didn't pull off that race slam in the end – Ricciardo pipped him with a late fastest lap, which seems a fitting reward for his drive.
2.53pm GMT14:53
The fireworks illuminate the night sky as the back runners come through. Albon in fourth is followed by the McLaren pair of Norris and Sainz. Ricciardo is seventh, Gasly eighth. Celebrations in the McLaren camp as they finish third in the constructors' championship.
2.51pm GMT14:51
Max Verstappen wins the Abu Dhabi Grand Prix!
Lap 55/55: That was almost never in doubt. Albon has a bit of a go at Hamilton for third, but never gets quite within striking distance. So Hamilton is third, Bottas second and Verstappen an emphatic winner.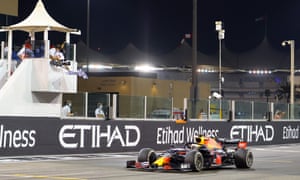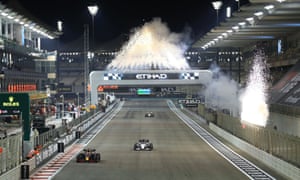 Updated at 3.02pm GMT
2.48pm GMT14:48
Lap 54/55: Verstappen is told over the radio to "bring it home". He's not going to find that too troubling from here.
2.47pm GMT14:47
Lap 53/55: Verstappen leads by 11 and a half seconds with two laps left. All over. Nothing's happened for a long time now, we must be honest.
2.46pm GMT14:46
Lap 52/55: So McLaren are headed for third spot in the constructors' championship, which will encourage them hugely for next season. Norris and Sainz have driven well.
2.45pm GMT14:45
Lap 51/55: Ocon, 10th, versus Stroll in ninth is probably the tightest battle at the moment, with very few contenders.
2.42pm GMT14:42
Lap 50/55: There'll be no more pitstops now. We're nearly done.
2.40pm GMT14:40
Lap 49/55: "You can turn the engine down if you want to," bellows Verstappen to his team, sounding like a man on easy street. He leads by 11.6sec. He would be the youngest man to take a grand slam of pole, race win, leading from the start and fastest lap if he sees this one out.
2.39pm GMT14:39
Lap 48/55: Ricciardo's struggling to make gains on Sainz in sixth, which given his confident early driving might have looked more possible than it now does. The Renault driver remains seventh, which would be a respectable enough finish.
2.37pm GMT14:37
Lap 47/55: A black and white flag for Leclerc, after his third registered track limit violation, though the Sky commentary team suggest it's actually his fifth. Verstappen now leads by 11 seconds. He should surely have this now.
2.35pm GMT14:35
Lap 46/55: Hamilton has closed a fair bit on Bottas now and is only two seconds behind his teammate; might he strike late for second place?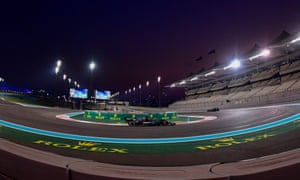 Updated at 2.53pm GMT
2.34pm GMT14:34
Lap 45/55: But Mercedes can't up the pace at the moment on the hard compounds and Verstappen's lead is extended slightly, more than nine seconds with 10 laps to go.
2.32pm GMT14:32
Lap 44/55: Ooh, and now Verstappen reports some tyre vibration concerns, and asks his team whether Mercedes are showing signs of similar. Does that mean Mercedes will pit Hamilton to let Bottas loose?
2.31pm GMT14:31
Lap 43/55: How they stand update: 1 Verstappen 2 Bottas 3 Hamilton 4 Albon 5 Norris 6 Sainz 7 Ricciardo 8 Gasly 9 Stroll 10 Ocon
2.29pm GMT14:29
Lap 42/55: "I think Toto ought to tell Bottas to either shit or get off the pot and let Hamilton at Max's throat," roars Steve Carbert. Not quite sure Hamilton has that in him today, to be honest, but certainly Bottas hasn't laid a glove on Verstappen in this race. Verstappen leads by 8.5sec.
2.27pm GMT14:27
Lap 40/55: The old warhorse Kimi Raikkonen shows all his smarts in swiftly striking back after Leclerc overtakes him, moving straight back in front of the Monaco driver in 12th.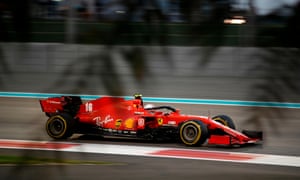 Updated at 2.34pm GMT
2.26pm GMT14:26
Lap 40/55: Sure enough, Ricciardo pits, moves onto medium tyres and returns to the track in seventh, which is impressive for a driver who began in 11th.
2.24pm GMT14:24
Lap 39/55: Verstappen lets his lead drop a touch but it remains unthreatened in general. Ricciardo locked up a touch just there though, which suggests a pitting is imminent. His has been a strong drive.
2.22pm GMT14:22
Lap 38/55: Ah well, it's surpassed expectations in general, this F1 season, even if this one's dragging a bit.
2.21pm GMT14:21
Lap 37/55: Verstappen now leading by 8.1sec, with Bottas second and Hamilton third. The top three have not changed since the start. Ho hum.
2.19pm GMT14:19
Lap 36/55: Lewis Hamilton reports that he has a flat point, as Vettel makes what will probably his last Ferrari pitstop. And it's a slow one. He comes out behind Leclerc. Ricciardo now the only driver on the same tyres he started with.
2.17pm GMT14:17
Lap 35/55: Lance Stroll having traction trouble, which is keeping him from being able to make a move on Vettel, who remains ninth. Leclerc moves up a place to 14th after overhauling Russell. In fifth Ricciardo continues to look strong, and still yet to pit.
2.14pm GMT14:14
Lap 33/55: Verstappen nearly eight seconds ahead now – he could stick on a playlist at the moment and just chill.
2.12pm GMT14:12
Lap 32/55: Charles Leclerc's wretched race continues - he just registers a fourth track-limit violation, which will mean a penalty.
2.11pm GMT14:11
Lap 31/55: And some actual overtaking happens, right on cue. Gasly squeezes past Vettel who tries to strike straight back but is held off - Gasly now eighth, Vettel ninth.
2.10pm GMT14:10
Lap 30/55: Verstappen's increasing his lead stealthily without taking too many risks, preserving tyres as well as advantage. All a bit uneventful out front, but always a risk with this overtaking-unfriendly circuit.
2.08pm GMT14:08
Lap 29/55: It would appear Sainz's pit-lane go-slow impeded Stroll and Racing Point had complained.
2.07pm GMT14:07
Lap 28/55: Here's the scores on the doors at just over halfway: 1 Verstappen 2 Bottas 3 Hamilton 4 Albon 5 Ricciardo 6 Norris 7 Sainz 8 Vettel 9 Gasly 10 Stroll.
2.03pm GMT14:03
Lap 27/55: Sainz is going to be investigated after the race we're told, over that pit-lap issue, which could mean final championship standings being determined then. Verstappen now six seconds clear.
2.01pm GMT14:01
Lap 26/55: Ricciardo gets on the blower to his team to tell him his tyres still feel good, as Verstappen holds a firm lead at 5.2sec.
2.00pm GMT14:00
Lap 25/55: No sense that Ricciardo's going to pit just yet - his pace remains strong in fifth place.
2.00pm GMT14:00
Lap 24/55: Verstappen shows a touch of anxiety by radioing his team to ask "is Lewis catching Valtteri?"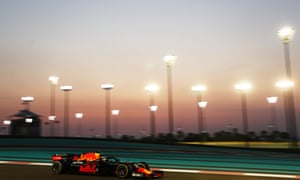 1.57pm GMT13:57
Lap 23/55: Sure enough, Leclerc goes into the pits and comes out at the back. Hamilton is beginning to close on Bottas in the tussle for position with his teammate, it's about 1.5secs at the moment. But Verstappen's five seconds further forward and looking comfortable.
1.55pm GMT13:55
Lap 22/55: A little bit of a mid-race lull at present. Leclerc is slipping further back, now passed by Ocon to drop to 12th. He'll need a tyre change soon, surely. His teammate Vettel well placed to sign off with points though