Leeds United 0-0 Arsenal: Premier League – as it happened
Leeds dominated the game and hit the woodwork three times, but couldn't find a way past Arsenal, who had Nicolas Pépé sent off on 51 minutes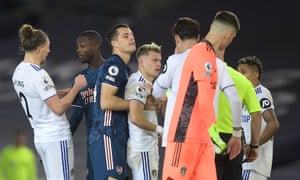 Key events
Show
6.24pm

GMT

18:24

Full-time: Leeds United 0-0 Arsenal

5.39pm

GMT

17:39

51 min Yup, Anthony Taylor comes over for a look – one is all it takes – and flourishes a red card, for stupidity as much as anything.

5.17pm

GMT

17:17

Half-time: Leeds United 0-0 Arsenal

3.36pm

GMT

15:36

Teams!

11.04am

GMT

11:04

Preamble
Live feed
Show
6.37pm GMT18:37
Here's our match report; thanks all for your company and comments, sorry I couldn't get to them all. Enjoy the rest of the weekend. Ta-ra.
Arteta says he'll take the point given the red card, but makes no excuse for Pepe and is extremely terse when asked what he said. He reckons his team were "more dominant" in the first 25-30 minutes – er, that's not how I saw it – then Leeds improved. He thinks Saka should've scored from what he thought was the best chance of the game, but bristles when asked if he was concerned that it took an hour for his team to record a shot on target, saying that they hit the woodwork – yes mate from a cross – and that another shot wasn't far wide. He then takes care to praise his players for their "personality" after "Pepe let the team down". I'm not sure we'll be seeing him in a league game, even after his three-match ban.
Updated at 6.44pm GMT
6.36pm GMT18:36
Stuart Dallas reckons Leeds did enough to win the game, but if you don't win you need to make sure you don't lose, so he'll take a point and move on. He thinks he should probably have scored in the first half and taken a touch before shooting, but he's working on that aspect of his game.
He says that after the sending off Arsenal made it difficult to play through them and he gives them credit for doing that, before crediting his keeper for saving from Saka just before the end. Fiunally, he's asked how important he thinks it is that Leeds rebounded well after two disappointing results. "Not remotely," I wish he'd answered, but he doesn't/
6.32pm GMT18:32
James Humphries is back. "In fact, my focus is so poor that I initially sent the last email to the fiver and not you, the person writing the MBM. See?"
6.31pm GMT18:31
Oh yeah, and we've also got Thiem v Medvedev in the ATP Tour Finals final, so also join your Tumaini Carayols of this world for that.
6.30pm GMT18:30
"This is something I've been wondering about for a while now," says James Humphries. "Just what is it that makes Proper Football Men like Justin Kavanagh so convinced that tying your hair up on the top of your head must take hours, if not days, of focus? I'm so bad at concentrating that I'm writing an email about people writing emails about a football match instead of getting on with work; and yet still, every day I manage to wrap a bobble around my hair with no very little fuss. Perhaps being 107 is making him a bit doddery?"
Raquel Murillo over here. In fairness, you've not accounted for thinking time.
6.28pm GMT18:28
What else could you possibly have to do other than enjoy yet more football? Exactly. Join Rob Smyth for Liverpool v Leicester.
6.27pm GMT18:27
Arsenal are now eight hours without an open play goal and move up from 12th to 11th, while Leeds are up to 14th from 15th.
6.25pm GMT18:25
Meanwhile, as the players depart, Tierney has be pulled away from Alioski after a full and frank one on the whistle, presumably about his role in the red card. Lovely stuff.
Updated at 6.39pm GMT
6.24pm GMT18:24
Full-time: Leeds United 0-0 Arsenal
Arsenal will take that all day long. Leeds played well from about half an hour in, much better than Arsenal even when was 11 against 11, but they couldn't score.
6.24pm GMT18:24
90+7 min Arteta waves for full-time as Leeds win a corner, it goes short, and that is it.
6.23pm GMT18:23
90+5 min AND AGAIN! Another cross from Poveda, this time flicked on by Rodrigo, and the ball falls to Raphina. He's falling away, but still manages to leather a riser that clatters the near post! Leeds will play worse than this and win easily.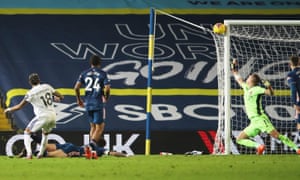 Updated at 6.26pm GMT
6.20pm GMT18:20
90+3 min Phillips lunges over the ball at Ceballos – it looks tired rather than vicious – and he's booked. A little higher and that might've been red.
6.19pm GMT18:19
90+2 min Alioski tries a Zidane roulette and cracks Saka on the knee; he's replaced by Maitland-Niles, but I'm sure he'll be fine for midweek or next weekend.
6.18pm GMT18:18
90 min There'll be five added minutes.
6.18pm GMT18:18
90 min "The big unanswered poser is, why hasn't Bielsa signed German midfielder Alexander Klusch to go with the gigantic Koch and the nomadic, elusive Klich?" says James Debens. "With shades of the unlamented Sir Jingle Jangle, 'klusch, koch, klich' - every trip".
Similarly, Spurs should've signed Julian Broddle from Scunthorpe when they had Hoddle and Waddle.
Updated at 6.18pm GMT
6.16pm GMT18:16
88 min Leeds have done everything but score here, but they ought to have created more in the last 20. They'll be vex if this stays 0-0.
6.15pm GMT18:15
87 min Here come Leeds again, Poveda crossing for the right and Bamford's up! His header is a goodun too, Holding standing off for reasons known best to himself and ball glanced hard and down, only to batter the post full in the face; the rebound somehow eludes the various attackers in search of it.
6.13pm GMT18:13
87 min Again, absolutely nonsense delivery from Nelson ruins a good situation, and in the end Arsenal are relieved to hold Poveda up when he charges forward on the counter.
6.13pm GMT18:13
86 min Ceballos could let the ball go out for a throw but instead he skips past Cooper who yanks him down. That's a booking, a free-kick between touchline and penalty box....
6.12pm GMT18:12
84 min Now here come Arsenal! Bellerin does brilliantly to advance, sliding a fantastic pass into the path of Saka, who did brilliantly to hold his run. Meslier is out quickly so he should shoot first-time, but he backs himself to fashion a better angle, looking to scoot around the keeper ... who does really well to stand up then smother. Well done to all concerned.
Updated at 6.41pm GMT
6.11pm GMT18:11
83 min Rodrigo clatters Gabriel and finds Klich who finds Poveda; he shifts it a yard around Tierney, but his shot is straight at Leno.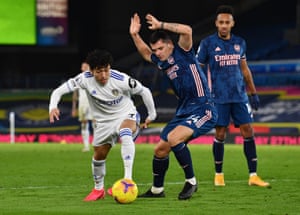 Updated at 6.16pm GMT
6.10pm GMT18:10
82 min Why isn't Saka an automatic choice for Arsenal? He's their best left-winger and their best attacking midfielder.
6.09pm GMT18:09
81 min Poveda burrows into the box and tries to find a way through but can't, then Arsenal break, Saka finding Aubameyang, but he's a little slow to do something so that when he finally cuts inside to shoot because he's out of other options, Cooper is able to slide in and block. The ball hits his hand, but it's not handball.
6.07pm GMT18:07
80 min Leeds send on Poveda for Harrison.
6.07pm GMT18:07
80 min Rodrigo hits the bar! He's further infield this time, even less reason to allow him onto his preferred foot, but Xhaka lets him cut inside and he unfurls a curler that rasps against the woodwork!
6.06pm GMT18:06
79 min "Haven't got a dog in this fight," says Matt Cast, "and don't dispute the red card, but surely Alioski should be punished as well for that ridiculous reaction aimed solely at getting Pepe sent off."
Yes, I'd be happy with that.
6.05pm GMT18:05
78 min Aaaaaand another. Arsenal win a corner down the left, and Nelson whacks at straight at the nearest defender's shins.
6.04pm GMT18:04
76 min Rodrigo, who looks a little like Spadino from Suburra – if you're not onto that, check it out on Netflix –cuts in off the right and absolutely clatters a wobbler that flies just over the far angle.
6.02pm GMT18:02
76 min ...but he wafts over the bar and plenty.
6.02pm GMT18:02
75 min Silly behaviour from Cooper, who fouls Aubameyang 25 yards from goal, just right of centre. Xhaka will fancy this....
6.01pm GMT18:01
73 min Leeds have settled again and Raphinha turns up on the right of the box, standing up a cross that Bamford attacks, but there are just too many men in between him and the ball for him impart a clean header.
6.00pm GMT18:00
73 min "If Leeds players spent as much time practising crossing and dead-ball deliveries as they must do on their man-buns," says Justin Kavanagh, "this game would be over and the three points in the bag. And yes, I am 107 and grew up admiring John Giles incredibly accurate passing."
5.59pm GMT17:59
71 min Rodrigo replaces Ayling.
Updated at 5.59pm GMT
5.57pm GMT17:57
70 min HERE'S THE CHANCE! Klich lifts a cross-kick over the top and Raphinha finds a clever cut-back to Ayling, who isn't sure which foot to use, and a poor first touch allows Bellerin to smother him.
Updated at 6.01pm GMT
5.56pm GMT17:56
69 min And here come Arsenal on the break, Saka bouncing forward and crossing for Aubameyang, forcing Koch to dive in the way to head clear. Nicely done all round.
5.55pm GMT17:55
68 min Klich slides a ball down the side of Gabriel for Bamford, who turns on it well, but can't direct his shot on target. As Gary Neville notes, those passes look more dangerous than a diet of hopeful crosses.
5.54pm GMT17:54
67 min I wonder whether Leeds might move to two strikers. They're crossing the ball a lot, and need a greater presence in the box than just Bamford.
5.53pm GMT17:53
65 min "If beating the first man from a corner is so successful and so marginal, you would think that they might practise the odd one in the warm-up. Rugby kickers do and they're hitting a very large target."
I guess it's a more central part of the game and the target they're hitting doesn't move, but yes, that seems reasonable.
5.51pm GMT17:51
64 min Leeds have wasted these first few minutes against 10 men, but this is better: Raphina eases in off the right and feeds Dallas, who takes a touch and then another before launching himself into a drive that's flying towards the near top corner, but Leno flies across his goal to palm away. Good save.
Updated at 6.01pm GMT
5.50pm GMT17:50
63 min Koch finds himself out on the right and clobbers a cross miles away from everywhere.
5.49pm GMT17:49
62 min I've been waiting for Ben Chapman to apologise to us all for his incorrect prediction, and here he is: "At least I don't have to watch Pepe do that stupid shimmy and lose the ball again," he concedes.
5.48pm GMT17:48
61 min "What does 'five to washed' mean?" wonders Tony Atwood. "I have just typed it into Google, and on the whole internet there are only three mentions of it.
One mention is 'ICM was cut with glass needles into five to washed in three changes of PBS,' Which doesn't help. Can you explain".
I can. Washed is short for washed up, and five to something means it's nearly the case.
5.47pm GMT17:47
59 min Nice from Arsenal, Tierney slipping a ball in behind Ayling for Saka, who cuts back for Aubemeyang. But though he turns adroitly enough, he can't get hold of his shot and Meslier fields easily.
5.46pm GMT17:46
58 min I mentioned that Freddie Ljungberg is in the studio, which reminds me of a Sunday in December 2001, when Arsenal had Van Bronckhorst sent off at Anfield but still won thanks to Ljungberg goal and a turn in central-midfield from ... Kanu.
5.44pm GMT17:44
57 min After spending a bit of touchline-time flexing his knee, Phillips returns.
5.43pm GMT17:43
57 min Arsenal make a second change, Saka replacing Willock – who's not been able to get into the game. He goes to the left, with Nelson moving inside.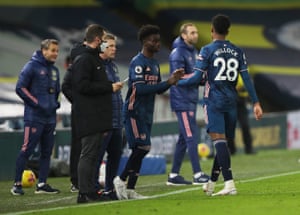 Updated at 6.01pm GMT
5.43pm GMT17:43
55 min Eesh. Phillips is down holding his knee, and when the physio comes on to play with it, he seems in some pain. But he also looks like he'll carry on, though he did it chasing the ball, not in contact, which is usually a bad sign.
5.41pm GMT17:41
53 min Leeds are pretty good at working opponents so should be good at working 1o men. But Arsenal will, you'd assume sit back though, on the other hand, ypu'd need to be an extremely observant individual to tell the difference between an Arsenal team with Pepe and without.
5.39pm GMT17:39
52 min Pepe trudges off, knowing there's a bollocking in the post – Arteta has a look of composed fury in his eyes.
5.39pm GMT17:39
51 min Yup, Anthony Taylor comes over for a look – one is all it takes – and flourishes a red card, for stupidity as much as anything.
That's the thing with Pepe, he's always trying things, always unpredictable. Silly, silly behaviour.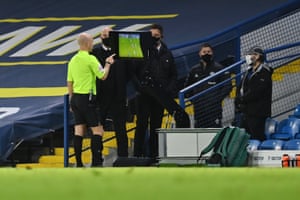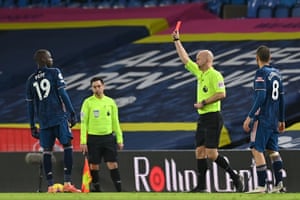 Updated at 5.49pm GMT
5.38pm GMT17:38
51 min Hmmmm. Alioski gives Pepe a minor shove and Pepe sticks forehead into forehead, so naturally Alioski goes down like a ton of feathers. He'll be off for that.
5.37pm GMT17:37
50 min Alioski goes down clutching his face....
5.36pm GMT17:36
49 min Arsenal win a free-kick out on the left, 35 yards out, and you can see they fancy themselves on set pieces, but another terrible cross hits the first man.
5.35pm GMT17:35
48 min Ultimately, Arsenal are too rigid and slow to compete with Leeds in midfield. Xhaka has no legs, AND i get the impression that Arteta expects positional discipline, whereas Bielsa wants his players to turn up in unexpected places – for the opposition at least.