Boris Johnson vote LIVE updates: UK Prime Minister faces Tory no-confidence vote
British Prime Minister Boris Johnson is facing a vote on the future of his leadership, amid growing backlash from his colleagues over the so-called partygate scandal, a cost-of-living crisis and a controversial immigration policy.
'I will be voting for change': What are the rivals saying? By
Latika Bourke
It's an interesting dance how the leadership rivals behave as the political manoeuvrings go public.
One MP who is clearly having another tilt is the former Cabinet Minister and now backbencher Jeremy Hunt.
Hunt said that the Conservatives would lose the next general election, due in 2024, and that he would be voting for change in the ballot.
Hunt lost the leadership bid against Johnson in 2019.
Backbencher Tom Tugendhat who is very much positioning and could even form a ticket with Hunt has stayed silent.
But most of the potential candidates publicly backed Johnson staying in the job.
This included Foreign Secretary Liz Truss who publicly and relatively early, said she would be supporting the PM continuing.
Health Secretary Sajid Javid has also said the vote is an opportunity to "move on." That's with Johnson at the helm, we should note.
Education Secretary Nadhim Zahawi has also stated his support.
Rishi Sunak the Chancellor who should have been in the box seat in this climate also said he supported Johnson remaining in the job.
MPs are now heading in to vote By
Latika Bourke
Voting began at 6pm (London time) and lasts for two hours with the result expected around 9pm (6am AEST).
MPs will file in to the voting room via a one-way system and hand in their phones before they cast their ballot inside private booths.
The ballot paper will ask MPs if they have confidence in Boris Johnson as Conservative Party leader and they'll vote anonymously yes or no.
Johnson will learn the result a few minutes before we do.
Will Johnson prevail? Some sources say yes By
Latika Bourke
I've been talking to Conservative MPs all day, naturally. These MPs come from across the spectrum inside the party, including from within Johnson's inner circle, those trying to bring him down, and some who used to be his supporters but think he has caused so much damage that he should go.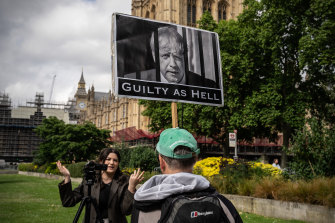 All are united in saying that they think Johnson will "probably" prevail in today's vote.
Of course, it's a secret ballot, meaning MPs can tell whips and rebel leaders one thing and do entirely another during the vote, so we're taking it all with a grain of salt.
But certainly, the soundings are far more confident in favour of Johnson then against.
Is it a spill?
Is it a leadership spill, like the ones we've seen in Canberra? Not quite.
The way the Tory party conducts its leadership ballots are, shall we say, less efficient than the way we do it in Australia.
Europe correspondent Rob Harris and I have put together this guide for what's in store. Spoiler, don't expect to be waking up to a new prime minister should Boris Johnson lose the vote.
Read more: Boris Johnson's future is on the line - what happens next?
Leadership vote called on Monday morning By
Latika Bourke
The vote was announced on Monday morning (London time), while bunting was still hanging in yards across the country following the royal festivities. Johnson attended many of the official events and at some was booed.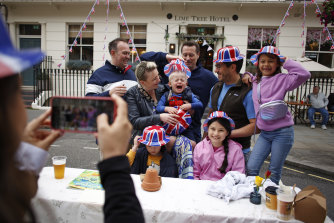 It followed enormous amount of dissatisfaction among voters with Johnson over the parties held during lockdown at Number 10.
Johnson emerged damaged and apologetic following the publication of a damning report into a culture of drinking and illegal partying at Downing Street during the pandemic.
Read more from our Europe correspondent Rob Harrison how the ballot was triggered: Jubilee over, Conservatives rush to push Boris Johnson out
Welcome to our rolling coverage By
Latika Bourke
Hello and welcome to today's rolling coverage for Tuesday, June 7.
I'm Latika Bourke beginning today's live blog with events in Westminster, London, where Boris Johnson is facing a vote of no confidence.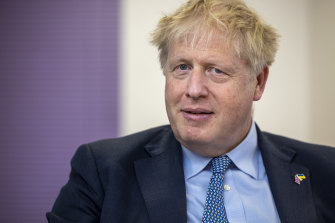 The meeting was triggered when the required number of MPs needed to bring on a vote was reached over the long weekend in the UK, where Britons have been celebrating the Queen's platinum jubilee.
We'll bring you all the updates as events unfold in Westminster, so stay with us as we bring you live updates.
Most Viewed in National