Boris Johnson's leadership in crisis as cabinet ministers quit
Two of Boris Johnson's cabinet ministers - the chancellor of the exchequer and health secretary - have quit.
Normal text sizeLarger text sizeVery large text size
London: Boris Johnson's prime ministership is in fresh crisis following the resignation of two of his cabinet ministers, including Chancellor of the Exchequer Rishi Sunak.
The resignations began when Health Secretary Sajid Javid told the prime minister he had lost confidence in him after Johnson's handling of the latest sex scandal to rock Westminster.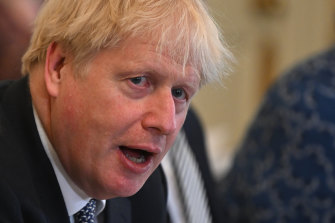 "We may not have always been popular, but we have been competent in acting in the national interest," Javid said.
"Sadly, in the current circumstances, the public are concluding that we are now neither.
"The vote of confidence last month showed that a large number of our colleagues agree. It is clear to me that this situation will not change under your leadership and you have, therefore, lost my confidence too," he said.
Sunak quit minutes later, telling Johnson that their approaches were fundamentally different.
"The public rightly expects government to be conducted properly, competently and seriously," Sunak said.
"I recognise this may be my last ministerial job, but I believe these standards are worth fighting for and that is why I am resigning."
The pair did not co-ordinate their resignations and came to their decisions independently, they said.
Theirs make three resignations from cabinet in a fortnight. Oliver Dowden, an influential figure quit after two devastating byelection losses, saying someone had to take responsibility.
Conservative Party vice-chair Bim Afolami also quit his role, telling the BBC, "I think it's become clear the time has come for [Johnson] to stand down".
One senior MP told The Sydney Morning Herald and The Age that it was "the beginning of the end" for Johnson.
Johnson ploughed on, appointing two others to replace them: his chief of staff, Steve Barclay, replaced Javid, and Nadhim Zahawi, the education secretary who is widely believed to be making a tilt for No.10 himself, replaced Sunak. Zahawi is now the third chancellor (treasurer) in as many years.
Javid and Sunak's resignations began straight after Johnson went on television to apologise for appointing Chris Pincher to the deputy whip's role despite concerns being raised about Pincher's personal conduct.
Pincher quit as whip last Thursday after being accused of groping men while drunk.
Johnson said a complaint against Pincher had been raised with him in a manner that was "only cursory", but that he regretted not acting at the time.
In a letter responding to Javid's resignation, Johnson said he looked forward to the former health secretary's contributions from the backbench.
Johnson still enjoys the support of the bulk of his cabinet for now. Foreign Secretary Liz Truss, widely considered to be gathering support to make a tilt, is backing the prime minister.
Opposition Leader Keir Starmer said it was clear the government was collapsing and called for an election.
"The Tory party is corrupted and changing one man won't fix that," the Labour leader said in a statement.
"Only a real change of government can give Britain the fresh start it needs," he said.