Brock Jarvis v Mark Schleibs - Fight date, how to watch, undercard, results and highlights
Brock Jarvis v Mark Schleibs - Fight date, how to watch, undercard, results and highlights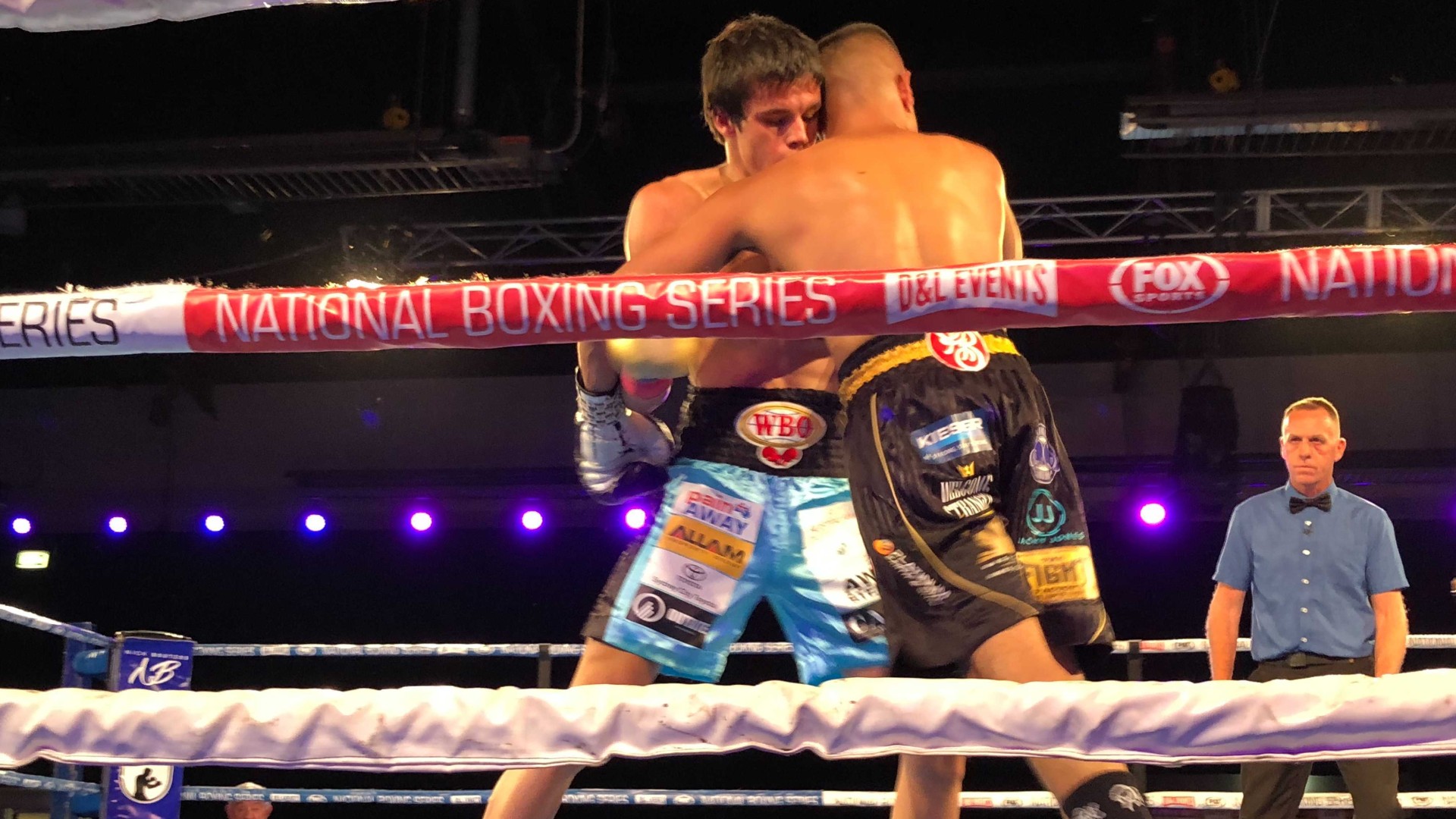 He's trained by the Marrickville Mauler, and it was a mauling Brock Jarvis put on Mark Schleibs in Canberra on Friday night. 
Bigger, longer and stronger, the Jeff Fenech trained 23-year-old came through the biggest test of his professional career to date with a fifth round knockout win courtesy of a savage attack to the body.  
Schleibs had questioned the Sydneysider's mettle in a heated lead-up, but Jarvis was more than willing to fight on the inside, and had the Melbournite blowing after the second round. 
The 27-year-old Schleibs was game throughout, but was bloodied and clearly overmatched by the start of the fourth.
Having battered the Magic Man's body for the better part of nine minutes, Jarvis went upstairs with a series of brutal hooks as Schleibs held on until the end of the fourth. 
It was a left hook to the ribs in the fifth that saw Schleibs fall to the mat and end the fight, but it was the barrage of body work prior to it that laid the platform. 
Schleibs fell to the ground and was counted out by referee Les Fear. 
"Mark put up a good fight, I thank him for that. It was a good one," Jarvis said. 
"I haven't fought in over a year, but I've been busy in the gym so I was confident I'd be fine. Thanks to Luke Jackson, Hass Hamden, everyone for getting me ready.
"I've still got a lot of work to do and I'll keep working at it." 
More to come...
Buy your tickets to the Sydney Super fight featuring Tim Tszyu vs Bowyn Morgan and Mark Hunt vs Paul Gallen here
JARVIS-SCHLEIBS FIGHT RESULTS AND HIGHLIGHTS
In one of the best fights you'll see this year, Jacob Ng and Hunter Ioane went back and forth with both fighters hitting the canvas before Ng walked away with a 5th round TKO. 
Debutant Terry Nikolas - a highly rated amateur - scored a massive first round knockout win in his first paid fight. Nikolas landed a big right hand 45 seconds into the fight, putting Krishna Mudaliar to sleep. 
In the first televised fight, Ben Dencio knocked out Gerry Zapantis in the second round. Dencio dropped Zapantis twice with body shots. 
Nader Hamdan's son, Hassan , earned his second win as a professional with a unanimous decision victory. 
The undercard is on, with Sydney-based Kiwi Alex Hannan scoring a five-round unanimous decision over Ray Ingraham. 
JARVIS-SCHLEIBS - WHO ELSE IS FIGHTING? 
There's a good spread of local talent on display this Friday. 
Brock Jarvis vs Mark Schleibs - featherweightJacob Ng vs Hunter Ioane - lightweightAlex Cooper vs Nathan Robson - super welterweightAlex Hanan vs Ray Ingram - super middleweightBen Dencio vs Gerry Zapantis - super featherweightTerry Nikolas vs Krishna Mudaliar - super welterweight
***
From earlier - 
BROCK JARVIS RECORD - BOXREC
Jarvis is a perfect 17-0 with 15 knockouts. 
He most recently won a one-sided 10 round fight against Ernesto Saulong in August last year. The only other time he's gone to the scorecards was in a six rounder on debut. 
MARK SCHLEIBS RECORD - BOXREC 
Schleibs is also undefeated, boasting a 12-0 record with 8 knockouts. 
JEFF FENECH CALLS OUT MARK SCHLEIBS
This fight has been a long time in the making, and Jarvis' trainer Jeff Fenech hit back at Schleibs after the Melbourne-based boxer's persistent calling out of the Sydneysider on social media. 
"His nickname is the Magic Man, but his best magic trick is disappearing when there's a fight on offer," Fenech told Sporting News. 
Read more about it here. 
BEHIND THE SCENES WITH BROCK JARVIS
Sporting News  went behind the scenes with Jarvis and Fenech for the youngster's 2019 fight against Philip Luis Cuerdo. 
Check out all the action here. 
[embedded content]
JUSTIS HUNI DEFENDS AUSTRALIAN HEAVYWEIGHT TITLE
While Joshua and Pulev will take centre stage this weekend, Australia is getting excited about a homegrown heavyweight prodigy in Justis Huni.
The Brisbane-based boxer made history when he won the Australian heavyweight title on debut in October, and he defended it with an impressive fourth round stoppage win over Arsene Fosso last week. 
He's just two fights into his professional career, but there are already plans to have him fighting for world titles in the not too distant future. 
Just four days after his fight, Huni is back training in preparation for a bout in Townsville in February. Promoter Dean Lonergan wants Huni to stay active, with fights opposite Herman Ene Purcell, Alex Leapai and Lucas Browne ahead of the Olympics next year. 
Check out our chat with Huni below. 
[embedded content]
FLOYD MAYWEATHER TO FIGHT YOUTUBER LOGAN PAUL 
In some of the more bizarre boxing news you'll read this week, Floyd Mayweather will return for an exhibition boxing match with YouTube star Logan Paul.
Mayweather's last professional fight was his 2017 win over Conor McGregor, but he fought an exhibition against Tenshin Nasukawa two years ago. 
Paul has had one pro bout, losing to fellow YouTuber KSI a year ago. 
Read more about it here.