A Complete Timeline of Cardi B and Offset's Complicated Relationship
It all comes down to love and hip-hop.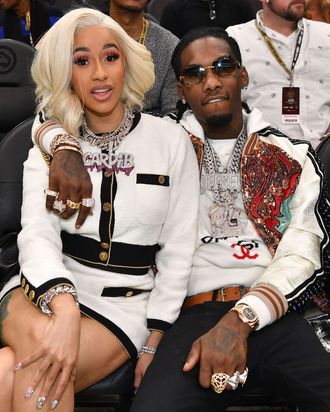 Cardi B and Offset.
Photo: Paras Griffin/Getty Images
Cardi B and Offset have been thrilling us with their romance for over three years now, a lifetime in celebrity dating. It seemed like every day, Black Twitter had something new to go in on, from cheating rumors to secret babies to a real baby. Through it all, there was always something about the way Cardi would tweet about "Set," about the graphic references to him in her songs, and about Offset's telling the New York Times "She's No. 1, so every time I'm hitting the charts, I've got to be Top 10." Their hood love story may be coming to an end for a second time, but it warrants a reread.
January 20, 2017 Almost two years ago, Cardi B and Offset first collaborated on her song "Lick," a single off of Gangsta Bitch Music, Vol. 2. At that point, Cardi B was still more well-known as a reality-TV star, and Migos' second album, Culture (which featured the instantly iconic "Bad and Boujee"), was just about to drop.
February 5, 2017 All the dating rumors that had been swirling around were finally vindicated when Cardi and Offset went to the Super Bowl together. Cardi B posted a fun string of Instagram Stories and, at one point, Offset went live. Of course, they rooted for the Atlanta Falcons (insert Offset's bird noise). Cardi B admits that she's "only going for the Atlanta Falcon niggas because them motherfucking Patriot niggas, they support Donald Trump."
February 14, 2017 In a since-deleted post, Cardi shared her Valentine's Day date with Offset.
March 17, 2017 But before things get too serious, Cardi B denies dating "an Atlanta guy." She doesn't even call him by his name.
April 16, 2017 Cardi continues this trend throughout this "Will they/Won't they?" phase of their relationship. In an incredible and odd interview with Tim Westwood, she calls Offset "the boy" multiple times, refusing to say the man's name. Power moves only.
May 1, 2017 Cardi and Offset show off the drip at a Met Gala afterparty, all but confirming that Cardi puts the pussy on Offset.
July 25, 2017 Offset's jeweler posts this incredible piece for Cardi B, just a casual little late summer gift to his girl.
September 20, 2017 Cardi B and Offset get married. But we don't know that yet.
October 11, 2017 Happy Birthday, Bardi! Offset shares a sweet post on Instagram, with an all-caps caption.
Reasons why me and Offset got into it ...I think he stoled my purple blanket