NSW records 48,768 new COVID cases and 20 deaths as police confirm Hillsong won't be fined
Police said they had decided not to issue a fine to the religious organisation after videos of attendees singing and dancing without masks at a youth camp sparked public outrage.
Normal text sizeLarger text sizeVery large text size
NSW has recorded 48,768 new COVID-19 cases and 20 deaths on the third day positive rapid antigen tests are included in the daily infection numbers.
Of the new cases, 21,748 were self reported from at-home tests and 27,020 were from PCR testing.
There are 2576 people in hospital with the virus, of whom 193 are in intensive care units.
Eleven men and nine women have died with COVID-19 in the past 24 hours.
On Saturday, police confirmed they had decided not to issue a fine to Hillsong for a camp in the Hunter Valley, after videos of attendees singing and dancing without masks sparked public outrage.
"NSW Police have attended an event in the Newcastle area and spoken with organisers. Following discussions with organisers and after consultation with NSW Health, no infringement will be issued," said police in a statement.
"Event organisers are aware of their obligations under the Public Health Orders, and NSW Police will continue to ensure ongoing compliance."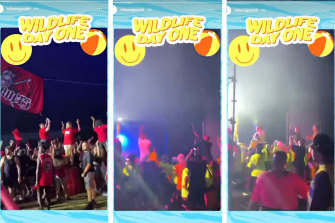 Under NSW's Public Health Order, singing and dancing is prohibited at music festivals, hospitality venues, nightclubs, entertainment facilities and major recreation facilities.
Health Minister Brad Hazzard said while the order does not apply to religious services, it does apply to major recreation facilities, which is defined as a "building or place used for large-scale sporting or recreation activities that are attended by large numbers of people, whether regularly or periodically".
"This event is clearly in breach of both the spirit and intent of the order, which is in place to help keep the community safe," he said.
Hillsong claimed the camp differed from music festivals and the organisation was committed to a COVID-safe plan.
"Our camps involve primarily outdoor recreational activities including sports and games. We follow strict COVID procedures and adhere to government guidelines," it said.
"Outdoor Christian services are held during the camp but these are only a small part of the program."
It said the video of attendees singing and dancing represented "only a small part of each service".
On Saturday morning, the state government announced its rent regulation would be extended by another two months to March 2022.
"Small business is the engine room of our economy and we need to make sure we support impacted businesses through this latest Omicron wave," NSW Treasurer Matt Kean said.
"With staff shortages and reduced foot traffic, many businesses are struggling at the moment but the ability to negotiate rent will give them a buffer so they can keep the lights on now and recover more quickly."
Business tenants can access rent relief if they have an annual turnover of less than $5 million. Rent relief has the same eligibility criteria as the discontinued JobSaver and Micro-business Grant programs.
It comes as close to 1000 NSW Health workers have resigned or been sacked after refusing to be vaccinated against COVID-19, placing further pressure on the hospital system that has seen coronavirus patient admissions almost triple within a fortnight.
As hospitals and general practices are slammed with surging cases and almost 6000 healthcare workers are isolated across NSW due to COVID-19 exposure, the state's health department on Friday confirmed that 995 of its 170,000-strong workforce had resigned or been stood down after refusing the vaccine.
A NSW Health spokesman said 325 people had resigned, while a further 670 had "ceased employment" with the department.