Chelsea v Southampton, Football League updates and more – live!
Join Barry Glendenning for all the latest from the 3pm BST matches, including the Premier League clash at Stamford Bridge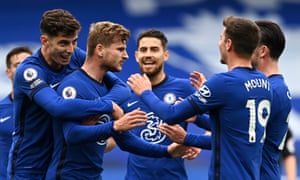 Key events
Show
4.20pm

BST

16:20

GOAL! Chelsea 3-2 Southampton (Havertz 59)

4.16pm

BST

16:16

Chelsea 2-2 Southampton (Adams 57)

4.06pm

BST

16:06

Second half: Chelsea 2-1 Southampton

3.49pm

BST

15:49

Half-time: Chelsea 2-1 Southampton

3.45pm

BST

15:45

GOAL! Chelsea 2-1 Southampton (Ings 43)

3.30pm

BST

15:30

GOAL! Chelsea 2-0 Southampton (Werner 29)

3.16pm

BST

15:16

GOAL! Chelsea 1-0 Southampton (Werner 15)
Live feed
Show
4.33pm BST16:33
74 min: Hakim Ziyech has taken up a position on the left wing for Chelsea, with Christian Pulisic moving across to the right.
4.33pm BST16:33
74 min: Chelsea win a throw-in deep in their own half, a decision that displeases Che Adams no end. He complains at great length to the referee's assistant, trying to convince him it should have been Southampton's ball.
4.31pm BST16:31
72 min: Chelsea substitution: Hakim Ziyech makes his eagerly awaited Chelsea debut, coming on for Mason Mount.
4.28pm BST16:28
69 min: Oriel Romeu volleys high over the Chelsea bar with a volley from the edge of the penalty area after Kurt Zouma had headed a Southampton corner clear.
4.27pm BST16:27
65 min: One man's quick and entertaining exchange of goals is another minute-by-minute reporter's nightmare. While I was still trying to figure out how the hell Southampton managed to score their bizarre equaliser (other versions are available), Chelsea broke up the field and re-took the lead. Momentum had swung Southampton's way, so Ralph Hasenhuttl will be furious that his side conceded again so soon after equalising.
4.22pm BST16:22
61 min: Attacking on the break, Chelsea carved Southampton open after excellent work from Christian Pulisic. He played Werner, who looked suspiciously offside, in behind and his cross to the unmarked Havertz was slotted home from a few yards out.
Updated at 4.24pm BST
4.20pm BST16:20
GOAL! Chelsea 3-2 Southampton (Havertz 59)
Well, this second half has escalated quickly. Kai Havertz puts Chelsea back into the lead.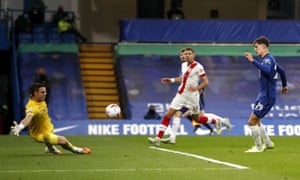 Updated at 4.28pm BST
4.20pm BST16:20
58 min: Lets pick through the bones of that one. A long ball down the right flank was hideously miscontrolled by Kurt Zouma as he tried to play it back to Kepa. Kepa raced off his line to hack the ball clear, only to have it dinked past him by Adams. Unable to score from a ridiculously tight angle, he tried to hook it back into the path of Danny ings from right beside the upright. Back on his line, Kepa half-blocked his attempted pass but the ball bounced kindly for Adams, who smashed it into the goal. Or something like that ...
Updated at 4.24pm BST
4.16pm BST16:16
Chelsea 2-2 Southampton (Adams 57)
The sides are level. Che Adams roofs the ball after a comedy of errors in the Chelsea penalty area.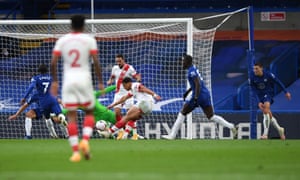 Updated at 4.26pm BST
4.15pm BST16:15
55 min: Kyle Walker-Peters tries his luck from a tightish angle with a low daisy-cutter. Kepa gets down to save comfortably enough.
4.14pm BST16:14
54 min: Bertrand hoists the balls towards Vestergaard in the Chelsea penalty area. Their hosts can only half clear and after some very neat one-two passing on the edge of the area, Danny Ings pulls a low diagonal effort no more than a foot wide of the upright.
4.13pm BST16:13
52 min: No chances of note for either side so far in this half but Southampton have started this 45 minutes with considerably more zip than they did the previous one. They win a free-kick just inside the Chelsea half for a body-check on Nathan Redmond by Cesar Azpilicueta.
4.09pm BST16:09
48 min: Ben Chilwell gets booked after losing the ball to James Ward-Prowse courtesy of a poor touch, then grabbing the Southampton midfielder's shirt to halt his progress. Free-kick for Southampton, wide on the right. Ward-Prowse curls the ball into the Chelsea penalty area, where Kepa grabs it comfortably.
4.07pm BST16:07
47 min: There are no changes in personnel on either side.
Updated at 4.07pm BST
4.06pm BST16:06
Second half: Chelsea 2-1 Southampton
46 min: Chelsea get the second half started, after the players of Southampton join them on the pitch following their long trek from the Stamford Bridge medical centre, which they are using as a dressing-room. Ralph Hasenhuttl looks displeased and seems to be telling the ref that they couldn't hear the bell or buzzer telling them it was time to return to the pitch. It's not rocket science, Ralph - half-time intervals in football matches generally last 15 minutes.
3.55pm BST15:55
Championship latest
Bournemouth 0-0 QPR
Barnsley 1-0 Bristol City
Birmingham City 0-0 Sheffield Wednesday
Blackburn Rovers 0-0 Nottingham Forest
Brentford 0-0 Coventry City
Luton Town 0-0 Stoke City
Middlesbrough 0-0 Reading
Rotherham United 1-0 Norwich City
Swansea City 1-1 Huddersfield Town
Wycombe Wanderers 1-0 Millwall
3.54pm BST15:54
League One latest
MK Dons 2-0 Gillingham (FT)
AFC Wimbledon 0-0 ShrewsBury Town
Bristol Rovers 0-0 Burton Albion
Charlton Athletic 0-0 Wigan Athletic
Crewe Alexandra 0-0 Blackburn Rovers
Fleetwood Town 0-0 Lincoln City
Ipswich Town 0-0 Accrington Stanley
Peterborough United 1-0 Oxford United
Plymouth Argyle 1-0 Northampton Town
Portsmouth 0-0 Doncaster Rovers
Rochdale 0-1 Hull City
Swindon Town 0-1 Sunderland
League Two latest
Bolton Wanderers 1-1 Oldham Athletic
Carlisle United 2-1 Colchester United
Crawley Town 0-0 Morecambe
Forest Green Rovers 1-0 Stevenage
Harrogate 1-0 Barrow
Mansfield Town 0-2 Bradford City
Newport County 1-0 Tranmere Rovers
Port Vale 0-0 Salford City
Scunthorpe United 0-2 Cambridge United
Southend United 0-1 Cheltenham Town
Walsall 0-0 Exeter City
Leyton Orient v Grimsby Town (5.30pm)
3.49pm BST15:49
Half-time: Chelsea 2-1 Southampton
Timo Werner put Chelsea two up with his first and second Premier League goals, giving his side a comfortable lead. They were in complete control and Southampton's goose looked well and truly cooked, but a late goal from Danny Ings has given them plenty of hope ahead of the second half.
3.47pm BST15:47
45+1 min: Timo Werner smashes a cross towards the near post from the left, but it's cleared by Southampton. Corner for Chelsea, moments before the break. Vestergaard clears Chilwell's delivery.
3.45pm BST15:45
GOAL! Chelsea 2-1 Southampton (Ings 43)
Southampton pull one back! Kai Havertz loses the ball halfway inside his own half and it's played in behind the Chelsea pass for Danny Ings to run onto. He deceives Kepa with a wonderful touch and slots the ball into the gaping goal.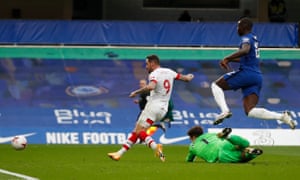 Updated at 3.46pm BST
3.41pm BST15:41
38 min: Kai Havertz turns Jannick Vestergaard and plays the ball to Werner, who shoots high and wide from a tight angle instead of playing the ball back to his team-mate, who was in a much better position and screaming for the return pass. A let-off for Southampton; Havertz lets Werner know, in very strong terms indeed, that he is unhappy with his selfishness.
3.36pm BST15:36
36 min: Kyle Walker-Peters tries to play the ball down the right flank towards Che Adams, who is muscled off the ball near the touchline.
3.35pm BST15:35
35 min: Chelsea are playing some absolutely delightful one-touch pass-and-move football here. They look vastly superior to Southampton, who seem a little overwhelmed by their hosts.
3.32pm BST15:32
31 min: Chelsea corner. Ben Chilwell's inswinger is plucked from the air by Alex McCarthy, who tries to send Che Adams on his way with a quick throw-out. Adams is unable to control the ball.
3.30pm BST15:30
GOAL! Chelsea 2-0 Southampton (Werner 29)
Werner scores his second! Jorginho plays a wonderful long pass from deep, trying to pick out Werner in no-mans land between the Southampton back line and their goal. The German takes on and beats Bednarek in a foot-race, lifts the bouncing ball over Alex McCarthy and then heads into the empty goal from a few yards out. Brilliant stuff, not least from Jorginho, whose dirty long ball was sublime.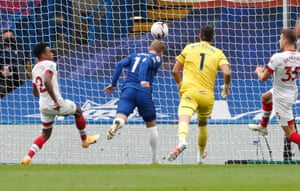 Updated at 3.32pm BST
3.28pm BST15:28
26 min: There's a scramble close to goal in the Southampton penalty area as Kyle Walker-Peters does well to clear the ball with two rat-a-tat tackles on Timo Werner and Mason Mount and in quick succession after good work from Christian Pulisic.
3.24pm BST15:24
23 min: A quarter of the way into the game and Chelsea are well worth their lead. Southampton, disguised as Peru in their fetching white shirts with red sashes, are struggling to make an impression on the game so far.
3.22pm BST15:22
20 min: Southampton win a free-kick down near the corner flag and James Ward-Prowse sends the ball towards the far post. Kurt Zouma clears with a header.
3.18pm BST15:18
17 min: With a fizzing pass coming his way, Timo Werner makes a fool of Jan Bednarek, who was marking him tightly. Werner lets the ball run past him, spins around the defender and cons him with a great dummy. He proceeds to run towards the left side of the Southampton penalty area, cut inside along the front of it, dancing past a couple of challenges before scoring with a low diagonal drive.
Updated at 3.20pm BST
3.16pm BST15:16
GOAL! Chelsea 1-0 Southampton (Werner 15)
Chelsea lead! Brilliant from Werner, who quickly overcomes his disappoint to score his first Premier League goal with a fine individual effort.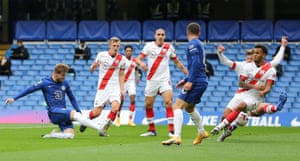 Updated at 3.22pm BST
3.14pm BST15:14
14 min: Timo Werner thinks he's put Chelsea ahead after getting on the end of a Ben Chilwell cross from the left and thumping the ball home with his noggin from close range. Offside.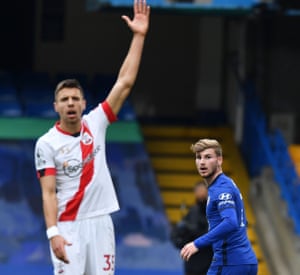 Updated at 3.20pm BST
3.13pm BST15:13
13 min: Theo Walcott plays the ball into the Chelsea penalty area from the inside right, but it's cleared.
3.12pm BST15:12
11 min: Kurt Zouma concedes a free-kick down by the technical area for handball, just inside the Chelsea half. The ball is played back to Alex McCarthy in instalments by Southampton.
3.09pm BST15:09
9 min: Che Adams misses a decent opportunity to fire Southampton in front after being teed up by Theo Walcott. He makes it easy for Kepa, who is alive to the danger in the Chelsea goal.
3.08pm BST15:08
7 min: Chelsea are bossing possession in these early stages, but the double-save from McCarthy aside, Southampton have not been tested. Mason Mount plays Timo Werner in behind the Saints defence with a neat pass, but the striker's cross-shot across the face of goal is not converted.
3.04pm BST15:04
3 min: Alex McCarthy makes a splendid double-save, getting low down to his left to block a shot from Ben Chilwell, then quickly springing to his feet to save the follow-up from Kai Havertz. Excellent goalkeeping, although the shot from Havertz was straight at him.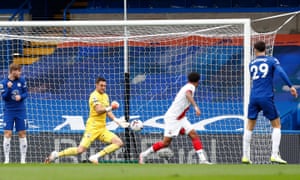 Updated at 3.08pm BST
3.02pm BST15:02
Chelsea v Southampton is go ...
1 min: Play begins at Stamford Bridge, where Christian Pulisic lines up on the right for Chelsea, with Mason Mount on the left.
2.58pm BST14:58
Match report: Everton 2-2 Liverpool
Premier League: There were four goals, a red card and several questionable refereeing decisions in a real white-knuckle ride of a Merseyside derby. Andy Hunter saw it all ...
2.47pm BST14:47
Match Report: Celtic 0-2 Rangers
Scottish Premiership: Connor Goldson scored both goals as a strangely insipid Celtic lost the first Old Firm derby of the season. Ewan Murray was at Celtic Park ...
2.33pm BST14:33
Full time: Celtic 0-2 Rangers
Scottish Premiership: Celtic failed to register a single shot on target in the first Old Firm derby of the season, while Rangers ran out winners thanks to a brace from Connor Goldson.
2.29pm BST14:29
Full time: Everton 2-2 Liverpool
Premier League: It's finished all square at Goodison Park, where Everton and Liverpool have shared the points in a massively entertaining Merseyside derby. Liverpool thought they'd nicked it in added time, only for Jordan Henderson's late "winner" to be chalked off an offside in the build-up. We'll have a report on the game for you shortly.
2.26pm BST14:26
Everton v Liverpool: Jordan Pickford has just had his second big slice of luck in an eventful afternoon. Lucky to have escaped a red card in the first half and with the score at 2-2 in injury time in the Merseyside derby, the Everton goalkeeper let in another soft goal from Jordan Henderson, only for it to be ruled out by VAR for an apparent offside in the build-up. Follow the action here ...
2.23pm BST14:23
Those teams: Frank Lampard makes four changes to the team that beat Crystal Palace, bringing in Kepa Arrizabalaga to deputise for the injured Edouard Mendy. Andreas Christensen is in for Thiago Silva, while Mason Mount and Christian Pulisic start in place of Callum Hudson-Odoi and Tammy Abraham.
Theo Walcott starts for Southampton following his move from Everton, while Nathan Redmond is in for Moussa Djenepo.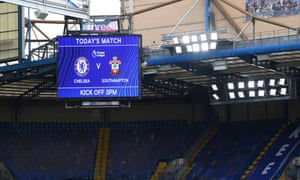 2.17pm BST14:17
Chelsea v Southampton line-ups
Chelsea: Kepa, Azpilicueta, Christensen, Zouma, Chilwell, Kante, Jorginho, Mount, Havertz, Pulisic, Werner
Subs: Caballero, Abraham, Tomori, Giroud, Hudson-Odoi, Ziyech, James
Southampton: McCarthy, Walker-Peters, Vestegaard, Bednarek, Bertrand, Romeu, Ward-Prowse, Redmond, Adams, Walcott, Ings
Subs: Forster, Stephens, Long, Obafemi, Valery, Tella, Diallo
2.13pm BST14:13
League One
MK Dons v GIllingham
AFC Wimbledon v ShrewsBury Town
Bristol Rovers v Burton Albion
Charlton Athletic v Wigan Athletic
Crewe Alexandra v Blackburn Rovers
Fleetwood Town v Lincoln City
Ipswich Town v Accrington Stanley
Peterborough United v Oxford United
Plymouth Argyle v Northampton Town
Portsmouth v Doncaster Rovers
Rochdale v Hull City
Swindon Town v Sunderland
League Two
Bolton Wanderers v Oldham Athletic
Carlisle United v Colchester United
Crawley Town v Morecambe
Forest Green Rovers v Stevenage
Harrogate v Barrow
Mansfield Town v Bradford City
Newport County v Tranmere Rovers
Port Vale v Salford City
Scunthorpe United v Cambridge United
Southend United v Cheltenham Town
Walsall v Exeter City
Leyton Orient v Grimsby Town
2.13pm BST14:13
Today's Championship fixtures
Bournemouth v QPR
Barnsley v Bristol City
Birmingham City v Sheffield Wednesday
Blackburn Rovers v Nottingham Forest
Brentford v Coventry City
Luton Town v Stoke City
Middlesbrough v Reading
Rotherham United v Norwich City
Swansea City v Huddersfield Town
Wycombe Wanderers v Millwall
2.12pm BST14:12
Today's match officials
Referee: Peter Bankes
Assistants: Darren Cann and Mark Scholes
Fourth official: Martin Atkinson
VAR: Mike Dean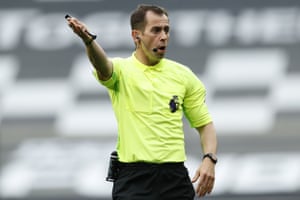 2.12pm BST14:12
Early Southampton team news
Ralph Hasenhüttl must plan without Stuart Armstrong, who is in self-isolation after testing positive for Covid-19 while on duty for Scotland. His absence means Theo Walcott, Southampton's new arrival from Everton, could make his second debut for Southampton more than 15 years after his first one.
Moussa Djenepo is also absent for Southampton as he recovers from a hamstring injury. New signing Ibrahima Diallo is likely to start on the bench following his move to St Mary's from French side Brest.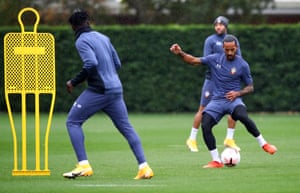 2.12pm BST14:12
Early Chelsea team news
Recent signings Edouard Mendy and Thiago Silva have both been ruled out. Mendy picked up a thigh injury while on international duty with Senegal but Frank Lampard was not prepared to say who of Kepa Arrizabalaga or Willy Caballero would deputise for his new goalkeeper. Silva is not injured, but has been left out of the matchday squad after returning later than ideal from his travels with Brazil.
In better news for Lampard, Hakim Ziyech has recovered from a knee injury and will feature in a Chelsea squad for the first time. Christian Pulisic is available for selection following his return from injury.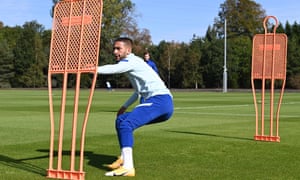 11.15am BST11:15
Premier League Chelsea v Southampton
Stamford Bridge is the venue for a Premier League match that's costing BT Sport customers in the UK a rather controversial £14.95 on top of their regular subscription, so it better be a bloody good one.
It should go without saying that you'll be able to read all about it here completely free of charge, as Frank Lampard's side host a Southampton team hoping to make it three consecutive wins following triumphs over West Brom and Burnley. Chelsea have yet to string back-to-back wins together this season, but can do so today on the back of a 4-0 win over Crystal Palace, a scoreline that somewhat flattered their performance.
Kick-off today is at 3pm (BST), but stay tuned in the meantime for team news and build-up, while we'll also be keeping an eye on results and major talking points outside the Premier League.