Leicester City 0-3 Chelsea: Premier League – as it happened
Minute-by-minute report: Chelsea scored three and had another three disallowed as they saw off dismal Leicester with contemptuous ease. Scott Murray was watching.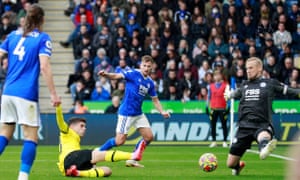 Key events
Show
2.22pm

GMT

14:22

FULL TIME: Leicester City 0-3 Chelsea

2.00pm

GMT

14:00

GOAL! Leicester City 0-3 Chelsea (Pulisic 71)

1.18pm

GMT

13:18

HALF TIME: Leicester City 0-2 Chelsea

12.59pm

GMT

12:59

GOAL! Leicester City 0-2 Chelsea (Kante 28)

12.45pm

GMT

12:45

GOAL! Leicester City 0-1 Chelsea (Rudiger 14)

11.33am

GMT

11:33

The teams

11.30am

GMT

11:30

Preamble
Live feed
Show
2.48pm GMT14:48
Peter Lansley was at the King Power, and his report has landed. Click through for that. Thanks for reading this MBM, hope to see you for Liverpool-Arsenal in a couple of hours, and don't forget that Rob Smyth is on Clocko for all the hot 3pm action.
2.46pm GMT14:46
Brendan Rodgers speaks frankly to BT. "We conceded a disappointing goal from the corner. That gives them confidence. You can see why they are European champions. We lacked that little bit of belief. We had to resurrect that at half-time, and the players' attitude was better in the second half. We forced a couple of saves from Mendy. Maddison and Kelechi gave us more physicality and better technique. The players have an amazing attitude, but confidence is not quite where it's been, so it's my job to bring the players back to that level. We need to attack better and defend better as a team, and the responsibility for that starts with me. I need to find a solution."
2.38pm GMT14:38
Thomas Tuchel speaks to BT. "We played a good away game. It was an excellent result. We created a lot of chances and half-chances, and were a bit unlucky with offside decisions. But we never stopped creating. I am happy with the effort and the quality. If we were on the highest level, we might have scored the third one earlier. If there's two goals, anything can happen, momentum can change. But we didn't allow, and the third one finished it off." As for the future of Antonio Rudiger, who wants a pay rise? "Everybody wants him to stay, it's pretty clear. There's obviously a delay, but we have a bit of patience, and hopefully there will be a happy ending!"
2.24pm GMT14:24
While Chelsea extend their lead at the top, Leicester remain in the bottom half. Southampton and Brentford could both leapfrog them in a couple of hours.
2.22pm GMT14:22
FULL TIME: Leicester City 0-3 Chelsea
Chelsea go six points clear at the top of the Premier League table, for a couple of hours at the very least. They were magnificent. Leicester were not.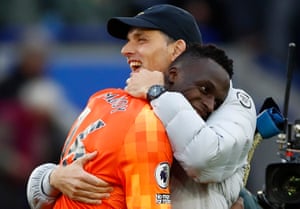 Updated at 2.42pm GMT
2.20pm GMT14:20
90 min +2: On BT Sport, Robbie Savage names imperious veteran Thiago Silva as man of the match. Silva then cops a whack upside the head from Vardy. Everybody's a critic.
2.18pm GMT14:18
90 min: There will be three added minutes.
2.17pm GMT14:17
88 min: Chalobah Beckenbauers his way down the middle. He considers a shot, but lays off to Pulisic, who tees up Chilwell. He blazes over the bar, to a smattering of the old abuse, but nobody's heart is really in it any more.
2.15pm GMT14:15
86 min: Hudson-Odoi barges his way down the inside right and sends a shot across the face of goal and inches wide. The offside flag goes up yet again, but make no mistake, Leicester are a complete shambles at the back.
2.14pm GMT14:14
84 min: Chilwell bombs down the left and pulls back for James, who runs across the face of the box, left to right, one-twos with Ziyech down the channel, and tickles a beautiful finish across Schmeichel and into the bottom right. A third disallowed goal in short order. This could so easily have been a rout. The small margins.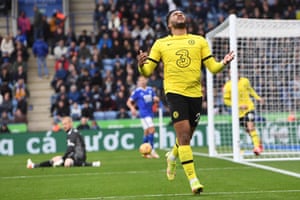 Updated at 2.40pm GMT
2.11pm GMT14:11
83 min: One corner leads to another, and that one leads to a goal kick. It's a job of work breaching this Chelsea back line, that's for sure.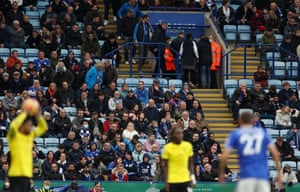 Updated at 2.38pm GMT
2.10pm GMT14:10
82 min: Maddison looks for the top right from distance. Mendy denies him a consolation with another full-stretch tip around the post.
2.10pm GMT14:10
81 min: Loftus-Cheek releases Chilwell down the left. Chilwell pulls back for Pulisic, who opens his body and slams home. Chilwell had gone too early, and the flag goes up for offside, so that's one goal and two disallowed goals in the last ten minutes. Leicester would really love to hear the full-time whistle now.
2.08pm GMT14:08
80 min: Hudson-Odoi nearly finds Ziyech in the Leicester box with a raking cross from a deep position on the left. Schmeichel reads the danger and gathers.
2.07pm GMT14:07
79 min: Ndidi tries to send Vardy clear down the inside-left channel, but Chalobah slides in to make a glorious last-ditch interception.
2.06pm GMT14:06
77 min: Chelsea are taking no chances, and replace Jorginho with Loftus-Cheek.
2.04pm GMT14:04
76 min: Jorginho is down, feeling his hamstring.
2.03pm GMT14:03
75 min: Dewsbury-Hall comes on for Soumare. "Would this be the performance that persuades Brendan Rodgers that the grass at Old Trafford might be greener than the King Power?" wonders Lee Smith.
2.03pm GMT14:03
73 min: Hudson-Odoi lashes into an empty, unguarded net, Pulisic having teed him up at the end of a hectic game of pinball in the Leicester box. But the flag goes up for offside. Leicester, who had been enjoying their best spell just before the third goal, are in danger of falling apart completely.
2.00pm GMT14:00
GOAL! Leicester City 0-3 Chelsea (Pulisic 71)
This is too easy for Chelsea. Ziyech romps down the right, the recipient of a lovely Chalobah pass. He enters the box, sends Soyuncu off for a copy of the Mercury, and rolls towards Pulisic, who slots into the bottom right.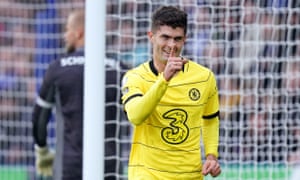 Updated at 2.12pm GMT
1.58pm GMT13:58
70 min: Space for Soumare down the inside-left channel. He made it himself with a tricky shake of the hips, but wastes his good work by slapping a pass, meant for Vardy, straight at Silva.
1.57pm GMT13:57
68 min: So having said all that, Chelsea nearly score the killer third. Ziyech teases a lovely diagonal pass into the box from the right, Pulisic meeting it on the right-hand corner of the six-yard box. Hoping to steer home, he ends up clanking it wide right. Very close to a very clever goal.
1.56pm GMT13:56
67 min: It's all a bit scrappy now. Possibly more to Leicester's benefit than Chelsea's. The home team have improved since the restart, though we refer you once again to that low bar.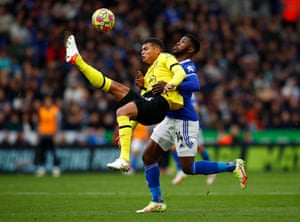 Updated at 2.02pm GMT
1.54pm GMT13:54
65 min: Mendy takes an age over the goal kick, and is booked for wasting time. A clearly incensed Tuchel gives his keeper the what-for.
1.53pm GMT13:53
64 min: Nothing comes of the resulting corner, but Leicester come again, Maddison curling in from the right. Vardy meets the ball, six yards out, but can only shoulder it over the bar. A huge chance missed ... though Vardy looked a couple of inches offside when the ball came in, and any goal may have been chalked off by VAR anyway.
1.52pm GMT13:52
63 min: Pass, pass, pass, at slow speed. Suddenly the ball breaks to Amartey, who takes a snapshot from 25 yards. He sends a rising pearler towards the top right. Mendy fingertips around the post at full stretch. That came out of nothing, and speaks volumes of the keeper's concentration.
1.50pm GMT13:50
62 min: Mount and Havertz are replaced by Pulisic and Ziyech.
1.50pm GMT13:50
61 min: Rudiger strides down the left and feeds Hudson-Odoi, who cuts infield, drops a shoulder to make some space in the box, and curls towards the top right. It's just high, just wide. A fine effort.
1.48pm GMT13:48
60 min: Chilwell is nearly found alone in the Leicester box with a simple long ball down the middle. Albrighton reads the danger and arrives to toe-poke out for a corner. Chilwell takes it himself; Soumare clears.
1.47pm GMT13:47
59 min: Albrighton swings in from the right. Mendy comes out and uncharacteristically flaps. He misses the ball, which clanks off James ... but doesn't drop to the lurking Vardy, falling into the arms of the relieved Mendy instead. Better from Leicester, though the bar this lunchtime has been set very low.
1.46pm GMT13:46
58 min: A very small pocket of space for Maddison, 25 yards out on the right. Maddison doesn't need asking twice, and takes the opportunity for a shot on goal. He sends a bouncing bomb towards the bottom left; Mendy reads it well to gather without fuss.
1.45pm GMT13:45
56 min: Corner for Chelsea on the left. Havertz takes. Schmeichel punches clear. Chelsea are knocking at the door here.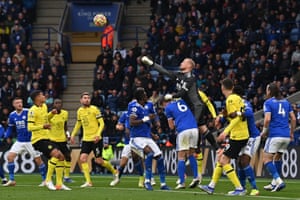 Updated at 2.00pm GMT
1.43pm GMT13:43
55 min: Leicester try to play their way out from the back and fluff it. The ball breaks to Hudson-Odoi, who sends a pea-roller dribbling towards the bottom left. Easy for Schmeichel, though it shouldn't have been. That's Chelsea's 11th attempt at goal this afternoon, and their sixth on target; Leicester have yet to make one.
1.42pm GMT13:42
53 min: Hudson-Odoi chases after Silva's raking pass down the left. He reaches the byline and pulls back for Chilwell, who drives low and hard towards the goal. Schmeichel does extremely well to deflect the ball past the right-hand post, Chilwell's shot having pinballed its way through a forest of legs. The corner comes to nought.
1.39pm GMT13:39
51 min: Maddison tries to step things up again, snapping into a couple of 50-50 challenges. Nothing of note happens, but the rise in tempo gets the crowd going.
1.38pm GMT13:38
49 min: Chelsea get back on the ball and slow things down a bit. Smart game management.
1.36pm GMT13:36
47 min: The substitutes nearly made an immediate impact there, and the crowd have responded accordingly. The home fans didn't have too much to shout about during the first half, so they take what they can.
Updated at 1.36pm GMT
1.35pm GMT13:35
Leicester get the second half underway. They've made a double change, hooking Barnes and Lookman and sending on Maddison and Iheanacho. Tuchel responds by calling Chilwell to the touchline and issuing some tactical orders. Maddison is immediately into the thick of it, sending Vardy off down the left. Vardy's low cross is snaffled by Mendy, with Iheanacho lurking.
1.30pm GMT13:30
Half-time postbag. "That late, nasty, behind-the-play challenge on Hudson-Odoi is the third or fourth of that sort from Leicester. There was another on Jorginho and, of course, several on Chilwell, who's been targeted for rough treatment generally. They're playing more like Stoke City than Leicester City today" - Nate Elliott.
"Evans is not appreciated enough for his skills of fouling indiscriminately, abusing the referee, and never receiving that second yellow card" - Gary P.
1.18pm GMT13:18
HALF TIME: Leicester City 0-2 Chelsea
This scoreline flatters Leicester, who have been thoroughly bossed by Chelsea. Adding insult to injury for the home fans, it's their old heroes Ben Chilwell and N'Golo Kante who have done the damage, with an assist and a goal respectively. Leicester are booed off.
1.16pm GMT13:16
45 min +1: James blooters the free kick straight into the wall.
1.16pm GMT13:16
45 min: Havertz spins Evans with ludicrous ease in the centre circle. He then drives towards the Leicester box, and has his feet taken from under him by Evans on the edge of the D. Evans goes in the book, as does Schmeichel, yammering away at the ref.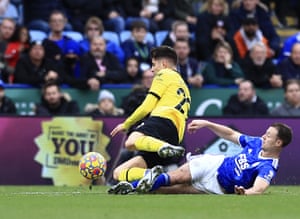 Updated at 1.39pm GMT
1.14pm GMT13:14
43 min: James slips Havertz into space down the right. Castagne does well to stick to his man and eventually force him to turn tail. Leicester really need to hear the half-time whistle.
1.12pm GMT13:12
41 min: A free kick for Leicester, 40 yards out. Lookman shovels it towards Evans, racing down the inside-left channel. The ball loops over his head and straight out for a goal kick. Evans frowns and effs and jeffs.
1.10pm GMT13:10
39 min: Earlier in that move, Amartey had clumsily clattered Hudson-Odoi, so into the book he goes.
1.10pm GMT13:10
38 min: Kante bowls over Vardy, 40 yards from goal. Lookman hoicks the free kick into the box, but it's easily cleared by Havertz, and Chelsea counter. Chilwell clips a cross from the byline on the left. Havertz, on the right-hand corner of the six-yard box, shapes for the bicycle kick, but only manages to clatter his own man Kante, who was rushing in with a view to steering a much simpler header into the top left. A lot of slapstick fun, and so close to that game-securing third.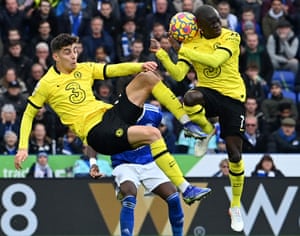 Updated at 1.20pm GMT
1.07pm GMT13:07
37 min: Chelsea stroll about for a bit. They've earned the right.