Clippers vs. Jazz score, takeaways: Kawhi Leonard, Paul George rise to occasion as L.A. found its blueprint
The Clippers have flirted with death all postseason, but here they are very much alive at 2-2 vs. Utah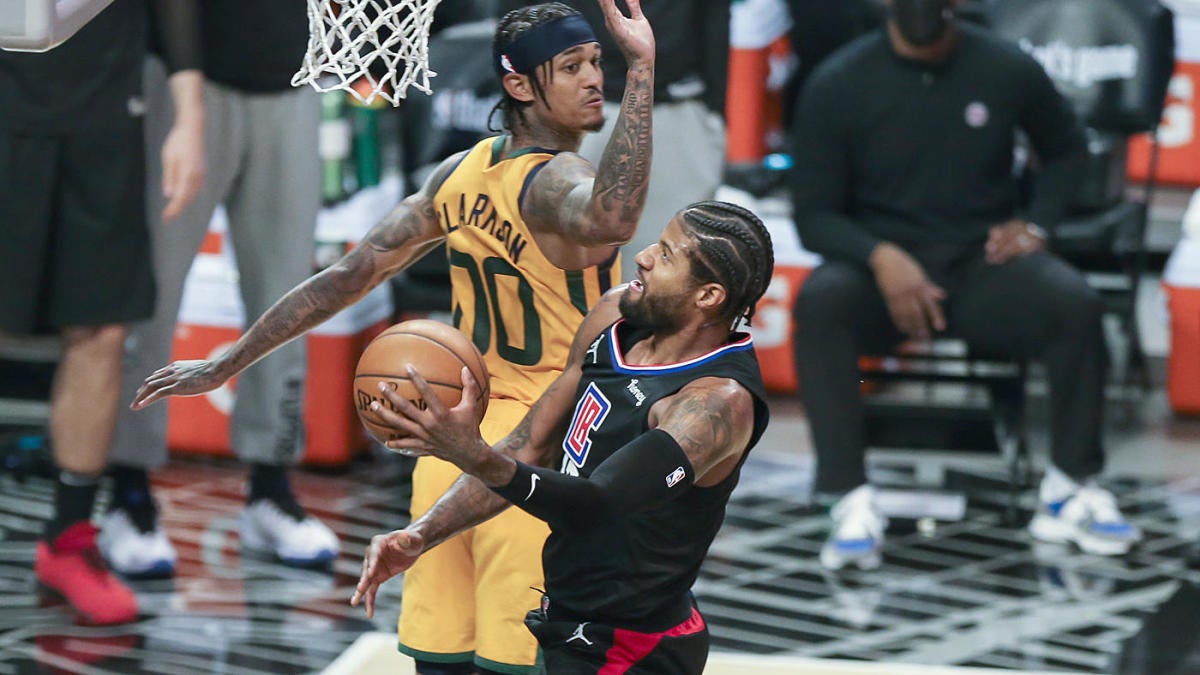 The Los Angeles Clippers are living dangerously in these playoffs, falling behind 2-0 in each of their first two series. Yet, here they are wrestling back control in the nick of time again, defeating the Jazz 118-104 on Monday night to even their second-round series 2-2, just as they did against the Mavericks in the first round. 
Game 5 is Wednesday night in Utah.
It feels like all the momentum has swung the Clippers' way. Kawhi Leonard, who has arguably been the best player in this postseason, was fantastic on both ends, finishing with 31 points. And what can you say about Paul George?
Please check the opt-in box to acknowledge that you would like to subscribe.
Thanks for signing up! Keep an eye on your inbox.
Sorry! There was an error processing your subscription.
We're going to need to bring this P.G. roast to an end. The man is playing terrific, and quietly has been through most of this postseason, and he has for most of his career. He brought on much of the mocking with the self-proclaimed nickname and the whole "that's a bad shot" routine, but a few high-profile stinkers aside, there is no way you don't want this on your team.
George finished with 31 points, nine rebounds and four assists. He was 4 for 10 from beyond the arc. He's attacking with force and shooting with confidence, and the impressiveness of that cannot be understated given the spotlight that is on him. It feels like all of social media is just waiting for him to fail, and he's aware of it. He has to be. It would be so easy for him to get hesitant. And yet he's playing as though he is oblivious to it all. When he was subbed out for the last time in the fourth quarter, he left to a standing ovation. He deserved it. Good for him.
And good for the Clippers, who have seemingly dialed in their championship formula. That doesn't mean they're going to win it, but this is what gives them their best chance: Leonard and George play like stars and the defense suffocates with switches, aggressive rotations and ball pressure.
On Monday, the first half decided the game. The Clippers were adamant Donovan Mitchell was not going to beat them. They trapped, doubled, collapsed on his drives and forced the Utah shooters to hit shots. They didn't. Utah took 60 percent of its first-half shots from beyond the arc, making just 33 percent of them. With his downhill energy cut off, Mitchell was forced behind the line as well, taking 10 of his 14 first-half shots from 3. He made just three of those 10. 
Mitchell and the Jazz made their 3-point numbers look better by the end of the game, but the damage was done early. The Clippers dictated the terms. Mitchell has become a great off-the-dribble 3-point shooter, but he's really killing you when he's getting in the lane and the Jazz are hitting you with swing-swing sequences that end with a clean 3-point look. 
The Clippers did everything they could to keep that from happening, and they were successful. Mitchell didn't get much of any scoring help when he needed it in the first half. By the time Joe Ingles and Bojan Bogdanovic found their strokes, the deficit was into the 20s. 
Meanwhile, the Clippers got the peripheral performances they needed. Marcus Morris, who was 5 for 5 from 3 in the first half, might be the biggest X-factor remaining in these playoffs. When he's making 3s, the Clippers are an entirely different team with the attention that has to be paid to Leonard and George. 
Also, a lot of love for Terance Mann is in order. Ty Lue has had him out of the rotation at points, and there's a reason he's been getting roasted for that decision on Twitter. Mann scored three points in 15 minutes on Monday, and those numbers do nothing to capture his impact as a defender and energy supplier. These are the numbers to focus on:
So, here we go, 2-2 with Game 5 on Thursday. There are no more secrets in this series. Each team has shown its hand, laid out its winning formula, and now we see who executes better with it all on the line. The Jazz were the best team all season and still have to like their chances going home for the swing Game 5 and potentially for a Game 7. They have to play faster before the Clippers can set their defense. Mitchell has to attack before the doubles come. The shooters need to knock down shots. I'll be interested if Rudy Gobert plays a bigger role as a roller in Game 5; that's one way to get into the teeth of the defense when the Clippers are closing off gaps. 
But the Clippers don't have to rediscover anything. They're the ones who are rolling, and they're in familiar territory. They flirted with postseason death before and came out on top, and they're doing it again. And now that they've sprung to life, it's going to be hard to put them back down.