NYE private parties restricted to 15 people, masks mandatory indoors again
Victoria has now recorded three further cases of COVID-19, additional to the three women who tested positive on Wednesday.
There no cases recorded in hotel quarantine after more than 13,000 tests were carried out on Wednesday.
The three women - two in their 40s and one in her 70s - who tested positive on Wednesday are believed to be linked through close contacts to the outbreaks in NSW, although none of them had travelled over the border.
The women from Mitcham, Mentone and Hallam, in Melbourne's east - and more than 40 close contacts - were isolating at home, Victoria's COVID-19 testing commander, Jeroen Weimar said.
Late on Wednesday, the Health Department released a list of exposure sites, including Fountain Gate Shopping Centre on Boxing Day. Anyone who was at Mentone/Parkdale beach on December 27, or at Century City Walk and Mocha Jo's in Glen Waverley or Katialo restaurant in the Eaton Mall in Oakleigh on December 28 should immediately be tested.
Epidemiologist Professor Tony Blakely said he expects the Victorian government will move to tighten restrictions for some parts of Melbourne ahead of New Year's Eve celebrations tonight.
Loading
"I expect we'll see some tightening up in at least some areas of Melbourne for tonight, which is most unfortunate, but we know that's what you have to do with this virus," Professor Blakely said.
Professor Blakely, of the University of Melbourne told radio station 3AW he expected that the three cases would prove to be connected - and that he would be more concerned if they weren't.
"It's almost improbable, very, very, very unlikely they would have arisen in Victoria. They would have come in from NSW presumably."
"The fact that there are three cases is concerning. I'm expecting that these cases would be connected somehow. It would seem unlikely that three would suddenly pop up."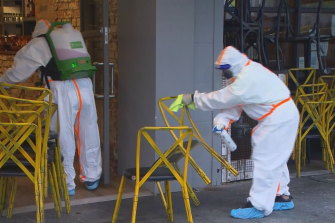 Professor Blakely also expects the numbers to rise above ten in the next few days before tapering off, if all goes well.
He said Australia would continue to see outbreaks for as long as it allowed people to return from the UK, US, and other places with high infection rates - as hotel quarantine programs would never be perfect.
"This incursion of the virus will happen again and again until we're vaccinated enough," he said.
"When we get our first 100,000 doses of vaccine, they should be applied completely to the border control quarantine, airport and airline staff to make an extra barrier around the arrival of people from high-infection countries."
UNSW epidemiologist Raina MacIntyre said the timing of the infections suggested transmissions on or near Christmas.
"My guess is someone that travelled over the border for Christmas infected someone and I'd suspect that people who got infected on Christmas Day are starting to present today," she said.
People who were infected on Christmas Day would be at their most infectious on New Year's Eve, but might not know it, she said.
She the state government should consider reintroducing some restrictions to prevent a fresh outbreak.
Professor Catherine Bennett of Deakin University said contact racing would be crucial to prevent a fresh outbreak of the disease.
Get our Coronavirus Update newsletter
Stay across the news you need to know related to the pandemic. Sent Monday and Thursday. Sign up here.
Most Viewed in National
Loading