Crystal Palace v Liverpool: Premier League – live!
Minute-by-minute report: Live updates on the action at Selhurst Park as Liverpool try to stay in the title hunt. Join Luke McLaughlin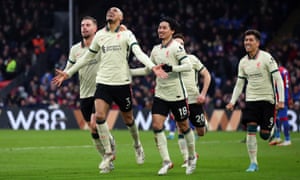 Key events
Show
3.56pm

GMT

15:56

Full-time! Crystal Palace 1-3 Liverpool

3.47pm

GMT

15:47

Goal! 88 min: Crystal Palace 1-3 Liverpool (Fabinho pen)

3.46pm

GMT

15:46

Penalty to Liverpool!

3.15pm

GMT

15:15

Goal! 55 min: Crystal Palace 1-2 Liverpool (Édouard)

3.03pm

GMT

15:03

Second-half kick-off!

2.50pm

GMT

14:50

Half-time! Crystal Palace 0-2 Liverpool

2.34pm

GMT

14:34

Goal! 32 min: Crystal Palace 0-2 Liverpool (Oxlade-Chamberlain)
Live feed
Show
4.00pm GMT16:00
On the plus side, Palace played some lovely stuff, and Liverpool played some lovely stuff, but neither side ever looked fully comfortable in defence. The Liverpool full-backs Alexander-Arnold and Robertson are both happiest when Liverpool are on the front foot, with their opponents pinned back, but when the boot is on the other foot, Liverpool can be got at.
3.58pm GMT15:58
A brief email from Martin arrives, entitled 'Gross decision': "Makes me sick. And I'm a Red."
3.56pm GMT15:56
Full-time! Crystal Palace 1-3 Liverpool
Well, that was quite eventful and slightly strange. Liverpool got over the line after a dominant opening ... but Palace will be rightly disgusted with the penalty won by Jota in the closing minutes. Patrick Vieira sends a few pointed words in the direction of the match officials as they leave the pitch.
3.54pm GMT15:54
90 min + 5: "I'm a Liverpool fan so I'll obviously take it but I would be livid if it was the other way round," emails Sam. "Never a pen for me; Jota no longer had control of the ball and went into Guita pretty directly."
3.53pm GMT15:53
90min + 4: Gallagher swings in another free-kick from the right wing. Liverpool clear comfortably enough. It's hard to escape the deflating feeling that a laughably poor decision, to award Liverpool that penalty after a long VAR review, has robbed us of an exciting finish.
Updated at 3.53pm GMT
3.51pm GMT15:51
90 min + 2: We'll have a minimum of six minutes added on. Palace win a free-kick in the Liverpool half. Nothing comes of it.
Updated at 3.52pm GMT
3.50pm GMT15:50
90 min: Mac's emailed again: "Jota misses the ball, so then shuffles toward the keeper to initiate contact. And besides, the VAR people looked at it for so long, how could it possibly have been a clear and obvious error? What's the point any more?"
I agree.
3.48pm GMT15:48
89 min: "A horrible, horrible decision," emails Mac, with regards to the penalty. I agree. Even Jamie Carragher on commentary was saying it wasn't a penalty. Jota clearly stepped into Guaita and initiated the contact.
3.47pm GMT15:47
Goal! 88 min: Crystal Palace 1-3 Liverpool (Fabinho pen)
Fabinho steps up and passes the ball coolly into the corner. That is surely the game for Liverpool. Palace will be livid with the decision. The crowd make their feelings known.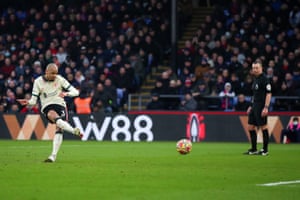 Updated at 3.56pm GMT
3.46pm GMT15:46
Penalty to Liverpool!
I think Jota has bought that. But it's a penalty. Fabinho will take.
Updated at 3.46pm GMT
3.44pm GMT15:44
85 min: Jota sprints on to a bouncing ball in the Palace area. He tries to flick the ball beyond Guaita but misses it ... He is then brought to the ground by Guaita, looking for the contact, and now we have a lengthy VAR check for a penalty ... I think this would be a ludicrous decision if Liverpool get a penalty. Jota has blatantly played for that and brought the contact about himself, if you ask me.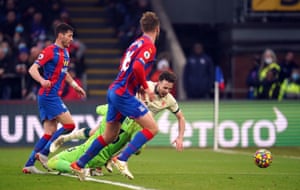 Updated at 3.50pm GMT
3.42pm GMT15:42
83 min: Oliseh nearly lobs Alisson and makes it 2-2 but the goalie claws the ball out for a corner! The Palace man sprints on to a ball over the top and hits it first time. It is looping into the net, for sure, but Alisson does extremely well to run back and bat the ball out, crashing into the post as he does so.
Updated at 3.42pm GMT
3.40pm GMT15:40
81 min: Jones makes a bright run on the left wing for Liverpool and is felled by Schlupp. Schlupp is booked. James Milner is coming on for Liverpool. Klopp is looking to shore things up and hang on to this 2-1 lead with Liverpool's Mr Dependable.
3.38pm GMT15:38
78 min: A hopeful ball over the top from Palace is headed back to Alisson by Robertson, tracking back at full pace. There's a slight scare for Liverpool, though, as Alisson has come a little too far towards the ball and has to react quickly to stop it bouncing past him and towards the open goal ... anyway, he manages to sort it out.
3.36pm GMT15:36
77 min: Hughes and Mateta go off – Benteke and Ayew come on for Palace. Vieira is throwing the kitchen sink at Liverpool. Or is it everything but the kitchen sink? He's trying to get a goal, anyway.
3.33pm GMT15:33
75 min: Liverpool construct a lovely passing move in which Alexander-Arnold is the fulcrum. He gets his foot on the ball once, then twice, bending a trademark cross to the far post. But the move fizzles out.
3.32pm GMT15:32
73 min: Oliseh clips a cultured ball infield for Gallagher who is advancing into the area. He controls it but it flicks his hand as he does so and the ref awards a free-kick to Liverpool.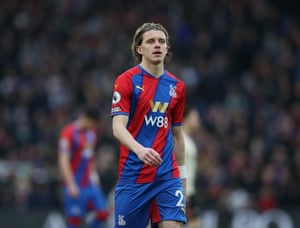 Updated at 3.43pm GMT
3.31pm GMT15:31
72 min: Fabinho smacks a shot from distance for Liverpool. Guaita gets down to make a comfortable save. Liverpool have steadied the ship once again, after a spell of rampant running and attacking by Palace and their all-action front three. But here they come again ...
3.29pm GMT15:29
69 min: Liverpool pump a ball into the Palace box from distance. The Eagles deal with it easily. Liverpool look short of ideas in attack, all of a sudden, while Palace carry a threat every time they go forward. Eze races down the left for Palace and plays in Schlupp but Liverpool eventually get a goal kick.
Updated at 3.29pm GMT
3.26pm GMT15:26
65 min: Minamino replaced Oxlade-Chamberlain for Liverpool a few minutes ago, and now Eze comes on for Éduoard for Palace, both managers looking to some fresh legs for the final quarter of the match.
3.21pm GMT15:21
61 min: Liverpool keep the ball for a spell in the Palace half. The home crowd, deafening a couple of minutes ago, calm down a little. Palace stroke the ball around at the back and nearly get caught out by the Liverpool press, with Guaita forced to loft the ball out for a throw in on the Palace right. Liverpool look comfortable when they have Palace pinned back, but very shaky when they're on the back foot themselves.
3.16pm GMT15:16
57 min: Selhurst Park is rocking! Now Andersen pounces on a half-cleared ball and cracks a powerful left-footed shot which flies fractionally wide! Klopp will be having kittens.
Updated at 3.16pm GMT
3.15pm GMT15:15
Goal! 55 min: Crystal Palace 1-2 Liverpool (Édouard)
Again a lot of space opens up in the midfield for Palace to attack. Schlupp runs forward and angles a good low ball which cuts through the Liverpool defence and beats the offside trap. Mateta is one-on-one with Alisson but shows great awareness to lay the ball off to his left for Édouard, who tucks the ball into an open goal with a minimum of fuss. Game on: and Vieira's men unquestionably deserve that goal.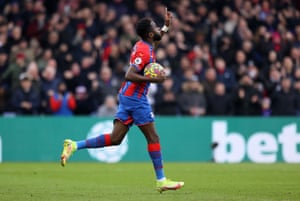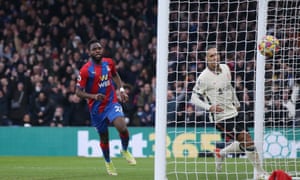 Updated at 3.34pm GMT
3.12pm GMT15:12
52 min: Palace have done well to fight back into this. Liverpool's dominance was almost complete for the first half an hour or so. As I type, it's nearly 3-0: Alexander-Arnold's cross finds Henderson who takes a smart touch and then shoots on the turn. His effort flashes wide of the post. Seconds later Henderson has another shot from outside the area which is blocked.
3.07pm GMT15:07
48 min: Alisson makes another save as Eduoard tries a backheel from a couple of yards out! Palace could seriously have had four goals in the past 10 minutes, before and after half time.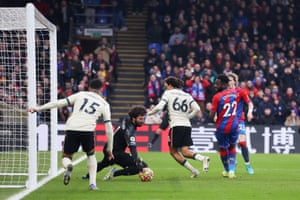 Updated at 3.14pm GMT
3.06pm GMT15:06
47 min: Gallagher misses another big chance for Palace! Olise is released down the right in tonnes of space. Liverpool rush back to cover but after a smart turn away from Robertson, Olise fires a ball into the danger zone. Mateta is lurking at the far post, but before the ball gets to him, Gallagher gets a touch on the ball with a flicked header and it flies out for a goal kick on the far side of the goal from where Olise hit the cross.
Updated at 3.09pm GMT
3.03pm GMT15:03
Second-half kick-off!
Here we go for the second half. Palace get things started. Can they find a way back?
3.03pm GMT15:03
"It's an opportunity for Klopp to be criticial of them," Roy Keane says of those late Liverpool errors from the pundits' chair. He'd never struck me as someone looking for reasons to criticise people!?
Updated at 3.04pm GMT
3.01pm GMT15:01
"Liverpool will have to dispense with Mr Hyde (Matip's ridiculously sloppy cross-field pass) and focus on Dr Jekyll (Trent, Robertson, Oxlade-Chamberlain) if they they want to make sure of this victory," emails Colum. "They got away with (Hyde-like) murder in the last 10 minutes of the first half and have Allison to thank for the scoresheet."
2.50pm GMT14:50
Half-time! Crystal Palace 0-2 Liverpool
Liverpool were simply irresistible in racing into a 2-0 lead. But a couple of mistakes allowed Palace chances late in the half, and Vieira's men will believe they can force their way back into this. See you in a few minutes for more.
Here's some half-time viewing ... what a hit! WHAT a hit!
2.47pm GMT14:47
45 min: With the half-time whistle close, Gallagher of Crystal Palace hits an attractive-looking ball into the channel for Mateta to chase, but he's offside.
Updated at 2.48pm GMT
2.45pm GMT14:45
41 min: Whoops. Now Firmino coughs up possession sloppily in midfield. Olise again is on to it in a flash, and slides a good ball in behind for the onrushing Mateta. Mateta goes around Alisson, with Van Dijk and Matip desperately tracking back to try and cover the open goal. Mateta strikes a shot, Matip deflects the ball out for a corner – although I'm not sure that Mateta's effort from a tight angle was goal bound in the first place. On the touchline, Vieira gesticulates in frustration at another golden chance passed up by his players.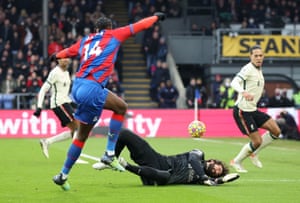 Updated at 3.06pm GMT
2.42pm GMT14:42
39 min: Palace are nearly in again! Matip plays a dreadful pass across his own penalty area, trying to move out of defence, and Olise has a clear sight of goal from the right after pouncing on it. However, Alisson comes to Matip's rescue and makes a good save. That error from Matip was completely out of keeping with what's been a polished Liverpool display up until now.
Updated at 2.42pm GMT
2.39pm GMT14:39
36 min: A glimmer of an opening for Palace, Gallagher putting himself about and winning the ball from Liverpool high up the pitch. Mateta then has a chance to cross for Gallagher from the right, and whips the ball across with power. It's not a bad idea to hit the cross hard, but Gallagher isn't in position to meet it with a first-time shot. He tries to control it, but the ball squirts off his boot and Alisson claims.
Updated at 2.40pm GMT
2.34pm GMT14:34
Goal! 32 min: Crystal Palace 0-2 Liverpool (Oxlade-Chamberlain)
The visitors stroke the ball around at the back. On commentary for Sky Sports, Jamie Carragher correctly observes: "The positive for Crystal Palace is it's only 1-0." Seconds later, it is 2-0. After that spell of possession for Liverpool in defence, they work the ball forwards and to the left wing. Robertson seems to have all the time in the world to look up and clip a cross to Oxlade-Chamberlain, who is lurking at the far post. Firmino jumps to try and head it but can't reach it. No matter: Oxlade-Chamberlain brings the ball down unerringly and slots a smart finish in from an angle. It's difficult to argue that Liverpool don't deserve this 2-0 lead ... they have been outstanding.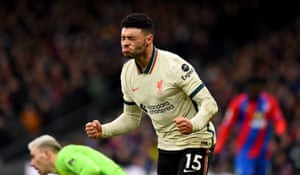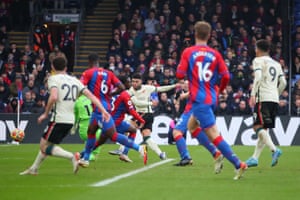 Updated at 2.51pm GMT
2.31pm GMT14:31
29 min: A classy bit of footwork by Roberto Firmino on the Liverpool right wins another corner. Palace manage to deal with it again and even have a glimmer of a fast counterattack but Robertson wins a 50-50 ball to snuff out the danger of being hit on the break.
2.29pm GMT14:29
27 min: Liverpool win a corner. Roberston bends it in, outswinging, to the near post. Jota is nearly on hand to meet it but Palace manage to clear for another corner. The next one bobbles across the Eagles' goal but no-one can get a shot in for Liverpool and Vieira's men manage to clear.
2.27pm GMT14:27
25 min: This is heavy-metal football at its finest. Robertson is again making a nuisance of himself on the Liverpool left. They stream forward in attack and the ball is worked back to Fabinho by Jota, but the Brazilian's side-footed effort from the edge of the box is always rising and flies high over the goal.
Updated at 2.28pm GMT
2.24pm GMT14:24
20 min: Big chance for Palace! Ward races down the right, appearing to beat the Liverpool press, and crosses low, and Mateta's side-footed effort is saved at point-blank range by Alisson. But after all that, the flag had gone up for offside. An encouraging moment for the Eagles regardless.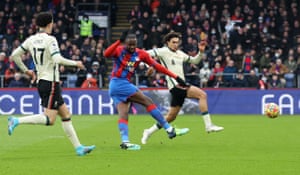 Updated at 2.39pm GMT
2.21pm GMT14:21
18 min: Sky replayed the goal a little while back and it looked like Schlupp and Andersen got in each other's way at the corner, which allowed Van Dijk to head in. I think Andersen was meant to be marking Van Dijk. That will make for some uncomfortable viewing in the analysis room with big Patrick Vieira.
Updated at 2.25pm GMT
2.18pm GMT14:18
16 min: A brief spell of respite for Palace and a sniff of possession in Liverpool's half. Olise tries a couple of times to play in teammates but Klopp's men deal with the danger comfortably enough. Palace are still on the ropes in reality.
Updated at 2.18pm GMT
2.16pm GMT14:16
12 min: Oxlade-Chamberlain hits a shot from outside the area which flies high over the goal. Palace want to play, but they can't get the ball, and are being pinned back. Again Liverpool attack: Henderson slides a low pass for Oxlade-Chamberlain but Guaita is alert and rushes off his line to smother the ball.
2.14pm GMT14:14
10 min: Liverpool are rampant. Robertson links with Jones and cracks an ambitious shot from an angle which he drags wide of the goal but which stays in play. Liverpool keep the ball alive, and Robertson gets a chance to cross for Oxlade-Chamberlain at the far post. The midfielder's effort from close range hits the side netting.
Updated at 2.14pm GMT
2.11pm GMT14:11
Goal! 8 min: Crystal Palace 0-1 Liverpool (Van Dijk)
Boom. What a header, what a start by Liverpool. Palace lose their way defending the first corner of the match. Van Dijk peels off to the front post and meets Robertson's excellent delivery with a thumping, un-saveable header that crashes into the top corner. He was unmarked, but still, a top-class finish. Vieira will be angry that Palace gave Van Dijk the freedom of the Borough of Croydon there.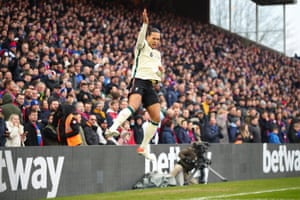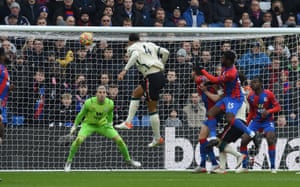 Updated at 2.20pm GMT
2.09pm GMT14:09
6 min: All hands on deck for Palace. Jota nearly bursts through, one-on-one, but is crowded out. The ball bounces back to Jordan Henderson who hits a low shot which Guaita saves. Liverpool area going for it.
2.07pm GMT14:07
4 min: Liverpool win a free-kick in an advanced area, which is swung into the Palace box, but Mateta clears. Liverpool soon attack again down the right. Trent Alexander-Arnold bends a cross to the far post where Curtis Jones kills it with a fine first touch. He has the time and space to cut the ball back for Robertson, who hits it first-time, left-footed, from just inside the penalty area, but his shot balloons over the bar.
Updated at 2.08pm GMT
2.05pm GMT14:05
2 min: Palace aren't parking the bus, anyway. As Vieira said before the match, they have a front three, and will be looking to press Liverpool and keep possession high up the pitch. Andy Roberstson makes a burst down the Liverpool left but Michael Olise deals with the early danger.
Updated at 2.05pm GMT
2.02pm GMT14:02
First half kick-off!
Liverpool, wearing their cream-coloured away kit, get things started after players from both sides take the knee.
Updated at 2.02pm GMT
1.59pm GMT13:59
The players are out on the pitch – and we're ready to go.
Updated at 2.00pm GMT
1.55pm GMT13:55
Patrick Vieira has a chat with Sky Sports: "The key today is about concentration, determination, to play the game and try to make less mistakes ... every mistake you make against a team like Liverpool, you get punished straight away ... we have to go on the field and perform with enthusiasm, and with confidence, and we will have support from the fans like always.
"JP [Mateta] has been doing really well lately, so I just wanted to give him a chance to start ... the front three are really young, with a lot of energy, and a lot of quality. Hopefully they will perform at the level I know they can do."
Updated at 1.55pm GMT
1.47pm GMT13:47
Over on Crystal Palace's Twitter, they're going alllllll the way back to 2014, and this belting free-kick by Mile Jedinak:
1.45pm GMT13:45
Klopp speaks to Sky Sports on his selection: "I'm really pleased that 'Ox' is available again ... [his injury] was nothing serious ... [Klopp makes a puzzled face] What was the other change? Oh yes, the goalkeeper ... as good as Caoimhin [Kelleher] is, Ali will always come back in."
Klopp is then asked about the change to Crystal Palace under Vieira after the Hodgson days: "I really admire Roy Hodgson, what a manager ... Patrick has a different idea, he wants to be in charge of the game, he wants to have possession, you can see that in the stats ... they will play round you and play through you if you are not careful enough."
Updated at 1.46pm GMT
1.39pm GMT13:39
Football doesn't really change: If you want to win, you have to boss the midfield. With that in mind, all eyes will be on the battle between Conor Gallagher and Jordan Henderson in the middle of the park.
1.37pm GMT13:37
Liverpool are very excited to be in Norwood on a cold Sunday in January. Wouldn't you be?
Updated at 1.37pm GMT
1.26pm GMT13:26
"Liverpool's January always promised to revolve around African attackers. Just not Daniel Udoh, perhaps. And yet, should they keep a fourth consecutive clean sheet against Crystal Palace on Sunday, Shrewsbury's Nigerian target man will retain his distinction as the only player to score against them while Mohamed Salah and Sadio Mané were at the Africa Cup of Nations."
Richard Jolly assesses the way Liverpool have dealt with Afcon absences – and the importance of the centre-back Virgil van Dijk:
1.15pm GMT13:15
Teams
Vicente Guaita is back in nets for Palace, with Jack Butland dropping to the bench. Jean-Philippe Mateta comes in for Eberechi Eze in the only other change to Patrick Vieira's starting lineup. Jürgen Klopp selects the same team that dispatched Brentford 3-0 in the Reds' previous Premier League outing.
Crystal Palace: Guaita, Ward, Andersen, Guehi, Mitchell, Gallagher, Hughes, Schlupp, Olise, Edouard, Mateta. Substitutes: Butland, Milivojevic, Ayew, Eze, Clyne, Benteke, Kelly, Ferguson, Riedewald.
Liverpool: Alisson, Alexander-Arnold, Matip, van Dijk, Robertson, Henderson, Fabinho, Jones, Oxlade-Chamberlain, Firmino, Jota. Substitutes: Konate, Milner, Gomez, Minamino, Tsimikas, Gordon, Kelleher, Neco Williams, Morton.
Referee: Kevin Friend (Leicestershire)
Updated at 1.19pm GMT
1.05pm GMT13:05
Preamble
Last season, Liverpool put seven goals past Crystal Palace in this fixture and led the Premier League, albeit briefly, by six points. But the world was a very different place then, after 14 rounds of the 2020/21 season. Leicester City were second and Everton (!!) were fourth. Manchester City languished down in eighth, hatching a cunning plan for their post-Christmas charge to the title.
Second-placed Liverpool approach today's match trailing the champions by 12 points and they are also without the prolific forwards Mohamed Salah and Sadio Mané – the former knocked in a hat-trick in that 7-0 win. Added to which, the conservatism of the Roy Hodgson era at Selhurst Park is a distant memory now that a young, talented and progressive coach has taken over in the shape of Patrick Vieira.
Seven-nil to Liverpool looks distinctly unlikely – but Jürgen Klopp's men know they must win to retain any hope of getting that title back from Pep Guardiola and Manchester City. Kick-off: 2pm
Updated at 1.06pm GMT