Crystal Palace 1-1 Tottenham Hotspur: Premier League – as it happened
Vicente Guaita, who was at fault for Harry Kane's first-half goal, earned Palace a draw with two outrageous saves after Jeff Schlupp's late equaliser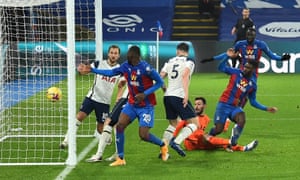 Key events
Show
4.07pm

GMT

16:07

Full time: Crystal Palace 1-1 Tottenham Hotspur

3.53pm

GMT

15:53

GOAL! Crystal Palace 1-1 Spurs (Schlupp 81)

3.02pm

GMT

15:02

Half time: Crystal Palace 0-1 Tottenham Hotspur

2.38pm

GMT

14:38

GOAL! Palace 0-1 Spurs (Kane 23)

1.19pm

GMT

13:19

Team news

12.27pm

GMT

12:27

Preamble
Live feed
Show
4.11pm GMT16:11
Updated at 4.24pm GMT
4.09pm GMT16:09
Blimey. Spurs' winning run comes to an end after a late equaliser from Jeff Schlupp. But the man of the match was the Palace keeper Vicente Guaita. Having been badly at fault for Harry Kane's goal, he made three outrageous saves - two in the dying minutes - to earn Palace a point. The 2,000 Palace fans contributed hugely to a thrilling game, and the celebration after Schlupp's goal was a thing of beauty.
4.07pm GMT16:07
Full time: Crystal Palace 1-1 Tottenham Hotspur
Lo Celso's rubbish free-kick is headed away, and that's the last touch of a primal, richly entertaining match.
4.06pm GMT16:06
90+4 min Lo Celso is fouled on the right wing by Zaha and Townsend. This will be the last attack of the game...
4.06pm GMT16:06
90+4 min It's all Spurs now. This is pulsating stuff.
4.05pm GMT16:05
90+3 min That was an incredible save. He was at full stretch and got just enough on the ball to push it onto the top of the bar.
Updated at 4.05pm GMT
4.05pm GMT16:05
90+3 min: ANOTHER STUNNING SAVE FROM GUAITA! Dier curls a textbook free-kick over the wall, but Guaita flies to his right to make a spectacular fingertip save!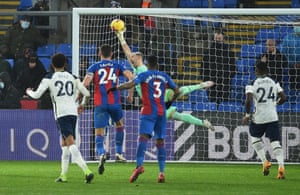 Updated at 4.11pm GMT
4.04pm GMT16:04
90+2 min In fact Kane has left it to Dier and Son...
4.04pm GMT16:04
90+2 min Alli draws a needless foul from Kouyate, 25 yards from goal. Kane will fancy this as well.
Updated at 4.04pm GMT
4.02pm GMT16:02
90+1 min Four minutes of added time.
4.02pm GMT16:02
90 min Spurs have been on top since the goal, which makes you wonder why they declared at 1-0 so early in the second half. It always felt like they would need a second goal.
4.01pm GMT16:01
89 min The excellent Eberechi Eze is replaced by Andros Townsend. Palace have got a player there.
4.00pm GMT16:00
87 min Guaita has had an interesting day - one howler, two exceptional saves.
3.59pm GMT15:59
86 min: WHAT A SAVE FROM GUAITA! It's all happening now! Davies's mishit cross beats Guaita and hits the face of the crossbar. The ball rebounds to Aurier, who smashes it into the six-yard box. Kane steers an instinctive header towards goal, and Guaita plunges to his left to make a brilliant one-handed save. Blimey.
Updated at 3.59pm GMT
3.57pm GMT15:57
85 min Palace break menacingly from a Spurs corner. Zaha's lovely backheel release Eze, who runs 40 yards before being superbly tackled by ... Dele Alli. That was a vital challenge because Palace had a two-on-two.
3.56pm GMT15:56
84 min A double change for Spurs: Dele Alli and Ben Davies replace Bergwijn and Reguilon.
3.56pm GMT15:56
84 min Kane's free-kick takes a big deflection and spins a few yards wide of the far post. For a second it was going to drift into the corner.
3.55pm GMT15:55
84 min Spurs win a free-kick 25 yards from goal. I'm not sure exactly what happened but Harry Kane is over it.
3.55pm GMT15:55
83 min That was quite a moment, and easily the best goal celebration we've seen since fans returned to the Premier League. The Palace players and fans went wild.
3.54pm GMT15:54
Eze floated a lovely, dipping free-kick into the six-yard box, where it was spilled by the unsighted Lloris. Schlupp reacted quickest to ram it over the line from four yards.
Updated at 3.55pm GMT
3.53pm GMT15:53
GOAL! Crystal Palace 1-1 Spurs (Schlupp 81)
Jeffrey Schlupp gets a deserved equaliser, and the Crystal Palace fans are going doolally!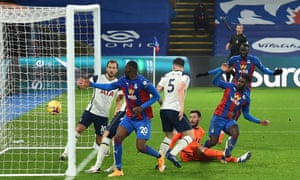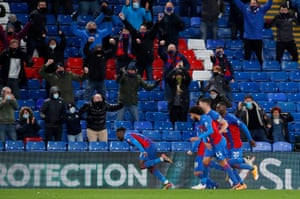 Updated at 4.03pm GMT
3.52pm GMT15:52
81 min Palace have battered Spurs in the last 10-15 minutes. Zaha is fouled by Aurier 20 yards from goal on the left wing...
3.52pm GMT15:52
80 min Another Eze corner is headed up in the air by Cahill, and Benteke leaps to nod it straight at Lloris. That was a tricky chance because he was under pressure and there was no pace on the ball.
3.50pm GMT15:50
78 min Eze's floated corner is headed onto the roof of the net by Benteke! That was a good effort, a powerful header from 12 yards as he jumped backwards.
3.50pm GMT15:50
78 min van Aanholt's cross deflects behind for another corner. Spurs are hanging on to their lead with increasing desperation.
3.49pm GMT15:49
76 min Jose Mourinho loves a hard-fought 1-0 victory. There was a famous one at Blackburn during his first title-winning season at Chelsea, when the players went topless in celebration after the match. This won't be quite as symbolic, if they do hang on, but it would still have a whiff of silverware polish about it.
3.47pm GMT15:47
75 min Lo Celso is down after a collision with Schlupp.
3.45pm GMT15:45
74 min A Palace change: Jairo Riedewald replaces Luka Milivojevic.
3.45pm GMT15:45
73 min Lo Celso's free-kick is headed well wide from 10 yards by the unmarked Dier. That looked a great chance at first, though replays show he was stretching and couldn't make strong enough contact.
Updated at 3.46pm GMT
3.44pm GMT15:44
72 min "We've heard little of Son today?" queries Richard Hirst.
He's been pretty quiet, as have all the Spurs attackers bar Kane and the full-backs. He did have that early chance and also got an assist for Kane's goal, even if it was a routine square pass.
Updated at 3.44pm GMT
3.43pm GMT15:43
71 min "Is there any team that, if you take their two best players out of the equation, would still be as good?" says Tim Young. "If Salah and Mane both did their ACLs, would they win the league by 10+ points? I mean I don't disagree with the point being made, it's just rather obvious isn't it?"
I'm not sure I agree with that. The drop-off would be far greater at Spurs, in my eternally humble opinion.
3.42pm GMT15:42
70 min Had that been on Schlupp's left foot, he'd surely have scored. This is a great spell for Palace, who have had 75 per cent of the possession in the last 10 minutes.
3.41pm GMT15:41
69 min: Great chance for Schlupp! Milivojevic floats ther free-kick to the far post. It's headed back across goal by Benteke and then McArthur towards Schlupp, who slices a volley well wide with his right foot!
3.40pm GMT15:40
68 min Zaha is fouled 30 yards from goal by Hojbjerg. Lo Celso and Zaha exchange unpleasantries, presumably on the subject of diving. I thought it was a foul, for whatever it's worth.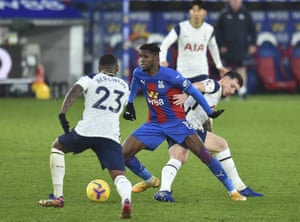 Updated at 3.47pm GMT
3.38pm GMT15:38
67 min A Spurs change: Giovani Lo Celso replaces Tanguy Ndombele. That should enable Spurs to keep the ball a bit better.
3.38pm GMT15:38
66 min Hojbjerg whistles a terrific low drive just wide from 30 yards. Guaita had it covered, mind.
3.36pm GMT15:36
63 min A block tackle from Hojbjerg, 30 yards from goal, sends the ball spinning behind him for a Palace corner. Eze floats it towards the penalty spot, Cahill heads it up in the air and Bergwijn boots it clear.