ASX down 0.7%; Banks, CSL offset tech and mining rally
The major lenders and biotech CSL were weighing the ASX 200 down on Friday. The big miners have moved higher on improved iron ore prices, while tech shares are also up.
Summary
The major lenders and biotech CSL were weighing the ASX 200 down by as much as 0.7% on Friday. The market is still narrowly in front for the week
CSL dropped 3.1% after confirmed it will shelve development of the University of Queensland coronavirus vaccine after participants in the phase 1 trial returned false-positive HIV test results
Pulling the other way were the iron ore giants, after the bulk metal added another 4.3% overnight to touch more-than seven-year high of $US156 a tonne
More than 95% of Westpac's shareholders approved the bank's remuneration report at the annual general meeting on Friday, avoiding a third consecutive strike against executive pay
Wall Street was mixed overnight after weak jobs data sapped investor confidence, though progress on stimulus talks lifted the major indices off their session lows. US futures dipped in early afternoon trade 
Latest updates Westpac avoids third consecutive strike, chair to reform executive pay By
Charlotte Grieve
Westpac's newly appointed chair John McFarlane wants to overhaul the way executives are paid, potentially axing short-term incentives, after shareholders grilled the bank over the need for greater accountability over its failures.
More than 95 per cent of Westpac's shareholders approved the bank's remuneration report at the annual general meeting on Friday, avoiding a third consecutive strike against executive pay.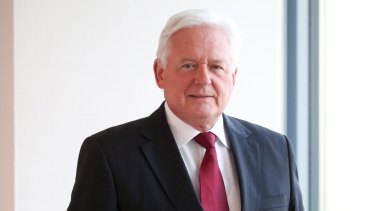 However, Mr McFarlane faced more than a dozen questions from shareholders over the need for greater accountability at the bank over the $1.3 billion misconduct penalty and recent lashings by the Australian Prudential Regulation Authority (APRA).
APRA last week launched a court-enforced undertaking to improve Westpac's approach to risk governance, after it found long-term deficiencies were continuing to cause fresh problems for the country's second largest bank.
"Will the board and Westpac's senior executives admit they have failed their shareholders? Where is the evidence of accountability for these failures?" one shareholder said.
Mr McFarlane said there had been accountability for Westpac's failings, including suspending the executive team's short-term bonuses for this year, but later added he would like to permanently change the bank's approach to remuneration.
"I have a personal view on this in that I'm not in favour of short-term incentives, I would prefer remuneration to be much longer term for the more senior members of the bank including the chief executive," Mr McFarlane said.
"We don't have that position today, but I would like that to be a position going forward."
Westpac shares were flat at $19.99 on Friday and have underperformed badly compared to the bank's big four rivals in 2020, dropping more than 17 per cent.
Westpac has also been leapfrogged by NAB as the country's second-biggest bank.
Afterpay, Xero, Megaport lead tech rebound
The ASX 200 tech sector may have slumped on Thursday, but it is today one of the few parts of the market having any joy.
IT stocks were up by a collective 1.8 per cent at 2pm AEDT, led by gains for the $27 billion payment platform Afterpay.
The buy now, pay later firm was last 5.3 per cent higher at $101.32, and is on track for its best day since late October.
Overnight it announced a partnership with Canadian fashion and beauty retailers including Shein, Rains, Triarchy, and Clairns.
Accounting software firm Xero rose 1.9 per cent to $142.16 and back towards the all-time high of $144.06 set earlier this week.
Megaport climbed 2.4 per cent to $13.46, Nearmap was 1.9 per cent higher at $2.16, and EML Payment rose 2.2 per cent to $3.93.
While Technically a financial sector firm, Afterpay rival Zip Co was also pushing higher on Friday. The company climbed 2.9 per cent to $5.30 after announcing a partnership with Facebook that will allow Australian business to use Zip Business to pay for ads.
Virgin boss Jayne Hrdlicka signals an airline war is brewing By
Patrick Hatch
Jayne Hrdlicka might have one of the toughest corporate gigs in the country: relaunching Virgin Australia, and this time making it work. Oh, and there's the Australian Open to organise too.
When Hrdlicka left Qantas three years ago, aviation watchers did not think it would be the last they saw of the ambitious 58-year-old executive based in Melbourne.
Born in Kansas, her father a Czechoslovakian Cold War refugee, Hrdlicka studied mathematics and economics at Colorado College and then an MBA at the Tuck School of Business at Dartmouth College in New Hampshire. She landed at the famed management consultancy firm Bain & Co in Boston in 1987.
Hrdlicka moved to Australia in 1994 following stints at other US corporates and rejoined Bain's local consulting arm in 1997. Her first client? A young Ansett executive named Alan Joyce.
The pair's professional relationship continued when Joyce moved to Qantas, and Joyce eventually hired Hrdlicka in 2010 as the Flying Kangaroo's Group Executive of Strategy and Technology. Two years later she became CEO of Qantas' budget carrier Jetstar, which was Joyce's job before he was named Qantas CEO.
Jetstar was an earnings powerhouse and Hrdlicka appeared as a leading contender to replace Joyce as the boss of Australia's largest airline. But in December 2017, a month after being moved to run its loyalty business, she announced her shock resignation.
It has been speculated Hrdlicka was impatient for her turn at the top. But instead of moving to another airline she jumped to the ASX-listed dairy producer a2 Milk Company.
That CEO gig soured quickly and Hrdlicka departed after just 18 months, citing onerous travel and family commitments. There were reports of a falling out with a2's board.
Hrdlicka burst back onto the scene this year advising her old employer Bain. Its private equity arm Bain Capital had launched a bid for Virgin Australia after COVID-19 pushed the airline into voluntary administration in April.
Hrdlicka brought a deep knowledge of Australia's aviation market - specifically Qantas - to the table. She brought some baggage too which threatened to become an Achilles heel for Bain Capital.
Full profile by Patrick Hatch here
Watchdog urges casinos to act on 'junket' money laundering risks By
Patrick Hatch
The financial crimes watchdog says Australian casinos must do more to address the risk their "junket" tour partners have been infiltrated by criminals and are laundering dirty money over their card tables.
The anti-money laundering authority AUSTRAC said in an report released on Friday that it had identified instances of junkets being exploited and infiltrated by "serious and transnational criminal entities".
That including individuals taking part in what could be "regarded as foreign interference", said the assessment which rated the risk associated with junkets as "high".
AUSTRAC's report will heap pressure on casino giants Crown Resorts and Star Entertainment to cut ties with junkets, which have been a focus of this years' explosive NSW Independent Liquor and Gaming Authority (ILGA) inquiry into Crown.
AUSTRAC chief executive Nicole Rose said the assessment showed that junkets are "highly vulnerable to criminal misuse and Australian casinos must do more to mitigate [money laundering and terrorism financing] risks".
"I urge casinos to take prompt action by assessing their levels of risk posed by junket operations, strengthening their controls and reporting suspicious activity to AUSTRAC," Ms Rose said.
Junkets bring wealthy Chinese high rollers to overseas casinos and extend them credit to gamble with, circumventing China's tight capital controls.
Sacked ANZ trader loses case to sue under new whistleblower laws By
Colin Kruger
An ANZ trader, sacked by the bank for misconduct, has lost his legal action to sue for wrongful dismissal using recently introduced whistleblower laws.
Etienne Alexiou was sacked in 2015 over explicit online chats with other traders, but he has claimed in a series of cases that he was punished for making complaints about the alleged manipulation of interest rates.
A previous $30 million lawsuit by Mr Alexiou revealed a rampant culture of sex, drugs and alcohol was allowed to permeate ANZ's trading floor, sending shockwaves through the industry.
In a judgment handed down by the Federal Court on Friday, Justice Nye Perram found that the conduct occurred before new whistleblower laws, introduced in the wake of the bank royal commission, came into effect.
Full story here
ASX subdued at lunch, CSL down 3.1%
The ASX 200 remains in the red at lunchtime, down 0.4 per cent at 6657.4 and shaving more off the week's gains.
The big banks and CSL are weak, while iron ore giants Rio Tinto, BHP, and Fortescue Metals are ahead on a more-than seven-year high of the bulk metal. Wesfarmers, Macquarie Group, Woolworths, ResMed and Transurban are all lower, while Afterpay and Zip Co have risen.
The biggest movers at lunchtime were:
Eagers Automotive purring as company navigates COVID hairpin
Shares in vehicle retailer Eagers Automotive motored to a nine-month high on Friday after the firm said its 2020 profit would be shifting up a gear on accelerating sales.
The company said it expects underlying operating profit to rise significantly in its first full year as a merged entity of AP Eagers and Automotive Holding Group, with the $100.4 million figure in 2019 set to increase to between $195 million and $205 million.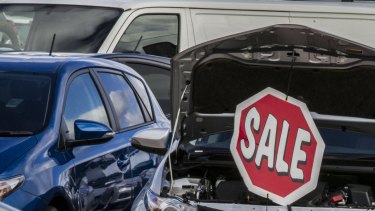 Shares in Eagers Automotive were last 5.9 per cent higher at $13.91 on the news. It earlier touched $13.98, its highest price since the start of March when the market was in a pandemic freefall.
The firm said customer orders have continued on their strong trajectory and supply constraints caused by global manufacturer factory closures during the June quarter have started to ease, as demonstrated by the 12 per cent uptick in national vehicle deliveries recorded during November by the Federal Chamber of Automotive Industries.
"The industry's tight inventory position, combined with the company's cost reduction initiatives implemented following the merger with AHG and in response to COVID-19, have driven Eagers Automotive's strong underlying trading performance," Eagers said on Friday.
Singapore Airlines holds out hope for 'travel bubble' with Australia By
Patrick Hatch
Singapore Airlines is holding out hope for a "travel bubble" between Australia and the carrier's city-state hub, despite Qantas and other leading aviation figures warning international travel will not resume until a COVID-19 vaccine is widely available.
Singapore and Hong Kong were to start the world's first, long-anticipated COVID-19 travel bubble late last month but it was delayed until next year after a spike in infections in Hong Kong.
Australia has a "one-way bubble" allowing people to enter the country from New Zealand without going into quarantine while Singapore is already open to travel from Australia. But Australia has not reciprocated and still has a ban on citizens going overseas without a government exemption.
Singapore Airlines executive vice president of commercial Lee Lik Hsin said his airline - which pre-COVID was responsible for about 8 per cent of passenger traffic in and out of Australia, second only to Qantas - still said "bubbles" were a viable option to restart international travel.
"[In] the example of the Singapore-Hong Kong bubble... the governments had discussed and come to the conclusion that it was a safe way to resume mass travel, predicated under certain conditions," Mr Lee said.
Full story here
Airbnb joins $US100b club as shares more than double on long-awaited Wall Street debut By
De-Ann Durbin
AP
Airbnb proved its resilience in a year that has upended global travel. Now it needs to prove it can live up to investors' sky-high expectations.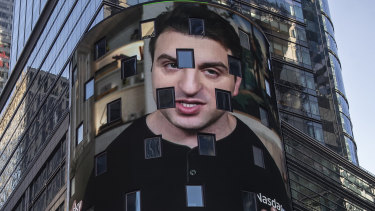 The San Francisco-based home sharing company made a triumphant debut on the public market Thursday. Its shares closed at $US144.71 apiece, more than double the $US68 price that Airbnb had set. The closing price gave the company a valuation of just over $US100 billion ($132 billion). The shares are trading on the Nasdaq Stock Market under the symbol "ABNB."
Instead of the traditional ringing of the bell prior to the trading day, Airbnb presented a video of Airbnb hosts from around the world ringing their doorbells. In a video message, CEO Brian Chesky also thanked the millions of guests who have stayed at its listings. In 2019 alone, 54 million guests stayed at an Airbnb.
"You gave us hope that the idea of strangers staying together, in each others' homes, was not so crazy after all," Chesky said. "Airbnb is rooted in the fundamental idea that people are good and we're in this together."
Full story here
CSL science chief says possible vaccine failure was 'built into business' By
Emma Koehn
CSL shares lost as much as 3 per cent in the first hour of trade, slumping to $291.91 after the surprise update earlier this morning that the work on the University of Queensland's coronavirus vaccine candidate was being abandoned.
This masthead broke the news this morning that phase 2 and 3 trials of the product wouldn't proceed because of an issue where the generation of antibodies towards the 'molecular clamp' of the vaccine interfered with certain HIV test kits and resulted in some study participants returning false positive HIV test results.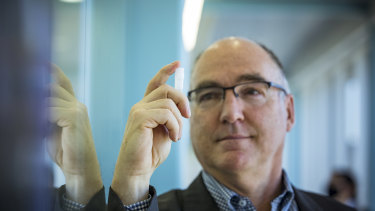 The news leaves CSL to focus solely on production of the University of Oxford and AstraZeneca vaccine, for which it now plans to make 50 million doses over 2021 if it passes regulatory approvals.
CSL says the news will not affect its earnings guidance, while chief scientific officer Andrew Nash told us this morning the amount lost from the shelving of the process is currently commercial in confidence.
However, 100s of CSL staff members had been forced to pivot their roles towards the project this year and now they will be forced to either change focus to the AstraZeneca vaccine or return to their previous projects.
Nash said at a top level, the $130 billion biotech had always built in the possibility that the vaccine would not be successful.
"It's built into our business, and the minds and thinking of scientists," he said. The business says it has no regrets about launching into the development of UQ's program at risk, and would make similar investments if they made sense in future.
"Would we invest in future? Of course," Nash said.
Most Viewed in Business