One person dead, several injured after building collapse at Curtin University
One person is dead and several are injured after a building collapsed at Curtin University on Tuesday afternoon.
Witnesses said two workers attached to harnesses fell through the glass roof.
Another witness from the building next door said he heard a loud 'crack' followed by sirens and screaming immediately after.
Following the horrific incident, workers on the site gathered in the park across the road, some wiping away tears.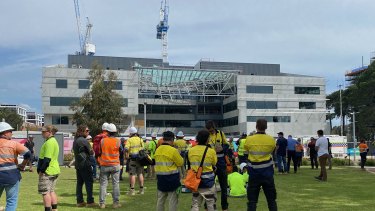 Emergency crews and union officials remained at the scene on Tuesday afternoon.
The partially constructed building is the School of Design and the Built Environment, also known as building 418.
Construction on the $110 million, five-storey facility began recently.
The building is the first piece of the university's Exchange innovation precinct, which will see research and teaching facilities co-located with commercial spaces.
The building project manager, LendLease, has been contacted for comment.
A Curtin University spokeswoman said no Curtin students or staff were involved in the incident.