Covid-19 vaccine: first US doses given to frontline workers – live
Critical care nurse Sandra Lindsay in New York became one of the first Americans to receive the coronavirus vaccine
Key events
Show
4.19pm

GMT

16:19

De Blasio says New Yorkers should prepare for possibility of 'full shutdown'

3.50pm

GMT

15:50

Fauci hails 'historic' day as frontline workers start receiving vaccine

3.06pm

GMT

15:06

Electors meet in four states to cast votes for president

2.54pm

GMT

14:54

First doses of coronavirus vaccine in US distributed to frontline workers

12.39pm

GMT

12:39

Sudan officially removed from US list of state sponsors of terrorism

11.50am

GMT

11:50

Michigan to hold electoral college vote behind closed doors due to 'credible threats of violence'

11.15am

GMT

11:15

Kremlin dismisses allegation that Russia involved in cybersecurity hack on US federal agencies
Live feed
Show
5.34pm GMT17:34
Bill and Hillary Clinton, two of New York's electors, just cast their ballots for Joe Biden and Kamala Harris.
The former president and former secretary of state cast their votes by paper ballot and placed them in a ballot box at the New York capitol in Albany.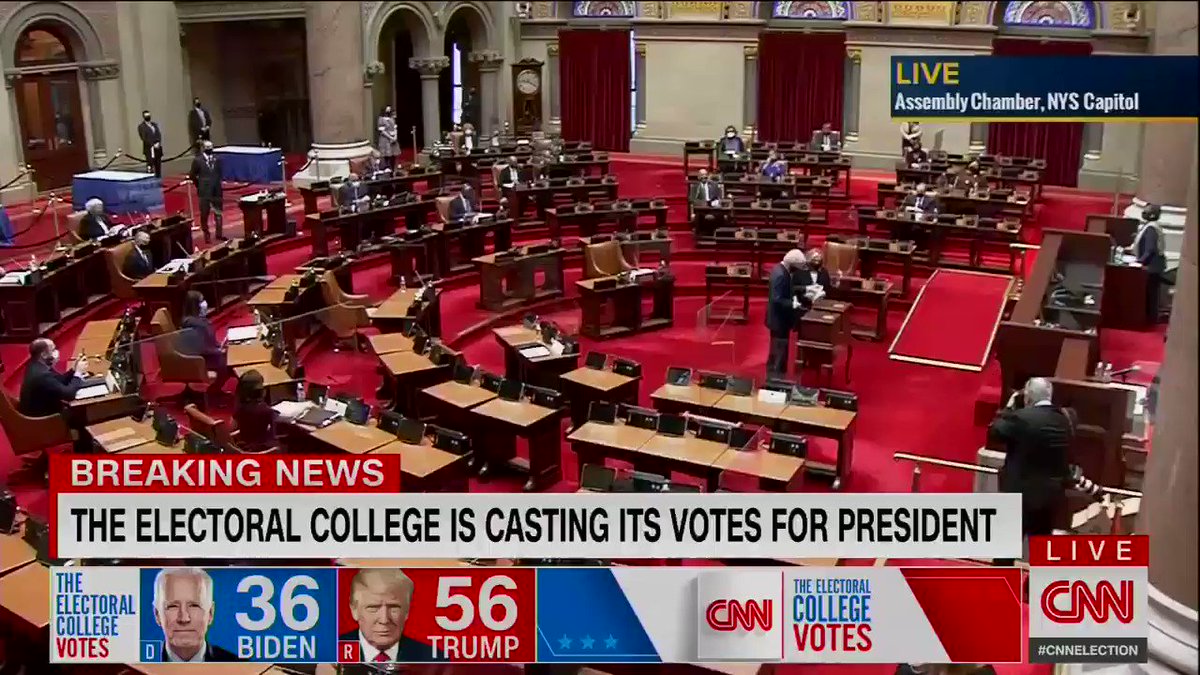 Hillary Clinton, who was defeated by Donald Trump in 2016, previously said she was one of New York's 29 electors, and she expressed excitement about getting to cast her vote for the first woman to serve as vice-president.
As of now, 97 electoral votes have been cast for Biden, and 56 votes have been cast for Trump.
5.23pm GMT17:23
Senate minority leader Chuck Schumer celebrated the distribution of the first coronavirus vaccine doses to frontline health care workers in New York.
"I'm proud to see New York frontline workers leading the way," the New York Democrat said in a tweet.
This morning, critical care nurse Sandra Lindsay in New York became one of the first Americans to receive Pfizer's coronavirus vaccine.
Lindsay received the vaccine live on camera, and she said she was "relieved" to receive the treatment after months of treating coronavirus patients.
5.00pm GMT17:00
Nevada's electors cast their votes for Joe Biden over Zoom, after state officials opted for a virtual format due to the coronavirus pandemic.
Nevada's deputy secretary of state informed the electors that they were legally required to vote for Biden, who won the state by 2.4 points last month.
The electors then cast their six votes for Biden and vice-president-elect Kamala Harris without any disruptions.
As of now, 36 electoral votes have formally been cast for Biden, and 56 votes have been cast for Donald Trump. The final count is expected to be 306 electoral votes for Biden and 232 votes for Trump.
4.46pm GMT16:46
The Michigan state capitol, where electors will cast their votes for Joe Biden, is also closed to the public today due to threats of violence. State legislators have been instructed to work remotely.
The Detroit News reports:
Citing 'safety and security concerns,' the Michigan House and Senate will close their offices in downtown Lansing on Monday as presidential electors meet in the state Capitol.

On Sunday night, House and Senate officials sent notifications about the closures to members and staff. ... Some are expecting protesters in support of Republican President Donald Trump to gather outside the building, which will be closed to the public.
The electors are scheduled to cast Michigan's 16 electoral votes for the president-elect in about two hours.
4.35pm GMT16:35
A Michigan state lawmaker was stripped of his committee assignments after raising the possibility of violence during today's electoral vote count.
Hours before Michigan's electors were scheduled to meet and cast their ballots for Joe Biden, Republican state representative Gary Eisen said in a radio interview that there was a "Hail Mary" effort underway to disrupt the process.
When asked if he could guarantee there would be no violence in Lansing today, Eisen replied, "No."
As the interview attracted national attention, the Republican speaker of the Michigan House of Representatives announced that Eisen had been stripped of his committee assignments in response to his comments.
"We as elected officials must be clear that violence has no place in our democratic process," speaker Lee Chatfield said in a statement. "We must be held to a higher standard. Because of that, Rep. Eisen has been removed from his committee assignments for the rest of the term."
Earlier this month, a Democratic state representative in Michigan was also stripped of her committee assignments over comments she made about Donald Trump's supporters in a Facebook video.
Michigan's electors are scheduled to meet at 2 pm ET to award the state's 16 electoral votes to Biden.
4.19pm GMT16:19
De Blasio says New Yorkers should prepare for possibility of 'full shutdown'
Bill de Blasio said New Yorkers should prepare for the possibility of a "full shutdown," warning that December and January will be particularly difficult months in the city's fight against coronavirus.
The New York mayor said he agreed with the assessment of governor Andrew Cuomo, who told the New York Times over the weekend, "If you extrapolate out at this rate of growth [of infections], you could be looking at the shutdown of New York City within a month."
De Blasio told reporters at a press conference this morning, "We all have it within our power to fight back this virus and overcome it in the weeks ahead, but they're going to be tough weeks."
The mayor added, "We need to recognize that [a full shutdown] may be coming, and we've got to get ready for that now because we cannot let this virus keep growing, especially at a moment where we are finally getting the vaccine and can turn the corner."
Frontline healthcare workers received New York's first doses of the Pfizer coronavirus vaccine earlier today, and the treatment is expected to become more widely available in the coming months.
De Blasio's comments come three days after Cuomo announced that New York would halt indoor dining as part of the state's strategy to limit the spread of the virus.
3.56pm GMT15:56
Dr Anthony Fauci, who will serve as Joe Biden's chief medical adviser, was asked when the president-elect might receive the coronavirus vaccine.
The infectious disease expert told MSNBC anchor Hallie Jackson that the matter was "under discussion right now."
"I am certain he will get vaccinated," Fauci said. "It's a question of when he's going to do that."
Like Fauci, Biden has pledged to receive the vaccine publicly in order to boost Americans' confidence in the treatment.
3.50pm GMT15:50
Fauci hails 'historic' day as frontline workers start receiving vaccine
Dr Anthony Fauci, the government's top infectious disease expert, hailed today as "historic" after frontline health care workers started receiving the Pfizer coronavirus vaccine.
Fauci, who has led the National Institute of Allergy and Infectious Diseases since 1984, told MSNBC that the distribution of the vaccine proved that "science well done" can help get the country out of an emergency.
Asked by anchor Hallie Jackson when the vaccine would be widely available to the American public, Fauci said that depended on "the efficiency of the rollout" but predicted it would happen in late April or early May.
But Fauci emphasized that Americans would still be taking certain health precautions, such as wearing masks, for months after the vaccine became widely available to limit the risk of additional coronavirus outbreaks.
Fauci also reiterated his pledge to take the vaccine on camera, and he predicted he would be able to get vaccinated in the next couple of weeks.
Updated at 4.09pm GMT
3.38pm GMT15:38
The Guardian's Sam Levine reports on the supreme court turning away a significant voting rights case:
The US supreme court said Monday it would not consider an appeal seeking to reinstate a Kansas law that required people to provide documents proving their citizenship when they registered to vote.
The law, which has been blocked since 2016, was one of the most severe voting restrictions in the country. Between 2013 and 2016, when the law was in effect, it blocked around 35,000 people from registering to vote, nearly 14% of all new registrants, according to an estimate by the American Civil Liberties Union, which challenged the law.
The law was the signature achievement of Kris Kobach, the former Kansas secretary of state, who used baseless claims about voter fraud to raise his national profile. Kobach, who helped write the law, said it was necessary to deter non-citizen voting in Kansas.
But during a federal trial in 2018, Kobach could provide little proof that non-citizen voting was a significant problem. State data showed that just 129 non-citizens had attempted to register in the state since 1999.
The loss was particularly stinging for Kobach, who personally argued the case in court. The loss was seen as a clear refutation of the idea that voter fraud is a widespread problem in the US.
"Tens of thousands of Kansas voters were illegally denied the most fundamental right in our democracy because of this law. The Supreme Court's decision not to review the case will finally close this chapter on Kris Kobach's sorry legacy of voter suppression," Dale Ho, the director of the Voting Rights Project at the ACLU , said in a Monday statement.
3.21pm GMT15:21
Vermont's electors have already cast their votes for president, giving Joe Biden his first three electoral votes today.
Vermont will send its certification of the vote to Congress, where electoral votes will be formally counted on January 6.
3.06pm GMT15:06
Electors meet in four states to cast votes for president
It is 10 am ET, which means that electors in four states -- Indiana, New Hampshire, Tennessee and Vermont -- are now gathering to cast their votes for president.
Of those four states, Joe Biden won New Hampshire and Vermont, while Donald Trump carried Indiana and Tennessee.
Electors will be meeting in states across the country today to formally cast their ballots, bringing Biden one step closer to his January 20 inauguration.
The final meeting of electors will start at 7 pm ET, when Hawaii's electors gather to cast their votes for Biden.
2.54pm GMT14:54
First doses of coronavirus vaccine in US distributed to frontline workers
Critical care nurse Sandra Lindsay in New York became one of the first Americans to receive the coronavirus vaccine this morning.
Lindsay received the vaccine live on camera, as governor Andrew Cuomo virtually joined the event via video conference.
Lindsay did not appear to flinch as she received the vaccine, and she told Cuomo that the experience was no different than receiving any other vaccine.
"I would like to thank all the frontline workers, all my colleagues who have been doing a yeoman's job despite this pandemic all over the world," Lindsay said.
"I feel hopeful today, relieved. I hope this marks the beginning to the end of a very painful time in our history. I want to instill public confidence that the vaccine is safe. We're in a pandemic, so we all need to do our parts."
The Food and Drug Administration authorized the Pfizer coronavirus vaccine for emergency use on Friday, and hundreds of thousands of doses of the vaccine were shipped from the company's Michigan plant last night.
Frontline workers like Lindsay will be among the first to receive the vaccine, and it will be made available to a wider array of Americans in the coming months.
Updated at 5.06pm GMT
2.37pm GMT14:37
This is Joan Greve in Washington, taking over for Martin Belam.
The members of the electoral college will gather in states across the country today to officially cast their ballots in the presidential election.
Although the results of the November 3 election guides electors' votes, the electoral college has the constitutional duty to select the president and the vice-president.
Electors will gather to cast their votes for president and record the results and will then sign six copies of a certification of the vote to make their ballots official. (At least one state, Nevada, is carrying out this process virtually because of the coronavirus pandemic.)
The process will bring Joe Biden one step closer to his January 2o inauguration. However, given that Donald Trump continues to push his baseless claims of widespread election fraud, it seems unlikely the president will ever formally concede in the race.
But Biden does not need Trump's concession to take office next month. The blog will have more about the electoral college vote coming up, so stay tuned.
2.01pm GMT14:01
It's not going to be a quiet electoral college day, is it?
And it will be Joan E Greve taking you through it, as I am handing over from London to Washington now. Have a great day, stay safe and take care…
1.57pm GMT13:57
Florida's Republican Sen. Marco Rubio is attempting to make play today that last time around in 2016, the boot was on the other foot, and it was some on the Democratic side of the aisle who were suggesting that "faithless electors" should opt not to put Donald Trump into the White House.
As is being pointed out to him, the circumstances were somewhat different. The Democrats did not officially legally dispute the election result, and indeed nominee Hilary Clinton conceded on the night. She had, however, won the popular vote.
1.51pm GMT13:51
How long does the electoral college meeting take place, and when will we know (again) that Joe Biden is the winner of the election? Those are good questions. The answer is, it is going to take all day.
The "meeting" is distributed across each state, with each set of electors meeting in their state capitol. Well, mostly – Nevada is holding the event in a virtual format. The first ones will be at 10am ET on the east coast. The last one scheduled is in Hawaii, which will be at 2pm local, or 7pm ET. Joe Biden will address the nation about an hour after that.
In a rather grand old fashion, the electors have to produce six certificates of their votes. Only one goes to the Senate to be counted on 6 January. Other copies get sent to the local secretary of state, a presiding judge, and the national archives.
1.45pm GMT13:45
Oscar Quine has this for Newsweek this morning, suggesting that Donald Trump's sudden decision not to get senior White House officials vaccinated against Covid raises national security questions about the continuity of federal government.
Since Trump returned to work in the Oval Office after he was hospitalized with the coronavirus in October, a number of staffers have fallen ill as the West Wing became a Covid-19 hotspot.

Last week, Trump's personal lawyer Rudy Giuliani became the latest high-profile figure close to the president to announce they had caught the virus.

John Ullyot, National Security Council spokesman, said in a Sunday evening statement that top officials would be among the first to be inoculated against Covid.

In doing so, he cited the 2016 National Continuity Policy, a directive that "calls for providing executive branch leadership personnel with the appropriate resources to perform their prescribed continuity roles and responsibilities."

"Senior officials across all three branches of government will receive vaccinations pursuant to continuity of government protocols established in executive policy," Ullyot said
That was before the president appeared to personally countermand him on Twitter.
Read more here: Newsweek – Donald Trump's delay to White House vaccine raises national security questions
1.29pm GMT13:29
"It feels like the cavalry is arriving," Robert C. Garrett, CEO of Hackensack Meridian Health, said as New Jersey's largest health network awaited delivery of the first authorized Pfizer/BioNTech shots.
Laureen Neergaard reports for Associated Press that for health care workers who, along with nursing home residents, will be first in line for vaccination, hope is tempered by grief and the sheer exhaustion of months spent battling a coronavirus that still is surging in the US and around the world.
"This is mile 24 of a marathon. People are fatigued. But we also recognize that this end is in sight," said Dr. Chris Dale of Swedish Health Services in Seattle.
Packed in dry ice to stay at ultra-frozen temperatures, the first of nearly 3 million doses being shipped in staggered batches this week made their way by truck and by plane around the country Sunday from Pfizer's Kalamazoo, Michigan, factory. Once they arrive at distribution centers, each state directs where the doses go next.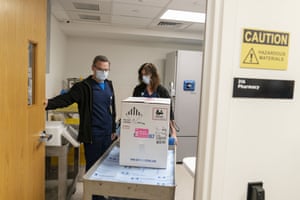 Some hospitals across the country spent the weekend tracking their packages, refreshing FedEx and UPS websites for clues.
More of the Pfizer-BioNTech vaccine will arrive each week. And later this week, the FDA will decide whether to green light a second Covid-19 vaccine, made by Moderna.
Now the hurdle is to rapidly get vaccine into the arms of millions, not just doctors and nurses but other at-risk health workers such as janitors and food handlers and then deliver a second dose three weeks later.
"We're also in the middle of a surge, and it's the holidays, and our health care workers have been working at an extraordinary pace," said Sue Mashni, chief pharmacy officer at Mount Sinai Health System in New York City. Plus, the shots can cause temporary fever, fatigue and aches as they rev up people's immune systems, forcing hospitals to stagger employee vaccinations.
A wary public will be watching closely to see whether health workers embrace vaccination. Just half of Americans say they want to get vaccinated, while about a quarter don't and the rest are unsure, according to a recent poll by the Associated Press-NORC Center for Public Health Research.
"Please people, when you look back in a year and you say to yourself, 'Did I do the right thing?' I hope you'll be able to say, 'Yes, because I looked at the evidence,"' Dr. Francis Collins, director of the National Institutes of Health, said Sunday on NBC's Meet the Press. "People are dying right now. How could you possibly say, 'Let's wait and see."'