England v Denmark: Nations League – live!
Minute-by-minute report: Will England make it three Nations League wins out of three? Join Scott Murray now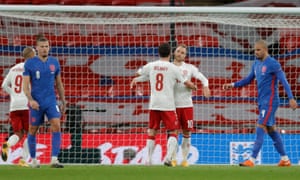 Key events
Show
9.49pm

BST

21:49

RED CARD: James (England)

9.37pm

BST

21:37

FULL TIME: England 0-1 Denmark

8.35pm

BST

20:35

HALF TIME: England 0-1 Denmark

8.21pm

BST

20:21

GOAL! England 0-1 Denmark (Eriksen 35 pen)

8.21pm

BST

20:21

Penalty for Denmark!

8.18pm

BST

20:18

RED CARD! Maguire (England)

6.32pm

BST

18:32

The teams
Live feed
Show
10.31pm BST22:31
David Hytner was at Wembley ... and here's his report. Thanks for reading this one! Nighty night.
10.28pm BST22:28
Gareth Southgate's verdict. "I was very proud of their performance ... we were excellent for the opening period with 11 men, causing all sorts of problems down our right ... great interchange of play ... the sending off alters everything, and the penalty afterwards, but after then we showed resilience ... a great example of how to play with ten men pragmatically ... wait for the right moments to press and use the ball well when we could ... the team defended as a solid unit ... their keeper has made an amazing save and I couldn't be prouder, not only tonight but the last ten days ... we've had to deal with any manner of changes, so we've come through as a resilient group ... the first yellow was a challenge Maguire didn't need to make and put him on edge, the second his momentum took him through ... for me, he's a top player and a massive part of what we do ... he's having a period where he's having a lot of stick thrown his way and he'll have to deal with that, he'll come through it, and he has our full support ... we have total belief in him ... he has been getting all sorts for a while from some people who should know better ... none of us like to be the centre of that sort of storm ... his profile has changed because of the club he plays at and the success he's had with us, and is having one of those periods when everything is going against him ... you have to hang in and it will turn ... I don't see the penalty at all, the less said the better ... the referee has sent James off for dissent."
10.15pm BST22:15
And now the captain Harry Kane. "A tough game ... proud of the boys, who gave everything ... we had control for the first 35 minutes ... whether it was or wasn't a penalty, it happened, but after that we dug deep ... they didn't create too many chances, we defended well, we had a few chances ourselves that on another day would have went in ... obviously disappointed we lost, but gotta be proud of the boys ... mistakes cost you, and that's what happened today ... we're a good unit and it's a learning curve and a good experience going forward ... there were some decisions that didn't go our way ... I don't think tempers frayed ... it just wasn't our night ... Maguire made a couple of challenges today that he'd love to have back, but it's all part of the learning curve ... he'll be devastated but he'll bounce back, you go through ups and downs ... I don't think we have discipline issues ... I can't fault the boys ... the fight and spirit after the sending off was truly a great thing to be a part of."
10.09pm BST22:09
Sky have a word with Declan Rice. "It's very tough to take ... it's not the direction we wanted to head in ... if you look at our second-half performance, the lads dug in, showing strength, resilience and character ... we created some chances ... even though it's a defeat, we can be proud of what we done in the second half ... in any game a red card changes something ... some of the decisions on the pitch were tough for us to take, the red card, the penalty ... some of the tackles our lads were putting in were perfect tackles but they were getting the foul for it ... the limelight is always on you when playing for England ... I know we're a great bunch of lads and we're focused for sure ... Maguire has always been amazing with me ... anyone can get a red card ... he's been a fantastic servant and long may that continue."
10.01pm BST22:01
Trying to look on the bright side: England may have been both dreadfully poor and wretchedly ill-disciplined tonight, but Mason Mount and Conor Coady were both denied goals by, respectively, a magnificent close-range reaction save and an extremely intelligent goal-line clearance. The old thin line between success and failure, right there. In a parallel universe, the ten men managed to turn this round. Harry Maguire would have still been sent off, though.
9.56pm BST21:56
That's three red cards for England in the past 39 days! A rate of one every 13 days. England went the first 96 years of their existence before having someone sent off. Chuck in Kieran Trippier's FA betting hearing and the Covid-related shenanigans of Tammy Abraham, Ben Chilwell and Jadon Sancho, and Gareth Southgate has a little discipline problem to address.
9.49pm BST21:49
RED CARD: James (England)
Yep, the referee flashed red at James, who got right up in his grille at the full-time whistle in the emotional style. Henderson tried to pull him away from trouble, but couldn't get there in time, and out came the card. That's the first time England have ever had two players sent off in the same game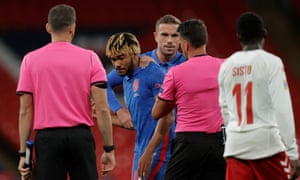 Updated at 9.59pm BST
9.45pm BST21:45
The winning penalty and a decisive clearance: what a way for Eriksen and Kjaer to celebrate their 100th caps! Denmark deserved the win, even if the award of their spot kick was soft. They had to do little more than be compact and competent, helped on their way by Harry Maguire's personal implosion. England were extremely poor, save for decent performances from Reece James and Mason Mount ... although it looks like James might have blotted his copybook at the final whistle! The referee has shown him the red card. No idea yet what for. Stay tuned, as England's night flits from fiasco to farce and back again.
9.37pm BST21:37
FULL TIME: England 0-1 Denmark
Christian Eriksen's first-half penalty, coupled with Simon Kjaer's late clearance, is enough! The Danes go above England into second place in Group A2. Belgium go top, after their 2-1 win in Iceland, who are relegated.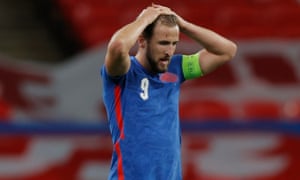 Updated at 10.01pm BST
9.36pm BST21:36
90 min +3: Pickford's delivery is appalling and easily cleared by the first Danish defender. The England keeper has the good grace to smile sheepishly. That looks like it.
9.36pm BST21:36
90 min +2: A free kick for England on the halfway line, to the left of the centre circle. Pickford comes up to take. England load the Danish box.
9.35pm BST21:35
90 min +1: The first of three extra minutes passes by.
9.35pm BST21:35
90 min: James crosses from the right. Kane gathers on the left, spins and chips into the six-yard box. Coady is free, level with the right-hand post. He guides a clever header towards the left of goal, Schmeichel caught flat footed. But Kjaer, on his 1ooth cap, reads the danger and heads off the line. What a clearance!
9.33pm BST21:33
89 min: James is bowled over out on the right. A free kick and a chance to load the box, and play on Danish nerves. Philips hoicks long. Schmeichel punches clear under pressure from Calvert-Lewin.
9.31pm BST21:31
88 min: Hojbjerg is replaced by Jensen.
9.30pm BST21:30
86 min: Philips joins him in the book for his role in a theatrical tussle with Poulsen over a dead ball.
9.29pm BST21:29
85 min: Henderson is booked for excessive yap, English agitation rising as time runs out.
Updated at 9.29pm BST
9.28pm BST21:28
83 min: Kane slides in on Delaney. Free kick, nothing more. For a second, it looked like the red mist was coming down, but the England captain gathered himself just in time, pulling out of a full-blooded challenge.
9.25pm BST21:25
81 min: Poulsen has a crack from distance. His daisycutter, aimed for the bottom right, is easily gathered by Pickford.
9.24pm BST21:24
79 min: The corner, sent in from the right, is flicked on by Kane and drops to Coady at the far post, six yards out. Coady attempts to spin and shoot, but Calvert-Lewin, Maehle and Schmeichel are all in close attendance, confusing the issue one way or another. Coady slips and goes down. Kane screams for a penalty. England aren't getting payback for the soft one they conceded in the first half. It looks the correct decision: if there was any contact between Coady and Maehle, it was extremely minimal.
9.22pm BST21:22
78 min: James sends a fierce, rising drive straight at Schmeichel, who tips over easily enough.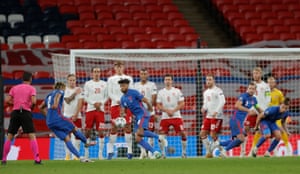 Updated at 9.40pm BST
9.20pm BST21:20
77 min: Mings pearls a fine long pass down the left. Calvert-Lewin chests down magnificently for Kane, who waits for Delaney to foul him from behind, just to the left of the D. Big chance coming up from the free kick.
9.19pm BST21:19
76 min: Henderson comes on for Rice.
9.18pm BST21:18
75 min: From the corner, Kjaer sends a soft header straight into the grateful arms of Pickford.
9.18pm BST21:18
74 min: Phillips ships possession in the midfield, and Eriksen launches a three-on-two. He slips the ball left for Sisto, who should shoot but looks for Poulsen at the far post, allowing Coady to deflect behind for a corner.
9.17pm BST21:17
73 min: Braithwaite makes way for Vestergaard.
9.16pm BST21:16
72 min: Southgate refreshes his front line, replacing Mount with Sancho on the left, and Rashford with Calvert-Lewin on the right.
9.15pm BST21:15
71 min: The clock ticks on, and England continue to do very little in attack. Denmark seem happy enough to stroke it around the middle. They haven't caused the ten men too much stress.
9.13pm BST21:13
69 min: Phillips clatters into Poulsen. It's a garden-variety foul, but one that for some reason causes Southgate to lose his supercool on the touchline. The referee trots over and tells him to pipe down.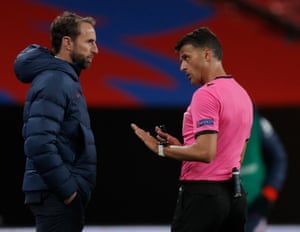 Updated at 9.33pm BST
9.12pm BST21:12
67 min: Denmark should be two up. Sisto jinks his way past James on the left and crosses to the far post. Walker is asleep, and allows Wass to ghost into space. He heads unchallenged. six yards out, but somehow misses the target. England ... and especially Walker ... get away with one.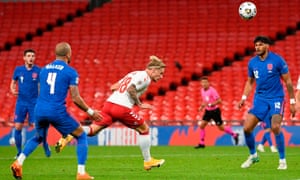 Updated at 9.38pm BST
9.10pm BST21:10
66 min: ... Mount rises, sending a powerful close-range header towards the top right. But Schmeichel reacts superbly and sticks out a strong arm to parry. Denmark clear the rebound. That's as close as England have come. Mount has impressed tonight. It's been a good evening for Chelsea's young lads.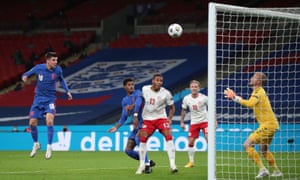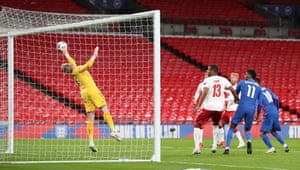 Updated at 9.15pm BST
9.09pm BST21:09
65 min: Kane has a dig from distance. Maehle blocks easily enough. But England come again, Rashford earning a corner down the left. From which ...
9.07pm BST21:07
63 min: James has been very impressive on his full debut. He chests down a looping pass out on the right wing, brings the ball inside, and sends a powerful curler towards the bottom left. Schmeichel reads it well and swallows with ease, but that's a decent effort from the very promising young Chelsea star.
9.05pm BST21:05
61 min: This is very scrappy now, and not particularly entertaining. Denmark will be happy enough with the way it's going, I guess, while England will take succour from keeping the 11 men at arm's length easily enough.
9.03pm BST21:03
59 min: I spoke too soon. It's parping away again. I can only apologise. I'm really, really, really sorry.
Updated at 9.03pm BST
9.01pm BST21:01
57 min: At least the recording of that effing band has been switched off.
9.00pm BST21:00
56 min: Delaney scampers into the England box from the right and looks for Braithwaite with a pullback. Coady does well to block out for a corner, from which nothing comes.
8.58pm BST20:58
55 min: Rashford tries to make something happen for England, dropping a shoulder to breeze in from the left and fizzing a low shot wide of the target. Not his best effort, but it's something, and the only positive act we've seen from England since the restart.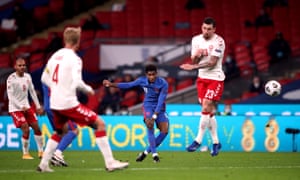 Updated at 9.17pm BST
8.56pm BST20:56
53 min: Denmark are totally bossing possession, making full use of their extra man.
8.55pm BST20:55
51 min: Kjaer creams long. Poulsen tries to head down for Sisto, but instead accidentally flicks a header towards the top right. Pickford gathers the looping ball without drama or fuss.
8.53pm BST20:53
49 min: Phillips is upended just inside the Denmark half. England line up on the edge of the box. Phillips can't beat the first man with his free kick, and Eriksen romps up the other end. Not for the first time today, he's got options but fails to take them. England get away with one there.
8.52pm BST20:52
48 min: Poulsen, Sisto and Eriksen ping pretty triangles 30 yards from goal. Eriksen breaks the spell by wanging a shot towards the Hanger Lane gyratory.
8.50pm BST20:50
47 min: Denmark establish some early second-half control by stroking it around the middle of the park awhile. England can't get a sniff at the moment, though aren't allowing themselves to be pulled out of shape.
8.49pm BST20:49
Denmark get the second half underway. They've made two changes in defence. Christensen, on a booking, is replaced by Jorgensen, while Skov makes way for Maehle at left-back.
8.44pm BST20:44
Half-time correspondence. "I'm not English and thus my familiarity with England national team players pre-2014 is pretty much non-existent, which is why I really enjoy lists like the one you posted before kick-off," writes Matt Burtz. "It caused me to look up John Atyeo and learn that he is Bristol City's all-time record goalscorer, he became a highly respected mathematics teacher after retirement, and he only scored five goals for England. Not a bad life all the way around, I would say." Indeed. A great man. The RTÉ commentary of his goal that sent England to the 1958 World Cup finals at the Republic of Ireland's expense is well worth a listen. Joy for Atyeo and England ... and heart-plunging Irish despair captured by a few seconds of poetic silence.
Updated at 8.45pm BST
8.35pm BST20:35
HALF TIME: England 0-1 Denmark
Denmark have been the better team and deserve to lead on balance, though the penalty they were awarded was preposterously soft. As for Harry Maguire: time for a few slow, deep breaths and a long rethink.
8.32pm BST20:32
45 min +1: Hojbjerg is booked for an overly aggressive pirouette that catches his Spurs team-mate Kane's knee. Ah to hear Jose Mourinho's inner monologue right now.
8.30pm BST20:30
45 min: It'll be another three minutes until they hear it.
8.29pm BST20:29
44 min: England haven't responded to falling behind. Denmark are hogging the ball, with Eriksen at the centre of everything as he returns to his old stomping ground. England are desperate to hear the half-time whistle.
8.27pm BST20:27
42 min: Another fine cross from the right from James. Again nobody in blue reacts. But the Chelsea man has been a rare positive for England tonight.
8.26pm BST20:26
40 min: Harry Maguire, though.
8.24pm BST20:24
38 min: A few noggins are going here. Now Christensen goes into the book for a brazen rugby tackle on Kane. He didn't need to take one for his team; Kane was unlikely to latch onto the ball he was chasing.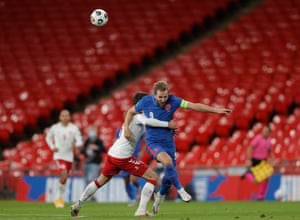 Updated at 8.53pm BST
8.23pm BST20:23
37 min: Dolberg hasn't recovered from that lunge by Maguire. He's replaced by Sisto.
8.23pm BST20:23
36 min: Well that unravelled quickly for England. What a total farce. A truly idiotic bit of play from Maguire, followed by Pickford and Walker getting into an awful tangle. Mings comes on for the sacrificed Maitland-Niles.
8.21pm BST20:21
GOAL! England 0-1 Denmark (Eriksen 35 pen)
Eriksen calmly swishes the spot kick down the middle, as Pickford commits himself.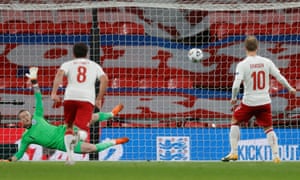 Updated at 10.43pm BST
8.21pm BST20:21
Penalty for Denmark!
34 min: Delaney, Walker and Pickford get in a tangle just inside the England box, competing for a high ball. Delaney goes over, and the referee points at the spot, presumably for some Walker contact on Delaney as the pair high-kick. It's soft, but the referee gives it.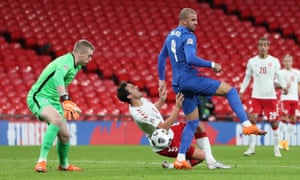 Updated at 8.27pm BST