Champions League redraw: Atlético v Man Utd, PSG v Real Madrid – as it happened
Uefa blundered, blamed the computer then redrew the whole thing but we did end up with a more exciting set of ties second time around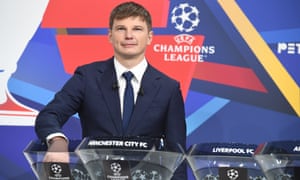 Key events
Show
2.19pm

GMT

14:19

The draw in full

1.50pm

GMT

13:50

A reminder

1.26pm

GMT

13:26

Conference League knockout round playoff draw

12.47pm

GMT

12:47

The Champions League draw will be redone at 2pm!

12.24pm

GMT

12:24

Europa League draw in full

12.03pm

GMT

12:03

Europa League draw

11.23am

GMT

11:23

The draw in full
Live feed
Show
2.41pm GMT14:41
So let's try this again: we're done here. Thanks all for your company and comments, it's been a blast. Apologies I couldn't use them all, especially not all the cover versions and not all the railing at the non-cover cover versions - if it's any consolation, I made the CMS run so slowly it didn't correct an error my eyes told me had been corrected. Ta-ra!
2.39pm GMT14:39
And here's our report of the draw.
2.35pm GMT14:35
"For your subjects," begins Philip Watson. "I Fought the Law (and the Law Won) was written in 1959 by Sonny Curtis, a member of Buddy Holly's backing band, the Crickets. It was included on their first album released after Buddy's death in February 1959. The song is now 62 years old..."
Great stuff.
2.33pm GMT14:33
"Faith No More always do fun covers," emails Tom Chivers. "Here they are doing Lady Gaga's Poker Face and Portishead's Glory Box. I also remember seeing them do Pump Up The Jam and various other unexpected things."
Now 24 veterans will, of course, remember their version of Lionel Richie's Easy, complete with "Ugh!"
2.29pm GMT14:29
As per the below – "twice," to quote Pep Guardiola – first legs will be played on 15/16/22/23 February, with second legs played on 8/9/15/16 March.
2.24pm GMT14:24
For those of you wondering why Villarreal had to play Juventus, it was because the teams left in the hat couldn't be drawn against each other.
2.22pm GMT14:22
To me, at least, that looks a much more exciting draw than the one we had to begin with. Sporting v City should be a really fun tie, Paris v Madrid has plenty going on, Atletico v Man United is intriguing.
2.19pm GMT14:19
The draw in full
Salzburg v Bayern Munich
Sporting v Man City
Benfica v Ajax
Chelsea v Lille
Atlético v Man United
Villarreal v Juventus
Inter v Liverpool
PSG v Real Madrid
2.16pm GMT14:16
...Real Madrid.
Paris Saint-Germain v Real Madrid
2.15pm GMT14:15
Paris Saint-Germain will play...
2.14pm GMT14:14
...Liverpool.
Inter v Liverpool
2.14pm GMT14:14
Internazionale will play...
2.14pm GMT14:14
...Juventus.
Villarreal v Juventus
2.13pm GMT14:13
...Man United.
Atlético v Manchester United
2.12pm GMT14:12
Atlético de Madrid will play...
2.12pm GMT14:12
...Lille.
Chelsea v Lille. As you were!
2.11pm GMT14:11
...Ajax Amsterdam.
Benfica v Ajax
2.10pm GMT14:10
...Manchester City
Sporting v Man City. Great trip and Super Bock beer, difficult game.
Updated at 2.21pm GMT
2.09pm GMT14:09
Sporting Clube de Portugal will play...
2.09pm GMT14:09
...Bayern Munich.
Salzburg v Bayern, and Chelsea breathe a sigh of relief.
2.07pm GMT14:07
How are we going to pull this off without Andriy Arshavin?
2.07pm GMT14:07
Right massive, it's back to Nyon and here's or pal Marchetti apologising for a "malfunction of the software". He doesn't elaborate as to why no one - him, for example – said owt at the time, but the "external independent auditor" said the problem might have pre-existed the draw and now each tie will be checked by Uefa officials, who were presumably all out for lunch the first time.
2.05pm GMT14:05
"Would it not be more in keeping with Uefa's thinking," wonders Kevin Porter, "if, instead of a messy and complex draw, the choice of opponent was auctioned off to the highest bidder. That way the most wealthy club could buy the tie they most prefer. Which is, of course, how it should be."
With the semis and final to take place, F1-style, in Qatar, Saudi and Abu Dhabi.
2.02pm GMT14:02
"While we're at re-dos," tweets Pete Mumola, "could we finally get one for the Qatar World Cup selection? TIA."
For that, I will gladly spend tomorrow writing another blog suffused with official intervention.
1.58pm GMT13:58
You know what'd be good: a proper cover of the Champions League anthem. I'd fancy hearing a Radiohead version, and I'm pretty sure Goldie could also do something serious with it.
Updated at 1.59pm GMT
1.57pm GMT13:57
"I've designed an infallible algorithm - the same one Uefa uses to count balls in pot," emails Paul Griffin. "The best covers answer is below. I'm Fervently hoping Everton, Max Verstappen, or Salvador Dali come out in draw 2.0."
1.55pm GMT13:55
Pep Guardiola speaks:
I think it is fair. It was a mistake but sometimes these things can happen. If there was a mistake you have to repeat so it is not suspicious."
1.52pm GMT13:52
"A great example for cruciate injury recovery is Ronaldo - Original Ronaldo," says Peter Van. "Such a great example you can use it to further or to contradict your point about Van Dijk. After his horrific knee injury, Ronaldo came back to win the World Cup and the Champions League. He was still a fabulous player and had the most successful part of his career post-injury, at least in terms of trophies. HOWEVER! I would argue that Ronaldo lost much after that injury. He was still great, but not as great as in his Barcelona / Inter glory. After his injury, he was still one the world's best players; but before, he was the greatest player I have ever seen. If you're in need of evidence, well, I'll point out to a piece you're surely familiar with."
Any excuse. But yup, he was still brilliant, just not as brilliant.
1.50pm GMT13:50
A reminder
These are the group winners and therefore seeded teams, who'll play the second leg at home:
Ajax Amsterdam (NED)Bayern München (GER)Juventus (ITA)Liverpool (ENG)LOSC Lille (FRA)Manchester City (ENG)Manchester United (ENG)Real Madrid (ESP)
And these are the group runners-up and therefore unseeded teams, who'll play the first leg at home:
Atlético de Madrid (ESP)Benfica (POR)Chelsea (ENG)Internazionale (ITA)Paris Saint-Germain (FRA)Salzburg (AUT)Sporting CP (POR)Villarreal (ESP)
Teams from the same country cannot face one another and teams who qualified from the same group cannot face one another. First legs will be played on 15/16/22/23 February, with second legs played on 8/9/15/16 March. The away goals rule no longer applies, so if aggregate scores are level after 180 minutes, extra time will be played, and if they remain level are 210 minutes, penalties will be taken.
1.49pm GMT13:49
For those of you just joining us, we're shortly going to enjoy a do-over of the Champions League last 16 draw, because the wrong balls were taken out of the wrong pots at the wrong times, so some clubs weren't in position to picked to play teams they could legitimately face.
1.47pm GMT13:47
Check out the latest Football Weekly!
On the too many penalties point, they need to change the laws. Denial of a goalscoring opportunity anywhere on the pitch, penalty; foul or handball in the box but no goalscoring opportunity, direct free-kick.
1.44pm GMT13:44
Sometimes the answers come fast. Here's Dan Christmas: "Divine Comedy wrote My Lovely Horse, so it surely does not belong on a list of great covers. I demand a redraw. "
1.42pm GMT13:42
I was on the F1 yesterday, and now I'm on this today. Can't wait for tomorrow.
"External service provider" though, you've got to laugh. Did the "external service provider" decide to plough on with the draw when everyone could see it wasn't fair as well?
1.39pm GMT13:39
We're getting a lot of cover-version chat, so here are some:
Michael Meagher: "Granted there should be an embargo on this song ever being played anywhere for at least a decade. However, waaaaay better than the Jeff Buckley version:
Kevin Dwyer: "Divine Comedy covering My Lovely Horse at Electric Picnic."
Iain Pearson: "Bob Dylan got a shout-out for his Clash cover, so how about I Fought the Law as a banging cover of a banging original?" Police and Thieves ismy favourite of theirs, but this also approved.
Giles Skerry and Martin Constantinides:
1.33pm GMT13:33
"Great example for prosecution on cruciate injuries is Van Nistelrooy," emails Cristopher Dale. "The player United signed in 2001 was significantly diminished from the player they agreed to sign in 2000."
That is an absolutely befuddling thought, given how good he still was, but yup, I've heard that from elsewhere – though I didn't see him play for PSV.
1.31pm GMT13:31
Does anyone else see the words Bodo/Glimt and think:
Er, OK then, just me. But what a tie that is for Celtic, nothing better than a trip somewhere you'd likely never go otherwise, and watching your players freeze to boot.
1.26pm GMT13:26
Conference League knockout round playoff draw
Yes it does indeed feel like they've just picked words not balls out of a hat, but here it is:
Marseille v Qarabag
PSV v Maccabi Tel Aviv
Fenerbahce v Slavia Prague
Midtjylland v PAOK Salonika
Leicester City v Randers
Celtic v Bodo/Glimt
Sparta Prague v Partizan
Rapid Wien v Spurs or Vitesse
1.22pm GMT13:22
We've got a technical issue interrupting the Conference League draw, of course we do. We pause to sort it, rather than style it out because no one will notice.