Everton vs. Liverpool score: Controversial VAR offside call cancels Henderson's late winner in Merseyside draw
Leave it to VAR to cancel out a dramatic late goal in the Merseyside Derby on Saturday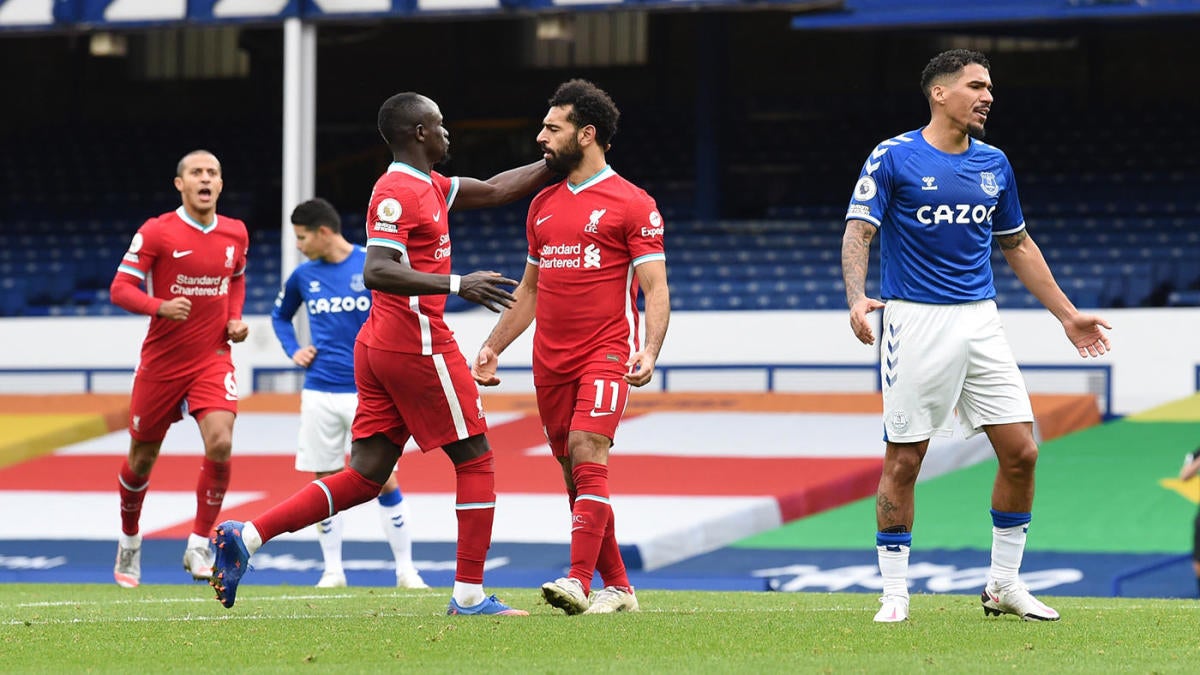 Liverpool and Everton played out a violent, controversial 2-2 draw at Goodison Park on Saturday in Premier League play in a match that looked like it would go to the Reds until VAR intervened. The Toffees remain undefeated and atop the table with the result as Jordan Henderson's late goal was ruled offside by the smallest of margins with Sadio Mane considered the player out of position. 
The Reds took the lead three minutes in, blew a lead twice and had all three points taken away by an offsides call that appeared to be the wrong decision.
Everton, who finished the game with 10 men, haven't beaten Liverpool in over a decade. The Red lost star defender Virgil van Dijk to injury this match.
Below are three takeaways from the match:
Everton 2, Liverpool 2 (FT)
⚽ Liverpool: Mane (3')⚽ Everton: Michael Keane (19')⚽ Liverpool: Salah (72')⚽ Everton: Dominic Calvert-Lewin (81')
More VAR controversy
This game had a lot of wild moments, but none was bigger than the video assistant referee canceling out what would have been a late winning goal for Liverpool. Henderson's apparent winner seemed like a legit goal, and it was actually surprising that it was being reviewed. But it appears that they determined Mane was offside by the slimmest margin I've ever seen a call made. Take a look:
It's ridiculous at this point. Calling things that marginal just feels like a waste of time. Either make it the top of the shoulder or the feet and save fan bases from having to sit through these grueling reviews. 
Everton will come away as huge fans of VAR, while Liverpool will hate it more than ever. But we can all probably agree that it at times causes more harm than good. 
Liverpool request review of VAR application
Liverpool manager Jurgen Klopp was not shy on his take of the entire situation.
"Look, I'm a real supporter of VAR but you would expect that, especially with offside, you then do the right decision. We scored a goal one time at Aston Villa and they said the armpit was offside -- sounds funny, we got it," Klopp said. "This time, the picture I saw now once on the laptop, there is no armpit, there is nothing, we are just not offside. 
"Since then I had 10 interviews around about and everybody tells me it was not offside and that doesn't lift my mood obviously. You all watched it obviously more often. That's tricky. We lost a player in a situation where VAR was not involved with Virgil and then maybe another one in the red-card situation and scored a legitimate goal -- whatever the word is -- which didn't count. So, obviously not our day but the performance was the performance I wanted to see."
As a result, Liverpool have asked the Premier League to review the VAR decision that could have cost them three valuable points, according to The Guardian.
Toffees fortunate to finish with just one red
Everton may have finished with 10 players after Richarlison's horror tackle on Thiago Alcantara, but they should have finished with nine. How in the world was goalkeeper Jordan Pickford allowed to stay on after his challenge on an offside van Dijk?
First, the horror tackle:
Now on van Dijk: Initially the belief of many was that it couldn't be reviewed by van Dijk was ruled offside. VAR chose to review the offside and not the potential red card, though they could have, and they blew the call. Just look at van Dijk's leg: 
That has to be a red card. It's reckless, dangerous and simply violent. Sure, Pickford probably didn't mean to go in like that, but that doesn't stop the fact that he did. Toffees are super lucky.
Van Dijk and Thiago facing injury stints  
As a result of that nasty challenge, it appears as if van Dijk could be sidelined for an extended period of time with an ACL (anterior cruciate ligament) injury. Although the team is waiting for confirmation, beIN Sports is reporting that the Reds' star defender is looking at a seven-to-eight month recovery. 
Here's what Klopp said after the match:
"I don't know [how serious it is], I don't know, but it is not good. Virgil played for us I don't know how many games in a row. He plays with pain, he plays with pretty much everything, but he couldn't play on. That's not good."  
Van Dijk isn't the only Liverpool player heading for a scan. Thiago could be dealing with a knee injury and is headed for a scan following Richarlison's red-card challenge. That's a big blow for the Reds ahead of their Champions League opener on Wednesday.
A better result for Everton in the end
In the end, the Toffees have to take it. They went down twice, got lucky with VAR and should have gotten two red card. Credit to this team for battling back, not caving and continuing to look like a contender.
After this goal from Mohamed Salah to make it 2-1 in the second half, it didn't feel over due to the creativity, as well as Adrian being in goal for Liverpool.
As Carlo Ancelotti's team was looking for that hero and with chances surely to come, it was their most consistent player once again in Dominic Calvert-Lewin, who became the club's first player in nearly 100 years to score in his first five Premier League games. 
A fair result? Probably not. Both teams looked sharp, but VAR went against Liverpool twice when it probably shouldn't have. 
The result keeps Everton in first place, and for that reason, they'll be the happier of the two.