Fulham 1-1 Liverpool: Premier League – live reaction!
Minute-by-minute report: After Tottenham's draw, will Liverpool go top with a win at Fulham? Join Tumaini Carayol to find out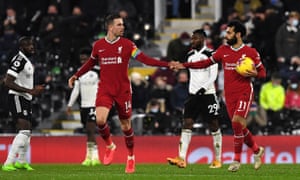 Key events
Show
6.24pm

GMT

18:24

FULL TIME! Fulham 1-1 Liverpool

6.09pm

GMT

18:09

GOAL! Fulham 1-1 Liverpool (Salah 79)

5.20pm

GMT

17:20

HALF TIME! Fulham 1-0 Liverpool

4.57pm

GMT

16:57

GOAL! Fulham 1-0 Liverpool (Reid, 25)

3.31pm

GMT

15:31

Preamble
Live feed
Show
6.56pm GMT18:56
Scott Parker was speaking to Sky:
"I suppose we are a little bit disappointed. I just said to the lads there, it shows how far we have come. Last 3 games: Leicester away we got a result. Man City, OK. Today against a team that we all know their quality, I thought the first half we were excellent. We were top, top draw. You probably need another one to go in, really, because second half is always going to change a little bit the quality of players you're up against."
"I've just said to the team: quality. I don't just want a team that just worked hard, showed grit, showed determination and spirit about us, which we understand we need. I think in the first half, it was good for everyone to see that there's some real quality about us and that pleased me a lot."
6.49pm GMT18:49
Here is the match report from Ed Aarons at Craven Cottage:
"But after a lacklustre display against opponents who showed they have the capability to avoid relegation this time around, Klopp will have been relieved to see his patched up team escape with a draw."
6.47pm GMT18:47
Jordan Henderson:
"We didn't really get going until the last 25/30 minutes, which in the Premier League you can't do or you'll get punished and we did. The good thing is that we reacted well after the that, finished the first half strongly and came out of the second half and dominated. Disappointed with the start but pleased with the reaction."
6.44pm GMT18:44
The verdict on Sky:
Evra: "They [Fulham] should be really delighted by their performance. [...] I think Liverpool were lucky to get away with a point. Fulham deserved three points tonight.
Souness: "They [Liverpool] got away with that. [...] They have to do better"
Both men think Fulham will stay up. They have certainly turned a corner over the last few weeks and the question is how they sustain it.
6.40pm GMT18:40
Bobby De Cordova-Reid: "There's positives to take. The lads stuck in there and I think it was a positive performance:
On his excellent goal: "I just thought, 'Get my touch correct and hit a clean strike.'" It is fair to say that he did both of those things.
6.38pm GMT18:38
Still, what a great performance from Fulham. They were on it from the very first minute when they stole the ball from Liverpool's kickoff and burst up the pitch. They carried that energy throughout. The past three weeks were supposed to represent a nightmare run of games for them, but this is how they fared:
Leicester City 1-2 Fulham
Manchester City 2-0 Fulham
Fulham 1-1 Liverpool.
Not bad. It will be very interesting to see how they play in their coming matches against Brighton and Newcastle.
Of their players, Ademola Lookman was man of the match for me. He and Andre-Frank Anguissa continue to show that they are both just excellent footballers and USA's left wing-back Antonee Robinson was also really impressive today, both in linking up with Lookman on the left and in defence throughout the second half. The quality of Bobby De Cordova-Reid's goal was the cherry on top.
In Liverpool's team, Curtis Jones continues to show that he is very impressive.
6.28pm GMT18:28
So, both Tottenham and Liverpool draw 1-1 in successive games against tough London opposition, imbuing their midweek clash with even more importance as Tottenham retain their spot in first place by goal difference.
No doubt Klopp will have much to say about yet another injury, this time to Joel Matip, meaning that he had to play Jordan Henderson at centre back during the second half.
6.24pm GMT18:24
FULL TIME! Fulham 1-1 Liverpool
Fulham hang on to seal a very encouraging point against the defending champions. They could have scored many more in the first half, and then they defended resolutely in the second. Liverpool were simply not good enough to win today.
6.23pm GMT18:23
90+2 min: These final minutes have been disappointing from Liverpool so far. After carrying the ball up the pitch, Jones crossed to Origi from deep, who meekly headed well wide.
6.20pm GMT18:20
90 min: As Liverpool move forward again, the fourth official announces 4 minutes of added time. Tense, tense moments.
6.19pm GMT18:19
89 min: Bryan replaces Lookman for Fulha, who was sublime today.
6.18pm GMT18:18
86 min: Liverpool has camped in Fulham's half over the last few minutes and they are pushing hard. Fulham's tight defence is resolute so far, with Robinson particularly excellent on the left.
6.16pm GMT18:16
84 min: Divock Origi replaces Mo Salah for Liverpool's final substitution.
6.15pm GMT18:15
83 min: Curtis Jones, who has been one of the best Liverpool players in the second half, breezed up the pitch and then fired low to his left. Areola was equal to the strike and saved it well, but that was a great run from the youngster.
6.13pm GMT18:13
80 min: Mario Lemina, who was on a yellow card, is replaced by Harrison Reed for Fulham.
6.12pm GMT18:12
80 min: Liverpool are already back in possession and pushing hard for the winner. This is going to be a tough, tough 10 minutes for Fulham but they will certainly try to be bold.
6.09pm GMT18:09
GOAL! Fulham 1-1 Liverpool (Salah 79)
Salah levels Liverpool with a searing, low penalty to his left. Well done.
Areola guessed correctly but there was too much power on it. We are all even.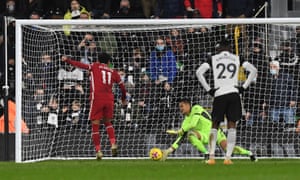 Updated at 6.12pm GMT
6.08pm GMT18:08
77 min: Penalty for Liverpool! After the home team gave away a free kick on the edge of the area, Wijnaldum's free kick struck Kamara's arm in the wall.
6.06pm GMT18:06
76 min: All credit to both goalkeepers today, who have been great. After Alisson kept his team close with a series of saves early on, now Areola is showing his quality. He dealt with a dangerous, high cross by Williams with such command that even I feel more confident after seeing it. I'm sure his defenders also do.
6.05pm GMT18:05
73 min: Aboukara Kamara replaces Ruben Loftus-Cheek. We can conclude that Scott Parker does not only intend to defend this 1-0 lead out.
6.03pm GMT18:03
71 min: More pressure from Liverpool yields their umpteenth corner of the second half through a deflected shot by Williams. Fulham clear their lines once more.
6.00pm GMT18:00
68 min Trent Alexander-Arnold has been replaced by Neco Williams. Presumably, Klopp is careful not to overload the England right back so soon after returning from injury.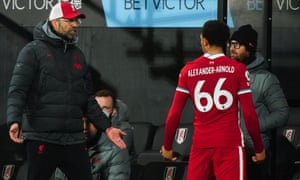 Updated at 6.11pm GMT
5.59pm GMT17:59
67 min Fulham are successfully getting out of their half now.A couple of really nice counter attacks in succession and most good things are moving through the brilliant Lookman on the left.
5.57pm GMT17:57
63 min: After soaking up so much pressure over the past 10 minutes from deep in their half, Fulham finally found what they were looking for, breaking fast and finding Lookman on the left. He completely left Wijnaldum for dead with his speed, but just as he went to cross the ball, it collided with Alexander-Arnold and bounced back off him for a goal kick. Tough.
5.53pm GMT17:53
61 min: Chance! This time, some great interplay between the Liverpool forwards ends in Firminho playing a gorgeous first touch through ball to Henderson, who struck first time.
Henderson hit it well, but Areola saved the attempt well. This has been by far Liverpool's best period.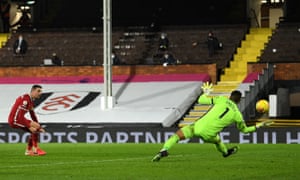 Updated at 6.09pm GMT
5.50pm GMT17:50
58 min: Mane, who has been quite quiet, just burst past a couple of Fulham defenders on the left with ease before curling in a good cross. Great defending from Andersen to clear the danger.
5.47pm GMT17:47
55 min: Liverpool continue to apply pressure with little to show for it. After a good pass through the lines from Henderson, some nice footwork from Jones won a foul and yielded a free kick from the right.
Alexander-Arnold whipped in an excellent ball, but no Liverpool player could get a head on it.
Updated at 5.48pm GMT
5.44pm GMT17:44
53 min: This has been agood period of pressure from Liverpool but they just can't break through in the final third. First Areola was forced to dart forward and punch away a cross, then a good challenge on Salah from Fulham's Robinson offered Liverpool a corner. Fulham cleared the corner well and the danger was averted.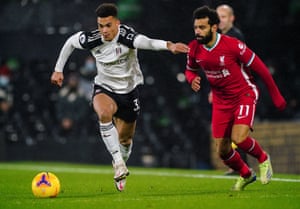 Updated at 5.47pm GMT
5.40pm GMT17:40
49 min: According to Sky Sports, Joel Matip was substituted due to a sore back. No doubt Klopp was ecstatic to learn of another injury.
5.39pm GMT17:39
47 min: Goodness, what a lively start. First Cavaleiro nearly bundled the ball into the net with his chest after a deflected cross dropped into the box. Only a good save from Alisson kept it out. Moments later, Liverpool broke and Salah shot well from distance, forcing Areola to make a save.
5.36pm GMT17:36
45 min: A notable change from Jürgen Klopp to begin the second half. Minamino is on for Matip.
Henderson has moved back into defence with Minamino currently moving into left midfield. This is not ideal
5.29pm GMT17:29
On Sky Sports, Graeme Souness says that Andre Marriner's endless VAR check on Fabinho's tackle against Cavaleiro in Liverpool's box should have ended in a penalty.
Evra says that he initially thought it was a penalty but he doubted it after seeing the slow motion replay.
5.25pm GMT17:25
First half stats in Fulham-Liverpool:
Shots: 6-4
Posession: 29%-71%
Key passes: 5-2
5.20pm GMT17:20
HALF TIME! Fulham 1-0 Liverpool
After an energetic, skilled and composed half of football by Fulham from the very first moment, they take a lead at half time. Liverpool played their best football in the dying minutes of the half and one suspects that they will continue to grow into this game, but this has been extremely impressive from Scott Parker's side.
5.17pm GMT17:17
45 min: Three minutes of added time to come. Fulham would do well to keep themselves ahead at the break under the first period of sustained pressure from Liverpool here.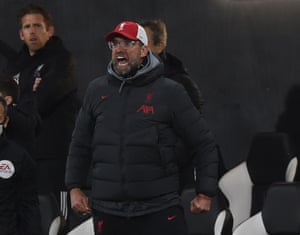 Updated at 5.44pm GMT