Kanye West and Irina Shayk Might Be a Thing Now?
The two were photographed together in France for his birthday earlier this week.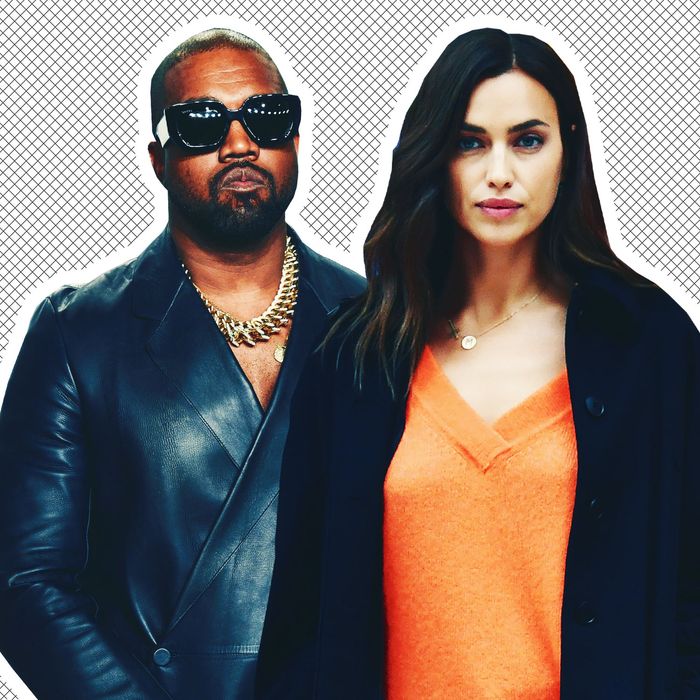 The year of the unexpected celebrity couple continues. The latest pair to join the roster — which currently has heavy hitters like Pete Davidson and Phoebe Dynevor and whatever is going on with John Mulaney and Olivia Munn — is apparently Kanye West and model Irina Shayk. Lotta questions, so few answers.
Rumors of the two being A Thing have been swirling for a bit. Celebrity gossip aficionados @DeuxMoi floated the possibility that the pair was dating last month, and earlier today, TMZ reported that the two are "100% romantically together." Now, the Daily Mail has shared pictures of West and Shayk taking a little walk through the French region of Provence on Tuesday, which was notably West's 44th birthday. A first (?) date (??) in France on his birthday is, if nothing else, a very Kanye West thing to do.
This rumored romp comes just a few months after West and Kim Kardashian publicly announced the end of their seven-year relationship. In February, Kardashian officially filed for divorce after reports that the two had been living apart for several months. Well, it appears West is already moving on with none other than Bradley Cooper's ex. In 2019, Shayk and Cooper split after four years of dating. The two also share a daughter together. Before that, Shayk dated soccer star Cristiano Ronaldo.
If you, like me, are wondering how West and Shayk even know each other, the two have apparently been at least acquaintances for over a decade. In 2010, Shayk was featured in West's "Power" music video and, two years later, she walked for Yeezy's Fall/Winter fashion collection at Paris Fashion Week.
Still, questions remain: what do they talk about? What does Kim think? Will Kanye be monitoring the weight between Irina's toes? Stay tuned…
Stay in touch.
Get the Cut newsletter delivered daily
Terms & Privacy Notice
By submitting your email, you agree to our Terms and Privacy Notice and to receive email correspondence from us.