Election 2022 LIVE updates: Scott Morrison, Anthony Albanese continue campaigns; first home buyer superannuation policy slammed by Labor; Michael Sukk
The Morrison government is defending its controversial first home buyer scheme after some industry groups warned about higher house prices and Opposition Leader Anthony Albanese wants to roll out universal childcare and reform parental leave if he wins tw
Christopher Pyne has backed Scott Morrison's pledge to "change gears" from his "bulldozer" approach.
Pyne, the former defence minister who quit at the last election, welcomed Morrison's change of heart, but when pressed by the ABC's Fran Kelly about whether six days before the election was the right time to present a personality change, Pyne said, "any time's a good time".
Ever the optimist!
But he was less cheery about the Coalition's prospects on Saturday night.
He said he had never known there to be so many undecided voters during an election campaign, adding that neither Morrison nor Opposition Leader Anthony Albanese were "loved" by voters.
He predicted an unclear result on Saturday night.
Treasurer Josh Frydenberg says he has found the reception from voters to be positive in the once-safe but in-danger seat of Kooyong in Melbourne.
He holds the seat by 6.4 per cent, making it marginal. The seat has always been Liberal.
He has told ABC's Fran Kelly that the battle in his electorate reflects changing demographics rather than a backlash against the Liberal Party.
"Kooyong has changed a bit; I don't think the Liberal Party has changed," he says.
When asked if Prime Minister Scott Morrison is a drag on his vote, he concedes that "a few" voters have been "giving free character assessments on a whole range of personalities across the political divide".
But he has found the reception on the ground to be "very encouraging" and is confident of holding the seat on Saturday.
We'll take that as a yes!
Kelly also interviewed teal independent Monique Ryan, who says that Frydenberg is no moderate as he has never crossed the floor in his 12 years in parliament and is in favour of keeping asylum seekers in offshore detention.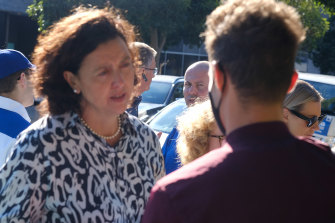 Ryan says she has experienced the most "incredible outpouring of support" from people in the electorate, particularly from young people who are concerned about climate change and housing affordability.
"It's extraordinary the way people have come to us in a way we didn't anticipate," she says.
Ryan agrees that the electorate has changed, aiding a possible change in representation at the federal level, but says the Liberals have also changed.
An update from reporter James Massola, who is travelling with Scott Morrison.
The plane has just touched down in Cairns, making the prime minister's next campaign stop the seat of Leichhardt, held by the LNP's Warren Entsch.
Morrison and his wife, Jenny, are having afternoon tea with community members and are expected to make an announcement about supporting medical placements in rural areas.
The PM had a go at darts... and almost scored a bullseye!
There's a very good chance that one of the election upsets on Saturday night will be in the seat of Goldstein, where Zoe Daniel is attempting to oust junior Liberal minister Tim Wilson.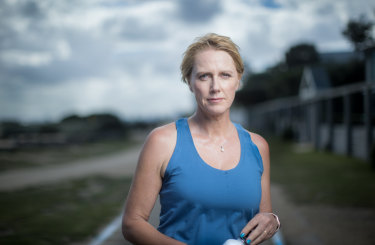 Daniel is a former ABC reporter making her first tilt at politics as one of the so-called teal independents.
She has spoken to our investigative journalist Royce Millar about her political beliefs, which remain fairly opaque beyond the trio of stated priorities for all the teals: climate change, a federal corruption commission and gender equality.
But it's worth noting that the last time we saw a prominent ABC reporter run for federal politics it was Labor's Maxine McKew, who famously ousted John Howard from his seat of Bennelong in 2007.
So why not a similar path for Daniel? She says her father was heavily involved with Labor and the union movement but what she saw close up turned her off joining the party.
Read more: Zoe on Zoe: What the Goldstein independent wants from the next government
I recently joined the host of our Please Explain podcast, Nathanael Cooper, along with our columnist and senior writer Jacqueline Maley to discuss this very point and the impact the independents are having on this campaign and Australian politics.
You can listen by clicking below.
Henry Pike, the LNP candidate for Bowman in south-eastern Queensland, is under police investigation for allegedly assaulting a Labor volunteer at a pre-polling booth.
The Queensland Police Service confirmed in a statement it is investigating a complaint, but no arrests have been made and no charges laid.
It is understood the incident occurred on Monday morning at Cleveland Baptist Church, west of Brisbane in the Redland region.
"It is alleged at around 6.30am, a 34-year-old man and a 49-year-old man became involved in a verbal altercation over the placement of political signs out the front of an address on Bloomfield Street," police said in a statement.
"The 34-year-old Ormiston man then allegedly pushed the 49-year-old man, causing him to stumble backwards."
Queensland state Labor MP Don Brown, whose electorate of Capalaba covers parts of the Redland and south-east Brisbane regions, posted on Facebook about the incident.
"Pike has just pushed over an ALP volunteer half his size. My understanding is a police complaint is currently being made," Brown said in the post.
An LNP spokesman said Pike "was acting in self-defence after multiple provocations by Labor volunteers attaching signage to Mr Pike's marquee".
According to the spokesman, two LNP volunteers had made complaints of their own to police regarding the actions of a Labor worker.
Pike is trying to hold the seat for the LNP after the resignation of former Bowman MP Andrew Laming. The seat was considered a safe LNP seat.
Anthony Albanese has made a brief stop at the Goodstart Kalamunda childcare centre in WA's marginal seat of Hasluck, which is held by Liberal minister Ken Wyatt by 5.9 points.
He was treated to a rendition of "A Triangle Has Three Sides" before doing some shape matching with a young boy.
"How many greens do you need?" teacher Betsy Joseph asked the Labor leader as he searched for some (three-sided) triangles.
Albanese then made a soft pitch of Labor's childcare policy – which will increase subsidies for 96 per cent of parents in the system – while kneeling in the sandpit surrounded by digging children.
Advance Australia, a conservative campaign group that badges itself as anti-woke and anti-elitist, has hit back at the Australian Electoral Commission for deeming some of Advance's campaign paraphernalia is in breach of section 329 of the Electoral Act.
The material relates to Advance's so-called Superman ads, which depict ACT senate candidate David Pocock and independent MP for Warringah Zali Steggall as quasi-Greens MPs.
Pocock has decried the ads as fake and said Advance should be prosecuted. He also attacked the AEC for taking so long to rule on the ads, saying he first complained about them on April 26.
The AEC said it is illegal to mislead or deceive voters and that Advance had agreed to stop displaying the signs without first giving the commission 48 hours notice.
Advance executive director Matthew Sheahan said the move constituted a backflip from the AEC and that he was considering legal action.
"Three weeks ago, at the beginning of the campaign, the AEC said publicly the ads were fine and now all of a sudden they're not," he said.
"We make no apology for edgy and disruptive campaigns, but we have an unbroken record of playing by the rules and accepting the umpire's decision.
"This backflip by the AEC is astonishing, inconsistent and, in our view, plainly wrong."
Sheahan said that while he had agreed to pause the Superman campaign for now, he was taking further advice on possible legal action against the AEC.
Watch this space.
An intriguing set of answers just now to the question put to all the crossbenchers at the National Press Club about whether they would support the stage-three tax cuts.
Those tax cuts are supported by the Coalition and Labor and would deliver tax relief to those on higher incomes, beginning in 2024.
They were first legislated in 2018 when (fun fact!) Scott Morrison was the treasurer.
Coming back to the present day, the UAP, Greens and Senator Rex Patrick have all said they oppose the tax cuts because they would only benefit the wealthy.
"We can't have tax cuts funded by borrowing," Craig Kelly said.
Adam Bandt said the Greens opposed them because they would give billionaires $9000 per year, including Greens enemy number one, the UAP's Clive Palmer.
Patrick said he did not support tax cuts for the wealthy, leaving just Zali Steggall in support. However, she said she also wanted to see the minimum wage increased.
Read more about the stage-three tax cuts and how much they'll cost the budget from our economic correspondent Shane Wright:'Recipe for austerity': Cost of stage-three tax cuts blows out by $22 billion in a year.
Fascinatingly, Zali Steggall used her closing pitch for re-election as the independent MP for Warringah to lay into Prime Minister Scott Morrison.
She insisted that she would negotiate with both sides but said she had huge issues with Morrison when it came to trust and his moral compass, likening her distrust of him to that of French President Emmanuel Macron's.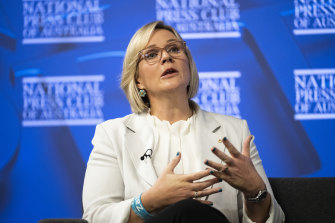 Steggall cited Morrison's attack on former Australia Post boss Christine Holgate and his support of Katherine Deves, her controversial Liberal rival in the northern Sydney seat, as examples of where he had fallen short.
"I do not find that to be the qualities of leadership that I respect," Steggall told the National Press Club.
Greens leader Adam Bandt, Liberal-turned-UAP-leader Craig Kelly, independent MP for Warringah Zali Steggall and crossbench Senator Rex Patrick are speaking at the National Press Club in Canberra.
Asked who they would support in the event of a hung parliament, Bandt said the Greens would not support the Coalition because it was time they were voted out.
Kelly, who was elected at the last election as a Liberal to represent the seat of Hughes in NSW, did not state which side he would support if the United Australia Party was to obtain any significant say over the balance of power.
Steggall also avoided saying which side she'd support but criticised the Liberal Party and Nationals for striking a secret deal to enable the current Coalition government and said transparency in any minority government situation was critical.
So Bandt was the only lower house MP to state his position, and that was firmly against the Coalition.