WSJ Op-ed Telling Jill Biden to 'Drop the Doc' Slammed as Sexist
Joseph Epstein has been widely panned as sexist for telling the soon-to-be First Lady to "drop the doc."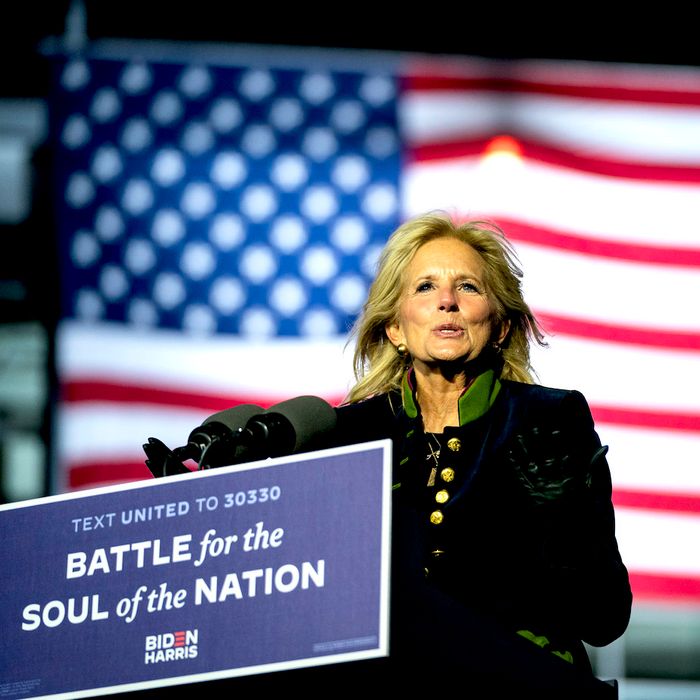 Dr. Jill Biden.
Photo: Drew Angerer/Getty Images
Today in unasked-for opinions offered apropos of nothing: One man is so agitated over Jill Biden's designation as a doctor of education that he recently wrote a Wall Street Journal op-ed advising her to "forthwith drop the doc." Entitled, "Is There a Doctor in the White House? Not If You Need an M.D.," the essay's author — Joseph Epstein, formerly the editor of the American Scholar — argues that Biden's title "sounds and feels fraudulent, not to say a touch comic." By his own admission, Epstein lacks "a doctorate or any advanced degree," but seems to consider himself an expert on the matter nonetheless.
"Madame First Lady — Mrs. Biden — Jill — kiddo," he opens his address to Biden, a 69-year-old woman. In short, Epstein believes "no one should call himself 'Dr.' unless he has delivered a child." He also suggests that Biden's Ed.D. inherently holds less prestige than a Ph.D., a degree that has in turn been "diminished by the erosion of seriousness and the relaxation of standards in university education generally." (At least in Epstein's eyes.) And don't even get him started on the purported farce that is the honorary doctorate!
To be clear, though, Biden's doctorate is not honorary. She earned it, along with two Master's Degrees, and plans to continue working as a community college professor during her time as First Lady, just as she did when she was Second Lady. No other FLOTUS has continued her pre-existing career while in office, and critics of the op-ed have decried it as emblematic of sexism in academia. On Twitter, where the piece has been trending after its publication on Friday, soon-to-be First Gentleman Doug Emhoff speculated that "this story would never have been written about a man."
Dr. Biden earned her degrees through hard work and pure grit. She is an inspiration to me, to her students, and to Americans across this country. This story would never have been written about a man. pic.twitter.com/mverJiOsxC

— Doug Emhoff (@DouglasEmhoff) December 12, 2020
In light of that WSJ op-ed on Dr. Jill Biden, what a stunning coincidence that comparatively un-credentialed white men only seem to get up their hackles about PhDs being referred to as "doctors" when it's a woman and/or BIPOC using that honorific. What a striking happenstance!

— Charlotte Clymer