Katie Price admits drink-driving and taking drugs after car crash
Ex-model will be treated at the Priory before being sentenced in December following collision near Sussex home
Katie Price could face jail after admitting drink-driving
Ex-model will be treated at the Priory before being sentenced in December following collision near Sussex home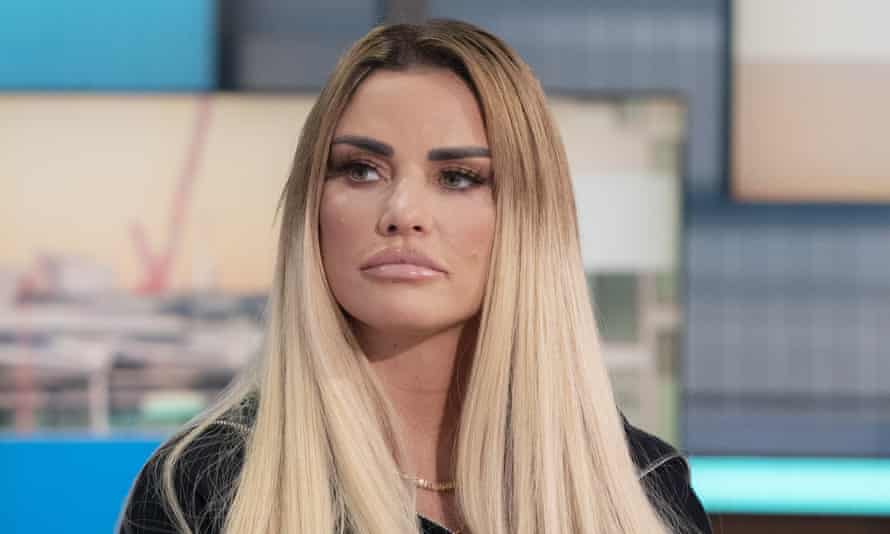 Matthew Weaver and agency
Wed 29 Sep 2021 17.51 BST
First published on Wed 29 Sep 2021 11.08 BST
Katie Price faces a possible prison sentence after pleading guilty to drink-driving and admitting taking drugs after a crash near her home in Sussex.
She will be treated at the drug rehabilitation clinic the Priory before being sentenced in December.
The former model, 43, appeared at Crawley magistrates court on Wednesday following the collision on the B2135 near Partridge Green on Tuesday morning.
She was charged with driving while unfit to drive through drink, using a motor vehicle on a public place without third-party insurance and driving while disqualified.
An image shared by police from the scene on Tuesday showed a car flipped on its side.
After being confronted by police at the scene, Price was heard saying: "I took drugs, I should not be driving, I admit it all," the court heard.
A drugs wipe gave a positive reading for cocaine, the prosecutor Debbie Jones told the court.
After pleading guilty, Price was told that her sentencing would be deferred until 15 December to allow for her to have treatment at the Priory and to speak to the probation service.
The chair of the bench, Julie Hutton, told her she was free to go but warned her against driving in the interim. She added: "We regularly send people to prison for driving whilst disqualified."
Officers responded to the crash at about 6.20am. Price was arrested on suspicion of driving while above the legal limit for alcohol and drugs, and was taken to hospital.
In court, defence solicitor Joe Harrington, said Price was going through a number of "personal problems". He said: "Currently she is in the process of bankruptcy proceedings so her house may be repossessed."
He added: "As I understand it she had been drinking, she was lonely and she decided to go and see a friend who lived a relatively short distance away and that is when the incident happened."
In a statement from the family shared on Price's Instagram account, they said: "As a family we have for some time been concerned about Kate's wellbeing and overall mental health.
"Today our worst fears nearly came true. As a family we have been and will continue to help Kate get the help she needs."
South East Coast ambulance service NHS foundation trust said: "One ambulance crew attended the scene and one person was assessed and treated before being taken to hospital."
The road was reopened at 9.26am.