Leeds United 1-2 West Ham: Premier League – as it happened
Minute-by-minute report: The Hammers rise to fifth spot in the Premier League after a deserved victory over Leeds at Elland Road. Scott Murray was watching.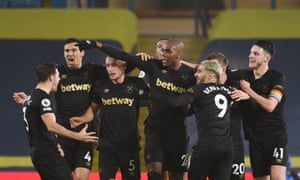 Key events
Show
9.54pm

GMT

21:54

FULL TIME: Leeds United 1-2 West Ham United

9.38pm

GMT

21:38

GOAL! Leeds 1-2 West Ham (Ogbonna 80)

8.47pm

GMT

20:47

HALF TIME: Leeds United 1-1 West Ham United

8.26pm

GMT

20:26

GOAL! Leeds 1-1 West Ham (Soucek 24)

8.07pm

GMT

20:07

GOAL! Leeds 1-0 West Ham (Klich 6 pen)

8.03pm

GMT

20:03

Penalty for Leeds!

7.01pm

GMT

19:01

The teams
Live feed
Show
10.24pm GMT22:24
Aaron Bower was at Elland Road, and his verdict has landed. You know the drill: clickity click! Thanks for reading this MBM. Nighty night!
10.23pm GMT22:23
David Moyes isn't in a particularly good mood, despite the win, and it's VAR to blame. "I was pleased ... I think you should talk about it, the penalty, there's not much I can say, you might as well let the referees talk about it ... anyway, a great performance ... I thought we played really well against a good Leeds team ... but until we get the rule sorted out, I don't think I'm going to be too happy ... it doesn't really matter what I say, maybe there will be more influential managers who can make a difference ... you're not discussing football any more, you're discussing VAR decisions all the time ... you're better asking me about the football ... Haller should have scored, but the outstanding player was the Leeds goalkeeper, who looks very impressive ... Benrahma did a lot of good things ... his contribution was very good ... set pieces are a big part of football, you try to score from them and not concede from them ... we're in a good position but no more than that ... this group of players are capable."
10.13pm GMT22:13
Marcelo Bielsa's take. "It was a fair defeat ... the type of game it was, it doesn't surprise us ... we prepared to face a game with the characteristics the game had today, but they were superior ... we know about this problem [conceding from set pieces] and we are doing the necessary to try to correct it ... it is not sufficient but we have to insist so this problem is less influence on our games ... normally we deserve more goals than the ones we score ... there are segments of games where our performances have been positive, and segments where they haven't."
10.05pm GMT22:05
Aaron Cresswell speaks. "It's similar to Manchester United in the amount of chances we created ... more than four or five clear-cut chances ... we couldn't put the ball in the back of the net ... credit to the lads, we stuck together and got the three points ... set pieces are a massive part of our game and it's worked again tonight ... we're not getting complacent, it's just 12 games in."
10.02pm GMT22:02
West Ham were good value for their win. They responded magnificently to falling behind to Klich's early penalty, and were by far the better team thereafter. Both of their goals came from set pieces - nobody in the Premier League has scored more from dead-ball situations than their eight goals - but the manner of their victory shouldn't be written off as one-dimensional. Fornals was an inch away from finishing a sweeping move, Balbuena hit the post, and Haller, who can't buy a goal at present, nearly scored with a sensational overhead kick. Leeds were by contrast impotent for the most part, while leaving their usual huge spaces at the back. A few things for Bielsa to worry about. Moyes by contrast will be extremely pleased with the way this season has started.
9.54pm GMT21:54
FULL TIME: Leeds United 1-2 West Ham United
West Ham secure a deserved victory. They could have had a couple more goals. They're becoming a very decent side under David Moyes, which their rise to fifth place illustrates. Meanwhile Leeds' poor form at Elland Road continues; they remain in 14th spot.
9.52pm GMT21:52
90 min +4: Erstwhile Leeds winger Snodgrass replaces Fornals.
9.51pm GMT21:51
90 min +3: Fornals thinks about breaking down the right, but applies the brakes, doing the professional thing by hogging the ball awhile.
9.50pm GMT21:50
90 min +2: Noble is booked for clattering Roberts. The free kick leads to a corner, which leads to nothing.
9.49pm GMT21:49
90 min +1: Leeds should indeed save themselves, a few seconds into extra time. Ayling hooks in from the right, finding Rodrigo six yards out. He has to score, but slaps his header straight at a thankful Fabianski.
9.48pm GMT21:48
90 min: Leeds have four extra minutes in which to save themselves.
9.47pm GMT21:47
89 min: A Leeds corner comes to nothing. Fabianski hasn't been seriously troubled for a long time now.
9.47pm GMT21:47
88 min: Nothing comes of the resulting corner. But West Ham come back at Leeds, Ogbonna twisting down the right and crossing towards Balbuena at the near post. Balbuena flashes a header across Meslier and off the left-hand post. Leeds clear. How on earth are the hosts still in the game?
9.45pm GMT21:45
87 min: Fornals crosses from the right. Haller, his back to goal, executes a lovely overhead kick, whipping it towards the bottom left. Meslier makes another fine save to deny the striker.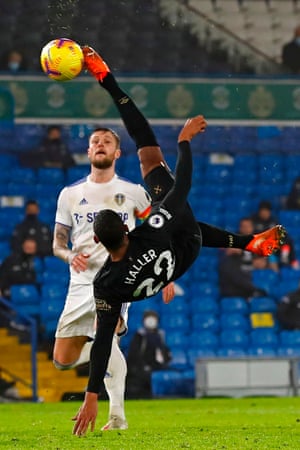 Updated at 9.50pm GMT
9.44pm GMT21:44
85 min: London Buses dept. Having waited so long for the first, here comes the second West Ham substitution in 60 seconds. Johnson comes on for Bowen.
9.42pm GMT21:42
84 min: Moyes opts to shore things up, replacing Benrahma with Noble. What West Ham have, West Ham will try to hold.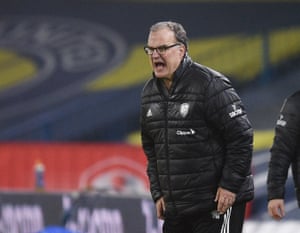 Updated at 9.48pm GMT
9.40pm GMT21:40
82 min: Costa, perhaps mindful of his role in that goal, busies himself down the right. Shackleton is in space further forward, but he can't be found. Leeds have been extremely impotent in attack during this second half.
9.38pm GMT21:38
GOAL! Leeds 1-2 West Ham (Ogbonna 80)
... and with good reason. Cresswell sends an outswinger towards the far post. Ogbonna rises highest and plants a fine header into the top right! Meslier had no chance. That had been coming.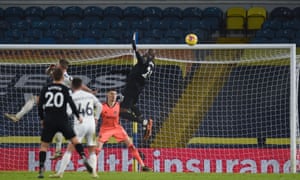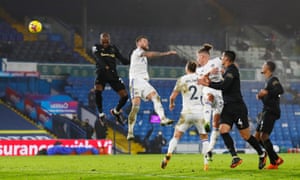 Updated at 9.47pm GMT
9.37pm GMT21:37
79 min: West Ham were so close on two separate occasions back there. Right now, if anyone's going to find a winner, they're the smart bet. And now Costa has wrestled Cresswell to the ground, just to the left of the box. Another free kick in a dangerous position, and Bielsa looks extremely concerned.
9.36pm GMT21:36
77 min: A free kick for West Ham out on the right. Bowen swings it long. The ball loops over Cooper and Ayling, and finds Balbuena, six yards out. Balbuena crashes a brilliant header goalwards ... only for Meslier to stick out a strong arm and make an absurdly good reaction save! Phillips finishes the job by clearing the rebound with an overhead kick.
9.34pm GMT21:34
75 min: West Ham are this close to taking the lead. Rice strides in from the left and rolls a diagonal pass towards Fornals, who is in a lot of space down the inside right. Cooper slides to intercept, but misses the ball entirely and Fornals finds himself free in the box! He sticks out a leg and guides the ball across Meslier ... but inches wide of the left-hand post. Lovely football from West Ham, though Cooper will be relieved to have got away with one.
9.32pm GMT21:32
74 min: Bowen looks to curl one into the top left from a deep position on the right. It's always heading high and wide. Meanwhile Bielsa makes his final change of the evening, replacing the inefficient Bamford with Roberts.
9.31pm GMT21:31
72 min: Shackleton sends an absurd backpass back down the Leeds right. Haller is sniffing around, and it forces Meslier to race out of his area to hack clear. The young keeper does really well under intense pressure from the striker. He was put under needless pressure there.
9.28pm GMT21:28
70 min: Ayling has a crack from distance. Fabianski opts to fingertip the low fizzer around his left-hand post. From the resulting corner, Klich batters a long-distance shot towards the bottom right. Fabianski claims without fuss.
9.27pm GMT21:27
68 min: Cooper's weak headed clearance finds the feet of Benrahma, who tries to dispatch a curler into the top right from 25 yards. Not quite. Always high and wide. Benrahma isn't having the greatest of games, but he's not afraid to keep showing, working and trying his best to work Meslier.
9.25pm GMT21:25
67 min: Dallas curls a pass towards Raphinha, who is in acres down the right. Ogbonna does well to block his shot. Raphinha tries to trouble Leeds again, this time crossing for Bamford, who can only flash a header high into the stand behind.
9.23pm GMT21:23
65 min: Benrahma goes direct for goal, trying to fox Meslier with a curler towards the top left, and gets it all wrong. A daft decision, given how much trouble the taller West Ham side are giving Leeds at set pieces ... and how good the Hammers are at them in general.
9.22pm GMT21:22
64 min: Rodrigo clumsily barges into Soucek, who was going nowhere down the left. Suddenly it's a free kick in a dangerous position, just to the left of the Leeds box.
9.21pm GMT21:21
63 min: Benrahma dribbles infield from the left with purpose. He fashions space and time to shoot from the edge of the D, but larrups his effort miles over the bar.
9.19pm GMT21:19
61 min: Ayling threatens to break down the right but he's bundled over by Haller. This has become very bitty.
9.17pm GMT21:17
59 min: Dallas wedges down the right, hoping to release Shackleton. Cresswell does extremely well to eyebrow the ball away from the Leeds youngster, who would have been through on goal otherwise.
9.16pm GMT21:16
58 min: The lull continues. It had to happen at some point.
9.15pm GMT21:15
56 min: Leeds slow it down in uncharacteristic fashion, stroking the ball around the midfield, perhaps with a view to taking a quick breather. It's been the usual full-pelt Bielsa brouhaha, after all.
9.12pm GMT21:12
54 min: Haller does better at the corner, sending a header goalwards from eight yards. Meslier tips over, then deals with the second corner.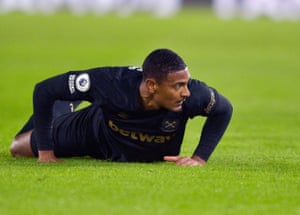 Updated at 9.21pm GMT
9.11pm GMT21:11
53 min: Bowen busies himself to the right of the Leeds goal. He cuts back from the byline and dinks infield for Haller, whose snapshot twangs off Cooper and out for a corner. The striker should have done better from six yards.
9.10pm GMT21:10
51 min: Rice is allowed to stride down the middle of the park at pace. He goes on, and on, and on. Eventually, on the edge of the box, Phillips toes the ball away from Rice, just as the West Ham midfielder is preparing to shoot. Leeds' midfield all but disappeared there. A worryingly huge gap in the centre of the park.
Updated at 9.10pm GMT
9.08pm GMT21:08
49 min: Benrahma bursts past Phillips and sends Bowen free down the right. Bowen's cross is easily handled by Meslier. West Ham also appear minded to go for the win. This could be another entertaining end-to-end half.
9.06pm GMT21:06
47 min: Shackleton's turn to show early. He skates in from the right and whistles a pass towards Bamford on the penalty spot. Bamford, his back to goal, spins and whips a shot wide left. Leeds have obviously been given the what-for by Bielsa during the break.
9.04pm GMT21:04
46 min: Costa is immediately in the thick of it, his clever backheel finding Dallas, just to the left of the D. Dallas crosses long, hoping to find Bamford at the far post, but Fabianski claims.
9.03pm GMT21:03
Leeds get the second half underway. Bielsa has made a double change, hooking his left wing of Alioski and Harrison, and sending on Costa and Shackleton.
8.53pm GMT20:53
HALF-TIME ENTERTAINMENT brought to you by everyone's favourite Evertonian, Mr Gary Naylor. "You know you're getting old when you can see (in your mind's eye) Frank Lampard dancing round that corner flag at Elland Road and remember the long flat journey home. Frank's son is managing my team's opponents tomorrow. Enjoy the time as it speeds by."
8.47pm GMT20:47
HALF TIME: Leeds United 1-1 West Ham United
Leeds have enjoyed the lion's share of possession; West Ham have had more efforts on goal. The scoreline seems about right.
8.46pm GMT20:46
45 min +1: The corner's worked back to Ayling, who launches a long-distance effort straight down Fabianski's throat.
8.45pm GMT20:45
45 min: Klich and Rodrigo combine crisply down the right to earn a corner. There will be plenty of time to take it, as two extra minutes will be added to the half.
8.44pm GMT20:44
44 min: This high-octane half is now petering out.
8.43pm GMT20:43
42 min: Rodrigo tiptoes along the left touchline and curls into the middle. Bamford and Ogbonna challenge for it on the left-hand corner of the six-yard box. The ball brushes Ogbonna's hand as he clears. Leeds make their claim, but the defender's arm was right by his body, and VAR isn't interested.
8.41pm GMT20:41
40 min: Cresswell tugs away at Raphinha, out on the right. Another chance for Leeds to send the ball into the West Ham mixer. Raphinha takes himself. It's half cleared, but only to Harrison out on the left. A cross is forthcoming this time, and Bamford heads weakly towards Fabianski.