Manchester City 3-0 Marseille: Champions League – as it happened
MBM report: City eased past a toothless Marseille to finish their Group C campaign in style. Scott Murray was watching.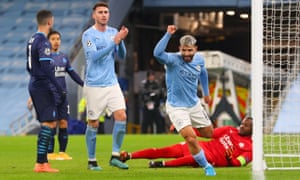 Key events
Show
9.56pm

GMT

21:56

FULL TIME: Manchester City 3-0 Marseille

9.53pm

GMT

21:53

GOAL! Manchester City 3-0 Marseille (Sterling 90)

9.39pm

GMT

21:39

GOAL! Manchester City 2-0 Marseille (Aguero 77)

9.10pm

GMT

21:10

GOAL! Manchester City 1-0 Marseille (Torres 48)

8.49pm

GMT

20:49

HALF TIME: Manchester City 0-0 Marseille

7.04pm

GMT

19:04

The teams

3.31pm

GMT

15:31

Preamble
Live feed
Show
10.09pm GMT22:09
No sign of Pep ... but Jamie Jackson's report has landed. And here it is! Thanks for reading. Nighty night.
Updated at 10.26pm GMT
10.07pm GMT22:07
Bernardo Silva's verdict. "It was a good game ... we knew we had already qualified, but it is always good to finish with a good win ... we are happy ... it is a good start for us, we are into the last 16 and our goal is to do better than we did for the last three seasons ... everyone knows how important Sergio Aguero is for us, one of the best players to ever play for this club, and it's good to have him back ... for a few games we have been winning and when you are winning it is always easy to go to the next, to the next, and win again, and win again, so we just want it to keep going ... we want to do well against Man United and keep winning."
9.58pm GMT21:58
City finish Group C top with 16 points. Porto, the only team to take points off them, are second with 13, after beating ten-man Olympiacos 2-0 in Greece. Olympiacos will play in the Europa League come the new year; they end up with three points, just like Marseille, but edge it on the head-to-head.
9.56pm GMT21:56
FULL TIME: Manchester City 3-0 Marseille
City finish Group C in style. They didn't need to shift out of third gear during that second half to romp past Marseille. A message sent around Europe that they mean business. Marseille were very poor, mind you, and crash out of Europe altogether.
9.54pm GMT21:54
90 min +2: As does the second. As has most of the match, to be honest.
9.53pm GMT21:53
90 min +1: The first of three added minutes elapses without incident.
9.53pm GMT21:53
GOAL! Manchester City 3-0 Marseille (Sterling 90)
Torres again down the right. He hits a low cross-cum-shot. Mandanda gets down to parry with a strong arm ... but the ball balloons up and hits his team-mate Alvaro in the chest. The unlucky ricochet tees up Sterling, who can't miss from two yards.
9.51pm GMT21:51
89 min: Torres turns the engines on again, reaching the byline on the right and chipping into the centre. A melee is about to break out when the flag goes up. Torres is adjudged to have run the ball out of play. An incorrect decision, but no matter, because City soon come again and ...
9.49pm GMT21:49
87 min: Foden does. He whips over the wall and is this close to finding the top-right corner. Inches wide.
9.48pm GMT21:48
86 min: Torres turns on the jets and races inside from the right. He's bundled over by a combination of Strootman and Nagatomo, just to the right of the D. Foden's eyes light up. So do Sterling's. Who'll win the battle?
9.46pm GMT21:46
85 min: Matchday six in the group stages, huh.
9.45pm GMT21:45
83 min: Marseille knock it around the back for a bit, showing surprisingly little urgency. Maybe they want to concentrate on the league.
9.42pm GMT21:42
81 min: Porto are now 2-0 up at Olympiacos. The Greeks will nevertheless be heading to the Europa League, unless Marseille can find two goals in the last few minutes.
9.41pm GMT21:41
79 min: From the corner, Sterling skedaddles infield, left to right, and sends a daisycutter straight at Mandanda.
9.40pm GMT21:40
78 min: Torres romps down the right and chips into the centre, hoping to tee up Aguero. Balerdi gets in the road to concede a corner.
9.39pm GMT21:39
GOAL! Manchester City 2-0 Marseille (Aguero 77)
Foden takes. Nathan Ake meets the corner six yards out. He bangs a header downwards, straight at Mandanda, who does well to parry, but can only tee up the poacher supreme, Aguero. City's star striker pokes the loose ball into the bottom right. Marseille's goose looks cooked.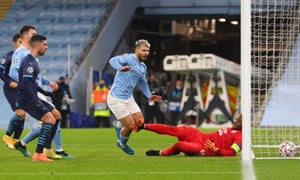 Updated at 9.46pm GMT
9.37pm GMT21:37
76 min: Aguero tries to release Sterling down the middle. Alvaro sticks out a telescopic leg to poke out for a corner, just in time.
9.36pm GMT21:36
75 min: Andre Villas-Boas makes his last roll of the dice. A triple change, using up all his substitute options. Gueye, Thauvin and Germain are replaced by Strootman, Benedetto and Marley Ake.
9.34pm GMT21:34
73 min: Marseille continue to hog the ball to very little effect. They've no options in the final third, unwilling to risk too many men upfield.
9.32pm GMT21:32
71 min: Marseille have enjoyed 62 percent of possession during the last 15 minutes. Much good it's done them: Steffen has had nothing whatsoever to do.
9.31pm GMT21:31
69 min: Marseille commit a few men forward for the first time in a while. Rongier, meeting a right-wing cross, elects to eyebrow towards Sanson on the left wing instead of taking the ball down and having a pop. Very strange.
9.28pm GMT21:28
67 min: Meanwhile Marseille make a double change. Cuisance and Rongier come on for Kamara and Payet.
9.28pm GMT21:28
66 min: Aguero is back! He comes on for Mahrez.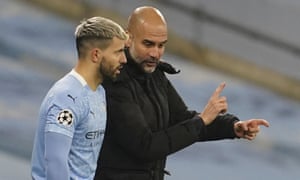 Updated at 9.40pm GMT
9.27pm GMT21:27
65 min: Mahrez considers taking up possession of a loose ball to the right of the D. Walker gives him the call to leave well alone, and steams in from nowhere to send an absolute screamer towards the bottom right. Mandanda does extremely well to react and parry clear. Nothing comes of the resulting corner.
9.25pm GMT21:25
64 min: Laporte clatters into Payet as the Marseille man tries to power down the right. He's slightly fortunate not to go into the book.
9.24pm GMT21:24
63 min: Marseille continue to struggle to get out of their own half. They're preparing changes.
9.22pm GMT21:22
61 min: Mahrez drives in from the right and takes a shot. Blocked. City are coming at Marseille from all angles.
9.21pm GMT21:21
59 min: City are getting closer and closer to a second, as Marseille commit more men upfield. They snaffle the ball and shuttle it forward for Foden, who has a dig from the edge of the box. Straight at Mandanda.
9.20pm GMT21:20
58 min: Torres works his way down the left and loops long. Mahrez, on the other flank, heads back into the centre. Foden, arriving just in time, sidefoots wide right. That would have been a picture.
9.19pm GMT21:19
57 min: Sakai whistles a lovely long pass down the right for Thauvin, who reaches the byline and cuts back into the middle. But there's nobody in dark blue in the six-yard box, and Stones is able to clear.
9.17pm GMT21:17
55 min: Sterling, Mahrez and Silva race towards the Marseille backline with extreme prejudice. They're three on two, in full flight. Pick the right passes, and City are in. Sterling slips right for Mahrez, who rolls down the channel for Silva. But the final ball is a bit too heavy, pushing Silva too wide, and he can't do anything from a tight angle. Shame, because that was a lovely high-velocity attack.
9.14pm GMT21:14
53 min: You could cut diamonds with the frown atop Villas-Boas's boat.
9.13pm GMT21:13
51 min: Marseille have to go for it now if they're to have any chance of Europa League action in the new year. Payet causes a bit of bother down the right, Balerdi rippling the side netting with a snapshot.
9.12pm GMT21:12
49 min: On the touchline, Andre Villas-Boas throws a full tantrum after the goal. He's fuming. His players were late out from the dressing room just before the restart; they were still metaphorically in there as City romped through them with ease.
9.10pm GMT21:10
GOAL! Manchester City 1-0 Marseille (Torres 48)
That might be academic now. Silva slips wide right for Mahrez, who drives infield. He's about to flick down the inside-right channel to release Torres, when the backtracking Germain does the work for him with a toe-poke. Torres fires the ball home from six yards. Easy as that.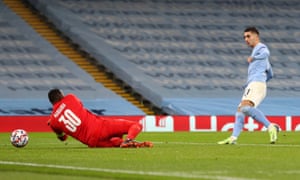 Updated at 9.14pm GMT
9.09pm GMT21:09
47 min: A reminder that Marseille have to better Olympiacos's result against Porto if they're to reach the Europa League. Olympiacos would go through on the head-to-head if the Group C stragglers end on the same number of points.
9.06pm GMT21:06
City get the second half underway. They've made a substitution at the break, their second of the evening: Sterling comes on for Gundogan. No word as to whether it's an enforced change or a tactical one.
8.50pm GMT20:50
Half-time entertainment. City fans may well enjoy listening to this.
8.49pm GMT20:49
HALF TIME: Manchester City 0-0 Marseille
Foden tries to squeeze a shot home from a tight angle on the left. Easy for Mandanda, and that's it for the first 45. Not much of a game, if we're being honest with ourselves ... but Marseille won't give two hoots. Porto are winning 1-0 at Olympiacos. If both Group C matches finish like this, Marseille qualify for the knockout stage of the Europa League at the Greek club's expense.
8.45pm GMT20:45
45 min: Marseille are giving as good as they're getting now. In fact they're the better side as the half draws to a close. They'll be sorry to hear the whistle, which is coming in two minutes' time.
8.43pm GMT20:43
43 min: Gueye chests the ball down to break into the box on the right, past Laporte. His powerful shot from a tight angle is well turned around the corner by Steffen. Nothing comes of the set piece.
8.42pm GMT20:42
42 min: City can only half-clear the corner. Sanson, to the left of the D, pulls a volley wide left of goal. This is much better from Marseille.