Manchester City 1-1 West Brom: Premier League – as it happened
West Brom clung on to hold Manchester City to a draw after Semi Ajayi cancelled out Ilkay Gündogan's opener at the Etihad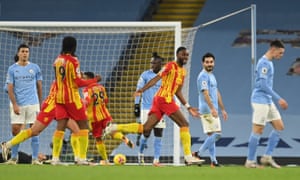 Key events
Show
9.51pm

GMT

21:51

Full-time: Man City 1-1 West Brom

8.48pm

GMT

20:48

Half-time: Man City 1-1 West Brom

8.43pm

GMT

20:43

GOAL! Man City 1-1 West Brom (Ajayi, 43)

8.31pm

GMT

20:31

GOAL! Man City 1-0 West Brom (Gündogan, 30)

8.00pm

GMT

20:00

Peeeeeeeeeep!

7.28pm

GMT

19:28

The teams!

3.11pm

GMT

15:11

Preamble
Live feed
Show
10.14pm GMT22:14
Read Paul Wilson's match report. Thanks for your company. Bye!
Updated at 10.14pm GMT
10.13pm GMT22:13
Ilkay Gündogan, who opened the scoring and came close to finding a winner, talks. I think we deserved better," he says. "It is disappointing for us to get just one point. These kind of games we need to win. This why we are not happy. We've had great years and played great football in the past, so obviously we have set the level quite high. The expectations only go up. All over Europe, all of the big teams are struggling with the tight [schedule of] fixtures. We are human beings, we are not machines or robots. We cannot complain, we need to look forward."
Updated at 10.13pm GMT
10.02pm GMT22:02
The undisputed man of the match, Sam Johnstone, speaks. "The boys dug in, we fought for 94 minutes," the West Brom goalkeeper says. "The lads ran their socks off and I was there to make a few saves when it was needed. The free-kick, that was a good save because it was quick and there were a few bodies [in front of me]. Their quality is unbelievable so it's just about trying to get into good positions early. The lads fought hard and I didn't want to let them down. This is a massive result. We fought, we headed, we tackled." Asked about Slaven Bilic, whose position has been under increased scrutiny, he says: "The manager is great. We all fight for him, for each other, for the club. The boys love him. We knew getting promoted, it would be tough. If we keep playing like that, hopefully luck goes our way."
Updated at 10.02pm GMT
9.51pm GMT21:51
Full-time: Man City 1-1 West Brom
Phew. Well, who predicted that then? Raheem Sterling and Ilkay Gundogan passed up chances to win it but Sam Johnstone was inspired in the West Brom goal and Semi Ajayi astounding in defence. A miffed Guardiola was quick to rush down the tunnel at the final whistle but credit to Slaven Bilic's side for their doggedness. Bilic gives Johnstone a hug for his efforts. They worked their socks off. Up next? City, who move sixth, travel to in-form Southampton on Saturday and West Brom have the small matter of hosting Aston Villa at the Hawthorns a day later.
Updated at 9.54pm GMT
9.50pm GMT21:50
90+4 min: Johnstone denies Sterling from point-blank range! Johnstone has made a string of preposterous saves. De Bruyne delivers a wonderful cross into the box, Sterling roams into the six-yard box unmarked but the forward cannot direct his header past Johnstone, who somehow keeps West Brom alive.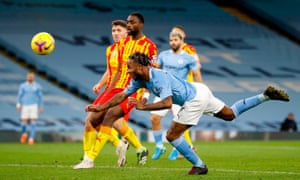 Updated at 9.59pm GMT
9.49pm GMT21:49
90+3 min: ... Gundogan ripples the net – but it's the side netting! Johnstone dropped to his knees in despair. He was beaten. West Brom are hanging on!
Updated at 9.49pm GMT
9.48pm GMT21:48
90+2 min: Manchester City win another free-kick 20 yards from goal ... moments after Sam Johnstone makes a superb save to keep out Gundogan's header with his legs. That is a massive save. But he may have another to make yet. Gundogan is again sizing it up. City have a free-kick 20 yards from goal ...
9.47pm GMT21:47
90 min: Guardiola is going berserk, berating the fourth official Anthony Taylor, who signals for FOUR added minutes. Guardiola is so incensed – presumably by the amount of time added on – that he tries to pull the fourth official's board down.
Updated at 9.56pm GMT
9.46pm GMT21:46
89 min: Austin has a chance to run for the hills and earn West Brom some breathing space but picks the wrong option and Furlong ends up hoofing the ball into Ederson's arms. Guardiola is still rallying the troops but they need a spark and quick.
Updated at 9.46pm GMT
9.44pm GMT21:44
88 min: Rodri looks for Aguero but O'Shea stands tall. West Brom have less than two minutes of normal time to hold on for the most precious of points.
Updated at 9.45pm GMT
9.44pm GMT21:44
87 min: City surge forward at breakneck speed through Raheem Sterling, who drives at the heart of the West Brom defence. Sterling spies Aguero to his right but the striker, who takes the shot on first time, gets his angles all wrong. For a split-second, that looked destined to be the moment City ground West Brom down.
9.43pm GMT21:43
87 min: Lee Peltier replaces Matt Phillips, who put in helluva shift.
9.42pm GMT21:42
86 min: ... Johnstone saves superbly down to his left! De Bruyne rattles a curling strike towards the bottom corner – it is going in – but Johnstone shuffles across to push it to safety. That is a fine stop. Meanwhile, Bilic is readying another change.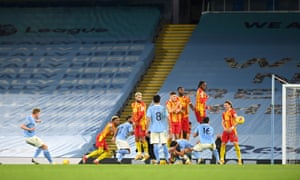 Updated at 9.48pm GMT
9.41pm GMT21:41
85 min: Manchester City win a free-kick, 22 odd yards from goal. Kevin De Bruyne could not pick a better spot to take aim. It's just off centre. West Brom are hastily arranging a five-man wall. De Bruyne to take ...
Updated at 9.41pm GMT
9.40pm GMT21:40
84 min: De Bruyne tries to scoop the ball into Aguero but Dara O'Shea, who has been brilliant in defence, is there again. Then Sawyers superbly cuts out another De Bruyne pass. City are knocking on the door.
9.39pm GMT21:39
83 min: Every West Brom player is parked behind the ball, deep inside their own half. Will City find a way through? Can West Brom hold on?
9.37pm GMT21:37
80 min: City play a short corner and Matt Phillips does superbly to prevent Raheem Sterling getting a cross into the box. Phillips and Ajayi have been monstrous. Bilic is barking away, applauding his players like billy-o. Can he eke out anymore?
Updated at 9.38pm GMT
9.36pm GMT21:36
79 min: Sawyers fouls Rodri after Ajayi plays a lazy pass into the midfielder. West Brom look mentally drained. Krovinovic is on for Livermore.
9.33pm GMT21:33
76 min: Walker blasts at goal and O'Shea helps it over! You could throw a blanket over all 11 West Brom players, who are desperately trying to keep City at bay. This is excruciating from a West Brom perspective. Semi Ajayi has been a man mountain in defence. He again clears as City chuck another ball into the box.
Updated at 9.34pm GMT
9.32pm GMT21:32
75 min: Sergio Agüero is on! Believe it or not, his last Premier League goal came in January. Phil Foden is withdrawn. Meanwhile, Benjamin Mendy is replaced by Kyle Walker. West Brom need to dig deep, that bit deeper if they can.
9.30pm GMT21:30
74 min: The Livermore-Sawyers axis is simply not holding on to possession well enough. They again surrender the ball between them. Livermore looks for Austin but it is a hospital pass, really. It is going to be a long 16 minutes. Ajayi, by contrast, has been superb, so concentrated in the centre of defence.
Updated at 9.31pm GMT
9.29pm GMT21:29
72 min: West Brom gift City the ball after some really sloppy passing 30 yards in front of their own goal. Livermore and Sawyers were guilty of not taking care of possession. In the end Conor Gallagher digs them out of trouble, thumping the ball to safety. Bilic does not look as though he can take much more of this.
Updated at 9.29pm GMT
9.27pm GMT21:27
71 min: Austin is instantly involved, almost nicking the ball away from Rodri on halfway as the Manchester City midfielder held on to possession for a little too long. City get away with it but West Brom seem to be growing in belief.
9.26pm GMT21:26
70 min: Karlan Grant's shift is over. Charlie Austin is on.
9.25pm GMT21:25
69 min: ... Rodri smashes a shot over from 25 yards! The buildup, like much of their football, was beautiful but the execution left a lot to be desired.
Updated at 9.26pm GMT
9.25pm GMT21:25
68 min: Right on cue De Bruyne hammers a strike at Johnstone at the near post. The West Brom goalkeeper does enough. City want to crank it up ...
9.24pm GMT21:24
67 min: De Bruyne is striding around midfield looking pretty miffed. Contrary to expectations, City really have not had things all their own way.
Updated at 9.24pm GMT
9.22pm GMT21:22
66 min: Foden attempts an overhead-kick. Unsuccessful.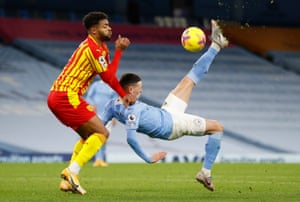 Updated at 9.28pm GMT
9.22pm GMT21:22
65 min: City have struggled to create full stop, but have particularly struggled to carve out those City-like overloads in wide areas. Credit to Grady Diangana and Matt Phillips who have had to dig in and do the dirty work. Mendy almost got the better of Diangana a moment ago but the winger does just enough.
9.20pm GMT21:20
64 min: Johnstone smothers well after Gündogan's shot almost pinballs into the path of Jesus. The striker has had to feed off scraps.
9.19pm GMT21:19
62 min: Cancelo makes a mess of a routine header and the City full-back allows Matt Phillips a sight of goal, albeit from 25 yards out. Ajayi had played a mammoth crossfield ball in search of the winger. Phillips sees the headlines and snatches at a shot from distance. It dribbles wide of Ederson's goal.
Updated at 9.19pm GMT
9.16pm GMT21:16
60 min: Johnstone does well to extinguish a City attack! Gündogan drives at goal, powering forward before attempting to release Jesus. But the West Brom goalkeeper is alert and snuffs it out. Can West Brom survive another half-hour?
Updated at 9.16pm GMT
9.14pm GMT21:14
58 min: City are trying to ratchet things up, to increase the temperature. Sergio Agüero continues to warmup on the touchline.
9.13pm GMT21:13
56 min: Ederson comes racing out of goal to scoop the ball up with his feet, denying Grant a chance to charge at goal and the goalkeeper kick-starts the counterattack. City win another corner but Johnstone spreads himself to deny Sterling from close range after Jesus nodded a scruffy header into his path.
9.12pm GMT21:12
55 min: City go close! O'Shea recovers after allowing De Bruyne to pick his pass. City win a corner ... and Jesus plants a header on to the roof of the net!
9.10pm GMT21:10
53 min: Man City skate forward with the ball after another sloppy mistake by Livermore, who again squandered possession. De Bruyne takes aim but it drops wide. Livermore then takes a few deep breaths. He needs to find a touch of composure. City are sensing blood.
9.08pm GMT21:08
52 min: West Brom clear the corner but then Livermore proceeds to gift possession back to Man City. But, fortunately for him, they fail to make the most of it. Guardiola is bouncing up and down on the touchline. He wants more heart from his team.
9.07pm GMT21:07
50 min: Sterling dances along the edge of West Brom's 18-yard box but the final pass eludes him. Sawyers does well to hoover up and extinguish any danger. Another wave of City pressure results in Foden flashing a ball across goal, and then Johnstone repels a deflected Cancelo cross. Man City get a corner.
9.05pm GMT21:05
49 min: ... Dias clears the initial corner but West Brom keep it alive. They work it back into the box and Mendy was fortunate the ricochet did not drop into the path of Karlan Grant, who was lurking on the edge of the six-yard box.
9.04pm GMT21:04
48 min: Livermore wins West Brom a corner ...
9.04pm GMT21:04
47 min: A hairy start to the second half for West Brom, at Sterling flicks on the afterburners. He makes a fool of Matt Phillips, who tries in vain to stay touch-tight to his man. City flash the ball into the box and Ajayi thumps clear. Meanwhile, down on the touchline, Sergio Agüero is limbering up. That's a sight for sore eyes from a West Brom perspective. Jesus, so far tamed by Ajayi and co, has been relatively ineffective thus far.
Updated at 9.09pm GMT
9.01pm GMT21:01
46 min: Manchester City get things started in the second half.
8.59pm GMT20:59
Essential half-time reading:
8.56pm GMT20:56
That own goal means Manchester City's run of more than 10 hours with conceding is over. They have not reigned supreme in defence.
8.48pm GMT20:48
Half-time: Man City 1-1 West Brom
We're all level at the Etihad. Ajayi pivoted and struck, via Ruben Dias, to give West Brom a whiff of the points. Gündogan gave City the lead with an incisive finish and a tonne of pressure but credit to Slaven Bilic's side, who stuck at it. In fact, Karlan Grant should have given the visitors the lead but fluffed his lines. City have struggled to create clear-cut openings. Might we soon see Agüero?
Updated at 8.57pm GMT
8.45pm GMT20:45
45 min: Ajayi celebrated wildly but that will likely go down as a Dias own goal. West Brom won't care an inch. There will be one added minute.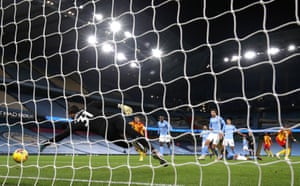 Updated at 9.06pm GMT
8.43pm GMT20:43
GOAL! Man City 1-1 West Brom (Ajayi, 43)
Semi Ajayi levels as City go to sleep! West Brom recycle an aimless free-kick and Ajayi pokes at goal after springing away from Ake. Replays show his shot cannons off Ruben Dias. Ederson was powerless, wrong-footed by a cruel deflection.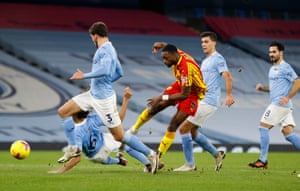 Updated at 8.48pm GMT
8.42pm GMT20:42
42 min: Manchester City and West Brom were both promoted to the top flight together in 2001-02. Just let that sink in for a moment.
8.41pm GMT20:41
40 min: ... De Bruyne overcooks it.
8.40pm GMT20:40
39 min: Gallagher goes to ground to nab the ball from Jesus, and gets a booking for what was not the best challenge. He inadvertently took out team-mate Dara O'Shea too. De Bruyne sizes up the free-kick, 25 yards from goal ...