Manchester United 0-0 Manchester City: Premier League – live!
Minute-by-minute report: The deadlock remained resolutely unbroken in a weirdly insipid derby that will not live long in the memory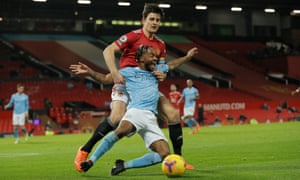 Key events
Show
7.51pm

GMT

19:51

Manchester United 0-0 Manchester City

7.36pm

GMT

19:36

Everton v Chelsea ... live!

7.34pm

GMT

19:34

John Stones speaks ...

7.22pm

GMT

19:22

Full time: Manchester United 0-0 Manchester City

6.37pm

GMT

18:37

Penalty overturned by VAR!

6.36pm

GMT

18:36

PENALTY FOR MANCHESTER UNITED!

6.34pm

GMT

18:34

Second half: Manchester United 0-0 Manchester City
Live feed
Show
7.51pm GMT19:51
Manchester United 0-0 Manchester City
Our chief football correspondent David Hytner drew the shortest of short straws and sent this despatch from Old Trafford. Here's why he earns the big bucks ...
Updated at 7.59pm GMT
7.48pm GMT19:48
Gary Neville is slightly less unhappy: "There was no intent there," he tells Kelly Cates. "Whether on the pitch or from the managers to win the match.
"That was really poor, and we shouldn't accept that. We can say both teams played in midweek, there's no fans, but we've put a lot of emphasis on the speed, thrill, risk to win in the Premier League.
"There's nothing in that game that tells me any of those things existed today. I'm really surprised at City. They look like a team that's bored a little bit."
7.44pm GMT19:44
Roy Keane is unhappy! The former Manchester United skipper is not pleased by the sight of the players and backroom staff being too polite to each other at the end of the game as they shook hands and exchanged post-match pleasantries.
"At the end of the game, the staff ... they're smiling and hugging ... the players chatting with each other ... just get down the tunnel. Cut that ... I don't get it ... everyone wants to be pals with each other and be popular. You're playingh with these clubs, particularly Manchester United, to win football matches, not to be mates with everybody."
So there you have it: if Manchester United's players had been less polite after the final whistle, they might well have taken all three points from this game.
7.36pm GMT19:36
Everton v Chelsea ... live!
Carlo Ancelotti's current Premier League outfit entertain his former side in a match that can't possibly be worse than the one we just endured. Kick-off is in 25 minutes or so and Rob Smyth has the the team news ...
7.34pm GMT19:34
John Stones speaks ...
"It was a difficult gamer, it always is ... for both sides," the City defender tells Sky's touchline reporter, Geoff Shreeves. "Coming here with no fans made for a different atmosphere today. We both didn't create many chances, to be honest. We were both very good defensively and it's another clean sheet for us. We're a bit frustrated we've not come away with more. I think overall we fought so well and I'm proud of the boys. Today we've come away with a point and we'll be pleased."
7.28pm GMT19:28
7.22pm GMT19:22
Full time: Manchester United 0-0 Manchester City
Peep! Peep! Peeeeeeeeeep! Chris Kavanagh does the decent thing, bringing the game to a close and putting everyone involved out of their misery. Both sides settle for a point apiece. A point, dare I say it, neither of them deserve after serving up that surprisingly mannered and genteel "after you, sir" dreck.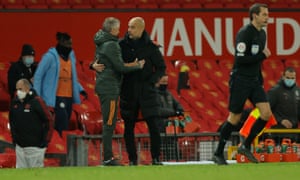 Updated at 7.44pm GMT
7.20pm GMT19:20
90+1 min: Into added time we go, with each second that passes bringing us all closer to a conclusion that will allow us to put this dire spectacle behind us and get on with our lives. It's been a poor game, but also a very weird game. I've seen more competitive training sessions.
7.18pm GMT19:18
89 min: My work here is nearly done, but a penny for the thoughts of Jamie Jackson, the Guardian's man on the Manchester football beat, who I presume has the onerous task of filing 1,200 words on this dross at the final whistle. At least he can pad his rewrite out with quotes from those involved, but for now he's very much on his own. #prayforjamie
7.16pm GMT19:16
87 min: Bruno Fernandes takes a pass from Martial, then spins and shoots straight into the arms of Ederson from the edge of the penalty area.
7.13pm GMT19:13
82 min: Raheem Sterling appeals for a penalty after going to ground under a challenge of sorts from Harry Maguire near the touchline on the left side of the United box.
It wasn't the most heinous or obvious of fouls, but there's no doubt that Maguire did put his hands on Sterling's waist and tug him backwards. No spot-kick is forthcoming.
It was an epically stupid gamble by Maguire - Sterling had his back to goal and was in no danger of getting a shot away, let alone scoring.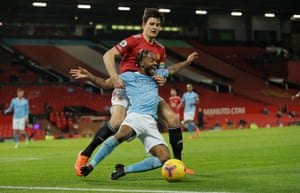 Updated at 7.17pm GMT
7.09pm GMT19:09
80 min: He does fancy it but doesn't score or trouble David De Gea. Despite the presence of John Stones, Ruben Dias and Fernandinho in a mini-Man City wall positioned just in front of the United wall, his shot is blocked by Paul Pogba in the latter.
7.07pm GMT19:07
79 min: Gabriel Jesus wins a free-kick just outside the Manchester United penalty area, drawing Harry Maguire into a challenge that earns the United captain a booking. Kevin De Bruyne will fancy this ...
7.06pm GMT19:06
78 min: Nothing of note has happened in the past 15 minutes and it continues to happen at apparently great length. This is a diabolically bad game of football.
7.03pm GMT19:03
75 min: Trying to receive a pass from Martial on the left touchline near the halfway line, Bruno Fernandes accidentally lets the ball roll under his foot and out for a throw-in. He shakes his head in disbelief, spits on the floor and walks away full of self-loathing.
7.01pm GMT19:01
74 min: Man United substitution:L Mason Greenwood off, Anthony Martial on.
7.01pm GMT19:01
72 min: Luke Shaw goes down injured and pulls his shirt over his face, as if he knows whatever ails him is serious. Moments later he gets up and continues. Another weird moment in a very weird game.
6.57pm GMT18:57
68 min: Kevin De Bruyne has a shot blocked by Harry Maguire after being teed up by Gabriel Jesus on the edge of the six-yard box. Jesus had looked miles offside as he ran on to a pass from deep but it seems he wasn't. That was an excellent chance wasted.
6.55pm GMT18:55
66 min: Manchester City substitution: Ferran Torres on for Riyad Mahrez.
6.54pm GMT18:54
65 min: After several minutes of ... nothing, Kyle Walker beats Paul Pogba near the halfway line and sends the ball arrowing towards Sterling on the left touchline. Moments later it's out of play for a goal kick.
6.50pm GMT18:50
62 min: Kevin De Bruyne wins and takes a free-kick halfway inside the United half. He floats the ball towards the bar post, where it sails out of play. Et tu, Kevin? Et tu? He's been the one City player who has tried to bend this game to his will.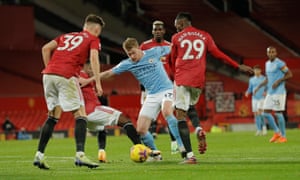 Updated at 7.06pm GMT
6.48pm GMT18:48
58 min: Manchester City continue their policy of attempted sterile domination, passing the ball around to no great effect. As we approach the hour mark, this is diabolical stuff considering it's a derby. It's worth repeating that both teams seem far more interested in not losing than winning, but Manchester United seem to have a little bit more about them.
6.45pm GMT18:45
6.44pm GMT18:44
55 min: Manchester United are having much the better of this second half so far, a state of affairs that hasn't gone unnoticed by Kevin De Bruyne. The Belgian gestures angrily at his team-mates to up their game after finding himself on the ball in space in the United half with no options presenting themselves.
6.42pm GMT18:42
54 min: Rashford tries a shot of his own, firing wide of the near post when perhaps he ought to have shot across the bows of Ederson towards the far upright.
Updated at 6.42pm GMT
6.41pm GMT18:41
52 min: Mason Greenwood tries an ambitious shot that rolls well wide. On the run from midfield, Rashford halted his run expecting a pass. If he'd continued it he might have been able to divert Greenwood's shot goalwards at the far post.
6.39pm GMT18:39
50 min: Hats off to Bruno Fernandes for supplying that inch-perfect cross to Rashford after good work by McTominay. He's such a terrific player – United would be lost without him.
6.37pm GMT18:37
Penalty overturned by VAR!
48 min: It's a let-off for Walker and City as the VAR police decree that Rashford was a little offside as he ran on to that cross. It was a rash challenge by Walker - and not the first one he's made in various matches this season.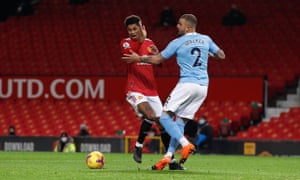 Updated at 6.42pm GMT
6.36pm GMT18:36
PENALTY FOR MANCHESTER UNITED!
47 min: Marcus Rashford goes down under a challenge from Kyle Walker while running on to a cross from the right.
6.34pm GMT18:34
Second half: Manchester United 0-0 Manchester City
46 min: Play resumes with no changes in personnel on either side. Your minute-by-minute commentator has, however, swapped his pint of first half orange cordial for a large glass of second half Argentinian Malbec. Things, as they say, can only get better.
6.18pm GMT18:18
Half-time: Manchester United 0-0 Manchester City
Peep! Referee Chris Kavanagh draws the first half to a close and the teams walk off with the deadlock unbroken. It's been a pretty dull 45 minutes of football but one suspects Ole Gunnar Solskjær will be the more pleased of the two managers. Manchester City haven't been bad, but by their own very high standards they've been ponderous and predictable in attack.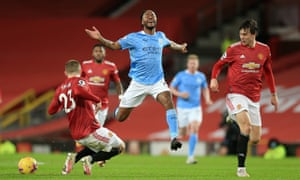 Updated at 6.25pm GMT
6.16pm GMT18:16
45+1 min: Sterling advances into Man United territory but is dispossessed by Fred, who seems to have overcome his hip injury from earlier.
6.15pm GMT18:15
45 min: Lindelof is penalised for a foul on Kevin De Bruyne in the bullseye of the centre circle.
6.14pm GMT18:14
44 min: Good play from Pogba, who tees up Greenwood for a shot on the edge of the penalty area. His left-footed drive is blocked.
6.13pm GMT18:13
43 min: More ponderous build-up play, this time from Manchester United.
6.11pm GMT18:11
40 min: Manchester United corner. Fernandes's delivery to the near post is met by Lindelof at the edge of the six-yard box but the Swede heads over. United have looked dangerous at corners, their players constantly getting the run and jump on their stationary Manchester City counterparts.
6.09pm GMT18:09
38 min: Aaron Wan-Bissaka, who's been having a poor game for United, crosses for the sake of crossing from the right touchline. There was nobody from his team up in support in the City penalty area and he overhit his delivery anyway. A waste of possession.
6.06pm GMT18:06
35 min: Fernandes plays a long pass from deep towards Rashford, but John Stones intercepts. Seconds later, at the other end of the pitch, Gabriel Jesus gets the better of Aaron Wan-Bissaka and passes inside to Kevin De Bruyne, who plays Mahrez in on goal. His shot is blocked and De Bruyne fires the rebound over the bar.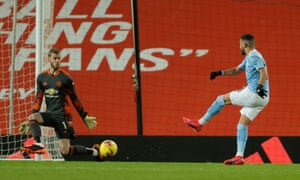 Updated at 6.11pm GMT
6.04pm GMT18:04
32 min: With a little over a third of the game gone, it's not been one of the great Manchester derbies so far. Caution seems to be the watchword of both sides as they focus on not losing, rather than winning the game. At least Manchester United can be relieved that they've managed to avoid yet another dreadful start to a game.