NZ election 2020: early results show Jacinda Ardern's Labour Party has commanding lead – live
Aotearoa has voted in an election dominated by Covid and early results show support collapsing for the opposition National Party. Follow results live: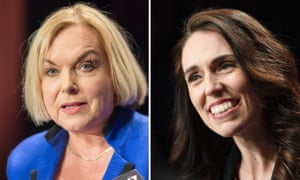 Key events
Show
8.37am

BST

08:37

The night so far: extraordinary election for Labour

8.35am

BST

08:35

30% of votes counted: Labour ahead

8.07am

BST

08:07

20% of votes counted: Labour ahead

7.58am

BST

07:58

Nationals president says The National Party 'probably can't' win election

7.51am

BST

07:51

15% of vote counted: Labour ahead

7.40am

BST

07:40

Over 10% of results counted: Labour ahead

7.35am

BST

07:35

State of the polling
Live feed
Show
8.37am BST08:37
The night so far: extraordinary election for Labour
Just to sum up, tonight is developing into an absolutely extraordinary night for Labour.
It has been called a "bloodbath" for National.
Labour's lead is not being eroded as more votes are counted, to the extent that the party is on the verge of being able to form government alone, something that hasn't happened for any party in the country since New Zealand introduced its MMP voting system in 1996.
8.35am BST08:35
30% of votes counted: Labour ahead
Just under a third of votes have now been counted (in just 90 minutes) and Labour is still comfortably ahead with what is currently projected to be a historical 66 projected seats in parliament.
8.33am BST08:33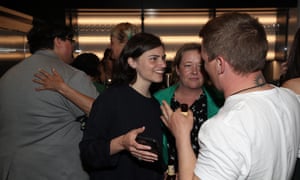 8.29am BST08:29
New Zealand has also voted on two key referendums this year – whether to legalise cannabis and whether to legalise euthanasia.
On the TV NZ, the public broadcaster, a commentator just reminded viewers that we won't know the results of these referendums until 30 October.
So, she said, "you can put your jazz cabbage away" for now.
8.26am BST08:26
8.25am BST08:25

Ben Raue
The early trend suggests the Deputy Prime Minister Winston Peters will not be returned to parliament.
His party, New Zealand First, which governed in coalition with Labour, has 2.3 % of the party vote with 23% counted. That's way below the 5% needed.
Shane Jones, NZ First's best electorate hope, is a distant third in the race for Northland and looks a forlorn chance even with just 15% of votes counted.
8.24am BST08:24

Ben Raue
Jacinda Ardern won the seat of Mount Albert at a by-election in 2017 after nine years in Parliament as a Labour list MP.
She was re-elected at the general election in 2017 with 64.5% of the electorate vote, a whopping 40.3% margin over her National rival.
Right now she's on almost 71% of the electorate vote, which translates to a 51-point margin over National list MP Melissa Lee.
8.22am BST08:22
And video of that arrival:
8.21am BST08:21
I'm not at the ACT party's election night event, but I'm told the party leader, David Seymour, has just arrived by boat, pulling off his life jacket as he arrives.
Seymour is going to be one of the winners of the night. His Libertarian party has in the past been seen as faintly comedic, and so has he – but in the past couple of years he has got serious – coming across as almost an opposition leader-type figure during Covid-19 as National roiled with internal dysfunction.
And now he's riding high – polling at more than 7%. He's currently ACT's only lawmaker in parliament but that will change after the election – on current polling, he'd have nine more MPs joining him.
Unfortunately for Seymour his natural coalition party, National, is not doing well.
You can read our profile of him here.
8.18am BST08:18
The first MP to arrive at National party headquarters was Melissa Lee. She's standing in Mt Albert against Jacinda Ardern, so it's safe to say she won't win her seat. But since she's 16th on National's list, she would scrape back into parliament on the numbers so far.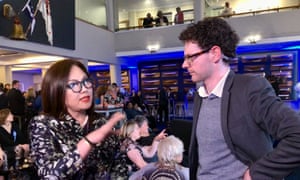 "It's early days," she just told Radio New Zealand, of the result. Asked what a good result for National would be, she said "a good result is a good result."
She also seemed to blame Covid-19 somewhat – Auckland only came out of the last restrictions of its second lockdown less than a fortnight ago and she pointed out that this has hampered campaigning for the city's candidates.
Door knocking was barred until last month and they couldn't have more than 100 people in a room until less than two weeks ago.
8.14am BST08:14