Gang crime squad investigating murder of former Rebels boss Nick Martin at Kwinana Motorplex
WA Police are preparing for bikie gang revenge attacks after senior Rebels member Nick Martin was gunned down by a professional sniper at the Perth Motorplex, injuring a boy and his daughter's partner in the process.
Ms Martin and Ms Schoppe were sitting close by and witnessed the fatal incident, and tried to help keep him alive.
"I tried, we tried so hard to keep you alive dad," Ms Schoppe posted to social media.
"This is one of the most heartbreaking traumatic experiences I've ever witnessed. To my mother, be strong we will get through this. I'm sending love to his immediate family and friends."
Ms Schoppe said Mr Chapman was not a full patched member of the Rebels. The pair had been sitting directly behind Nick Martin and his wife.
Mr Chapman was taken to hospital for treatment of non-life-threatening gunshot wounds to his thigh and forearm. The young boy, who received superficial injuries, was now at home with his parents.
The five-year-old, who is not related to either Nick Martin or Ms Schoppe's partner, did not need medical attention.
A witness close to the fence boundary said they heard one of the shots and saw it unfold in front of them, near the raceway's starting line. The witness said she saw Martin get shot and his daughter's boyfriend, with wounds to his thigh and forearm.
Footage taken by other attendees at the event shows a large police presence at the motorplex and ambulance officers attending to one of the victims. The motorplex had been hosting its Outlaw Nitro Challenge at the time.
'We all must be outraged'
Police Commissioner Chris Dawson on Sunday said the community was justifiably outraged at this type of violent criminal behaviour that happened in front of a crowd of hundreds of innocent people.
"This is an example where innocent parties can get caught up in a violent criminal gang which has resulted in homicide," he said.
"We all must be outraged at this violent criminal behaviour, a five-year-old boy who's received fortunately superficial wounds, but these criminals don't stop and have regard to human life.
"The fact that this shooting occurred in a public open place with many people around, including children shows the nature of these violent criminal gangs.
"There are many people, totally innocent, who have now been subjected to the most horrific of crimes involving gangs."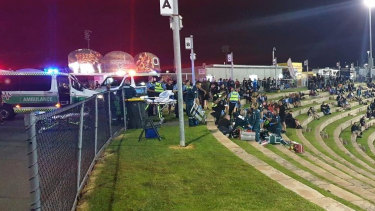 Mr Dawson said WA Police were now preparing for any potential retaliation attacks among the outlaw motorcycle fraternity.
"We're at a heightened state of readiness to ensure there are no retaliatory attacks but that's the nature of these gangs we're dealing with," he said.
"We will be relentless in our policing of outlaw motorcycle gangs, we have been for many years and will continue to do so. Police are carrying out an extensive investigation.
"We will make every effort to bring those responsible to justice."
Homicide detectives are investigating the type of firearm used in the shooting and have not ruled out the possibility of a sniper.
'There is friction'
Law enforcement across the country are aware of the incident and will support WA Police with their investigation.
Mr Dawson said he was aware there was "friction and bad terms" among all outlaw motorcycle gangs, particularly the Rebels following extensive policing of their criminal behaviours.
"We have been having a longstanding operation against all outlaw motorcycle gangs, this is something we do nationally, but in WA we've been making very big inroads into the bikie behaviour through drug distribution," he said.
"I've got little doubt that there's a lot of friction amongst gangs because of heightened police activity and we have seized lots of money, drugs and firearms but that's the nature of these bikie gangs."
Mr Dawson said while he was conscious there'll be innocent parties who will be grieving the loss of a family member, Nick Martin was a well-known bikie facing criminal charges who had lost his status in the Rebels club and had also survived an earlier shooting.
Were you at the motorplex on Saturday night? Email us at news@watoday.com.au
'Children, families could have been killed'
Premier Mark McGowan said he was disgusted this disgraceful incident happened infront of innocent people and warned the perpetrators that they will be caught.
"It's so extraordinary that people would think they could go and do that and get away with it, they'll be caught, they'll be jailed," he said.
"Children could have been killed, families could have been killed. This is an episode that we do not want to see repeated.
"These bikie gangs and some of the individuals that think they can get away with it, they don't, our jails are full of these people and it look like there'll be more in jail."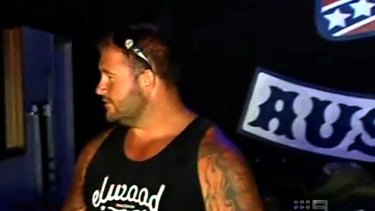 Tensions were rising
The fatal shooting wasn't the first attempt on Martin's life. Nine years ago he escaped death after rival Rock Machine bikie gang member Benjamin Sipkes fired shots at the Rebels president outside his then Balcatta home.
Martin was shot in his arm as he pulled into his driveway on his Harley-Davidson motorcycle. Sipkes was convicted in the Supreme Court over the shooting but found not guilty of attempting to murder the Rebels boss.
Martin's death comes about two weeks after he was bashed at a Scarborough bar, allegedly by Hells Angel boss Dayne Brajkovich.
CCTV shows the two greeting each other with an amicable handshake before a violent clash breaks out.
Martin was bashed to the ground before getting to his feet. Brajkovich, a former Muay Thai boxer, was charged by the National Anti-Gangs Squad for 'fighting in public causing fear'.
Martin was recently stood down as the club's president after he and his wife were being investigated over alleged extortion and money laundering offences.
The Perth Motorplex has seen gang tensions escalate in the past.
In 2010 it was the site of a bloody brawl between the Coffin Cheaters and Finks bikie gangs.
During that altercation, three Finks were hospitalised, including one man who was shot and another who had three fingers sliced off.
Police eventually charged nine Coffin Cheater members and affiliates with giving false and misleading evidence over the incident.
Hamish Hastie is WAtoday's business reporter.
Lauren is a casual journalist at WAtoday who reports on education and general news.
Most Viewed in National
Loading