Coronavirus update LIVE: Australia's COVID-19 cases surpass 3000, NSW lockdown foreshadowed by Gladys Berejiklian
If you suspect you or a family member has coronavirus you should call (not visit) your GP or ring the national Coronavirus Health Information Hotline on 1800 020 080.
If you suspect you or a family member has coronavirus you should call (not visit) your GP or ring the national Coronavirus Health Information Hotline on 1800 020 080.
We have made our live blog of the coronavirus pandemic free for all readers. Please consider supporting our journalism with a subscription.
Summary
Australia's death toll stands at 13 with over 3000 Australians testing positive to the coronavirus. In NSW there are 1405 cases, Victoria 520, Queensland 493, South Australia 235, Western Australia 231, ACT 53, Tasmania 47 and Northern Territory 12
As of 6.00am AEST the number of confirmed coronavirus cases worldwide totalled more than 510,000. More than 22,000 people have died but more than 120,000 people have recovered from the disease
The death toll in the US has reached 1000 as cases top 80,000. Most are in New York City, where there are 37,258 cases and the governor has approved the sharing of ventilators. The Australian Consulate-General in Los Angeles has told Australians to go home
Saudi Arabia has chaired a virtual G20 summit to respond to the pandemic. The governments agreed to spend $7 trillion to kickstart the global economy
The national cabinet will meet again this morning, to discuss rental relief. The Prime Minister is expected to address the country at lunchtime
Are we socially distancing? Photos tell two stories
Are we socially distancing? Maybe, maybe not.
The Sydney Morning Herald's chief photographer Nick Moir was at Manly this morning, where hundreds of residents were exercising and walking dogs along the crowded promenade.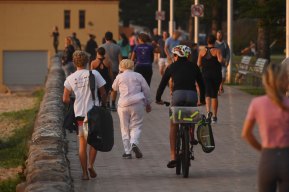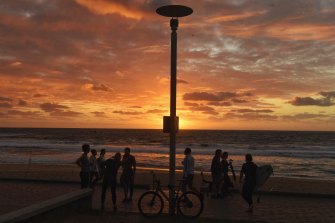 It was a different story in town yesterday, where many public spaces usually filled with tourists and office workers were left empty.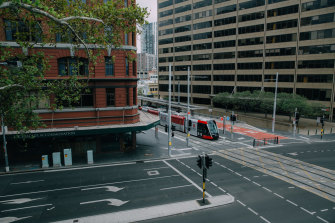 Pacific 'must be a focus of international support', Morrison tells G20
Prime Minister Scott Morrison has signalled more help for Australia's neighbours in the Pacific after a G20 teleconference on Thursday night discussed the pressure on small or developing nations.
"I explained to G20 leaders that our Pacific island family must be a focus of international support," Mr Morrison said in a statement on Friday morning.
"There has never been a more important time for Australia's Pacific Step-up as we all face these massive challenges. Since January, Australia has provided support for laboratories and public information campaigns, medical equipment, health expertise and for the WHO's regional preparedness plan.
"We are reconfiguring our development assistance to ensure critical health services can continue to function and to help our Pacific neighbours and Timor-Leste to manage the immediate economic impacts of the pandemic."
Tour de France could proceed without spectators
This year's Tour de France may still go ahead despite the worldwide coronavirus pandemic, but without roadside spectators.
Following the postponement of the Euro 2020 soccer championships and the Tokyo Olympics, the Tour de France – which takes place in June and July – is one of the last major global sporting events that's not yet been cancelled or postponed.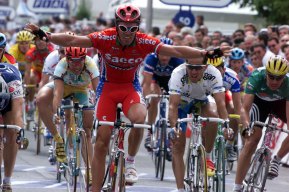 "The Tour is a sports monument. It is too soon to decide," French Sports Minister Roxana Maracineanu wrote on Twitter.
"There is a time for everything. For now, we have a more urgent battle to fight. Let us focus on this mountain in front of us and then consider what's next."
Since the Tour's inception in 1903, only the two World Wars have forced organisers to cancel the race.
A Sports ministry spokeswoman told Reuters that the ministry was monitoring the pandemic's evolution.
"There is no rush to decide today," she said, 92 days ahead of the Tour's scheduled June 27 start in Nice. It is due to finish in Paris on July 19.
In an interview with radio station France Bleu late on Wednesday, Maracineanu said that one option would be to organise a Tour without roadside spectators.
"The Tour's economic model is not based on ticket sales but on TV rights. During this period of confinement, everybody is aware of the risks and responsible," she said.
AAP
News Corp Holt St office 'safe to remain open' after positive test
A staff member from News Corp Australia's Holt St offices has tested positive for COVID-19.
Nicholas Gray, managing director of The Australian, NSW & Prestige Titles told staff in an email the building was safe to remain open, but that all areas where the infected employee had worked and impacted areas such as the gym would be cleaned.
Mr Gray said the person last worked on site on March 16 and has reported mild symptoms.
"Those staff who had close contact have been identified and are being informed," Mr Gray said.
"They are already working remotely but will be advised to undertake any appropriate precautionary measures as may be required. They have been asked to contact their GP for any medical advice and to keep their business leader updated."
US becomes world leader in coronavirus cases
In the United States, at least 81,321 people are known to have been infected with the coronavirus, including more than 1000 deaths — more cases than China, Italy or any other country has seen.
With 330 million residents, the United States is the world's third-most populous nation, meaning it provides a vast pool of people who can potentially get COVID-19, the disease caused by the virus.
The New York Times
Coles customers to pack own bags, Woolworths hiring airport security
Coles is taking a leaf out of Aldi's book and asking customers to pack their own bags if they are able, in light of the coronavirus outbreak.
The supermarket is introducing a number of new hygiene measures, including a marked spot for customers to stand, away from the checkout, and new individual wrappers for bakery items.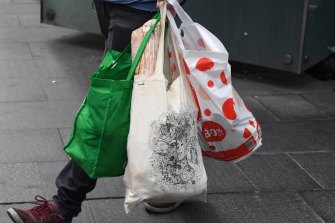 Customers are also being encouraged to pay with card and use "tap and go", although cash will still be accepted.
The new hygiene measures come after Woolworths introduced hygiene screens for their checkouts last week.
Speaking on Radio National this morning about his company's plan to hire 20,000 new short-term workers, Woolworths CEO Brad Banducci said he had been talking to airport security firms about employing security guards for his stores.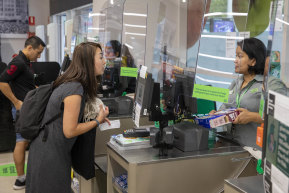 "It makes everyone feel a bit safer, there's never any harm in having a police presence in some form," Mr Banducci said.
Mr Banducci added that, while demand was still elevated in stores, it was lower than last weekend.
"As a retailer I never thought I'd see the day I'd thank people for not buying things from us, but I do thank you for modulating that demand."
Adherence to rules, hospital numbers to affect when NSW triggers full lockdown
NSW Premier Gladys Berejiklian has said there are "a number of things" that would be considered if moving the state to a full lockdown.
The Premier was asked what the trigger point would be for the further measures she has increasingly foreshadowed.
She said there are a "number of things you need to look at", adding that "every decision we make has massive consequences".
"Most importantly, what we look at is community activity to make sure people aren't breaking the rules that we set in place. We also look at the number of people who are presenting at hospital.
"If I gave you a number and said this is the trigger point, that would be a mistake because that's not the right way to look at the decision making at this point."
Ms Berejiklian ruled out shutting NSW borders, adding that Victoria also opposes the measure.
""I don't see how shutting state borders helps," she said. "NSW and Victoria are on the same page on that."
New cases in NSW consistent, 19 in ICU
There are 1405 cases of COVID-19 in NSW, as of 8pm yesterday.
That's an increase of 186 from the same time on Wednesday night. The day before, there were 190 new cases, so it is a pretty similar figure.
NSW Chief Health Officer Dr Kerry Chant said the number of cases with no known source has increased to 145.
"As the Premier said, that is the group that most concerns us because it represents community transmission without a known source," Dr Chant said.
The number of people being treated for the virus in NSW is 134, with 19 in ICU and 53 in hospital wards.
with Lisa Visentin
'If NSW has to make difficult decisions we will'
NSW Premier Gladys Berejiklian says the COVID-19 cases in NSW are still increasing, and authorities are most concerned about community-to-community transmission.
"When you have cases that come from overseas you can monitor them and you have a source, but when it is community-to-community transmission and you don't have a source," she said.
"That means the virus is starting to spread in the community without us know where and that's a concern. That's why it is so important that all of us, all of us, maintain social distancing."
NSW Chief Health Officer Dr Kerry Chant says there are now 1405 cases in NSW – 877 of those cases are overseas acquired, 278 are locally acquired but can be traced to a known case or cluster. There are 145 locally acquired cases with no known source.
The Premier said she was prepared to make "difficult decisions" in the coming days, however she would "never ask anybody to do anything [she] wouldn't be prepared to do" herself.
"If NSW has to take difficult decisions we will. We don't want more people in hospital than we can cope with."
Ms Berejiklian's comments underline news reports today that NSW is preparing to go it alone with tougher lockdown measures.
LIVE: NSW COVID-19 update
Premier Gladys Berejiklian, NSW Chief Health Officer Dr Kerry Chant and NSW Police Commissioner Mick Fuller are providing an update on COVID-19.
Most Viewed in National