NZ election 2020: early results show Jacinda Ardern's Labour Party has commanding lead – live
New Zealand has voted in an election dominated by Covid and early results show support collapsing for the opposition National Party. Follow results live: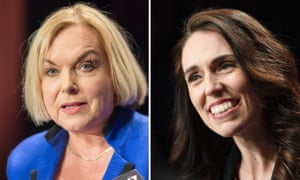 Key events
Show
8.55am

BST

08:55

Ardern 'cautiously optimistic' says finance minister

8.50am

BST

08:50

No press conference from National's Judith Collins tonight

8.37am

BST

08:37

The night so far: extraordinary election for Labour

8.35am

BST

08:35

30% of votes counted: Labour ahead

8.07am

BST

08:07

20% of votes counted: Labour ahead

7.58am

BST

07:58

Nationals president says The National Party 'probably can't' win election

7.51am

BST

07:51

15% of vote counted: Labour ahead
Live feed
Show
8.58am BST08:58
Greens party leaders are addressing their event saying they've had an "incredible campaign."
I want to congratulate Ardern for an "extraordinary win", says Greens MP Marama Davidson.
8.57am BST08:57

Eleanor Ainge Roy
Labour MP Jenny Salesa says Jacinda Ardern's competent handling of Covid-19 has convinced New Zealanders to trust her for a second term. She said the New Zealand government believed in science, and trusted the experts.
"Kiwis seem to be voting for progressive values, you see the result of Covid-19 here - we're so different, we're free, we can have mass-gatherings, we can go to school, we can go to work - and that is thanks to her [Jacinda] and the team of 5 million".
In terms of transformational change, Salesa wants to do more for her community in terms of affordable housing. The UN special rapporteur said earlier this year that New Zealand was in the midst of a "housing crisis".
"We're very, very aspirational - we want to do more in housing, health and education." Salesa said.
Updated at 8.59am BST
8.55am BST08:55
Ardern 'cautiously optimistic' says finance minister
New Zealand Finance Minister Grant Robertson has told Reuters that he spoke to Jacinda Ardern and that she is "cautiously optimistic".
Robertson says that if the numbers hold it will be "a very strong mandate".
8.53am BST08:53
Bridges says Nationals "didn't have a plan" and offers "credit to Ardern".
8.52am BST08:52
Former leader of the National party Simon Bridges has said at the Nationals event that tonight looks like a massive majority for Labour "with a mandate to do whatever they want".
Updated at 8.55am BST
8.50am BST08:50
No press conference from National's Judith Collins tonight
Charlotte Graham-McLay writes:
I've confirmed from the National camp that Judith Collins, the party leader, does not plan to give the traditional post-match press conference after her speech tonight. She plans to speak and then leave.
There are a couple of hundred people at the National headquarters in Auckland, and no sign of Collins yet.
Updated at 8.51am BST
8.48am BST08:48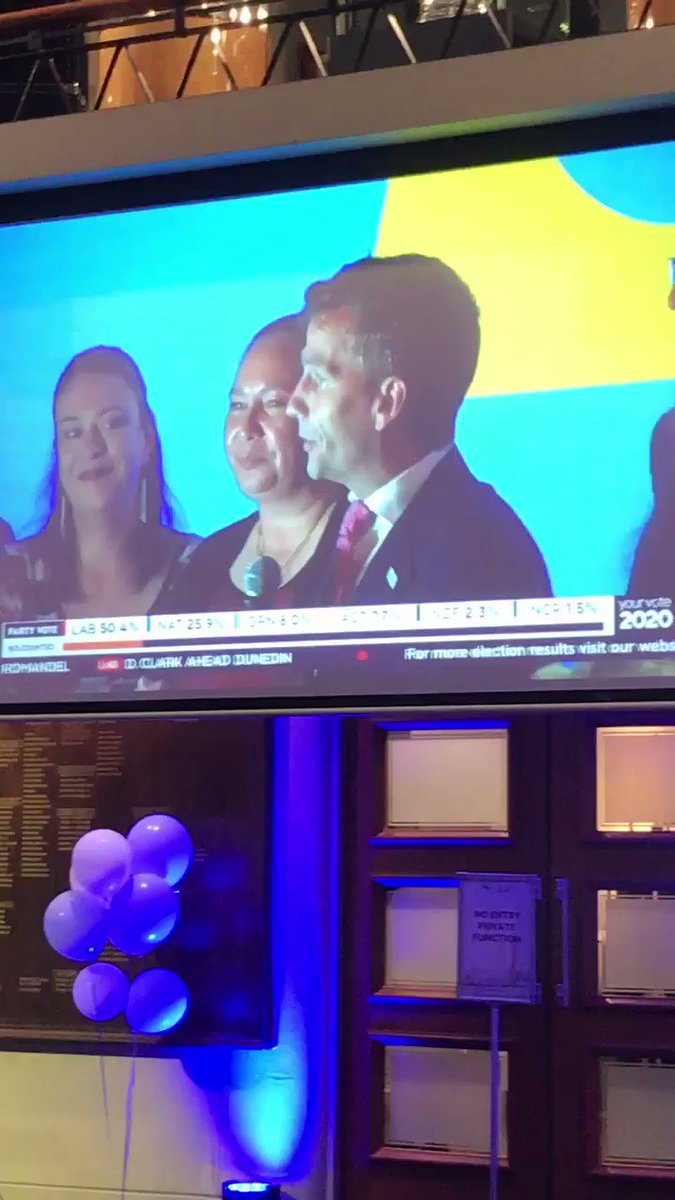 8.46am BST08:46

Ben Raue
This is looking like a good night for the Green Party, although things might look a bit better for them if the Labour vote fades.
The Green Party is currently on track for eleven seats, which would be their third-best result, only falling short of the fourteen they won in 2011 and 2014. Plus they are currently on track to win in Auckland Central (although a loss there won't make any difference to their total seat count).
Yet the Green Party may find themselves back on the opposition benches if Labour can win a solid majority in their own right and govern alone. Yet if Labour's seat count drops to 59 or 60, Green support may become more crucial than ever.
8.43am BST08:43

Eleanor Ainge Roy
At the Labour election event, deputy Labour leader Kelvin Davis has told the Guardian the results were "looking good" and there had been "a few surprises".
Davis said the party would wait till 10pm to "see how it all panned out". If given a second term Davis wanted Labour to improve on housing targets and tackling child poverty.
"But we have strong stable government and we want to continue that through".
8.41am BST08:41
This is not only a stunning (in a bad way) vote for National in terms of the party vote, i.e. people who ticked "National" on their ballots, but also in the electorate vote, i.e. the local candidates that voters are picking.
There are 13 National incumbents in electorates currently in line to lose their seats. Some of those losses are narrow and it's early days, so they are likely to change. But some of those incumbent electorate candidates will be very nervous.
Their election night event remains very sober (figuratively and literally – it's a cash bar). There is a lot of chatter but absolutely no reaction to results as they are updated. One MP present, Melissa Lee, is still claiming that she "hasn't really seen" the results, although they are on a large screen on the wall.
8.41am BST08:41
There are signs of movement at Ardern's house. We're told a van has just tried to back into her driveway, but has met a the vexing foe that is a locked gate.
8.37am BST08:37
The night so far: extraordinary election for Labour
Just to sum up, tonight is developing into an absolutely extraordinary night for Labour.
It has been called a "bloodbath" for National.
Labour's lead is not being eroded as more votes are counted, to the extent that the party is on the verge of being able to form government alone, something that hasn't happened for any party in the country since New Zealand introduced its MMP voting system in 1996.