NZ election LIVE updates: Jacinda Ardern looks to secure second term amid nation's cannabis, euthanasia referendums
Prime Minister Jacinda Ardern looks to secure a second term amid nation's cannabis and euthanasia referendums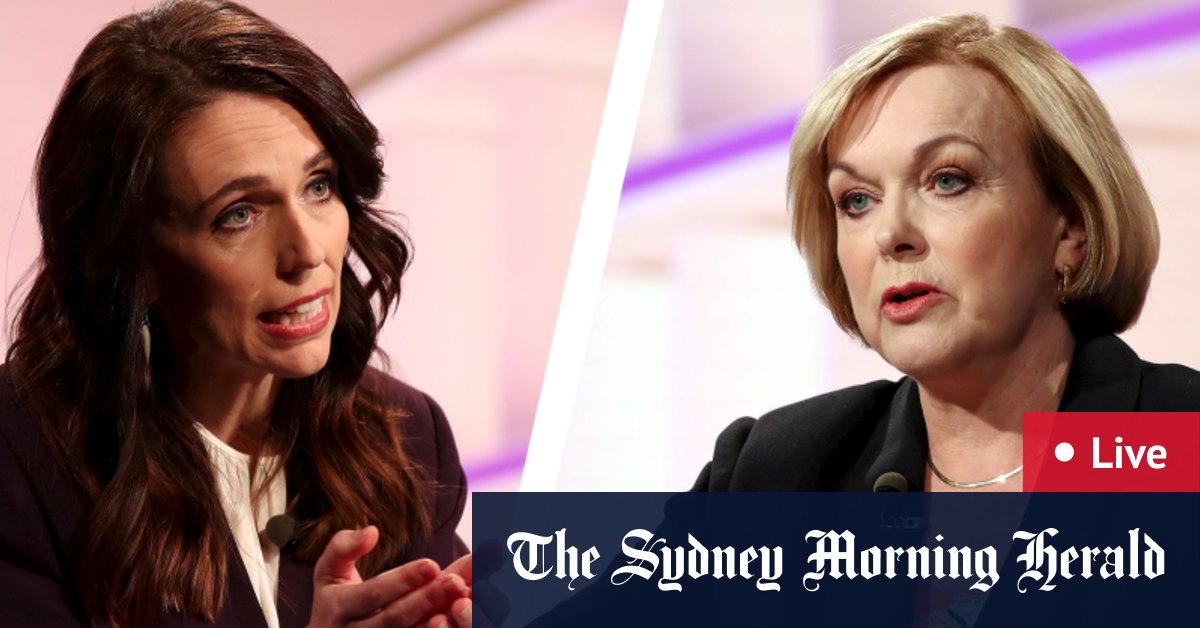 Latest updates Where are also two referenda – what are they about? By
James Massola
New Zealanders are also voting on whether to legalise recreational marijuana, and whether to legalise assisted dying in Saturday's poll.
The End of Life Choice Act 2019, to give it its formal name, would legalise voluntary euthanasia for people with a terminal illness who have less than six months to live.
PM Jacinda Ardern, opposition leader Judith Collins and former prime ministers John Key and Helen Clark have backed the campaign to legalise, and polling indicates about 60 per cent of Kiwis support the legal change – though the numbers have tightened considerably since April.
If supported, the Cannabis Legalisation and Control Bill would make it legal to grow your own cannabis or to buy up to 14 grams of dried cannabis per day from a licensed dealer.
Consumption would have to take place in the home or at licensed premises – which would also be licensed to sell food – and the consumption age would be 20 and above.
Critics argue the bill does not do enough to protect vulnerable young people, while proponents argue it makes no sense to leave the cannabis in the hands of organised crime.
Collins has come out against the change (though she backs the already-legal medical cannabis) while Ardern won't say what she supports – though she admitted during the second election debate to having smoked pot in the past.
The polls are all over the place on this one, with some suggesting support for legalisation and others (such as the last two Colmar Brunton surveys) suggesting it will be defeated.
You can read more about the decision – and the impact it could have on Australia – here.
What do the polls say? By
James Massola
All three of the major public polling companies in New Zealand suggest Jacinda Ardern and Labour are likely to win the largest slice of the vote tonight.
Roy Morgan Research's September poll suggested Labour led National 47.5 per cent to 28.5 per cent, the Greens on 9 per cent, the nationalist New Zealand First on 2.5 per cent and the centre right ACT on 7 per cent.
The latest Newshub-Reid Research poll, conducted October 8-15, suggested Labour led National 45.8 per cent to 31.1 per cent, with NZ First up a point and the Greens down a point.
And the latest 1 News-Colmar Brunton poll, conducted October 10-14, suggested it was Labour 46, National 31, NZ First 3, Greens 8 and ACT 8.
It's the Colmar Brunton poll that is watched most closely, but all of them are delivering the same message - though the numbers have tightened between National and Labour, it's Jacinda Ardern's election to lose.
But there is a catch. New Zealand uses a mixed-member proportional representation (MMP) system, in which voters tick a box for a local electorate candidate and a separate box for which party they support.
Massey University politics professor Richard Shaw says that up to 30 per cent of Kiwis vote tactically – that is, they might for example vote for their local National candidate, but also give Labour a tick for the party list seats because they approve of Ardern.
There are 72 electorate and 48 list seats in the 120 member parliament – but if a party (such as NZ First, on current polling) doesn't win an electorate seat, and doesn't win over 5 per cent of the "list" vote, their share of the vote for the 48 list seats will be distributed among the parties that win over the 5 per cent – and bump up the other the major parties number of list seats.
At this stage, the hot top for the result looks like a Labour-Greens coalition government, NZ First to just miss out, and National and ACT to sit on the opposition benches
Dogs at polling stations as social media rules hold By
Laura Chung
In New Zealand, social media on election day is bound by strict rules. The law bars anyone from doing anything that influences a vote on election day over the 19 hours between midnight and 7pm on Saturday, when polls close.
Instead, photos of dogs have flooded social media. The highlights include Luna, sporting a very stylish coat, and Timo, who took a moment to sniff the voting sign.
With Stuff.co.NZ
COVID dominates New Zealand election, though the country is virus-free By
James Massola
Nothing summed up New Zealand's politics better than the final exchanges of the fourth election campaign debate on Thursday night.
The Prime Minister and Opposition Leader were invited by debate moderator Jessica Mutch McKay to say something to each other that they hadn't had the chance to say yet.
Jacinda Ardern, riding high in the polls and widely expected to win a second term on Saturday, turned to her opponent and noted she never had a chance to thank Judith Collins for the speech she gave after March 15, 2019, when 51 people died in the Christchurch massacre.
Collins replied with praise for Ardern: "Anyone who takes on the job of prime minister has to put their heart and soul into it and Jacinda has been doing that."
But it wasn't all pleasantries. 
Is Jacinda Ardern really the future of liberal democracy? By
Peter Hartcher
Jacinda Ardern was being tested and she wasn't enjoying it. It was 2017. She'd been deputy leader of the New Zealand Labour Party for two months. She was the guest speaker at a provincial press club lunch and subject to "raw questioning which put her under concerted pressure", as one observer put it.
The chair opened the session by displaying a list of all the soft interviews she'd done with women's magazines. "In short, I know pretty much absolutely f---ing nothing about Jacinda Ardern," said her host, the life chair of the Wintec Press Club, journalist Steve Braunias.
"Neither would anyone reading this sort of pleasant garbage, and I think it's one of the reasons why she's widely regarded on the right as an MP of little or no substance. What has she achieved?"
The question about Ardern's record of achievement – and failure – remains a live one as she asks New Zealand to give her a second term at the October 17 election, writes Peter Hartcher.
Read more here. 
Meet the woman determined to defeat Ardern By
Laura Chung
Welcome to our coverage of the New Zealand election. I'm Laura Chung and I'll be taking you through the events of this afternoon.
Let's start with an introduction to Judith Collins, the woman determined to defeat Jacinda Ardern.
She's had her image projected onto the world's tallest building, called out Donald Trump for his criticism of New Zealand's coronavirus response and won worldwide praise and recognition for her handling of the global pandemic, reported James Massola last month.
Judith Collins, the leader of the National Party, is a political veteran and former minister who only took the leadership of the Nationals on July 14, said New Zealanders were beginning to work out there was a big difference between what Ardern promises and what she delivers.
Read more about her here. 
Most Viewed in World