Power outages for thousands of homes as wild weather batters Victoria
Thousands of Victorians are without power this morning, after a stormy night which saw SES crews respond to hundreds of calls for help.
The State Emergency Service has responded to hundreds of calls for help across Victoria after a night of wild weather left a trail of destruction across the state.
Key points:
More than 200,000 homes and business suffered power outages and thousands remain without electricity
The State Emergency Services has received more than 3,600 calls for help
A mother and son were injured by a tree which fell on their house at Olinda, in the Dandenong Ranges
More than 233,000 homes and businesses were left without power as the storm brought down trees and powerlines.
In metropolitan Melbourne, more than 30,000 people were left without power.
The SES said it had received more than 3,000 calls for assistance, more than 1,000 of them since midnight.
There have been 48 rescues, and almost 400 reports of building damage.
Police rescued an injured mother and her son at Olinda, in the Dandenong Ranges, after a  tree crashed through the roof of their house.
Major flood warnings remain in place for a number of waterways, including the Avon, Latrobe, Macalister, Thomson, and Goulburn rivers.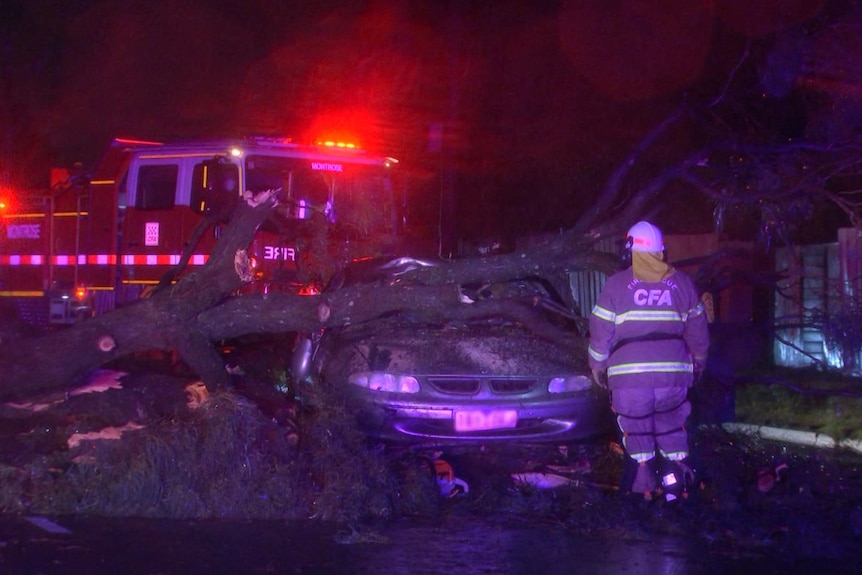 Melbourne's eastern suburbs and the central ranges north of Mount Macedon were hit the hardest, said Keris Arndt from the Bureau of Meteorology.
"Lots and lots of rain, mostly through west Gippsland but also about the ranges to the north of Melbourne, and a lot of wind, mostly through southern Victoria including Melbourne," he said.
"We've got a severe weather warning for heavy rainfall that covers West Gippsland and adjacent parts of central, north central and north-east forecast districts and we're starting to see rivers react as well, so we've got quite a few flood warnings out." 
The BOM is expecting the threat from wind gusts and rain to ease by about midday on Thursday.
"We'll see it ease from low-lying areas through the metropolitan area away from the coast and elevated areas reasonably early this morning, and we'll start to see it ease about elevated areas and the west Gippsland coast as the morning progresses," Mr Arndt said.
Steve Brown from Ausnet said the energy company was trying to restore outages in areas in Melbourne's east, and in Gippsland affecting around 138,000 homes.
"We have stood up all our extra crews, we've got every resource available," he said.
"Unfortunately these circumstances, particularly out in the Dandenongs and the outer east through to Gippsland is still very dangerous."
The Great Alpine Road in East Gippsland is closed from Bruthen to Ensay amid concerns about the potential for landslides following the heavy rain.
More to come.