Everton v Liverpool: Premier League – live!
Minute-by-minute report: Everton are searching for their first derby win in a decade against a wounded Liverpool. Join Scott Murray
Key events
Show
12.52pm

BST

12:52

GOAL! Everton 1-1 Liverpool (Keane 19)

12.35pm

BST

12:35

GOAL! Everton 0-1 Liverpool (Mane 3)

11.32am

BST

11:32

The teams

10.00am

BST

10:00

Preamble
Live feed
Show
1.01pm BST13:01
29 min: So having said that, the game suffers its first lull.
12.59pm BST12:59
27 min: This is good high-paced fun, with both teams piling forward at every opportunity, Liverpool working it wide, Everton looking to go a bit longer and spring the visitors' high line. This surely won't end 1-1.
12.57pm BST12:57
25 min: Henderson tips the dead ball to the right. Alexander-Arnold curls powerfully towards the top left. Pickford, at full stretch, tips around for a corner that leads to nothing. That was a very decent effort by Alexander-Arnold, and a superb save from Pickford.
12.55pm BST12:55
23 min: Thiago flips a ball down the inside-left channel for Mane, who takes a high boot from Gomes. Actually no contact, but it was dangerous play, and it's a free kick for Liverpool, just to the left of centre, 25 yards out. Gomes is incensed, and nearly talks himself into the book. Just a ticking off.
12.53pm BST12:53
21 min: Salah tries to hit straight back for Liverpool by using Keane as cover, hoping to curl home from the right-hand corner of the D. But the shot's an awful drag, straight at Pickford, who claims without fuss.
12.52pm BST12:52
GOAL! Everton 1-1 Liverpool (Keane 19)
Keane rises above Fabinho and Firmino and plants a header into the net! It wasn't quite into the top-right corner, and straight at Adrian, but such was the power you can't really blame the keeper for not turning it over the bar. Though doubtless some will. Everton are level!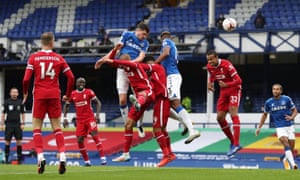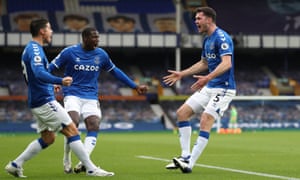 Updated at 12.58pm BST
12.51pm BST12:51
18 min: Rodriguez picks up a loose ball in the middle. He's got Richarlison in acres down the inside-left channel, and should slip him clear, but overcooks the pass. No matter, Everton come again, Calvert-Lewin raging down the right and hammering a shot from a tight angle that Adrian is forced to tip round his post. And from the resulting corner ...
12.49pm BST12:49
17 min: A long pass down the middle by Digne. Calvert-Lewin takes it down smoothly, drops a shoulder to edge inside past Gomez, and sends a weak shot straight at Adrian. An easy confidence-building gather for the under-pressure Liverpool stand-in keeper.
12.47pm BST12:47
15 min: Liverpool continue to dominate possession. Everton haven't really got started yet.
12.46pm BST12:46
8 min: Van Dijk might have twisted his knee. Worrying scenes for Liverpool. It won't be a penalty,
12.45pm BST12:45
13 min: Headed chances at either end. First Digne whips in from the left for Calvert-Lewin, who can't keep it down; then Robertson flings one in for Firmino, who likewise heads over. It's been an entertaining and lively start, with Liverpool looking extremely confident.
12.44pm BST12:44
11 min: Yep, on comes Gomez, who has been worryingly out of form of late. Liverpool will be hoping Van Dijk's withdrawal is precautionary rather than serious. Pickford needlessly and aggressively wrapped both of his legs around his standing leg, and I'm not sure why Pickford wasn't at least booked, or sent off.
12.42pm BST12:42
10 min: Van Dijk can't continue. He's walking straight back to the temporary hut in the car park. Gomez will come on in his stead.
12.39pm BST12:39
6 min: From the corner, a ball's swung in from the left. Van Dijk tries to get onto it at the far post. He's scissored by Pickford, an absurd challenge, and Van Dijk goes down holding his knee. It would have been a penalty, had the flag not gone up for offside.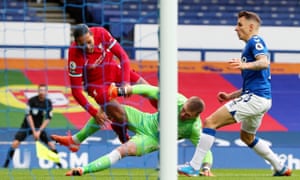 Updated at 12.46pm BST
12.38pm BST12:38
5 min: Liverpool are rampant. Robertson slips Mane into space down the left. Mane crosses towards the near post. Henderson heads from six yards, but not particularly well. Digne is able to eyebrow out for a corner. If Henderson got behind that, it was a goal.
12.35pm BST12:35
GOAL! Everton 0-1 Liverpool (Mane 3)
Liverpool shuttle the ball right to left. Robertson diddles his way past Coleman, drops a shoulder, and slips inside for Mane, who lifts an unstoppable shot into the top left. Pickford had no chance. What a wonderful sweeping move. What a start for the champions!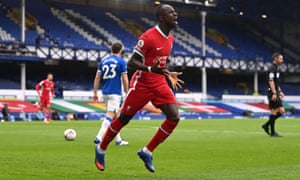 Updated at 12.38pm BST
12.34pm BST12:34
2 min: Fabinho snaffles the ball in the centre circle and rolls an immediate pass down the middle. Salah can't bring the ball with him, allowing Keane to step in.
12.33pm BST12:33
35 seconds: The first big collision of the afternoon as Van Dijk stands firm, in Rodriguez's road. A garden variety foul, but one felt by the brilliant Colombian.
12.32pm BST12:32
And we're off! Liverpool get the ball rolling, but only after all players take a knee. No room for racism. Black lives matter. The visitors are kicking towards the Gwladys Street end in the first half.
12.28pm BST12:28
The teams are out! Everton are playing in ... ach, you know the score here. What we'd give for Goodison to be bouncing now ... but you know all that, too. This promises to be a proper match, though, hopefully an end to that sequence of three goalless draws in Goodison derbies. Everton troop out of the tunnel, while Liverpool make it to the field from the temporary hut in the car park. "You want to know the simple truth?" asks Philip Ritson. "Ancelotti has the measure of Klopp and Everton are in better form than Liverpool. This Liverpool supporter is afraid! Very afraid!"
12.20pm BST12:20
Manager of the month Carlo Ancelotti speaks! "We are sure that we are going to play the best team in the Premier League ... honestly we didn't expect what happened in their last game ... it is an honour for us to play against them ... it's a derby, an important game, and I expect a good game from us ... it's a good test ... it is exciting, the only thing that we miss is the crowd, but we have to respect the code and protocols ... I hope to give happiness to our fans from home ... we started well, but we want to continue." Halfway through the interview he was squirted from below by a rogue sprinkler, and reacted to a brief splash of discomfort with grace, humour and charm, not missing a beat. One of the game's smoothest operators. Two genuinely likeable managers facing each other this lunchtime.
Updated at 12.47pm BST
12.04pm BST12:04
Jurgen Klopp is asked by BT Sport's Des Kelly if this is the worst sort of fixture to have after a bad defeat. "It's the game, the only one we've got ... it's good, whatever situation you are in, it's the most special game of the season ... on the other side I would have no problem if Everton would be in a bad place having lost the last 12 games in a row! ... but it's exactly how it should be, they are ready, we are ready, it should be a good game ... all the changes are significant, that's why we do them ... the line-up is the line-up because we think it's the right one for this game ... we did a lot of things wrong against Villa, but the art is to keep the good things, because they were there, even if nobody remembers them!"
11.50am BST11:50
While it's ten years to the day since Everton's last win against Liverpool, today's date also has a more profound significance. It's five years since the passing of a genuine Goodison legend, the great Howard Kendall, who won the title with his beloved Blues as both player and manager.
11.44am BST11:44
Some pre-match reading. Andy Hunter, our man on Merseyside, assesses the new, confident Everton ahead of today's potential season-shaper.
11.38am BST11:38
Everton make two changes from the side that saw off Brighton 4-2 a fortnight ago. Allan and Andre Gomes take the places of Tom Davies and Gylfi Sigurdsson.
Liverpool hand a first Premier League start to Thiago. He's one of four changes to the team spanked 7-2 by Aston Villa. Joel Matip, Jordan Henderson and Sadio Mane also come in. They take the places of Joe Gomez, Georginio Wijnaldum, Naby Keita and Diogo Jota.
11.32am BST11:32
The teams
Everton: Pickford, Coleman, Mina, Keane, Digne, Doucoure, Allan, Andre Gomes, Rodriguez, Calvert-Lewin, Richarlison.Subs: Delph, Sigurdsson, Iwobi, Bernard, Godfrey, Davies, Olsen.
Liverpool: Adrian, Alexander-Arnold, Matip, van Dijk, Robertson, Henderson, Fabinho, Thiago, Salah, Firmino, Mane.Subs: Wijnaldum, Milner, Gomez, Jones, Minamino, Jota, Kelleher.
Referee: Michael Oliver (Northumberland).
10.00am BST10:00
Preamble
It's the tenth anniversary of a most acceptable Merseyside derby for Liverpool. "That was as good as we have played all season, and I have no qualms with the performance whatsoever," smiled Roy Hodgson. The future looked bright for Roy's Reds! If you didn't pay too much attention to the league position: 19 out of 20. Oh Roy.
It was also a good day for Everton, who won the game 2-0 at a canter. Tim Cahill and Mikel Arteta scored the goals as chants of "Going down, going down, going down" rang around Goodison Park. However times change, and that's the last time Everton beat Liverpool in any competition. Since then, it's been 11 wins and 11 draws for the Reds against their biggest rivals in all competitions, and now they're champions of England.
BUT! Everton go into this match with a 100 percent record this season, while Liverpool are coming off the back of that 7-2 humiliation. Should Carlo Ancelotti's impressive side win this lunchtime, they'll not only be slaking their great derby thirst; they'll also start the season with five straight wins for the first time since 1938-39, a season they ended as champions. Dominic Calvert-Lewin: the Tommy Lawton de nos jours.
Liverpool, on the other hand, may feel they have a statement to make after their mauling at Villa Park. So this is set up perfectly. A cracker awaits, even if this particular Goodison fixture has a habit of ending in a bore draw. Not this time, surely. Here's to a classic everyone on Merseyside deserves right now, on account of their currently being grifted by The Man. It's on!
Kick off: 12.30pm BST.
Updated at 10.03am BST