US Presidential Debate LIVE updates: Donald Trump and Joe Biden clash over North Korea, healthcare and coronavirus
With just 11 days left until election day, US President Donald Trump and his Democratic challenger Joe Biden will face off in Nashville, Tennessee, for the final presidential debate.
Summary
With just 11 days left until election day, US President Donald Trump and his Democratic challenger Joe Biden faced off in Nashville, Tennessee, for the final presidential debate.
The debate was divided into six 15-minute segments: fighting COVID-19; American families; race in America; climate change; national security; and leadership.
It was moderated by NBC News White House correspondent Kristen Welker. Welker was the first black woman to serve as the moderator of a presidential debate since Carole Simpson in 1992.
The election will be held on November 3 but early postal voting has already begun in some states. Voter turnout is expected to reach record levels year, with some experts predicting that the number of people voting either in person or by mail could exceed 145 million.
Latest updates Analysis: The last question By
Farrah Tomazin
The last question by debate moderator Kristen Welker was a good one, as the answers were emblematic of the different styles of Trump and Biden.
She asked both candidates: What would you say during your inaugural address for people who did not vote for you?
Trump largely looked to the past, talking up what life was like before coronavirus ravaged the US: tax cuts, a booming economy, "the best numbers".
He then attacked Biden and played to the politics of fear, warning viewers that "if he gets in, you will have a depression, the likes of which you've never seen … It'll be a very very sad thing for this country".
Biden, on the other hand, turned to the future, saying that the nation could move forward with "hope", "respect and dignity" and "making sure that everyone has an even chance".
Two very different answers reflecting two very different candidates.
Fact check: Trump and Russia By
Chris Zappone
The topic of election interference and Russia dominated parts of today's debate. So let's take a look at the issue more closely.
Trump and supporters strenuously dismiss Russian interference in the 2016 Election as a "hoax", and the Mueller investigation, as well as probes in the House and Senate as a "witch-hunt". Trump and his supporters suggest it was a Democratic-led "coup" attempt. This echoes Russian propaganda themes.
Nevertheless, real arrests, real indictments, real convictions, made by real judges and juries tell another story. Here is a list of those stemming from the 2016 election.
Paul Manafort, Trump's campaign chair, sentenced to seven and a half years for hiding millions of dollars and lying to get loans.
Konstantin Kilimnik, who the US believes has ties to Russian intelligence, has been charged with obstruction of justice.
13 Russian nationals linked to the Internet Research Agency, the fabled St Petersburg troll farm.
12 Russian military officers charged with hacking Democrats' emails.
Trump aide Roger Stone was convicted of lying to Congress. Trump commuted his sentence of 2 years of a supervised release plus a $20,000 fine.
Ex-national security adviser Michael Flynn pleaded guilty to lying to the FBI about talking with a Russian diplomat before Trump's inauguration.
Former National Security Advisor Michael Flynn pleaded guilty to lying to investigators and awaits sentencing - although the Justice Department has moved to halt the case.
Ex-Trump campaign aide Rick Gates was given 45 days in jail, three years in probation after pleading guilty to helping Paul Manafort hide US$75 million after years of Ukraine lobbying work.
Ex-Trump lawyer Michael Cohen sentenced to 2 and half years in prison, after pleading guilty to tax evasion, campaign finance fraud and lying to Congress.
Ex-Trump campaign adviser George Papadopoulos served 12 days in prison for lying to investigators.
Alex van der Zwaan, Dutch attorney pleaded guilty to lying to the FBI, served 30 days.
Richard Pinedo, a California man sentenced to six months in prison for selling dummy bank accounts used by Russian hackers.
Michael Flynn's ex-business partner Bijan Kian was found guilty of conspiring to hide lobbying for Turkey and acting as an illegal foreign agent
Political consultant Sam Patten sentenced to three years of probation, paid $US5000 ($7113) fine and ordered to do 500 hours of community service for selling tickets to Trump's inauguration on behalf of a Ukrainian oligarch.
So what do you think: Who won?
In your opinion, who won this second and final debate?
Trump and Biden's final pitch to voters By
Mary Ward
In the final minutes of today's debate, Trump was asked to address the Americans who did not vote for him in 2016.
"We have to make our country totally successful, as it was prior to the plague coming in from China," he said, adding he believed the country was "on the road to success".
"I'm cutting taxes, and he [Biden] wants to raise everybody's taxes, and he wants to put new regulations on everything. He will kill it. If he gets in, you will have a depression the likes of which you have never seen. Your 401ks [retirement savings] will go to hell and it will be a very sad day for this country."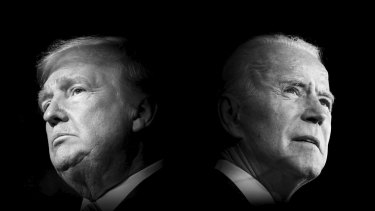 Asked what he would say to those who did not vote for him if elected, Biden has repeated his line that he would be "an American president", and govern for all.
"I am going to make sure that you are represented. I am going to give you hope," he said, adding "we're going to choose hope over fear, we're going to choose to move forward because we have enormous opportunities".
"And I'm going to say, as I said at the beginning, what is on the ballot here is the character of this country: decency, honour, respect, treating people with dignity, making sure that everyone has an even chance.
"And I'm going to make sure you get that. You haven't been getting that the last four years."
The debate ends
The debate has ended, but we will continue to bring you expert analysis and fact check the claims made by both candidates during what was a much more civilised affair than the candidates' last encounter, so do stay with us.
Climate change, and windmills By
Nick O'Malley
Nowhere is the difference between the two candidates so stark as it is on climate and environment.
Trump has spent his years in office dismantling the architecture of environmental protections that have been constructed since the Nixon administration.
The President claims carbon emissions under his administration are lower than they have been in years, which is true, but it has to do with COVID-19 rather than policy. He adds that he had to pull out of the Paris accord because it was unfair to America.
Biden responds that climate change is an immediate existential and moral crisis. He argues for funding programs to retrofit homes for efficiency and support the electric vehicle industry, creating 18.6 million jobs and $1 trillion more in economic growth.
Unlike previous Democratic candidates, Biden has moved to the left on this issue since winning his party's nomination.
In part this was done to unite the party, but also Biden appears to be following global moves to make post-pandemic stimulus packages green, thereby uniting economic and environmental policies.
Trump boasts that America is now energy independent for the first time and that windmills, which "kill all the birds", are made in Germany and solar will not "run our big beautiful factories".
'Why didn't you do it before?' By
Mary Ward
Throughout the debate, President Donald Trump has continually criticised Joe Biden for standing for election, asking why he didn't implement his policies in his 47 years in politics, or eight years as vice-president.
Speaking about reforms for drug policy and policing specifically, Biden calmly replied he "got a lot of it done".
"We are the ones who put in the legislation saying we can look at pattern and practice of police departments and what they were doing and how they were conducting themselves," he said.
"I could go on, but we began the process, we began the process.
"We lost the election and that is why I am running: to win back that election and change [Trump's] terrible policies."
Analysis: The candidates' promises to the black community By
Farrah Tomazin
On the topic of race, Trump repeated his well-worn (and exaggerated) claim that "no one has done more for the black community than me".
Race proved to be a sore spot for the president at the last debate, when he failed to denounce white supremacy and told the right-wing group The Proud Boys to "stand back and stand by".
But while Trump has often struggled to deal with racial tensions in the US, he has nonetheless offered a broad suite of policy reforms to woo the black community in the lead up to this year's election.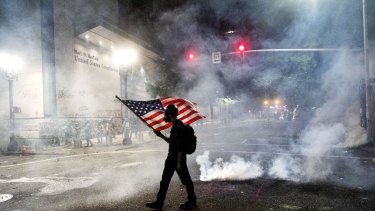 His so-called "Platinum Plan" includes a push to prosecute the Ku Klux Klan as "domestic terrorists"; make lynching a federal hate crime; and give African Americans greater educational choice by empowering them "to close failing schools".
Biden's pitch for the black community centres around narrowing wealth disparities between black and white communities by expanding access to lending programs for black entrepreneurs; boosting funding for schools with a high percentage of students from low-income families; and reforming so-called Opportunity Zones (which gives tax breaks to certain investments in lower-income areas).
As most readers know, America has been undergoing a national reckoning on race since black man George Floyd was pinned under the knee of white police officer Derek Chauvin in Minneapolis on May 25.
'I am the least racist person in this room': Trump By
Mary Ward
After a brief sojourn to allegations about Russia and Iran with little conclusion, Chair Kristin Welker said: "I want to stay on the issue of race."
Asked about the Black Lives Matter movement, Trump said he believes the movement is a "terrible thing".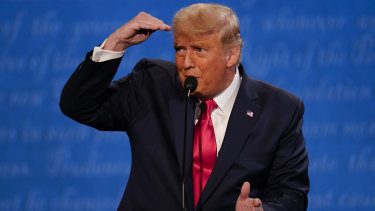 He said he disagreed with opposition to the police and chants he claimed occurred about "pigs in a blanket" at rallies.
"As far as my relationships with all people, I think I have great relationships with all people. I am the least racist person in this room," the President said.
He later added: "I can't even see the audience because it is so dark but I don't care who was in the audience. I am the least racist person in this room."
Biden criticised Trump's earlier reference to Abraham Lincoln, noting Trump was "one of the most racist presidents we have had in modern history".
"Started off his campaign coming down the escalator saying he was going to get rid of those Mexican rapists," Biden recalled.
"He banned Muslims because they are Muslims. He has moved around and made everything worse across the board. He says about the Proud Boys, last time we were on stage ... to 'stand down and stand ready'."
Fact check: Who really said 'superpredator'? By
Chris Zappone
Trump accused Biden of calling black men "superpredators".
The term is associated with crime bill reforms in the mid-1990s passed by president Bill Clinton.
However, it wasn't Biden but then-first lady Hillary Clinton who used the term, according to Politifact from The Poynter Institute.
"Just as in a previous generation we had an organised effort against the mob. We need to take these people on. They are often connected to big drug cartels, they are not just gangs of kids anymore. They are often the kinds of kids that are called superpredators - no conscience, no empathy," Hillary Clinton said.
Hillary later apologised for the use of the term in 2016.
Most Viewed in World