Australia Covid live update: Queensland records three new coronavirus cases; NSW on alert for more Sydney lockdown cases
Yvette D'Ath says state is running out of Pfizer vaccines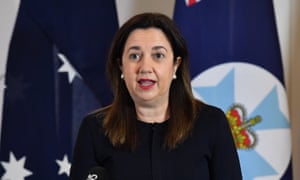 Key events
Show
1.27am

BST

01:27

'Don't take to the advice of Scott Morrison': QLD deputy premier

1.23am

BST

01:23

QLD health minister suggests federal Pfizer supplies have run dry

1.21am

BST

01:21

Queensland only has eight days of Pfizer left: health minister

1.16am

BST

01:16

Palaszczuk tells under 40s not to get AZ jab; fires shots at prime minister

1.10am

BST

01:10

Unconfirmed reports that SA may lock down

1.05am

BST

01:05

Queensland records three local Covid-19 cases

12.42am

BST

00:42

Social housing struggling to keep pace
Live feed
Show
1.55am BST01:55
And here is the crux of it.
Reporter:
Has your department failed
D'Ath:
I believe that someone has failed here, yes, and there will be an investigation because this person should have not been working without a vaccination.
1.54am BST01:54
More from the D'Ath questioning:
Reporter:
The premier [says she] is furious, but they are not angry at you? They are angry at somebody else?
D'Ath:
I think the public understand that this is a highly infectious disease that we are doing everything possible to contain.

Hotels were not built to contain this*. Even some of our most expert specialists in infectious control in Queensland have said to me, when they've managed Ebola in other countries, no matter how much you try to control this, you can have the entire outfit from head to toe on, these viruses find a way.

We are doing our absolutely best and our health workforce are doing their absolute best.
Updated at 2.00am BST
1.52am BST01:52
The Queensland health minister, Yvette D'Ath, is facing a grilling during this press conference, over her role in potentially failing to ensure health services were complying with vaccination health orders (it's still up in the air if they technically have.)
Reporter:
Given we're in a lockdown ... do you owe Queenslanders an apology?
D'Ath
Well, we have to remember that we have been trying to contain an invisible, highly infectious virus for 18 months now.

There is no country in the world that has been able to ensure that there has been no transmission in their community – not one. What I can say is Australia and Queensland has been one of the best in the world. There has been over 3.8 million deaths now globally.

There are still thousands of people dying every single day around the world. We have maintained and managed to get only seven deaths. Tragically, seven deaths have occurred but seven deaths in Queensland. So I'm proud of what we have done.
Updated at 1.59am BST
1.50am BST01:50
By the way, we are expecting the Victorian Covid-19 update at 11am, in about 10 minutes.
Updated at 1.52am BST
1.50am BST01:50
The ABC is now also reporting that a family in South Australia have contracted Covid and health officials are poised to lock the state down. This is not yet confirmed.
We are expecting a press conference soon.
1.46am BST01:46
Young:
You look across the country, active case numbers are in the hundreds. We are not as Indonesia is. I mean, if I was the chief health officer in Indonesia, I might be giving different advice, but I'm here in Queensland.

And I need this lockdown for the next three days, so that we can contact trace everyone, get everyone into quarantine, so that when we open up again that the people who are most likely to be spreading the virus are safely in their homes in quarantine. That's what I need to do to then manage our outbreaks.

I don't need to go and ask young, fit, healthy people, because if you weren't young, fit, healthy, you're able to get Pfizer. Remember that. You can get vaccinated if you've got underlying severe disease. So we are not in a position that I need to ask young, fit, healthy people to put their health on the line getting a vaccine that could potentially significantly harm them.
Updated at 1.50am BST
1.43am BST01:43
Queensland chief health officer, Dr Jeannette Young, says she "genuinely [doesn't] understand" Scott Morrison's thinking when it comes to the change of AstraZeneca advice.
Well, I haven't been able to talk to him and to understand his thought processes.

The premier announced in national cabinet that there wasn't a discussion, so I genuinely don't understand his processes. I know an urgent meeting has been called by the commonwealth today with chief health officers to talk this through, so I'm sure I will find out more.
She says this is a view shared by other state health ministers:
We are all following the Atagi advice. Atagi initially came out on preliminary data that people under the age of 50 should preferentially be given the Pfizer vaccine, and then once we started getting Australian data – because sometimes it is a bit hard to get data from overseas and untangle and understand it – Atagi came out with amended advice and made that aged 60.
Updated at 1.46am BST
1.38am BST01:38
Young was just asked if she thinks under 40s should get the AstraZeneca vaccine:
No. I'm sorry if I haven't made that clear. No, I do not want under 40s to get AstraZeneca.

They are at increased risk of getting – it is rare, but they are at increased risk of getting the rare clotting syndrome.

We've seen up to 49 deaths in the UK from that syndrome. I don't want an 18-year-old in Queensland dying from a clotting illness who, if they got Covid, probably wouldn't die.

We've had very few deaths due to Covid-19 in Australia in people under the age of 50, and wouldn't it be terrible that our first 18-year-old in Queensland who dies related to this pandemic died because of the vaccine?
Updated at 1.41am BST
1.35am BST01:35
YIKES! There is some very strident discussion around AstraZeneca going on in the press conference.
Palaszczuk:
I do not think this is the time to risk the safety of our young Australians when the BBC – when the BBC will not even allow their under 40s to get the AstraZeneca vaccine.
Updated at 1.40am BST
1.32am BST01:32
Palaszczuk says "someone will be held responsible" for a 19-year-old casual secretary working outside a Covid ward not being vaccinated, but then obviously pivoted quickly to hotel quarantine (you know, the bit that's not the federal government's mistake.)
There was a direction in place and the direction wasn't followed. It wasn't a guideline, it wasn't a principle, it was a direction. So there will be a full investigation into that.

As you heard the deputy premier say, the person who brought the virus into Queensland was a regular traveller, not a vulnerable Australian returning home, a regular traveller who was unvaccinated and I honestly think we need a serious discussion about ensuring that people are vaccinated coming into this country.

We have got to minimise the risk. We are at a pressure cooker moment at the moment. Right across Australia, it's like a pressure cooker. We got to relieve that pressure.
Like yeah, we 100% should have purpose-built facilities, but heaven forbid we spend a second taking accountability for the role the state government played in all of this.
Updated at 1.33am BST
1.27am BST01:27
'Don't take to the advice of Scott Morrison': QLD deputy premier
Now the deputy premier, Steven Miles,has stepped in to deliver another blow, literally telling young Queenslanders not to listen to the advice of Scott Morrison, and confirming state-run hubs will not provide AZ to under 40s.
This is full-on.
The Queensland government will only provide to people the vaccine that is medically recommended for them. We will not ignore the health advice.

For the prime minister to attempt to overrule the medical advice and provide a vaccine that is not recommended for people under 60 puts Queenslanders at risk.

There are some discussion that the commonwealth may even provide their own vaccination hubs so they can get AstraZeneca vaccine out to younger people despite that vaccine not being recommended and that would be very risky.

I note the Australian Medical Association has come out and said that people shouldn't follow the prime minister's advice, they should follow the otherwise consensus health advice.

I'm concerned about reports that GPs were inundated yesterday with requests from younger people asking to get a vaccine that is not recommended for them and that their general practitioners are unlikely to provide to them.

I would say to Queenslanders throughout this pandemic, the advice of our chief health officer has served Queenslanders incredibly well, and they should take her advice about which vaccine is medically appropriate, not the advice of Scott Morrison.
Updated at 1.31am BST
1.23am BST01:23
QLD health minister suggests federal Pfizer supplies have run dry
Queensland health minister Yvette D'ath has suggested the prime minister only made the decision to allow under 40s to get the AZ jab because there will be no more Pfizer until October. (It's worth keeping in mind that this is speculation, not confirmed.)
Now, maybe this is why the prime minister's come out and suggested that under 40s get AZ.

But we have to act on the TGA and Atagi's advice in relation to that. It can't simply be because we have a lot of stock of one vaccine, and not enough of the other, to start recommending that people get a particular vaccine. That advice should always be based on clinical advice.

So, I am disappointed that we have been denied any extra vaccines, despite the reasons we've been given, despite the fact we're going to start running out of vaccines. And I would welcome the commonwealth telling us exactly how much vaccines they currently have on stock.
Updated at 1.24am BST
1.21am BST01:21
Queensland only has eight days of Pfizer left: health minister
OK, Queensland really isn't holding back any fire today! This is an all-out war against the federal government.
D'ath says Queensland is running out of Pfizer and their request for more have been denied:
So, the director general of health wrote to the lieutenant general ... yesterday and asked if we could get an extra 130 trays.

The reason we gave is that we are at a critical level and that at some of our sites we are projected to run out of Pfizer by as soon as week 20. That's 5 July. Next Monday. At some of our sites we are due to run out. And one of those sites being Sunshine Coast University Hospital.

Our reason also is we said additional vaccine supply is critical to avoiding cancellations of already committed appointments. And to ensure that we can continue to prioritise areas of high risk.

Now, we sent that letter yesterday. We got a response this morning. From the lieutenant general. We've been advised that we will not be provided additional vaccines of Pfizer.

Now, about three weeks ago, when Victoria went into lockdown, and asked for additional supply, they got an extra 100,000 vaccines. We weren't offered less than what we asked for, we have been denied any extra vaccines.

We are only getting 64,500 a week in July, each week. We got 45,000 vaccines delivered yesterday. And on that delivery, and on our calculations, we have eight days' stock left for Pfizer. So we are getting to that point that we'll have to start prioritising only second doses if the Commonwealth do not have any vaccine left. And they need to tell us. It's what they gave Victoria the end of it?

Have we only got what is allocate and no contingency stock left until that big delivery in October? Because we all need to know.
Updated at 1.25am BST