Russell Westbrook Could Soon Have a New Team — That Team Was Just Revealed
Russell Westbrook could potentially get moved by the Houston Rockets. If he does get traded, one team is very interested in acquiring him.
Russell Westbrook is one of the most dynamic players in the NBA. He can ultimately do a little bit of everything on the basketball court. However, Westbrook has struggled to win in the playoffs, first with the Oklahoma City Thunder, and then with the Houston Rockets this past season. Now, as the Rockets are in the middle of an offseason where their general manager Daryl Morey just recently announced that he is stepping down, it appears that anything is on the table for the team this offseason. 
So, if the Rockets end up moving Westbrook to another team, where would he go? One of the strongest possibilities was just revealed.
The Houston Rockets failed to make the NBA Finals — again
RELATED: Warriors Coach Steve Kerr Just Took a Not-So-Subtle Shot at the Houston Rockets
The Houston Rockets have had one of the greatest scorers of all-time for most of this past decade in James Harden. However, the Rockets have failed to make it to the NBA Finals year after year after year.
After losing in the first round in 2012-13 and 2013-14, the Rockets reached the Western Conference Finals in 2014-15. Houston, however, lost to the Golden State Warriors in five games in that series.
Harden and the Rockets then lost in the First Round and then the Western Conference Semifinals the next two seasons, but after trading for Chris Paul in the summer of 2017, they had their best chance at reaching the Finals in 2017-18.
They ended up reaching the Western Conference Finals again that year and — again — took on the Warriors. They took a 3-2 lead in that series too, but eventually lost to the Warriors in seven games.
Houston then lost in the Western Conference Semifinals in 2018-19, which led to them trading for Westbrook during the summer of 2019. Westbrook, however, didn't help them get any further in the playoffs this past season, as they ultimately lost in the Western Conference Semifinals again.
Daryl Morey is stepping down as GM of the Houston Rockets
RELATED: Russell Westbrook Blasts Rajon Rondo's Brother After Getting Blasted by the Lakers
Rockets general manager Daryl Morey is stepping down as the Rockets' GM. He had been the GM for 13 seasons. According to ESPN, his resignation won't be effective until Nov. 1, though, as he will continue to help the team search for a new head coach after it parted ways with Mike D'Antoni earlier this offseason.
"For me, it was just a great run," Morey said to ESPN. "Personally, the timing worked for me. My youngest son just graduated from high school, and it was just the right time to see what's next with family and other potential things in the future. It just felt like the right time."
Houston is promoting executive vice president of basketball operations Rafael Stone to general manager, according to ESPN. 
So, the Rockets will get a fresh start next season with a new head coach and a new general manager. Will they move on from one of their biggest stars this offseason too?
The New York Knicks have an interest in Russell Westbrook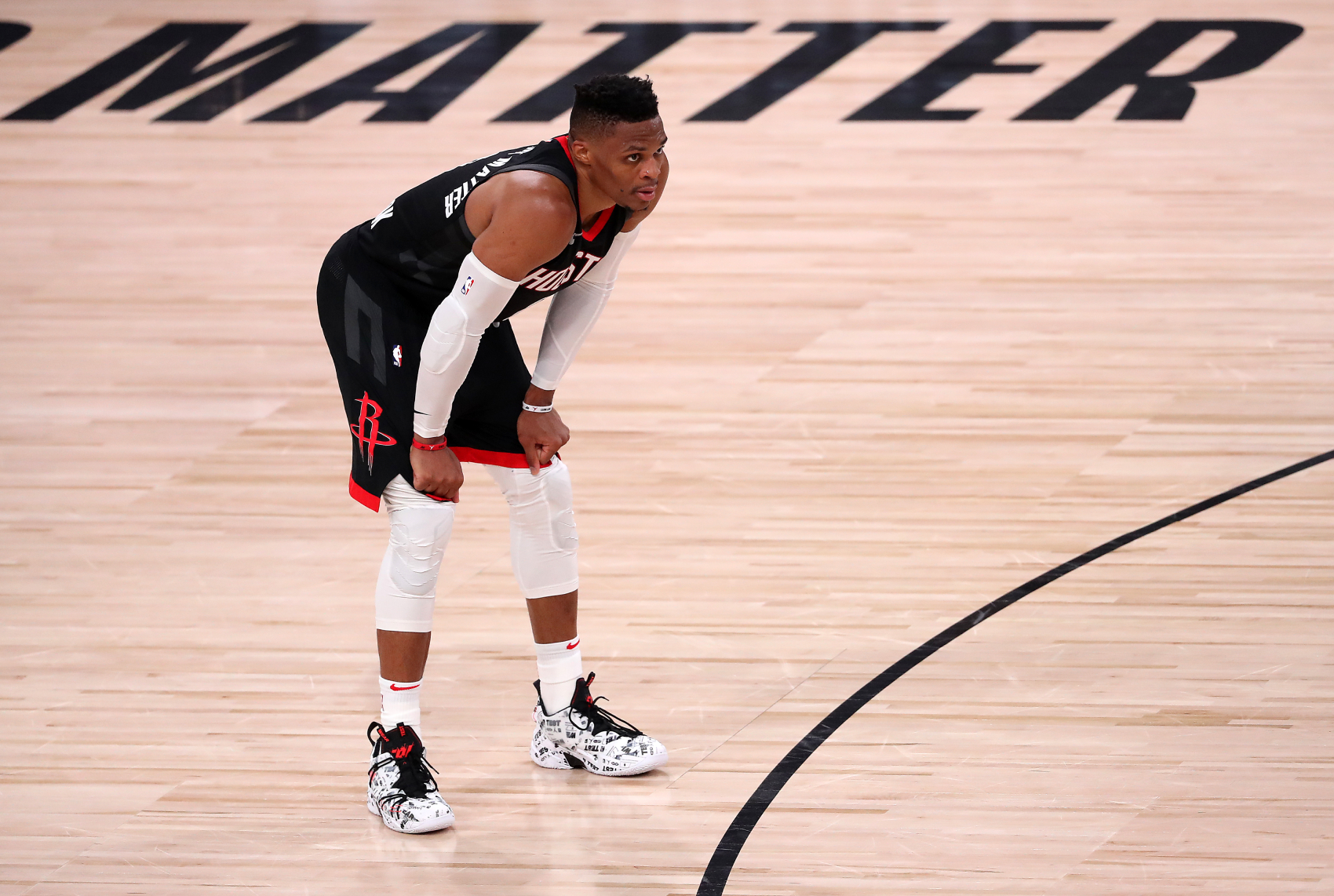 RELATED: Russell Westbrook and James Harden: Who Has a Higher Net Worth?
It is unclear if the Rockets are 100% interested in trading Westbrook, who averaged 27.2 points per game, 7.9 rebounds, and seven assists last season. However, if they are, then the New York Knicks reportedly have an interest in acquiring him.
The New York Post reported that if the Rockets place Westbrook on the trade market, then the Knicks would likely "turn some of their attention toward Texas."
"I can't imagine they are keeping Harden and Russ together," an NBA executive said, according to the New York Post. "Russ excels best as the best player on a team, and Harden needs outside shooters around him — not a ball-dominant guard. I think Russ will be the one traded."
The Post also reported that some people in the league believe that Westbrook would embrace playing in New York City, as it is the fashion capital of the world. In addition to his basketball skills, Westbrook is also known for his interest in fashion.
Additionally, according to the Post, New York has many assets that it could use to trade for Westbrook or another All-Star-caliber player. The Knicks reportedly have interest in Chris Paul and star Indiana Pacers guard Victor Oladipo as well.
A trade for Westbrook would most likely get Knicks fans very excited, as their team has not made the playoffs since 2012-13. New York went 21-45 last season, and its best player was Julius Randle, who averaged 19.5 points per game and 9.7 rebounds.
Russell Westbrook's future is unknown as of right now. However, no matter what happens, this NBA offseason should be interesting.
Stats courtesy of Basketball Reference