Australia to send troops and police to Solomon Islands amid unrest
Prime Minister Scott Morrison says Australian troops and police will be sent to Solomon Islands to help stabilise the island nation amid growing violence and unrest.
Australian Defence Force personnel and federal police will be deployed to Solomon Islands as the Pacific Island nation faces a second day of rioting.
Key points:
Australia will deploy police and troops to the Solomon Islands to maintain stability
The archipelago has seen a second day of violence and rioting in the capital
The Prime Minister says the deployment is expected to last several weeks
Prime Minister Scott Morrison said 23 members of the Australian Federal Police's Specialist Response Group would be deployed "immediately".
Another 50 AFP officers will be deployed to support critical infrastructure tomorrow, as well as 43 Defence Force personnel from Army units based in Townsville.
"Our purpose here is to provide stability and security," Mr Morrison said following a meeting of the National Security Committee of cabinet this afternoon.
The Defence deployment includes around 30 troops from the Army's 3rd Brigade, medical personnel and military police.
Solomon Islands' capital Honiara has been wracked with unrest in recent days.
Yesterday police used tear gas and rubber bullets to disperse large crowds demanding the resignation of Prime Minister Manasseh Sogavare.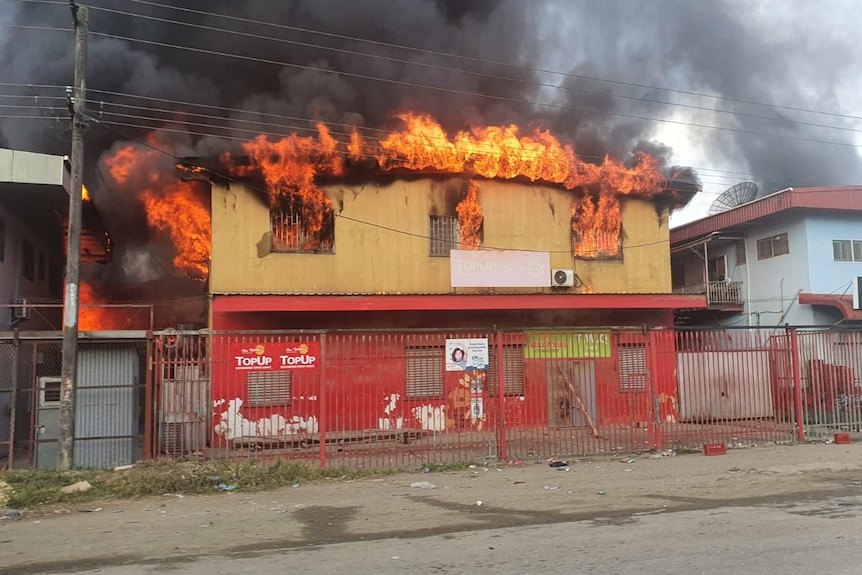 Mr Sogavare announced a 36-hour lockdown of Honiara after the protests, which saw buildings including a police station set on fire.
Fresh protests broke out in the capital on Thursday, with smoke seen rising from Honiara's Chinatown district.
The unrest relates to anger over government services, corruption, and disputes over Solomon Islands government's move to more closely align itself with China.
Mr Morrison said he had received reports of buildings being burned in the centre of the city, including a large commercial building and a bank branch.
He said Mr Sogavare had requested Australian help under a security treaty the country signed with Australia in 2017.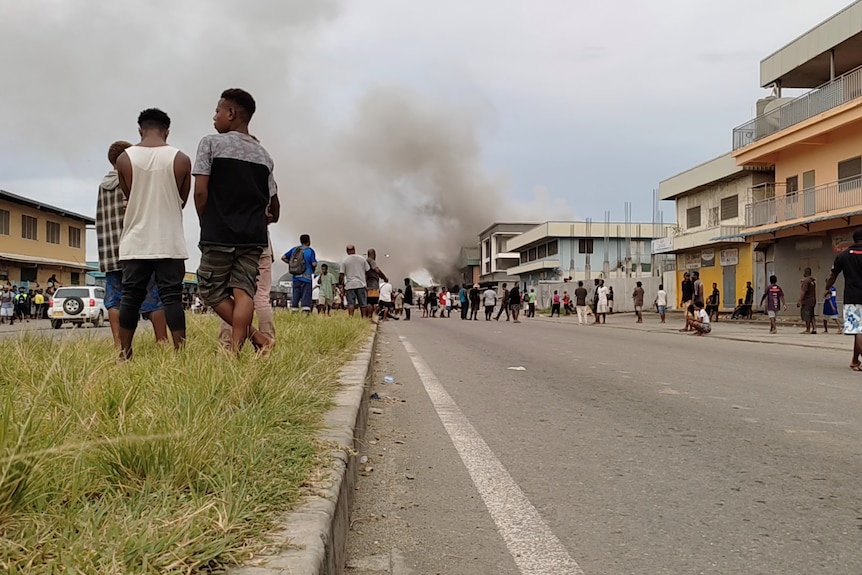 Ricky Fuoo, head of Solomon Islands Chamber of Commerce, said it was a "sad day for this country".
"Businesses have been struggling over the past few years, just to stay afloat because of the … COVID-19 crisis," he told the ABC.
"It's setting us back almost 20 years now and, you know, we thought we were past this."
Solomon Islands has managed to record just 20 COVID-19 cases since the pandemic begun by maintaining border closures, however it has relatively low rates of vaccination.
The ABC understands all AFP personnel travelling to the country are fully vaccinated and will undergo rapid COVID-19 testing prior to deployment.
Australian deployment not an intervention in political affairs, PM says
Mr Morrison said he expected the Australian deployment to last "a matter of weeks".
"Our purpose here is to provide stability and security to enable the normal constitutional processes, within the Solomon Islands, to be able to deal with the various issues that have arisen," he said.
What's behind Honiara's violent protests?
The federal government deploys AFP and ADF personnel to the Solomon Islands amid civil unrest in the Pacific country. Here's why Australia is getting involved.
Read more
"It is not the Australian government's intention in any way to intervene in the internal affairs of the Solomon Islands, that is for them to resolve.
"In a situation like this where there is once again civil unrest, we are there to help them, because they are very dear to us as part of our Pacific family."
Foreign Minister Marise Payne said staff and families at the Australian mission in Honiara were safe.
Senator Payne said the Department of Foreign Affairs was advising Australians to avoid demonstrations and roadblocks, and monitor local media.
A Regional Assistance Mission was sent to Solomon Islands in 2003 and maintained a presence there until 2017.