Man killed by flying gas bottle, cars smashed and thousands without power as severe storms lash NSW
More than 800,000 lightning strikes were detected across New South Wales in the past 24 hours, causing mass power outages, while strong winds left roads and train lines blocked.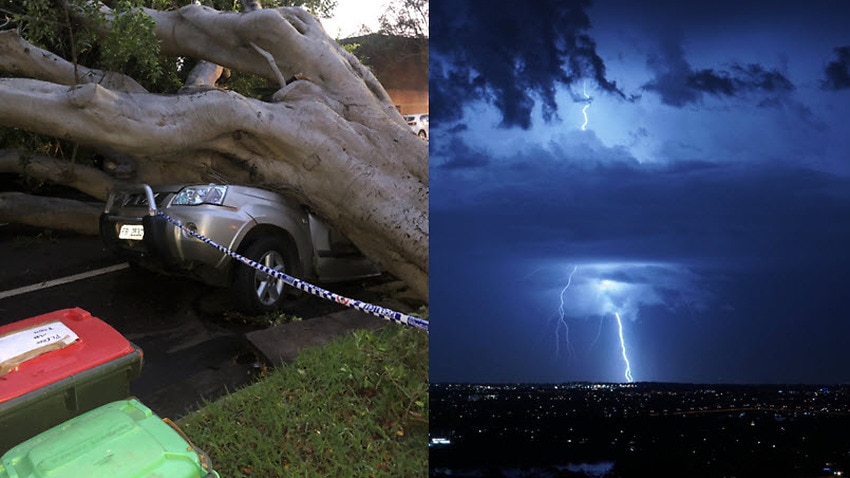 A man has been killed and almost 50,000 homes are without power after heavy winds, intense lightning and hailstones lashed the New South Wales coast overnight. 
The 37-year-old Chatswood resident was walking alone in The Rocks, in Sydney's CBD, when he was struck in the shoulder by a 9-kilo gas bottle that had become airborne shortly before midnight on Tuesday.
He was taken to the nearby St Vincent's hospital with "severe injuries" but died shortly after, police said, describing the incident as a "freak accident". 
A police spokesperson said it was unclear where the gas bottle had originated, but it was likely from a nearby residential balcony.
Wild storms lash parts of NSW
Share
Share on Twitter
Share on Facebook
They urged residents in the area to come forward if their bottle was missing. "It is vital for us to know whether bottle has come from, it is a fact we need to establish," they said. 
The huge winds also brought down trees across the south-east of the state, smashing cars and blocking train lines in Pymble and Thornleigh, while lightning initially left 80,000 Ausgrid customers without power.
By Wednesday morning, 49,000 homes and businesses were yet to have electricity restored, Ausgrid said. 
Weatherzone said 60,000 individual lightning strikes had hit the greater Sydney region overnight, including the Blue Mountains, Central Coast and Illawarra, which was "significantly more than you would get from a normal storm event".
Meanwhile, more than 800,000 lightning strikes were recorded across the entirety of NSW in the past 24 hours, they said. 
An NSW SES spokesperson told SBS News they had received more than 1,000 calls for help since 8pm on Tuesday, with the main impact areas including Ryde, Hornsby, the Hills district, the Northern Beaches and the Central Coast. 
"The majority of those were due to trees down, roof damage due to fallen trees and hail, trees on roads resulting in power lines coming down," the spokesperson said, adding that motorists should monitor live traffic sites for road closures. 
A severe lightning storm swept across Sydney late Tuesday night causing widespread power outages & damage.

Please do not go near fallen powerlines, always assume they're live & stay at least 8metres back.

Thousands of lightning bolts lit up the sky. This was the view at Manly. pic.twitter.com/FwClCp8syr

— Ausgrid (@Ausgrid) February 18, 2020
Conditions are expected to ease across Sydney and the south coast on Wednesday, the Bureau of Meteorology said, as the storm moves in a northern direction.
"We had quite a number of severe storms right into the earlier hours, but that [storm] band has passed up and is now sitting offshore of Coffs Harbour," Bureau of Meteorology meteorologist David Wilke told SBS News.
"What we will likely see today is continuing thunderstorm activity for the north-east and there's a potential we could see some severe thunderstorms developing as we move into the afternoon."
Damaging wind gusts, large hail and heavy bursts of rain were possible, Mr Wilke added, before calmer weather was expected on Thursday. 
Cooler weather conditions are also expected as a cold front moves through NSW from the south-east parts of the country.
A dry air mass means southern parts of NSW could have temperatures drop below 20 degrees, particularly in the Southern Ranges and South Coast region.
Western NSW regions are not expected to have any significant rainfall over the next few days.
Hazardous surf warnings remain in place for the Illawarra Coast, Batemans Coast and Eden Coast, with the NSW Police Marine Area Command advising people to consider staying out of the water.
With AAP