Sunderland 2-0 Wycombe: League One playoff final – as it happened
Elliot Embleton and Ross "The Loch Ness Drogba" Stewart got the goals as Sunderland secured their long overdue return to the Championship
Gareth Ainsworth speaks: "The better team won today," the Wycombe manager tells Sky Sports. "I can't stand here and pretend we were better than Sunderland but I thought at 1-0 there was a few nerves from them and we had a couple of good chances, but they've got some good players. congratulations Sunderland, you deserve to be in the Championship next season.
"As for us, we'll go again. We'll dust ourselves down. I've got a really good set of boys and I'm very, very proud of them. Today was Sunderland's day and sometimes it goes that way."
That is an entirely predictable and generous show of magnanimity from one of football's nicest, most lovely men. And on that note, with congratulations to Sunderland and commiserations to Ainsworth and his players, we'll draw the curtain on this report.
League One playoff final: "Sunderland got over the line against Wycombe to end their four-year exile from the Championship, courtesy of goals from Elliot Embleton and Ross Stewart," writes Ben Fisher from Wembley Stadium.
Alex Neil speaks: "I thought we deserved to win," the Sunderland boss tells Sky Sports. "Wycombe have done great this season but we came into the game knowing a lot of people had heavily backed us and made us favourites.
"As I said before the game, that's normal for us. I'm buzzing for them [the players] and for that [the fans in front of him] . This club shouldn't be where it is and this is the first step towards us getting back to where we want to be."
Alex Neil: Sunderland haven't got too many managerial appointments right in recent years but that of Alex Neil has proved a masterstroke.
I was among those who thought Lee Johnson was harshly treated in being dismissed with the club in seventh place, but Sunderland have lost just one of the 18 games Neil has overseen.
Sunderland's fans are going nowhere. Their half of Wembley Stadium remains packed as they cheer their players, who are parading the playoff trophy in front of them.
Alex Pritchard speaks: "Everyone goes on about the sizer of the club and from the start of the season, since I've been here, I've known the club's been in this league for too long now," the man of the match tells Sky Sports.
"We've had ups and down all season, it's been an absolute roller-coaster. Thank you to [former manager] Lee Johnson at the start of it. All credit to him and the gaffer that's come in has been a credit to himself and the boys. We've had some tough times this year but the fans deserve this. They've been incredible."
Bailey Wright speaks: ""We have done our talking on the pitch. Wycombe gave us a great game but we deserved it," the Sunderland defender tells BBC Newcastle. "To a man everyone at the club deserves this day and we're going to enjoy the moment.
"We knew that if we were at our best we could beat anyone. We knew what Wycombe could do but we knew we had the quality to hurt them. I've been through some difficult times at this club so we're going to soak this up and enjoy it."
Sunderland collect their trophy. Corry Evans hoists it high and each of his teammates gets a huge roar as they follow suit.
They were worthy winners of this play-off final, despite an extremely nervy opening 20 minutes at the start of the second half. Wycombe were beginning to dominate and Ross Stewart missed a glorious opportunity to put the final to bed.
Sunderland held firm and reasserted their dominance. Elliot Embleton and Stewart got the goals, while Wycombe were restricted to a handful of half-chances.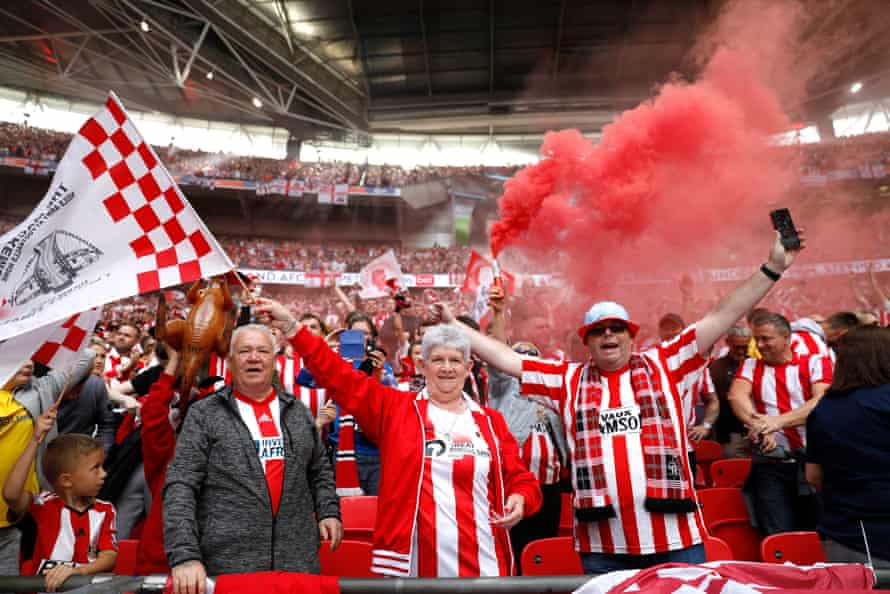 Peep! Peep! Peep! It's all over at Wembley, where Sunderland have won a much-needed promotion back to the Championship after four years of League One purgatory. Congratulations to them and commiserations to Wycombe, who came up a little short today despite battling bravely throughout.
90+5 min: Wycombe lump the ball forward and Akinfenwa wins the header. Sunderland hack the ball upfield.
90+4 min: Sunderland's Alex Pritchard is announced as the man of the match and is a worthy winner after a superb performance.
90+2 min: We're into the second of five minutes of added time. Danny Batth slides in to to dispossess Hanlon and clear before he can get a shot off in the Sunderland penalty area. Wycombe are throwing the kitchen sink at Sunderland but it's not enough.
90 min: Akinfenwa triers to volley home at the far post under pressure from Cirkin. The Sunderland defender does enough to put him off and he is unable to get any power behind a weak effort. Paterson saves comfortably.
89 min: Garath McCleary sends a looping cross into the Sunderland penalty area but Akinfenwa is unable to get the ball under pressure from three defenders. Sunderland goalkeeper Anthony Patterson mops up.
88 min: Sunderland substitution: Ross Stewart off to a hero's reception, Nathan Broadhead on.
87 min: Patterson punches the ball clear from the corner and is forced into action moments later, saving from Anthony Stewart at his near post. Stewart sahould have squared the ball for Akinfenwa who was in a good position.
86 min: Corry Evans puts the ball out for a corner as he getsa his head to a shot from outside the Sunderland box.
85 min: With Wycombe committing numbers upfield, Sunderland attack on the break and find a gap. Patrick Roberts cuts in from the right and pulls a shot wide of the far post with the goal at his mercy and only Stockdale to beat.
83 min: Callum Doyle breaks up a Wycombe attack in the Sunderland penalty area. It's dogged, tenacious defending by the 18-year-old substitute.
82 min: Stewart, having just scored his fifth goal against Wycombe this season, takes on and beats Tafazolli before dragging a low shot well wide of the far post.
81 min: Sunderland substitution: Alex Prtichard off after helping to set up his side's second goal. Callum Doyle on.
Sunderland double their lead. Ross Stewart picks up a pass from Pritchard just outside the Wycombe penalty area, shimmies to his right and sends a low drive rolling past Stockdale.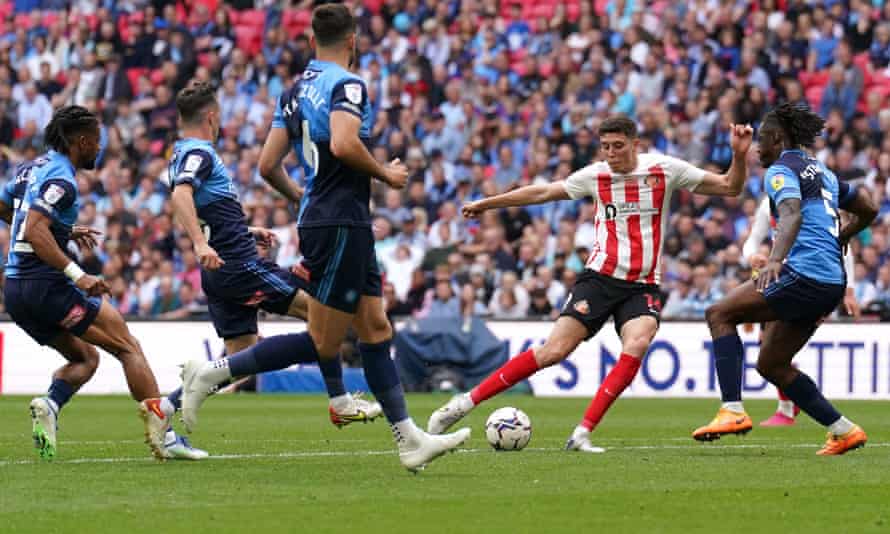 78 min: Hanlon beats his man down the left, cuts inside and unleashes a weak shot to the near post, which is saved. He should have scored.
78 min: Sam Vokes appeals for a free-kick after being brought to ground by Danny Batth. He doesn't get one.
77 min: Joe Jacobson advances through the centre for Wycombe with Akinfenwa to his right. The move breaks down and the ball ends up going out for a Sunderland throw-in.
76 min: Wycombe substitution: Gape off, ADEBAYO AKINFENWA ON!!! THe Wycombe end goes crazy at the sight of their hero!
73 min: Sam Vokes is handed a Post-It note by a member of Wycombe's coaching staff and runs across the pitch to confer with several teammates. They don't seem to know what to make of whatever is written on it, so Vokes heads back towards the dug-out for clarification. All this takes place while Dominic Gape is being treated for a hamstring injury.
71 min: Tafazolli does well to block Ross Stewart's shot from close range after Jack Clarke had squared the ball towards the near post. Sunderland appear to have found their mojo again.
69 min: Patrick Robert goes down in the Wycombe penalty area under pressure from Antony Stewart and Joe Jacobson and there's another big penalty shout. Sunderland have to settle for a corner. I've seen them given but VAR Lee Mason is not for turning.
67 min: Sunderland win a penalty deep in Wycombe territory down near the corner flag. Any plan they have to keep the ball down there for the next 23 minutes goes awry when Joe Jacobson sticks his boot in and clears the ball upfield.
65 min: Corry Evans loses the ball in midfield and Wycombe advance again. It may be my imagination but Sunderland's players seem increasingly nervous as the clock ticks down. They have every right to be - Wycombe have been much improved in this second half.
65 min: Wycombe substitution: Jordan Obita makes way for Brandon Hanlon.
63 min: Wycombe attack down the right again, where Cirkin takes no chances and puts the ball out for a throw-in deep in Sunderland territory. ANthony Stewart sends a cross into the penalty area, where it's hacked clear.
61 min: Sunderland substitution: Jack Clarke comes on for Elliot Embleton, the scorer of his side's goal.
59 min: CHANCE!!! Wycombe advance down the right, the ball is played into the centre by Jordan Obita and Bailey Wright makes a pig's ear of his attempted clearance. The ball breaks to Sam Vokes, whose attempted shot is smothered by Anthony Patterson, who was lightning quick off his line.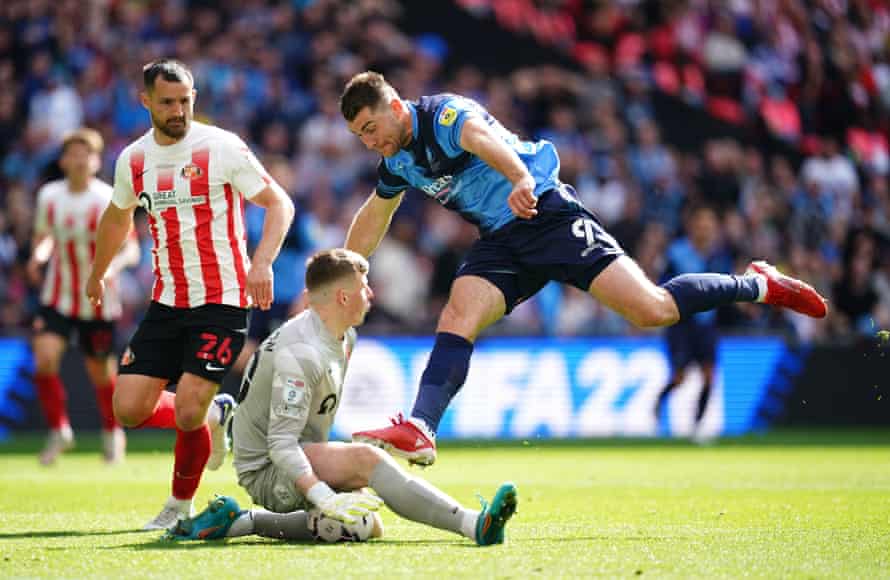 57 min: Looking at replays of that Ross Stewart headed miss and ... well, the Sunderland striker really should have scored. Sunderland are preparing a substitution of their own, with Jack Clarke readying himself to come on.