Eric Bana feels no pressure as The Dry chases Wonder Woman into cinemas
After helping his daughter get through year 12 during lockdown, the Australian actor stars in the film version of Jane Harper's bestseller.
Eric Bana saw the irony in a film called The Dry having a premiere in the rain.
But after the buffeting that cinemas have had during the pandemic, an outdoor red carpet launch for the film adaptation of Jane Harper's bestselling novel was welcome whatever the weather.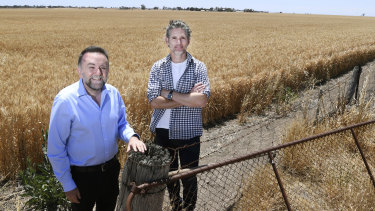 And even though just about every film has struggled since cinemas reopened, the Australian star of the Dirty John TV series was feeling no pressure about The Dry heading for a wide holiday release - just six days after Wonder Woman opens - on January 1, with advance screenings this weekend.
"I'm really confident in the film," Bana said before the Sydney premiere at the OpenAir Cinema at Mrs Macquaries Point on Tuesday night. "I don't know about pressure. In some ways less so because we've got a much better chance than we've had in the past in terms of a crowded marketplace."
In his first starring role in an Australian film since 2007's Romulus, My Father, Bana plays an Australian Federal Police agent who returns to his drought-stricken home town for the funeral of a childhood friend but discovers a mystery around the apparent murder-suicide. As a fan of the book, he immediately saw it could be a film that "had some scope to it" for cinemas.
"Jane's writing is unbelievably vivid and it's a landscape that I very much identified with and was emotionally moved by when I read the book and could see the potential for it in terms of its cinematography and its feel," he said. "I thought Australians would identify with it."
After lockdown in Melbourne - helping his daughter get through year 12 - Bana is looking forward to Australians returning to cinemas as restrictions ease.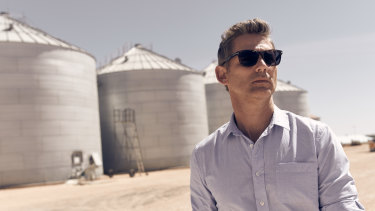 "I don't think any of us predicted that we'd be in a such a COVID safe atmosphere at this time of year and there's probably no better time to get back to sharing the cinema space," he said.
Director Robert Connolly, best known for Balibo and Paper Planes, read the book in a night when Big Little Lies producer Bruna Papandrea sent it to him.
"I couldn't put it down," he said. "I immediately saw the film: it had locations that were incredible, it had this amazing ensemble of characters, it had the twist and turns of plot and the past and present entwining and then it had this big central character, Aaron Falk...
"I rang Bruna the next day and said 'I want to do this'."
Connolly said the challenge was how to make the film so "epic" that it had to be seen in cinemas.
"How awesome to welcome people back with a big Australian film," he said. "It's Eric's first film in Australia in 13 years and it's our story - our big book - a million copy bestseller that was in The New York Times' top 10."
Connolly is hoping The Dry can launch a series of Aaron Falk films based on Harper's novels.
"The British have their James Bond films, the Europeans have The Girl With The Dragon Tattoo series and there's the Jack Reacher and Michael Connelly stuff in the US. Why can't we have our own detective?"
Garry Maddox is a Senior Writer for The Sydney Morning Herald.
Most Viewed in Culture