Tottenham beat Chelsea on penalties: Carabao Cup fourth round – as it happened
Minute-by-minute report: Chelsea dominated the first half but their grip on the game gradually weakened and a Spurs equaliser later they were dumped out on penalties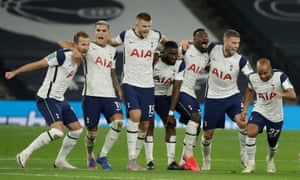 Key events
Show
9.48pm

BST

21:48

Mount misses! Spurs go through!

9.47pm

BST

21:47

Penalty shootout: Tottenham 5-4 Chelsea!

9.47pm

BST

21:47

Penalty shootout: Tottenham 4-4 Chelsea!

9.46pm

BST

21:46

Penalty shootout: Tottenham 4-3 Chelsea!

9.45pm

BST

21:45

Penalty shootout: Tottenham 3-3 Chelsea!

9.44pm

BST

21:44

Penalty shootout: Tottenham 3-2 Chelsea!

9.43pm

BST

21:43

Penalty shootout: Tottenham 2-2 Chelsea!
Live feed
Show
10.25pm BST22:25
And with that, I'm off. Bye!
10.25pm BST22:25
Frank Lampard is not entirely discouraged by what he saw tonight. He says Timo Werner would have taken a penalty, but had suffered from cramp late in the game:
You lose on penalties, anything can happen at that stage. You want to stay in these competitions of course but there were some really good bits in there. The first half performance was as much domination as you can get in terms of possession and some really good play. We want to create more chances yes but Tottenham were out of the game. In the second half they messed our game up a bit, went longer, missed out our press, and the game changed. I'm happy with bits, but with the control we had we want to score more goals. When people go long and miss your press out and turn you round the other way, it's not easy to get the fluidity and rhythm that we had in the first half. And it was a clear change of tactic from them, and that's something we need to deal with better.
As for the Tottenham goal, you imagine a defender or two - Emerson's positioning was particularly poor - will not have heard the last of it:
It was frustrating, because it's a thing we work on, defending our box. We did it well against Brighton and against Liverpool for most of that game, Mane scores a goal that's very difficult to stop. Today we were doing it well but you sleep for one minute, if you don't recover and defend a zone where people score goals then you're going to concede. So players have to get better at that.
10.15pm BST22:15
David Hytner has filed his match report from White Hart Lane:
Tottenham advanced in dramatic style to the Carabao Cup quarter-finals after a late Erik Lamela equaliser forced penalties – and he and his teammates duly kept their nerves from the spot. It was no more than they deserved.

José Mourinho had said he would "like to fight for the Carabao Cup but I don't think I can." It was Spurs's fifth game in 12 days and the sixth will come on Thursday – the Europa League play-off against Maccabi Haifa; a game of vital importance to the club's finances. This one was the one that had to give; to be sacrificed. But as Mourinho made nine changes from Sunday's 1-1 draw with Newcastle, Spurs did fight.
Much more here:
10.13pm BST22:13
Eric Dier speaks about what was a tiring and interesting evening for him:
I'm so, so happy. I'm really proud with the way we played, apart from the first 15, 20 minutes when we gave them way too much time on the ball. After that I thought we were fantastic for the rest of the game. After playing on Sunday and then tonight, it wasn't easy. I think maybe that was one of the reasons I had to leave the pitch midway through the second half.
On being chased into the dressing-room by Mourinho in the middle of the second half:
He wasn't happy but there was nothing I could do about it really. Nature was calling. I heard there was a chance when I wasn't on the pitch but thankfully they didn't score and we ended up with the win.
10.07pm BST22:07
Jose Mourinho is very happy.
I told before the game that we would be ready to fight, and we were ready to fight. I told the players before the penalties, I don't care about the penalties, I care about what they did. They were the best team. They were magnificent. Second half, a super team like Chelsea looked a very ordinary team, and they are not. We played so, so well. The team managed to wait for the right moment. I told the players, they should only think about this game, but I have to think about three games at the same time. And they thought only about this game. They were phenomenal. All the credit for the boys. I cannot believe that in 48 hours we are playing a European game. The boys were phenomenal, absolutely phenomenal. I don't care about the penalties.

What happened to Eric Dier is not normal, I have to praise him in a special way, but the football authorities, with so many rules that are in place, should have forbidden a player to play in 48 hours two matches, of this intensity. Because Newcastle was a Premier League match, and this was let's say a Premier League match level. What Eric Dier did is not human to do. They have so many rules about everything, but Eric Dier did what he did. [He confirms that Dier will not play on Thursday, as a result of tonight's efforts]

All the other boys, they were phenomenal. We used boys, first minute for the season. Tanganga, not even a friendly. I decided Hugo not Joe, just to give a sign to my team that we are here to win. I wanted a captain on the pitch, the first goalkeeper on the pitch, but everything was up to them. I have an incredible negative record on shootouts but today I had a feeling everything was going well, because by far we were the best team and by far the boys deserved to win this match.
10.00pm BST22:00
Erik Lamela has spoken! He's been wearing odd boots - Adidas are making a new boot for his right foot, which is due to arrive tomorrow, but until then he's having to make do with what he's got. In other news:
Thank you so much, we are very happy to win this game. It means a lot to us. The first half was difficult, they managed a lot the ball. The second half we pressed higher and could get the ball and start to play like we wanted. In the end we could draw the game. On penalties, sometimes you win, sometimes you lose, the most important is the effort. I always believed in myself, in the team. We always wanted to win the game. Until the end, you never know. We fought until the end and got the draw to go to penalties. Everyone shot very well, honestly this team really wanted to win so I'm very happy and now I want to enjoy it with my teammates.
9.55pm BST21:55
A bit of late-night transfer news while we wait for the managers:
9.49pm BST21:49
Replays show the ball clipped the outside of the post, so Lloris doesn't get the credit. Tottenham celebrated that victory with the enthusiasm of a side really very happy to still be in this competition.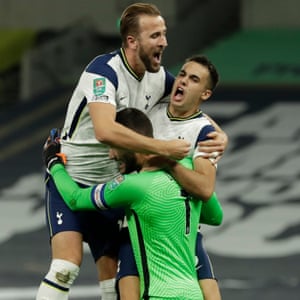 Updated at 10.04pm BST
9.48pm BST21:48
Mount misses! Spurs go through!
Mount sidefoots to his left, and Lloris flings himself to the right! Does he get a fingernail on it to divert it round the post, or was it already heading that way? Either way, Spurs are in the quarter-finals!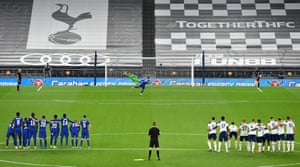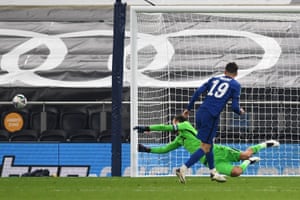 Updated at 10.12pm BST
9.47pm BST21:47
Penalty shootout: Tottenham 5-4 Chelsea!
This time Mendy goes low to his right - and so does Harry Kane! Into sudden death we go!
9.47pm BST21:47
Penalty shootout: Tottenham 4-4 Chelsea!
Emerson goes - you'll never guess - low to the left, as does Lloris. Again, very saveable had the keeper not gone the wrong way.
9.46pm BST21:46
Penalty shootout: Tottenham 4-3 Chelsea!
Low to the left again from Lucas Moura, and off in the wrong direction again from Mendy! Another excellent penalty, just inside the post.
9.45pm BST21:45
Penalty shootout: Tottenham 3-3 Chelsea!
Jorginho executes his trademark skip before, in a shock twist, going low to his right. Lloris goes the right way, but can't get anything on it!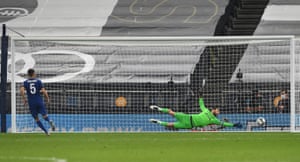 Updated at 9.48pm BST
9.44pm BST21:44
Penalty shootout: Tottenham 3-2 Chelsea!
Hojbjerg has learned what appears to be working tonight, and goes low to his left while Mendy goes the other way. A fine penalty, this one, into the side netting.
9.43pm BST21:43
Penalty shootout: Tottenham 2-2 Chelsea!
Azpilicueta also goes to his left, but he at least hits the ball of the ground. Lloris goes the wrong way.
9.43pm BST21:43
Penalty shootout: Tottenham 2-1 Chelsea!
And again! This time it's Lamela, a very stoppable penalty had Mendy not gone the other way.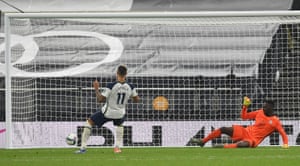 Updated at 9.46pm BST
9.42pm BST21:42
Penalty shootout: Tottenham 1-1 Chelsea!
Pretty much an instant replay here, with Tammy Abraham and Lloris both going low to their left.
9.42pm BST21:42
Penalty shootout: Tottenham 1-0 Chelsea!
Dier goes low to his left, Mendy does likewise, and the ball nestles in the net.
9.41pm BST21:41
Tottenham will take the first penalty, and Eric Dier will get the ball rolling.
9.41pm BST21:41
Hugo Lloris runs off to the touchline where Nuno Santos, Tottenham's goalkeeping coach, seems to be helping him with some key last-minute revision.
9.39pm BST21:39
Interesting body language here from the two managers. Mourinho congratulates his players on a job well done, Lampard seems to be gutted his side are in this position. Meanwhile, all eyes turn to Edouard Mendy. Just how well is his debut going to end?
9.37pm BST21:37
Final score: Tottenham 1-1 Chelsea
90+4 mins: Chelsea eventually decide there's nothing to be lost by trying to get into Tottenham's penalty area, at which point they lose the ball, and that's the last significant action (bar the penalties).
9.35pm BST21:35
90+2 mins: Chelsea have the ball, and appear happy to keep it until the referee blows his whistle.
9.34pm BST21:34
90+1 mins: Into stoppage time, of which there'll be three minutes or so. They start with Kante trying to dance into a shooting position inside the penalty area, and failing.
9.30pm BST21:30
87 mins: Spurs push for a second, but Lamela's shot is bocked by Emerson.
9.28pm BST21:28
85 mins: We are now five minutes from a penalty shootout situation.
9.27pm BST21:27
GOAL! Tottenham 1-1 Chelsea (Lamela, 84 mins)
And from the free-kick (vaguely) Spurs equalise! The ball is played long to Reguilon, whose cross finds its way through to Lamela at the far post, who takes a touch and turns it in!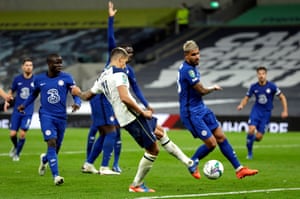 Updated at 9.33pm BST
9.26pm BST21:26
83 mins: Jorginho gets himself booked for tripping Ndombele. "Tottenham's passes and dribbles into the box are characterised by a well-known pandemic impact - too many Zouma meetings," writes our resident punmeister, Peter Oh.
9.23pm BST21:23
81 mins: Chance! Lamela sends Kane running down the right. He cuts inside Tomori, but scoops his left-footer over the bar!
9.22pm BST21:22
79 mins: Chelsea should score this! Mount runs through on the left, Werner offers him an option to the right, and Dier, back from the toilet, is the only defender around to deal with them. Mount goes for the pass but hits the ball straight into Dier!
9.21pm BST21:21
79 mins: Non-league football fans may appreciate this update from Lewes:
9.20pm BST21:20
77 mins: Hudson-Odoi has a chance, but shoots wide from 20 yards! Meanwhile Dier has left the pitch and gone to the dressing-room, and Mourinho has stomped off after him! This is either massive fallout-related or toilet-related, but my money's on the latter.
9.18pm BST21:18
76 mins: A bit more substitutional action, with Lucas Moura replacing Bergwijn and Tammy Abraham coming on for Giroud.
9.16pm BST21:16
73 mins: Bergwijn is tackled by Kante 15 yards outside his own penalty area and the ball swiftly worked to Werner, who takes a touch and slashes a vicious low shot a bit too close to Lloris.
9.15pm BST21:15
72 mins: Since half-time Spurs have had 54% of possession and lead 6-1 on shots. There's only one stat that matters, etc.
9.14pm BST21:14
71 mins: Half a chance! Aurier crosses from the right, and Reguilon comes in from the left to meet it beyond the far post and send a diving header even further beyond the far post.
9.13pm BST21:13
70 mins: Chelsea bring Kante on for Kovacic, and Spurs bring Harry Kane on for Tanganga. Perhaps this will please Rob more than their last substitution: "Hojbjerg for Gedson down 0-1 in the 60th minute with two defenders on yellow," he wrote. "Jose Mourinho everybody."
9.11pm BST21:11
69 mins: Spurs win a corner, and Mendy comes off his line to claim it but fluffs his catch. The ball slips through his hands, but luckily the player standing behind him is wearing blue.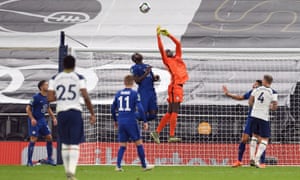 Updated at 9.27pm BST
9.10pm BST21:10
67 mins: Spurs attack down the right, and then again down the left, but Chelsea hold firm on the edge of their area.
9.08pm BST21:08
66 mins: Chelsea make their first change, bringing Emerson on for Chilwell.
9.06pm BST21:06
64 mins: Now Sissoko is found in a shooting position outside the penalty area, but his control is so useless it pretty much amounts to a pass to Zouma, who boots clear.
9.06pm BST21:06
62 mins: Mount is down again, but this time doesn't get a free-kick for it. Quite right too, as he slipped and headbutted Gedson's forearm in the act of falling over, and then when he landed he held his face as if the Spurs player had done something wrong. Gedson is promptly taken off, with Hojbjerg coming on.
9.03pm BST21:03
61 mins: Tanganga hilariously yanks Mount back by the waist, a comedy exaggerated pull, and is booked for it.
9.01pm BST21:01
59 mins: Aurier gives the ball away with a poor pass from the right, and in his desperation to make amends he takes out Jorginho with a late tackle and is booked.
9.00pm BST21:00
57 mins: Spurs hit another long ball, this time to Lamela, who troubles Tomori but eventually fouls him. The home side are finding some success both down the flanks and long down the middle.
8.58pm BST20:58
55 mins: Spurs keep pressing, this time down the left. Bergwijn gets into the box, but Tomori pokes the ball away from him and behind for a corner.
8.56pm BST20:56
53 mins: Bergwijn messes up an easy pass again, this time hitting it too far in front of Ndombele, who would have had a free shot on goal from 20 yards. It runs to Aurier, who cuts inside and sends a low left-footer trundling well wide.
8.53pm BST20:53
50 mins: Chance! And a save! Aurier gets down the right before playing the ball across goal, and it runs to Reguilon on the far side of goal, whose shot is well struck and on target, but too close to Mendy, who saves.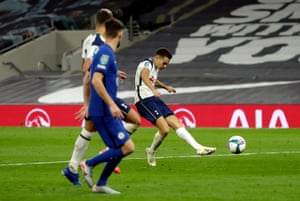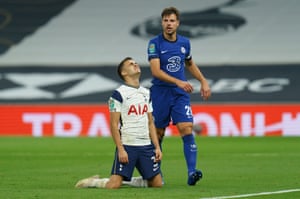 Updated at 9.18pm BST
8.52pm BST20:52
50 mins: Bergwijn cuts in from the right before blasting a shot that screams way high of goal.
8.51pm BST20:51
48 mins: A very positive start to the half from Spurs, who have had almost all of the possession but haven't really tested the Chelsea defence.
8.48pm BST20:48
46 mins: Peeeeeeep! Chelsea start the second half.
8.47pm BST20:47
Jose Mourinho comes out for the second half, in advance of his players. Word is there will be no halftimely substitutions, which means Harry Kane's sock-fiddling was purely cosmetic.
8.43pm BST20:43
A decent game, that has potential for further improvement in the second half. One thing I didn't mention was a bit of touchline verbals between the managers. It was hard to make out what either of them was saying, but it didn't seem that friendly. "Is nobody gonna talk about that little tit for tat between Mourinho and Lampard earlier? This is gonna make for a fun post match press conference," says Benjamin Park.
8.35pm BST20:35
Half time: Tottenham 0-1 Chelsea
45+3 mins: We have had half of the time, and the away side is winning. In case anyone has invested emotionally, it's 1-1 at the Dripping Pan.
This week's most popular shots