UFC Fight Night Alexander Volkov puts savage beating on Alistair Overeem
Absolute destruction at the hands of Volkov produced a big win for the Russian in the main event Saturday night.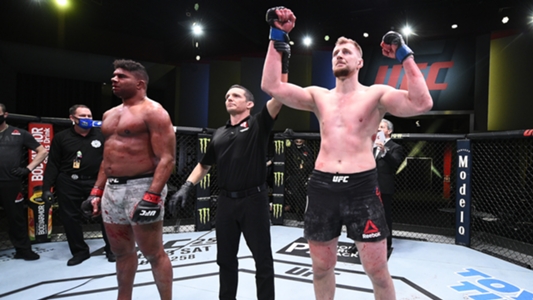 Alexander Volkov lasered a straight right hand through Alistair Overeem's high guard, then wrapped a short left hook around that same defense. The latter shot crumpled Overeem in a heap, dropping him on his hands and knees to put an exclamation point on the savage beating that Volkov had just produced.
Volkov's second-round TKO of Overeem at UFC Fight Night at the UFC Apex in Las Vegas on Saturday had the Russian standing in the Octagon, fully believing he's in the prime of his career.
"It's my time," Volkov said in his post-fight interview.
He added: "For sure, I want to fight for the belt. But we'll see. We have some good fights in the future at heavyweight. We'll see how it finishes and what will be my place, but I surely want a title shot."
Volkov made his case for just that by doling out blunt force trauma in Saturday night's main event. Capitalizing from a right hand that clipped Overeem and sent him careening to the canvas in the first round, Volkov let loose with more punishing rights that opened up a gash on his opponent's face as the frame ended. Volkov then picked up where he left off to begin the second, adding to the punishment by reasserting his jab and then pummeling Overeem with more stinging rights. Volkov repeatedly split Overeem's high guard at will, peppering him with straight right hands, as he landed 65 percent of his significant strikes until the thudding end.
The same right hand that he was using all night ultimately was used as a setup for the short left hook that Volkov launched into Overeem's temple to end the bout and stake "Drago's" claim as a top-tier heavyweight.
Co-main event: Cory Sandhagen destroys Frankie Edgar with flying knee from hell; Bantamweight
Oh my goodness! Sandhagen staked his claim for "Knockout of the Year" when he launched an ultra-violent flying knee flush into Edgar's chin, instantly sleeping the veteran just 28 seconds into the co-main event. It was the second-quickest flying knee KO in UFC history behind only Jorge Masvidal's five-second KO of Ben Askren in July 2019 at UFC 239. Grand opening, grand closing.
Other UFC Fight Night: Overeem vs. Volkov results: Clay Guida gets hand raised in unanimous decision over Michael Johnson; Lightweight
Vintage Clay Guida. The veteran produced constant pressure in the form of overhand rights and nearly ended the bout with a body triangle and rear-naked choke late in the third round. Although Johnson would survive the frame, it wouldn't help him on the cards, as all three judges scored it 30-27 toward the 39-year-old Guida.
Alexandre Pantoja takes unanimous decision over debuting Manel Kape; Flyweight
Pantoja was the more active fighter, setting the tone with vicious leg kicks and pouring on the offense by letting his hands fly. The effort, and Kape playing it safe and not letting loose with his offense in his debut, helped Pantoja win on the cards: 30-27, 29-28 and 29-28.
Beneil Dariush edges Carlos Diego Ferreira via split decision; Lightweight
Five takedowns and significant strikes in between paved the way for Dariush to dominate control and win handily. Though Dariush won via split decision (29-28, 29-28, 28-29), it could have easily been a unanimous nod in his favor. Nevertheless, that's six straight wins for Dariush, who stressed that he's deserving of more respect in the lightweight ranks.
Danilo Marques submits Mike Rodriguez with rear-naked choke; Light heavyweight
Marques trapped Rodriguez in a full-body triangle, cinched in a rear-naked choke tightly, and Rodriguez woke up from unconsciousness moments later, right before the end of the second round.