Coronavirus updates LIVE: Victoria records four new COVID-19 cases as state's residents enjoy first day with eased restrictions; Australian death toll
Top epidemiologists and business groups have criticised what they say is the Andrews government's overly cautious approach to easing restrictions, as Victorians woke up on Monday to more freedom.
We have made our live blog of the coronavirus pandemic free for all readers. Please consider supporting our journalism with a subscription.
Latest updates Royal Children's Hospital confirms child has tested positive to COVID-19, staff in isolation By
Melissa Cunningham
The Royal Children's Hospital has confirmed it is currently caring for one patient who has tested positive to COVID-19 in the Kookaburra oncology ward and that a number of staff members have been sidelined and remain in strict self-quarantine after potential exposure to the virus.
Since the pandemic began earlier this year, the hospital has treated 20 COVID-19 positive children who have been inpatients, a statement from the hospital said.
"We are supporting the child's family and treating team during this unsettling time while we undertake contact tracing, in conjunction with the Department of Health and Human Services," it read.
"As is our usual practice in these situations, all staff working on the ward have been notified, along with current inpatient families and any who may have been discharged since September 30."
The statement said contact tracing was underway with staff already identified as close contacts of the patient tested for the virus and self-quarantining as a precaution.
Asymptomatic testing of other staff who have spent time on the ward, along with inpatients and their families, is also underway, the hospital said.
"Just as COVID-19 is impacting our state, it is to be expected that the RCH will also be impacted," the statement said. "Our staff are trained and prepared for such an outcome, and remain committed to protecting our patients, their families and our team.
The hospital has not allowed visitors on site since March. All parents, guardians and staff entering the hospital must undergo health screening and temperature checking before being allowed access.
Travel radius of 25km designed to stop Melburnians from visiting tourist spots By
Ashleigh McMillan
The Victorian Health Minister says the change to the five-kilometre movement rule is about stopping Melburnians from visiting popular tourist spots on the city's fringe.
Martin Foley said the 25-kilometre travel limit will protect areas like the Mornington Peninsula and the Dandenong Ranges from being over-run.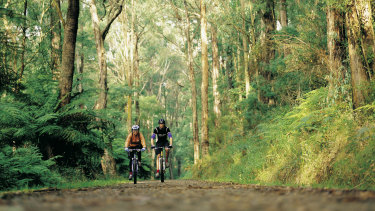 "The 25 kilometres was put up by the public health team that tried to recognise that Victorians have made a remarkable contribution … on the basis that it will allow families and communities to reconnect in a public space," he told 3AW's Neil Mitchell.
"If it was completely removed across the Melbourne metropolitan area, we might well run the risk of an overcompensation of gatherings in particular locations, and with that, run the risk of the re-emergence of the virus."
While not conceding that retail and hospitality were worse off under the updated restrictions - now opening from November 2 instead of October 26 as planned under step three - Mr Foley said he wanted to make sure businesses "open once and doesn't have to yo-yo in and out of restrictions".
The state's health authorities are now writing a statement on the issue of potential airborne spread of COVID-19, which is not currently acknowledged by the state or federal government as a primary mode of virus transmission.
Minister Foley said general COVID-19 public health advice was weighed against mental health, well-being and economic impacts, and in this case the damage of "the alternative far outweighed each of those costs."
"(Victorians') efforts and their sacrifices has enabled us to get to this position where we can take these safe, careful and sustainable steps to reopening," he told ABC Radio.
"It has been an enormous challenge with huge costs ... we've put so much in that we can't risk being anything but careful and measured."
Only three of the five local COVID Suburban Response Units are now operational, he said. The units were announced on September 8.
Deputy Prime Minister says states control their own borders after arrival of New Zealanders By
Ashleigh McMillan
The Deputy Prime Minister has pushed back against suggestions the gaps in the trans-Tasman travel bubble are a federal responsibility, saying states have control over their own borders.
Michael McCormack said because some Australian states like Western Australian and Tasmania were putting those who travelled through the bubble into quarantine, "at the end of the day, they have the jurisdictional responsible for their own state borders".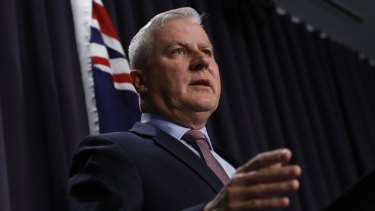 Premier Mark McGowan called for better management of the bubble on Sunday after 23 travellers from New Zealand arrived unannounced at Perth Airport, just two days after the arrangement that excludes Western Australia was put in place.
"Bottom line is, they are healthy New Zealanders," Mr McCormack told Sunrise on Monday morning.
"We are in the middle of a global pandemic as well. So there are going to be cases. There are going to be, unfortunately, people who come down with COVID-19.
"But the trans-Tasman bubble is the first in what we need to do to reopen our nation. And of course, we're repatriating Australians as well."
Mr McCormack also weighed on Victoria's eased restrictions, saying more needed to be opened in the state because "Victorians need to get back to work".
"They need to get back to some sort of normality in their lives," he said.
"It's very, very sad that with those numbers of deaths, more than 800 in Victoria … But the case and mortality rates in recent days have been to a level which, according to the national Chief Medical Officer, should be sufficient to start opening up, to start easing some of the restrictions."
Queensland records no new cases of COVID-19 By
Jocelyn Garcia
Queensland has recorded no new cases of COVID-19. There are four active cases in the state.
Queensland Chief Health Officer Jeannette Young continues to urge people to get tested, as investigations continue to determine why viral fragments of the virus were found in Brisbane's sewage.
"It's a concern that we could have a case of COVID-19 in the community that we don't know about and that person can affect other people," she said on ABC Breakfast.
"If you're unwell, go get tested."
Child in oncology ward in Melbourne hospital tests positive for coronavirus
A child in the oncology ward of the Royal Children's Hospital in Melbourne has tested positive for coronavirus.
Victorian Health Minister Martin Foley told 3AW's Neil Mitchell program that the child has been in the oncology ward for some time.
He said that it was still unclear how the child got the virus.
"Without wanting to breach the confidence of the family involved, it doesn't appear to have come from the family, nor does it appear to have come from the rest of the unit there," he said.
He said they have been testing staff and others and have "not been able as yet to identify particulars of where the young child seemingly picked up the virus".
"I understand the child has been in hospital for quite some time," he said.
Tests are being undertaken by the public health team and the hospital to try and understand where the outbreak started.
Victoria records four new cases of COVID-19, one death
Victoria has recorded four new cases of coronavirus in the past 24 hours and one death.
The statewide 14-day rolling average is now 7.7, down from eigh on Sunday.
Treasurer Josh Frydenberg accuses Victorian government of 'callous indifference' By
Ashleigh McMillan
Treasurer Josh Frydenberg has lashed out at the Victorian government for what he calls a "callous indifference" to small business and job losses after the announcement of eased restrictions.
Mr Frydenberg said there were in effect half a million Victorians who are unemployed, which was "unacceptable" now that active case numbers across the state are at low levels.
While some businesses such as hairdressers are able to open their doors on Monday, retail stores and indoor dining for hospitality will not return in metropolitan Melbourne until November 2 at this stage.
"Obviously we welcome some of the easing of the restrictions, but they don't go far enough," he told Nine's Today show on Monday.
"There's been a callous indifference in Victoria from the government to the loss of jobs and to the plight of small business.
"In New South Wales where they dealt with much more cases than we see in Victoria today, the cafes, the restaurants, the pubs, the clubs were all open. People could get about their daily lives.
"It's fine to lift the travel restrictions to 25 kilometres, but if businesses aren't open, people haven't got anywhere to go."
Mr Frydenberg questioned why Victoria's COVID-19 measures weren't in line with New South Wales, which he said "set the gold standard for contact testing and tracing".
Sutton and Health Department split over public health role in hotels By
Richard Baker
Information provided to the hotel quarantine inquiry by the Department of Health has contradicted Victoria's Chief Health Officer Brett Sutton's claim that he was not involved in the planning of Victoria's hotel quarantine program.
The conflicting position of the Department of Health and Human Services is buried deep within witness statements and submissions to Victoria's hotel quarantine inquiry, where it says "public health leadership, advice and expertise was sought by and operationalised in Operation Soteria, including through the Chief Health Officer and Public Health Commander".
The board of inquiry into hotel quarantine is set to hold an "extraordinary sitting" on Tuesday after The Age last week revealed crucial emails had been withheld from the inquiry, including one sent on April 1 that placed the Chief Health Officer at the top of a "strict chain of command" for the quarantine system.
The April 1 email, which noted that the CHO would be supported by senior members of the public health team, said: "It is important that all direction, policy, reporting and arrangements do not break this chain."
"This strict view is vital to safeguard the wellbeing and duty of care owed by the State to these people and legal and other risks to the department and its staff, who are administering the detention regime on behalf of the Deputy Chief Health Officer and Chief Health Officer."
Read the rest of this story here.
'Difficult to understand the rationale' behind business restrictions, says Wesfarmers CEO By
Ashleigh McMillan
The reopening of retail stores and indoor dining for restaurants, cafes and pubs in Melbourne has been pushed back to November 2, to the ire of many business owners including Wesfarmers chief executive Rob Scott.
"It's still difficult to understand the rationale for some of the changes and ongoing business restrictions, from a public health and wellbeing perspective," he told The Age on Sunday.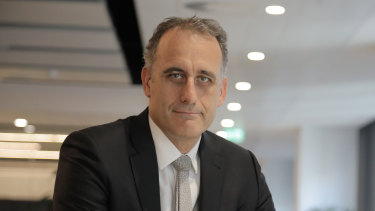 "For example, you can go to the hairdresser or a skate park and have more freedom to travel, but you can't go to your local Bunnings Warehouse." Wesfarmers owns Bunnings stores.
If case numbers remain low this week, however, Mr Andrews said businesses may be allowed to reopen sooner.
Paul Guerra, the chief executive officer of the Victorian Chamber of Commerce and Industry said his reaction to Sunday's announcements was "mixed". The certainty around the return date for businesses was welcomed.
"We thought the additional two weeks was too long to get retail and hospitality back," he told radio station 3AW on Monday morning.
"We also think from a hospitality perspective, 10 per space indoors in just not going to work, it's not viable for most of the operators there.
"But there's a glimmer of hope, if we can do the right thing over the next week, and then the Premier can stand up on Sunday and get the rest of industry going."
Read more about the reaction of the retail sector to yesterday's announcement here.
Today's main stories
Here is a wrap of the main coronavirus stories from today's papers:
Most Viewed in National