Wolves 0-1 Aston Villa: Premier League – as it happened
Minute-by-minute report: Two sides aiming to climb out of mid-table meet at Molineux. Join Barry Glendenning now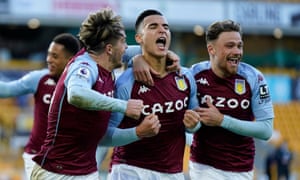 Key events
Show
2.53pm

GMT

14:53

Match report: Wolves 0-1 Aston Villa

2.51pm

GMT

14:51

Nuno Espirito Santo speaks ...

2.42pm

GMT

14:42

Dean Smith speaks ...

2.29pm

GMT

14:29

Full-time: Wolves 0-1 Aston Villa

2.26pm

GMT

14:26

RED CARD! Joao Moutinho walks ...

2.24pm

GMT

14:24

GOAL! Wolves 0-1 Aston Villa (El Ghazi 90+4pen)

2.23pm

GMT

14:23

PENALTY TO VILLA!
Live feed
Show
2.53pm GMT14:53
Match report: Wolves 0-1 Aston Villa
Paul Doyle was at Molineux to see Aston Villa snatch the points with a late penalty from Anwar El Ghazi. Read on ...
2.51pm GMT14:51
Nuno Espirito Santo speaks ...
"It's always disappointing to lose in the end like that, especially in a game where we played good," he tells BT Sport.
On Villa's penalty: "I didn't see the images yet but the referee judged and VAR saw it, so keep on going," he says. "It was a very tense game with a lot of fouls but I think we controlled it in the second half. We created a lot of good, clear chances and we will try to keep on growing on this aspect. Being more clinical is something that we need."
Updated at 2.51pm GMT
2.47pm GMT14:47
Premier League table: Aston Villa move into the top ten, going into eighth place, level on points with Manchester City but ahead of them on goal difference.
Wolves drop out of the top 10 into 11th, level on points with Everton but behind them on goal difference having played one game more.
View the Premier League table
2.42pm GMT14:42
Dean Smith speaks ...
"This is a great result to come here to Wolves and keep a clean sheet and get the win," says the Aston Villa manager in an interview with BT Sport. "I thought it was a really tight game and I thought we started both halves better. We never really created big chances. When they countered and had their spells of pressure, we were indebted to our goalkeeper. It was a really good away performance from the whole team."
2.34pm GMT14:34
Post-match reflection: Villa take the points with what I think was their only shot on target in a game that featured 11 yellow cards and two reds. It was a late sickener for Wolves, who forced Villa goalkeeper Emiliano Martinez into several decent saves and were left cursing their luck when Fabio Silva leathered a second-half effort off the foot of the post.
While Mike Dean was dishing out cards like an Atlantic City croupier, the game wasn't particularly bad-tempered or dirty. Mostly of the cautions he issued were for niggly, professional fouls, the sheer volume of which severely diminished the game as a spectacle. Douglas Luiz and Joao Moutinho got two each, followed by reds and will have to sit out one-match suspensions.
2.29pm GMT14:29
Full-time: Wolves 0-1 Aston Villa
Peep! Peep! Peeeeeep! It's all over at Molineux, where Aston Villa have snatched three points they scarcely deserved with a late, late penalty.
2.28pm GMT14:28
90+7 min: Villa substitution: Marvellous Nakamba replaces Jacob Ramsey, who won't forget his Premier League debut for his hometown club in a hurry.
2.26pm GMT14:26
RED CARD! Joao Moutinho walks ...
Already on a yellow card, the Wolves midfielder gets another one for a foul on Jacob Ramsey. He protests his innocence but to no avail. Off he pops, to borrow a phrase from referee Mike Dean.
2.25pm GMT14:25
90+5 min: Down to men for the knockings of this match, Aston Villa look to have taken all three points with a smash-and-grab.
2.24pm GMT14:24
GOAL! Wolves 0-1 Aston Villa (El Ghazi 90+4pen)
Ten-man Villa snatch it at the death, Anwar El Ghazi firing low and hard into the bottom right hand corner from the spot.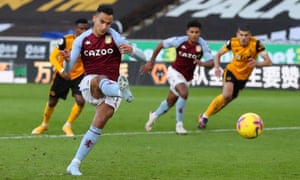 Updated at 2.29pm GMT
2.23pm GMT14:23
PENALTY TO VILLA!
John McGinn cuts inside the penalty area from the left, getting the better of Nelson Semedo. The Wolves defender brings him down!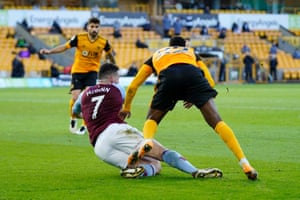 Updated at 2.31pm GMT
2.22pm GMT14:22
90+1 min: Mike Dean stands to one side, shrugging his shoulders and refusing to intervene as there's minor handbags between a few players fromn either side following a Mings challenge on Podence.
2.21pm GMT14:21
88 min: Jack Grealish becomes the sixth Villa player to go in the book for a tackle from behind on Podence. Mike Dean has shown 10 yellow cards this afternoon, with two of them (and the ensuing red) being brandished in the direction of Douglas Luiz. It hasn't been a particularly dirty game but there has been a lot of what is technically known in the trade as "niggle".
2.18pm GMT14:18
86 min: Jack Grealish comes perilously close to conceding a penalty, grabbing a handful of Adama Traore's shirt as the Wolves winger advanced towards the Villa penalty area, but letting go of it before he actually went to ground in the box.
2.17pm GMT14:17
RED CARD! Douglas Luiz gets sent off
The Villa midfielder picks up his second yellow for leading with his arm with a challenge on Daniel Podence.
2.15pm GMT14:15
More bookings: Ezri Konsa got booked in that incident where Targett got booked for a foul on Traore. Since then, Joao Moutinho has been booked.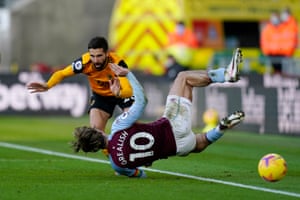 Updated at 2.27pm GMT
2.14pm GMT14:14
82 min: Wolves win a free-kick in a good position outside the Villa penalty area for a Targett foul on Adama Traore. They try a move "from the training ground" (or indeed one they've made up on the spot) that ends with Fabio Silva sending the ball into Martinez's arms with an overhead kick.
2.11pm GMT14:11
80 min: Brilliant play from Pedro Neto on the inside left flank. He tees up Leander Dendoncker for a volley and his effort takes some saving by Emiliano Martinez.
2.10pm GMT14:10
Aston Villa substitution: Bertrand Traore off, Anwar El Ghazi on.
2.08pm GMT14:08
78 min: Leander Dendoncker is booked for attempting to pull Conor Coady's shirt off his back. The Wolves skipper is already on his second jersey of the afternoon and might have needed a third if Dendoncker had his way.
2.07pm GMT14:07
74 min: Moments before that Semedo shot, Marcal looked to have brought down Bertrand Traore in the Wolves penalty area. He got away without conceding a spot-kick as there was an offside in the build-up. Lucky boy.
2.03pm GMT14:03
71 min: It's been all Wolves since I remarked that Villa were in the ascendency. Emiliano Martinez is forced into action once again, this time saving a Nelson Semedo shot from distance.
2.02pm GMT14:02
70 min: Another good chance goes a begging for Wolves. Emiliano Martinez gets down to his right to keep out a meaty header from Romain Saiss, who was only six yards out when he connected with Neto's cross.
2.00pm GMT14:00
69 min: In the ascendency but they almost go behind. With Wolves on the attack, P|odence plays the ball into the path of Fabio Silva to his right in the Villa penalty area. He fires across the face of goal first time but the ball thumps off the foot of the upright and rebounds into play. Villa clear.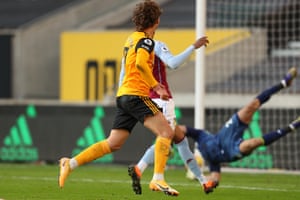 Updated at 2.10pm GMT
1.59pm GMT13:59
68 min: It remains scoreless at Molineux but Villa have been in the ascendency in this second half.
1.58pm GMT13:58
67 min: Rui Patricio gets down to his right to save well from Ollie Watkins. The Villa striker's shot took a deflection off a Wolves defender's heel and was arrowing towards the bottom corner before the Portuguese goalkeeper intervened to tip it around the post. Nothing comes from the corner.
1.56pm GMT13:56
65 min: Villa win a free-kick a few yards outside the Wolves penalty area, well right of centre. Jack Grealish shapes to cross but then attempts to whip the ball into the near top corner. The ball fizzes high and wide of the angle of upright and crossbar but it wasn't a bad effort.
1.54pm GMT13:54
62 min: Pedro Neto canters across the face of the Viulla penalty area and unleashes a rasping shot that flashes not too far wide of the upright. Emiliano Martinez was scrambling across his line to get to that one and looks relieved.
1.53pm GMT13:53
61 min: Ollie Watkins tries to hold up the ball on the edge of the Wolves penalty area but is crowded out. This game in a nutshell, more or less. It's all to play for wqith 30 minutes to go but as things stand this is not a derby that will live long in the memory of all those who are not in Molineux to watch it unfold.
1.51pm GMT13:51
60 min: Daniel Podence is unhappy with Adama Traore for advancing downfield and trying a shot from distance himself, rather than cutting inside and teeing up his team-mate. He voices his displeasure in the strongest possible terms and Traore has the good grace to look suitably sheepish.
Updated at 1.59pm GMT
1.49pm GMT13:49
1.48pm GMT13:48
57 min: Good work down the right from Cash, who plays the ball inside to Grealish. He jinks this way and that, trying to make room for a shot before rolling the ball elsewhere. Douglas Luiz tries his luck and shoots narrowly wide of the upright.
1.46pm GMT13:46
55 min: Matt Targett blocks a Daniel Podence shot and the ball loops up in the air and into the hands of Emiliano Martinez in the Villa goal. Good defending.
1.44pm GMT13:44
53 min: It's second time lucky for McGinn, who whips a delightful cross into the Wolves penalty area, aiming for Ollie Watkins. The Villa striker leaps under pressure from Romain Saiss but can't get his head to the ball. Replays suggest Saiss may have given him a little shove in the back that went unpunished. A let-off for Wolves, perhaps ... but I'd need to see it again. Watkins didn't appeal.
1.42pm GMT13:42
51 min: Jack Grealish plays a weighted pass up the left flank for McGinn, whose attempted cross is blocked. The ball goes out for a throw-in.
1.41pm GMT13:41
49 min: Conor Coady is dripping claret from his nose after getting hit in the face by the ball as he contested a high ball with Ollie Watkins. Mike Dean blows his whistle to pause play so the Wolves skipper can get himself cleaned up, have a cotton swab wedged up each nostril by the physio and change into a new shirt that doesn't resemble a crime scene.
1.37pm GMT13:37
46 min: Dendoncker is penalised for handball and Villa are awarded a free-kick halfway inside the Wolves half. Nothing comes of it.
1.36pm GMT13:36
Second half: Wolves 0-0 Aston Villa
46 min: Villa get the ball rolling with no changes in personnel on either side.
1.35pm GMT13:35
Half-time analysis: As is customary on BT Sport, all the focus has been on the first half's one vaguely contentious refereeing decision. It's exactly the kind of chat that has football in the state of VAR-induced tedium it is today.
So what happened? Wolves defender Romain Saiss ducked to block a Jacob Ramsey flick across the Wolves penalty with his head from almost point-blank range. He knocked the ball on to his own elbow with his forehead and – quite correctly – no penalty was given by Mike Dean, who presumably took advice from the VAR curtain-twitchers.
1.29pm GMT13:29
1.23pm GMT13:23
Half-time: Wolves 0-0 Aston Villa
A stop-start game punctuated by free-kicks and niggle draws to a close with the deadlock unbroken. It's been absorbing fare and both goalkeepers have had saves to make. Villa have dominated possession but Wolves have had the pick of the chances.
1.21pm GMT13:21
45+3 min: Grealish has a low ball across the Wolves penalty area blocked and Wolves counter. Moments later, Mike Dean awards the 17th free-kick of the half, this one for a tug on Adama Traore. The ball's curled into the Villa penalty area, where Fabio Silva's header flashes wide of the far post.
1.18pm GMT13:18
45 min: Having failed to draw a foul from Nelson Semedo as he cut into the Wolves penalty area at speed, Jack Grealish shoots for the near post and wins a corner instead. From that, Villa win another but Wolves clear as the clock ticks down to half-time.
1.17pm GMT13:17
44 min: Villa corner. Jack Grealish's inswinger is cleared at the near post and Villa recycle the ball. It's sent goalwards and Tyrone Mings nonchalantly flicks it past Rui Patricio. He was only five yards offside ... we won't need VAR to get involved in that one.
1.15pm GMT13:15
43 min: Another yellow card, this time for Adama Traore. The Wolves winger goes in the book for a foul on John McGinn.
1.13pm GMT13:13
39 min: End to end stuff as Ollie Watkins gallops down the inside left with Conor Coady in hot pursuit, grabbing at his shirt. Wolves put a stop to Villa's gallop as Watkins tries to find John McGinn and break down the pitch. A Podence shot from distance deflectsa off the shoulder of Jack Grealish, forcing another good save out of Martinez. He tips the ball around the upright and nothing comes from the subsequent corner.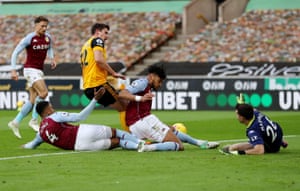 Updated at 1.20pm GMT
1.10pm GMT13:10
37 min: Wolves win a corner, from which nothing comes but Villa don't manage to clear it properly. The ball falls to Daniel Podence outside the Villa penalty area and he brings a good one-handed save out of Emiliano Martinez with a low, swerving drive that was heading for the bottom corner.
1.08pm GMT13:08
34 min: Mike Dean blows for a foul on Grealish by Nelson Semedo in the penalty area! Cool your jets Villa fans - it was in your team's penalty area; your skipper was back attending to his defensive duties.
1.05pm GMT13:05
33 min: A fierce shot from Grealish goes out for a throw-in, which Matty Cash takes long. He Delaps the ball towards the near post, where Ezri Konsa tries to flick it on. The Villa defender miscues his header and the ball almost sneaks in at the upright. Wide ... but not by much.
1.03pm GMT13:03
30 min: Now McGinn gets booked, I suspect for persistent fouling. Daniel Podence is his latest victim.