Michael Schumacher Didn't Turn Ferrari Around : Lewis Hamilton
Lewis Hamilton doesn't think Michael Schumacher deserves all the credit for his success. He talks about the importance of the team and the role they play.
Having won the Eifel Grand Prix, Lewis Hamilton equaled the record set by Michael Schumacher for the highest number of race wins (91). The Mercedes driver has been dominating the V6 hybrid era and is closing in on his 7th world championship title.
However, the Briton doesn't want to term himself as the man who changed Mercedes' fate. According to Hamilton, the team itself deserves a lot more credit than they get.
Yes, the drivers do play an important role in achieving sustained success, but they wouldn't be able to do so without the team backing them all the way from car development to the vital info they provide the driver via the team radio.
Citing the example of Schumacher as well as himself, Lewis said, "Years ago, I remember when they talked about Michael, turning Ferrari around. 
"The fact is, it's not one individual. I have not turned Mercedes around. Michael did not turn Ferrari around – as much as I love Michael and he is a legend, it wasn't just him.
"There's so many people in the background. What they did is the collaboration. I think the thing with a driver like Michael and I, our job is to kind of be the rudder."
Lewis Hamilton elaborates on a driver's role in the team role
The 6-time World Champion said, "Our job is to steer the team in the right direction and point them in the right direction to progress forward. (We) continue to elevate and push and hopefully inspire those guys that you work with."
Hamilton and Schumacher have certainly done their best for Mercedes and Ferrari, respectively.  Both the drivers will undoubtedly go down in history as two of the best that this sport has ever seen.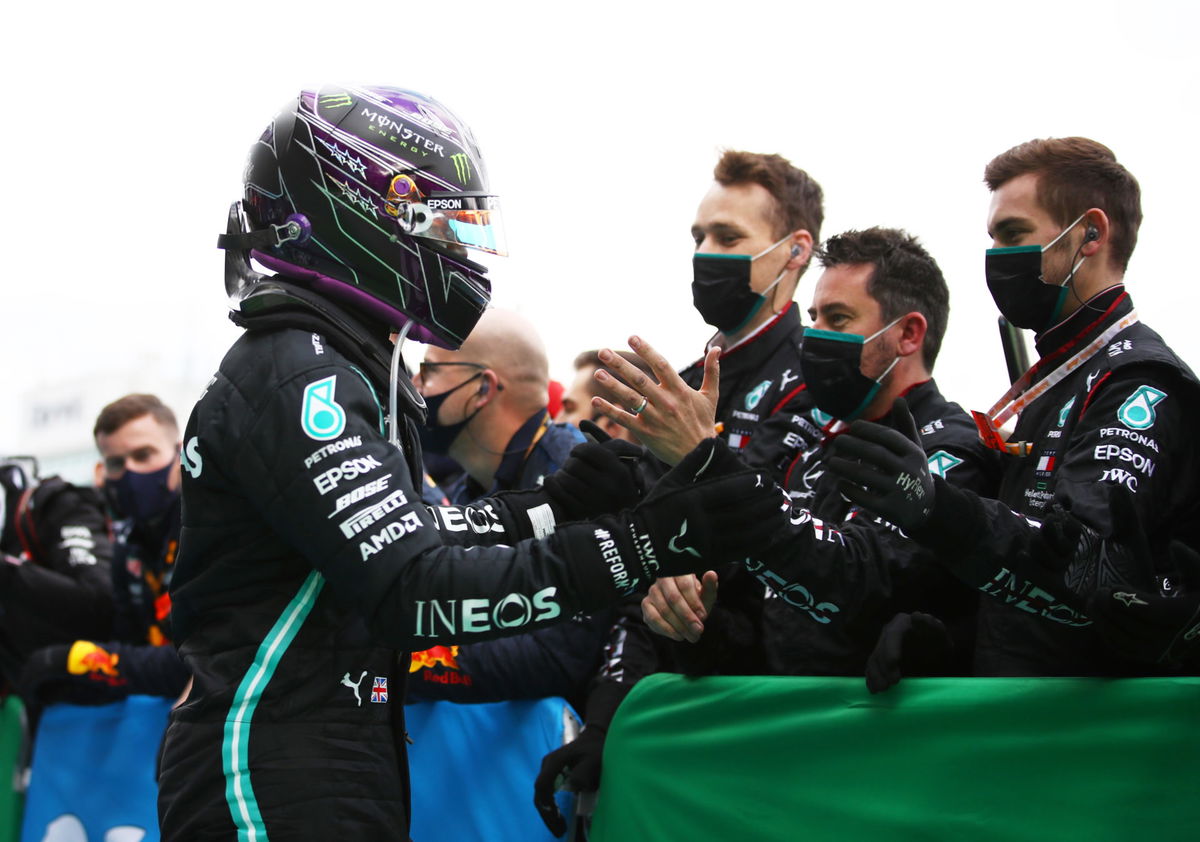 Having equaled one of Schumacher's records already, Hamilton seems well placed to equal yet another one by the time the season comes to a close- the record for most championships won (7)
The Silver Arrows' ace sits atop the Drivers' Championship table with 230 points, 69 points ahead of second-placed Valtteri Bottas, and with how the two have been progressing, Hamilton seems well out of the Finn's reach.
However, with 6 races to go considering all the drama and chaos we have witnessed, don't rule out any surprises just yet.